Photos courtesy of Pepperdine Athletics | Sophomore forward Andre Ball clears teammate Jay Yoon and two other teammates on his first dunk of the 2019 Blue and Orange Madness slam dunk contest.
Both Pepperdine basketball programs launched their 2019–2020 seasons Oct. 11 in Firestone Fieldhouse with a display of bright lights and thrilling theatrics.
Though still about a month away from their true home openers, the introduction of the teams excited a large crowd of parents and students at the annual Blue and Orange Madness spirit rally.
"We have a fun style of basketball that we play, and I think the fans will love it," junior point guard Colbey Ross said. "The more we win, the more the fans will come, but if the fans start coming now, it will definitely help us."
The Graphic had the chance to commentate the festivities and have conversations with Ross, Women's Basketball junior guard Mia Satie and both head coaches — Lorenzo Romar and Kristen Dowling.
Watch the full broadcast of the Blue and Orange Madness event here.
New Faces
Dowling, who returns to Pepperdine after seven years at Claremont-Mudd-Scripps, and her coaching staff are entering their first year in control of the program.
Coming off a season in which the women's program won its first and second postseason games ever, Dowling takes the reins from Delisha Milton-Jones, who took a job at Syracuse.
"I'm so grateful to be back," Dowling said. "Pepperdine had a great year last year … we return a lot of players, so we're incredibly excited for the future."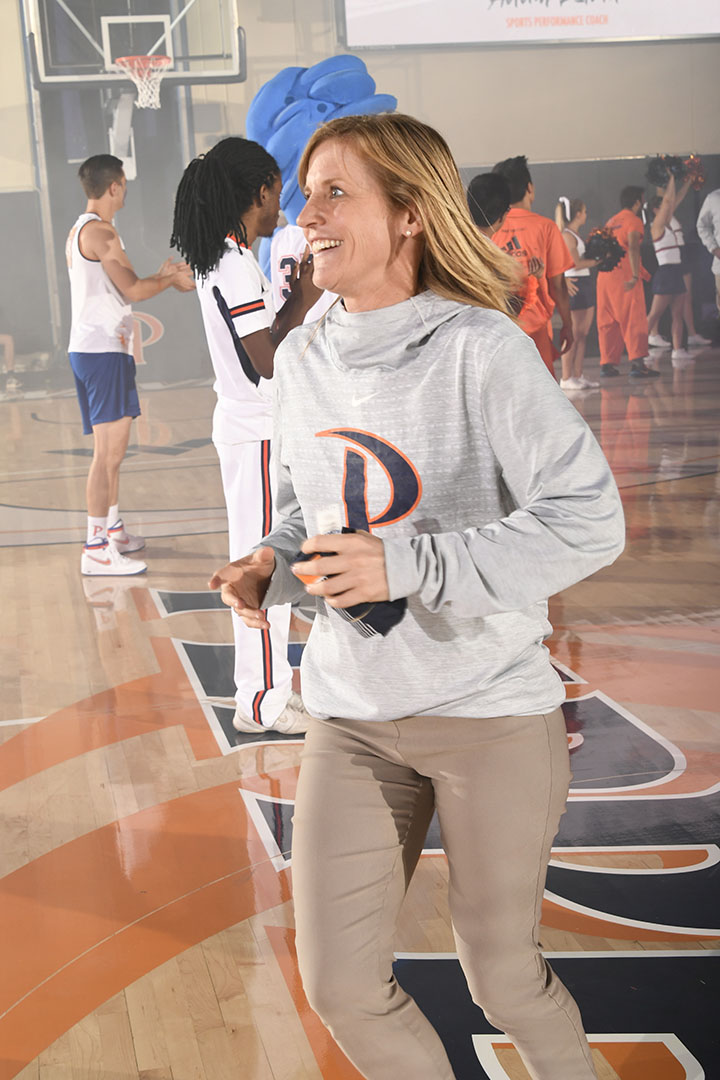 Dowling smiles through her introduction during her first Blue and Orange Madness as head coach.
Two members of the 2018–2019 women's roster transferred elsewhere and three graduated, including West Coast Conference (WCC) Player of the Year Yasmine Robinson-Bacote, but seven new Waves will see the court this year: three graduate transfers, a sophomore transfer, a true freshman and two redshirt freshmen.
Additionally, redshirt senior guard and former All-WCC honorable mention player Paige Fecske will return to the court after a season hampered by injury.
"We return a lot, but we also added a lot of experience, so we're very grateful for that," Dowling said.
Dowling said she hopes to implement an aggressive, up-tempo style of play that will complement the team's speed.
"I'd say the biggest adjustment would be the style of play we're playing this year," Satie said.
The men also hope to play up-tempo, as exhibited by their fast-paced offense and three-point shooting dependence in 2018–2019, though they have more continuity on the roster.
"The things that took us several weeks to teach in the beginning last year, we're already doing," Romar, who enters the second season of his second stint in Malibu, said. "The familiarity with our concepts and philosophy is very evident."
However, the men also have three incoming freshmen, one transfer, one walk-on senior and two redshirts who will join their fellow Waves on the court this season.
From a versatile, "high basketball IQ" player in redshirt junior forward Keith Smith to a "European-style" center in Czech freshman Jan Zidek to a "high-energy guy" like freshman guard Sedrick Altman, Ross said he is excited about the new talent for the men's team in 2019–2020.
National Hype
Replicating arguably the best season in program history will not be easy for the Dowling's women's program.
The WCC Coaches Poll picked the Waves to finish tied for sixth in the conference a year after they finished tied for third, but Dowling said the team is hungry to return to its 2018–2019 level of success.
"If we give it our all, the results are going to come," Dowling said. "Honestly, we'd much rather be the hunter than the hunted."
On the other hand, the men's team has garnered a significant amount of national attention in Year 2 of the Romar era, coming off a 6-10 WCC performance but a 10-win overall improvement from 2017–2018 to 2018–2019.
The WCC coaches picked the Waves to finish fourth in the conference after they finished eighth in the 2018–2019 regular season but advanced to the conference tournament semifinals. ESPN college basketball analyst Andy Katz has been high on Pepperdine, calling them a "WCC sleeper" and routinely listing them as "under consideration" for his Power 36 list of the top teams in the country.
5 programs highlighted that at the very least should be bubble @marchmadness listed in story: @PennStateMBB @PeppBasketball @GamecockMBB @USFMBB @BeaverMBB https://t.co/Ykh6lplwzk

— Andy Katz (@TheAndyKatz) July 30, 2019
Romar said the hype can help drive his players entering the season.
"I think [the hype] adds motivation," Romar said. "We haven't done anything yet … but it does make our guys see how others perceive us, and then that can give you a little more confidence."
One of my sleeper teams that is flying under the radar this season is @PeppBasketball. Lorenzo Romar 2.0 in Malibu could deliver the Waves a @MarchMadness bid this March out of the @WCChoops. pic.twitter.com/4fOzdd2Xxy

— Andy Katz (@TheAndyKatz) October 21, 2019
Katz also had high praise for Ross this summer, calling him one of the "most entertaining and productive guards in the West."
Ross, who conference coaches named to the preseason All-WCC first team and is on pace to break Pepperdine's all-time scoring and assists records this season, said he knows that his coaches and teammates trust him, but he downplayed the hype.
"Rankings can be a good thing, but they can be a bad thing as well," Ross said. "We just try to stay levelheaded throughout it all and just show what we can do."
Dunk Contest and Shooting Contest
Though the announcement of Waves Court King and Queen, half court shots for reduced tuition (one of which glanced off the rim) and multiple dance performances interested the Waves Weekend crowd, the slam dunk and shooting contests were by far the highlights of the night.
Sharpshooting junior transfer Skylar Chavez, who led the state of California with 28 points per game in junior college, started the party by draining a few three-pointers while Romar addressed the fans.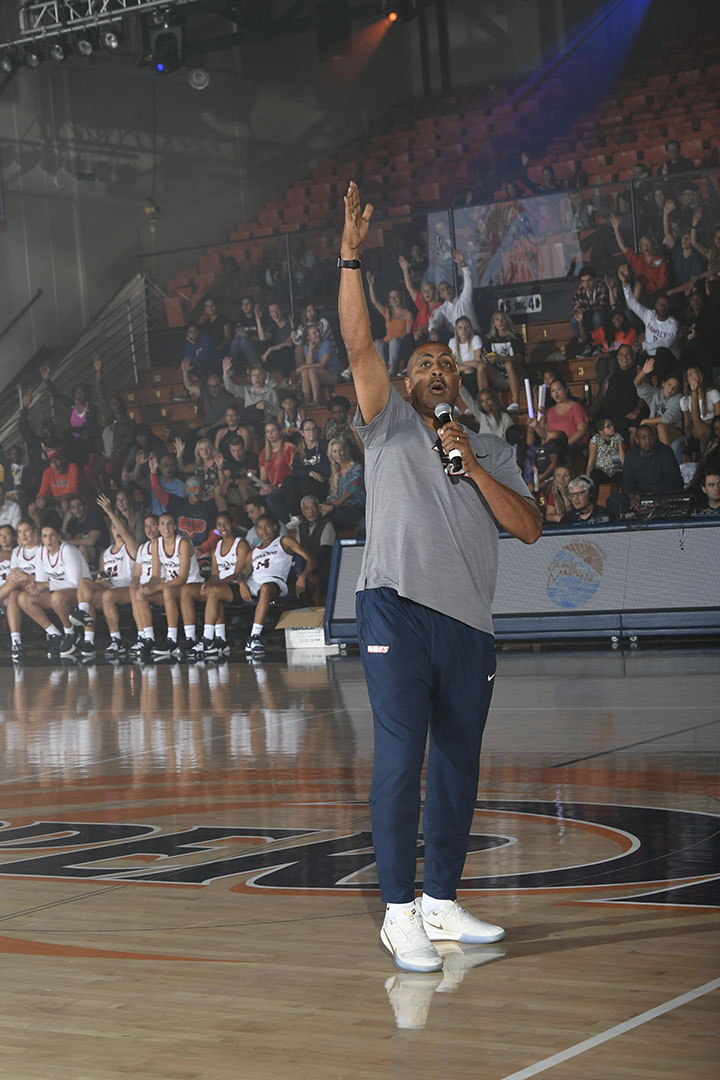 Romar teaches the crowd a cheer as Chavez shoots a three.
"Skylar [Chavez] can really shoot the basketball," Romar said. "[He] has a beautiful jump shot, but he can create his own shot."
Then a team of Fecske, All-WCC senior guard Barbara Sitanggan and new president of Pepperdine University Jim Gash won a shooting contest that concluded with Fecske nailing a half-court shot on her second attempt.
Paige Vision™️

20 days until Pullman…#WavesUp | @WCChoops pic.twitter.com/6MDfp7tjKL

— Pepperdine Women's Basketball (@WavesHoops) October 16, 2019
"She practices that," Satie said when Fecske's shot found the bottom of the net. "She's a bucket."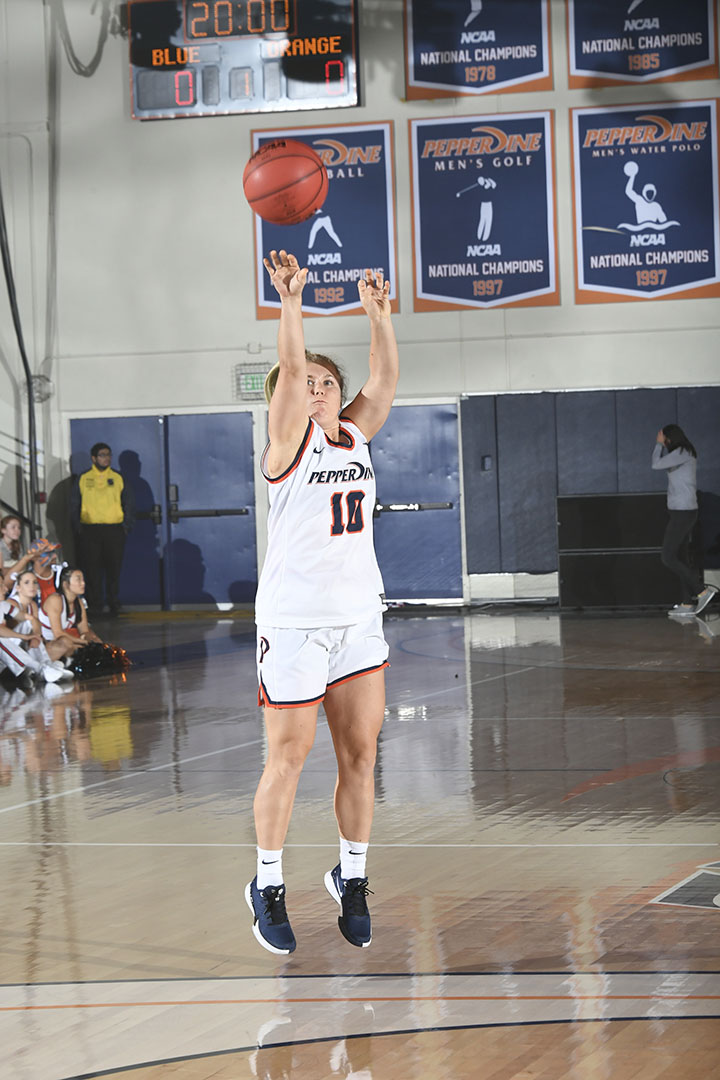 Fecske fires a three-pointer during the contest.
The longest competition of the evening was the dunk contest, which also concluded with a bang.
In the final round, freshman guard Majok Deng brought President Gash onto the court as a prop. It was clear what Deng was about to attempt.
"This is bold right here," Ross said as President Gash stood blindfolded beneath the hoop, praying. "You've got to complete this one."
Deng made it look easy, leaping over Gash as the crowd roared its approval.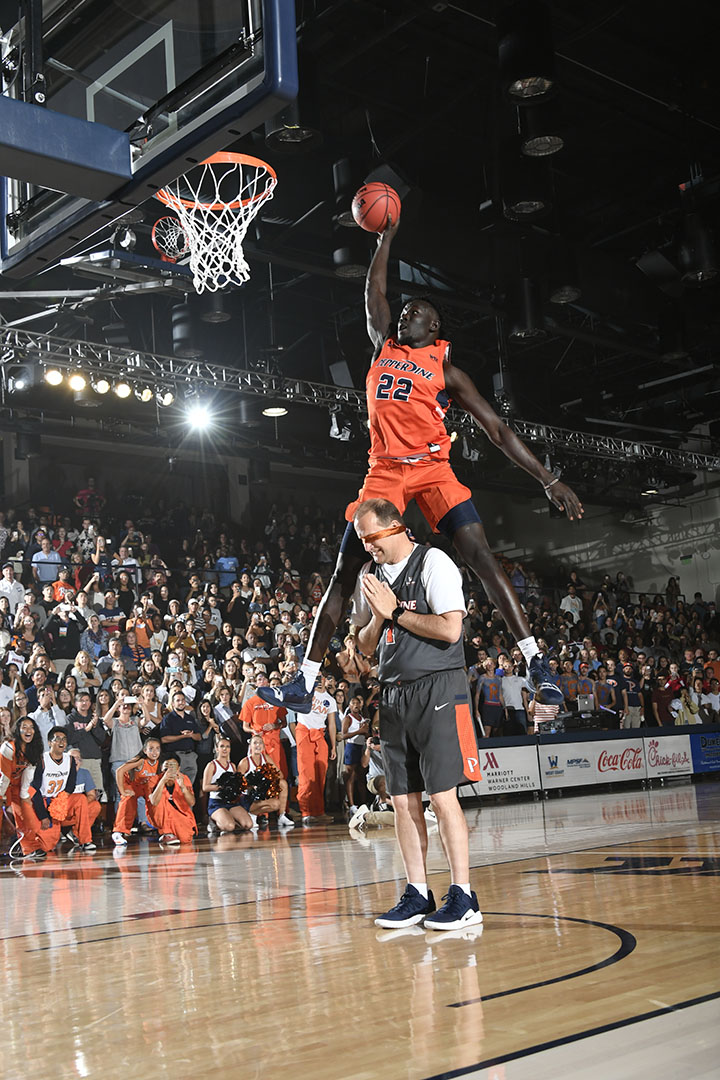 Deng became the second consecutive freshman to win the Blue and Orange Madness dunk contest, defeating defending champion Kessler Edwards and another high-flying sophomore, 6-foot-7-inch Andre Ball.
What's Next
Basketball season in Malibu truly begins Saturday, Nov. 9 when the men's team plays 2019 NCAA Tournament team UC Irvine in their home opener. The women's team has an exhibition game against Division II Biola on Tuesday, Oct. 29 prior to their true home opener Nov. 10 against Cal Poly.
Both the men's and women's teams open their seasons on the road against Pac-12 opponents on Nov. 5: the men at Cal-Berkeley and the women at Washington State.
The men will also play USC and Arizona on the road during the non-conference season.
As an intriguing season of Waves basketball nears and both teams anticipate daunting schedules in and out of the WCC, Colbey Ross has a message for Pepperdine fans.
"Come out and support us," Ross said. "Whoever comes out to the games, we appreciate them no matter what."
The new leader of the women's program echoed Ross' sentiment.
"We need your support," Dowling said. "We need our students' support. We need our community's support."

________________________________________
Contact Karl Winter at karl.winter@pepperdine.edu
Follow Karl Winter on Twitter @karlwinter23