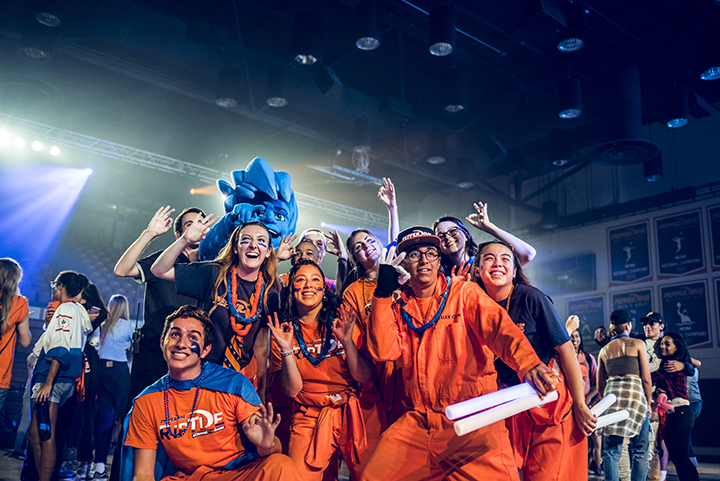 Photo courtesy of Ron Hall
This year's Waves Weekend kicks off Friday evening and includes three days of food trucks, carnival rides, music and a lot of school-spirit.
"[Waves Weekend is] a tradition here at Pepperdine," Assistant Director of Affinity Engagement and Alumni Relations Hannah Dean said. "About 10 years ago, we changed the concept so that we had family weekend and alumni homecoming during the same weekend."
Alumna Danielle Minke (Seaver Class of 2014), campus program coordinator for Student Activities, said this year the annual tradition has added a few new events: a volleyball and corn hole tournament, a faculty presentation, Pancakes with the President and an alumni after-party.
Associate Director of Alumni Engagement Chad Quinones said he and Minke have also rearranged the schedule on Saturday to provide more opportunities for family and alumni to spend quality time together.
Changes to Waves Weekend
The faculty presentation and reception with Dean of Seaver College Michael Feltner is Friday, Oct. 11 in Payson Library. Minke said Professor Cindy Colburn and Professor Paul Contino will lead the presentations.
This event will provide families of current students with a better idea of the student experience in the classroom. Minke said it also offers alumni a chance to reconnect with faculty members.
Another new event Minke said people can attend is Pancakes with the President in Lower in Mullin Town Square on Saturday, Oct. 12 at 10 a.m. Minke wrote in an email that in past years, Pepperdine's president holds a reception for families at the Brock House. However, since the house is under construction, the President's Office decided to host a pancake breakfast instead for students, alumni and families.
The schedule for Saturday has also changed from past years. Quinones said this year, the concert and affinity reunions will occur Saturday afternoon rather than in the evenings as they have been in previous years. There will be an alumni after-party in Santa Monica on Saturday evening instead.
"This year we changed because we want to do the alumni after-party and because we heard a lot of feedback from parents and students that they really want more time to spend together in the evening," Quinones said.
Other new events include a volleyball and corn hole tournament Friday, Oct. 11 at 5 p.m.; Pepperdine Prays Oct. 12 at 8:30 a.m., which provides parents with the opportunity to join Joline Gash, Tracey Hanson and others to pray for Pepperdine; and University Church of Christ House Church Oct. 12 at 6 p.m.
Blue and Orange Madness & Madness Village
Madness Village is a carnival event the Student Programming Board, also known as The Board, plans in the Firestone Fieldhouse parking lot. There will be food, games, rides and various student performing groups such as the Pepperdine Wind Ensemble.

Senior Kellie Warren, co-chair of event planning on The Board, said Blue and Orange Madness fosters school spirit and excitement for Pepperdine's men's and women's basketball seasons. It will also include contests and prizes.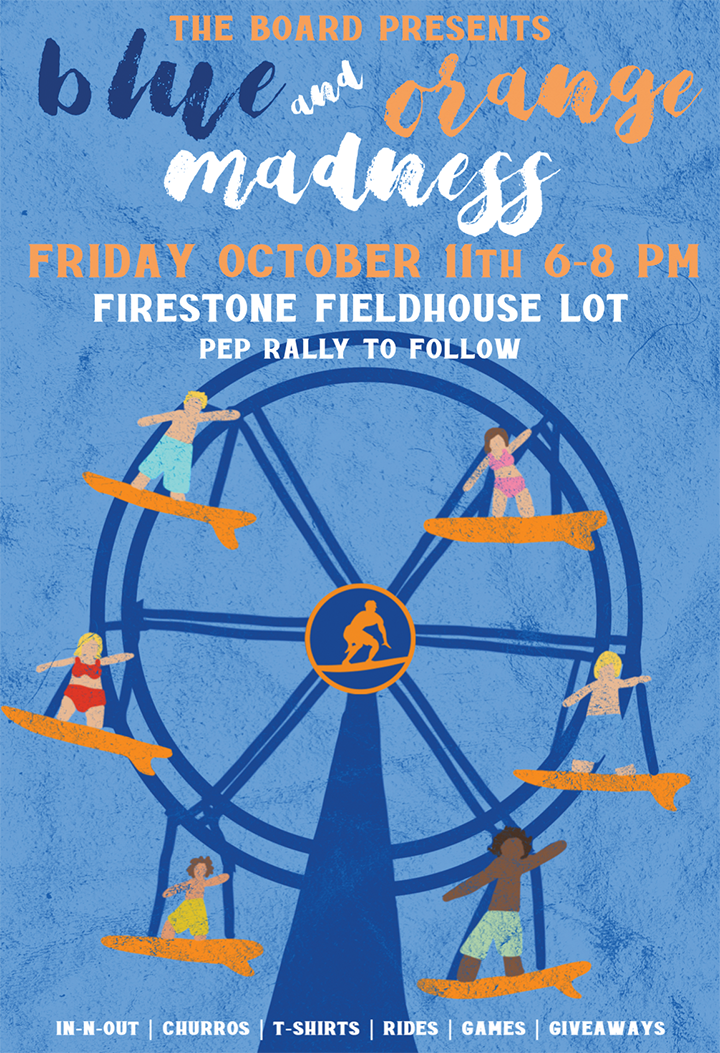 Photo courtesy of Pepperdine Student Programming Board
One student and one parent will also have the chance to win free tuition for a year if they make a half-court shot, according to the Waves Weekend website.
Warren said she and senior Annelise Adrian co-planned Blue and Orange Madness and Madness Village. Planning involves working with vendors, developing the site plan to submit to the Los Angeles County permitting office, coordinating with various student groups and organizing volunteers.
Warren said this year the theme of Madness Village is family-friendly carnival. In addition to keeping the carnival rides and shirt giveaways, The Board has added a petting zoo and churro carts to the event.
Photo courtesy of Ron Hall
"[We] want to make sure that every group that was [at Madness Village] had something interactive for families to do together, whether that'd be games or giveaways," Warren said.
Warren said The Board has also made an effort to incorporate student groups in Madness Village.
Eight student clubs will be at Madness Village and provide food, games and giveaway prizes: Chemistry Club, Crossroads, First Gen Club, Hawaii Club, Pokémon Club, Latino Student Association, Pepperdine Improv Troupe and KWVS Radio.
Warren said all four student life organizations — the Student Wellness Advisory Board (SWAB), the Inter-Club Council (ICC), Student Government Association (SGA) and the Student Programming Board — will also be at the events as one cohesive group.
"SWAB is giving out kombucha; ICC is doing coffee; The Board's doing … giveaways; SGA is doing a photo booth," Warren said. "We're all doing a unique component … [It will be] the first time that all four student life organizations will be there together."
Warren said Madness Village and Blue and Orange Madness are free events.
Madness Village is Friday, Oct. 11 at 6 p.m. and Blue and Orange Madness is the same day at 8:15 p.m. in Firestone Fieldhouse.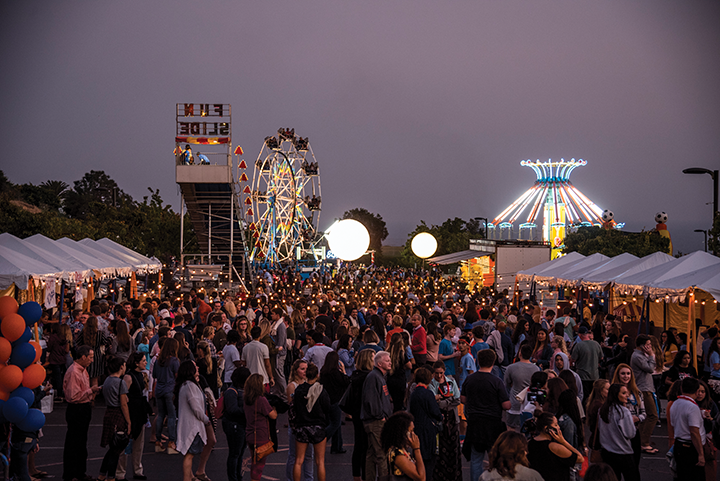 Photo courtesy of Ron Hall
Waves Weekend Concert:

Quinones said this year's Waves Weekend concert features A R I Z O N A. The trio produces electronic indie pop music. They have performed in Madison Square Garden in New York City and Staples Center in Los Angeles, as well as in festivals like Lollapalooza and Austin City Limits.
Singer songwriter group JEMs, who sings alternative folk music, will be the opening act. The trio includes Seaver College alumna Jessica Rotter (2010).
Quinones wrote in an email that the organizers of Waves Weekend try to incorporate as much alumni talent as possible, and they thought JEMs would pair perfectly with the headliner A R I Z O N A.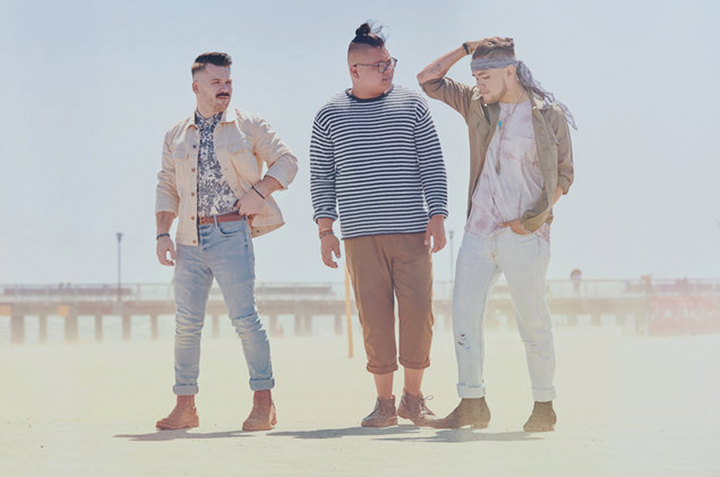 Photo courtesy of Billboard
Quinones said the process for choosing the headliner of the concert involves the guidance and help of a middle agent who has direct contact with various artists and their managers.
"The middle agent … understands Pepperdine, understands our budget and knows everything about the music industry," Quinones said.
This year, an alumnus suggested A R I Z O N A. Quinones said he looked into the band and passed it along to the middle agent who agreed that it would be perfect for Pepperdine.
Quinones said he then sent out a survey to some alumni, students and faculty and staff members with a few different band options, and A R I Z O N A was the top choice in the survey results. Afterward, Quinones extended a bid to the band, and the band accepted.
"Concert day is my favorite day of the year," Quinones said. "It's the culmination of a lot of work from a lot of people … so it's beautiful to see everything come together and see everybody enjoying themselves."
At the annual concert, there will also be six L.A. food trucks, according to the Waves Weekend website: Baby's Burgers, Lobsta Truck, Oaxaca on Wheels, Palazzolo's Gelato, Rice Balls of Fire and Street Kitchen LA.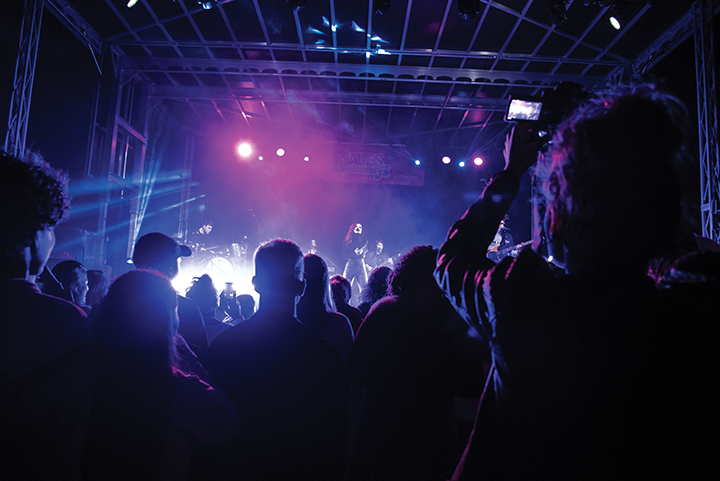 Photo courtesy of Ron Hall
Alumni Reunions:
Dean said part of her role in Waves Weekend is to create opportunities for alumni to return to Pepperdine and celebrate and reunite with fellow alumni who are part of specific affinity groups.
Affinity groups include clubs, organizations, international programs, Greek groups and honor societies — anything that an alum was a part of during his or her time as a student.
The affinity reunions will take place Saturday, Oct. 12 on Alumni Park during the concert.
The affinity groups reuniting this year are Sigma Phi Epsilon Fraternity, Debate Team, Men's Lacrosse, Zeta Kappa Sorority, Florence international program class of '06 to '07 and Pepperdine Ambassadors Council, according to the Waves Weekend website.
Dean said it costs $5 for students to attend the Waves Weekend concert and affinity reunions, and it is free for everyone who helped plan the events and reunions.
After the concert is the alumni after-party. Quinones said the event will celebrate the following classes: 1979, 1989, 1999, 2009 and 2014.
"Once you're a Wave, you're always a Wave, so it's important to me that students enjoy Waves Weekend because in just a few short years, you're going to be an alumnus," Quinones said.
Warren said she is excited for Waves Weekend because she gets to celebrate her and her friends' accomplishments and involvement in different parts of the Pepperdine community.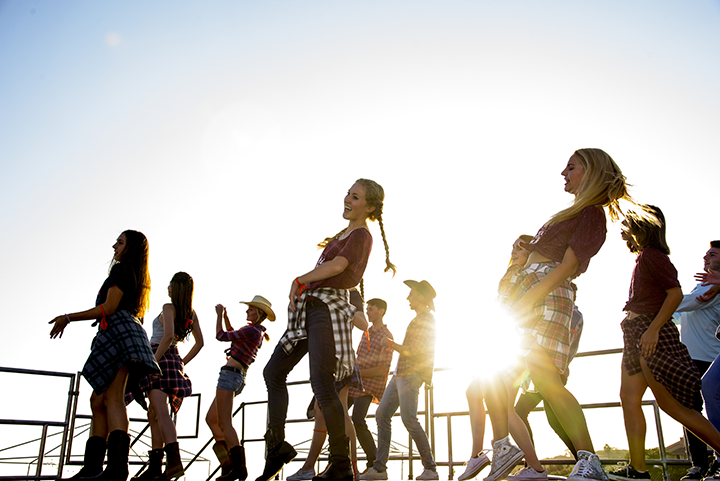 Photo courtesy of Ron Hall
Minke echoed Quinones and Warren's sentiments.
"It's important for me because as an alumna, it's a fun weekend to see old friends," Minke said. "Also … [I'm] so excited to see the parents with their students and the love that they have for each other."
People can register for events on the Waves Weekend website or, if online registration is closed, at check-in in Upper Mullin Town Square between 10 a.m. and 5:30 p.m., Friday, Oct. 11 or between 8:30 a.m. and 11 a.m. Saturday, Oct. 12.
_______________________
Email Emily Shaw: emily.c.shaw@pepperdine.edu