The first George Pepperdine College class officers (top) and the 2019 Student Government Association (bottom) stand for their group photos. Since the founding of the University, the student government expanded in size and diversity. Photos courtesy of Pepperdine Digital Commons and Brittany Skinner
Graphic by Ali Levens
More than 83 years ago, the first class at George Pepperdine College completed its first day of school in mid-September 1937. None of the 167 students were persons of color. In the college's second year, at least one student of color, Ed Anderson, attended the school.
Fast forward to the fall of 2019, and 43% of Pepperdine's student population consisted of students of color, according to Pepperdine's Office of Institutional Effectiveness' Enrollment Census.
Throughout the University's history, Pepperdine has experienced significant changes in the racial diversity of its students and its surrounding community, which came with various points of racial conflict and struggles to confront and address them. Student demographics varied over the past 80 years with increases and drops in the number of students of color, especially surrounding the move to Malibu in 1972.
Seven University presidents later, the Pepperdine community continues to wrestle with questions of diversity and inclusion.
In the following reporting, all information preceding April 2003 — unless specified otherwise — comes from Dean Emeritus of Seaver College David Baird's book "Quest for Distinction: Pepperdine University in the 20th Century," detailing the complex history of the University.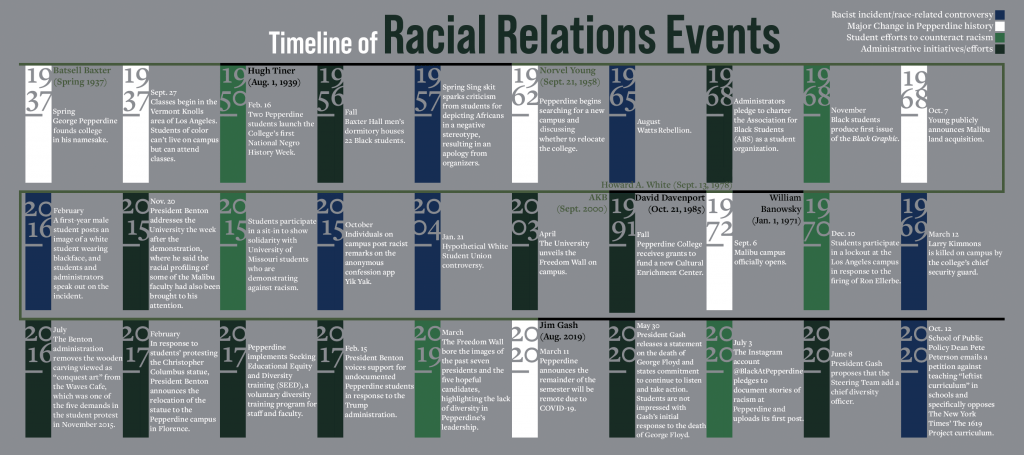 President Batsell Baxter (1937–1939): Pepperdine's First Student(s) of Color
President Baxter, the first president of George Pepperdine College, along with founder George Pepperdine and Dean Hugh Tiner, led the University in including qualified students of color. This welcome, however, came with a caveat.
When George Pepperdine College first opened in the Vermont Knolls area of Los Angeles, the college's policy stated that students of color may attend classes with white students.
Students of color could not live on campus in the same residence hall with white students until 1944 — when this restriction no longer appeared in the catalog.
Baird explained in his book this policy was "exceptional" among Church of Christ colleges in the 1930s, which were all located in the South.
For instance, Abilene Christian University, another Church of Christ college, in Texas, did not have a registered student of color until the fall of 1962, according to an article by The Christian Chronicle.
President Hugh M. Tiner (1939–1957): The Student Body's Change in Complexion Post–World War II
Under Tiner's time in office, the number of students of color had increased in response to the G.I. Bill after World War II. As the student population grew and became more diverse, tensions also arose.
In 1944, President Franklin D. Roosevelt signed the G.I. Bill into law at the conclusion of World War II, which funded veterans' college education as well as housing and unemployment insurance.
As a result of the bill, enrollment at Pepperdine more than doubled in 1948, with 45% of students being veterans.
"The enrollment bubble generated by World War II veterans literally changed the complexion of the student body," Baird wrote.
In 1950, two Black students, Audrey Cloy and Edgar Mitchell, launched George Pepperdine College's first National Negro History Week, which included several discussions about issues that pertained to Black people planned by social science classes and displays of related material in the library.
By 1956, men's dormitory Baxter Hall housed 22 of the 110 Black students out of 1,100 total students at George Pepperdine College, Baird wrote. Asian students made up another 8% — and Hispanic students 2% — of total students.
This shift in racial demographics, however, was not without tension.
In 1957, a skit in Spring Sing — similar to today's Songfest — depicted African people in a negative stereotype, which drew criticism from students. This resulted in an apology from the skit's organizers.
President M. Norvel Young (1957–1971): Racial Conflicts and the Tragedy of Larry Kimmons
President Young's time in office in the 1960s can be characterized by a significant increase in the number of Black students in response to the changing demographics of the surrounding LA community. Racial conflicts also occurred as tensions rose within and surrounding Pepperdine College's campus.
From 1960 to 1969, the ethnic diversity of Pepperdine students increased significantly, with Black students making up 17% of the student population in 1969, directly correlating with the increase of Black individuals in the surrounding community, according to Baird.
This percentage surpassed neighboring schools' — including UCLA, University of Southern California and Loyola Marymount University, whose Black student population were each around 2% — and was one of the highest in the nation for schools similar to Pepperdine, according to a report by the federal government, Baird wrote.
From 1964 to 1965, persistent tension between police and residents and ongoing general dissatisfaction underlined multiple uproars across the nation; LA was no exception.
In August of 1965, a rebellion took place in the neighborhood of Watts in South LA just three miles away from George Pepperdine College. The arrest of a Black man named Marquette Frye prompted this uprising, according to Graphic 2016 alumna Berkley Mason's article, "A Historical Analysis of Racial Tensions within the Pepperdine Community."
A few years later, more civil unrest took place in response to the assassination of Martin Luther King Jr., on April 4, 1968. Numerous memorial services and discussions occurred on and off campus, propelling college administrators to make several promises: to recruit Black faculty; provide a Black history course; examine admission standards for Black students; review "The Autobiography of Malcolm X" on campus; engage more Black students in the college chapel series and officially recognize the Association for Black Students as a student organization.
Dean of Students Jennings Davis also helped organize an off-campus event, "Operation Brotherhood," which aimed to foster "racial harmony" in Churches of Christ and at Pepperdine College, according to Baird's book. Davis noted instances of racism by the school in regards to hiring, conversation and fraternity and sorority process.
Despite Davis' and the administration's efforts, racism persisted on campus.
Pepperdine held a long-standing tradition of auctioning off the services of the homecoming court, rewarding the winning bidder with the ability to use the "slave" to complete various chores. The Associated Student Board, where Black students had representation, later abolished the tradition, according to Baird's book.
Another race-related controversy involved ABS's choice of speaker for a chapel event.
Although the college chartered ABS, the Young administration and many white students made objections against the student organization's choice of activist Walter Bremond — a well-known Black activist who worked for the U.S. Civil Rights Commission — as the chapel speaker.
The college administrative committee eventually allowed Bremond to speak under the promise that he would not make any "inflammatory" comments, according the Baird's book.
Despite this promise, Bremond's speech stated Black students should control the Vermont Avenue campus and called the LA police "murdering pigs," prompting at least 20 students to walk out, according to Baird's book.
Conflict between the Graphic and ABS also existed, creating growing tensions between the two student-run organizations.
Due to an unknown conflict between the Graphic and ABS during an ABS meeting in 1968, the Graphic's suspension of its Nov. 21 issue led to some Black students starting their own newspaper, the Black Graphic. Its first edition, published Nov. 25, called for a boycott of chapel services and also stated that Black students were "part of a racist institution with little or no voice," according to Baird's book. There are only two known editions of the Black Graphic, according to University Archives.
Racial conflict escalated early the next year March 12, 1969. The college's Chief Security Guard shot and killed Larry Kimmons, a local Black teenager who attended Washington High School. The killing ignited protests among Black students on campus, according to Mason's Graphic article.
The ABS presented a list of 12 demands to the administration two days later, including hiring Black faculty and staff with the input of the ABS, so that the number of Black administrators and staff members would reflect the ratio of Black students.
The ABS also demanded certain white racist faculty and staff members be dismissed and the campus leader of SPONGE — Society for the Prevention of Negroes Getting Everything — would be expelled.
In response, Dean Davis identified 12 steps for the administration, which included hiring Black faculty and staff, enacting faculty racial sensitivity training, implementing better training for security officers and dismissing employees who exhibited racist attitudes and behaviors.
Despite this, members of the board of trustees were more concerned with handling the crisis, believing that resolving the underlying racial issues is the responsibility of the church, not the college. They also decided to pay the legal fees of Charlie Lane, the DPS officer who killed Larry Kimmons.
Trustees H.E. Acklin and Robert Jones said, "We should not follow the lead of some who would expend their energies in the missionary approach to solving the racial problems of the nation and, at the same time, lose sight of the fact that our primary purpose and goal is education in a Christian liberal arts college environment," according to Baird.
When Young addressed the community a week after the killing of Kimmons, some Black students walked out of the chapel assembly due to their disapproval with how Pepperdine resolved the injustice.
Most Black students at Pepperdine between 1969 and 1970 believed the school's efforts in response to the tragedy of Kimmons had not gone far enough, according to Graphic 2018 alumna Rachel Ettlinger's article, "From South LA to Malibu, the Effects Still Ripple."
One Black student described Pepperdine as "a racist institution with a religious facade," according to Baird's book.
Some students also recognized that the college was trying to take steps in the right direction with Young's creation of a faculty–student committee that addressed racial issues and the college's increasing involvement in the community surrounding campus.
Young had announced to a select group of church individuals his vision for transitioning the LA campus to become a College of Urban Affairs at Pepperdine, as the liberal arts programs would eventually be built in the college's second campus in Malibu instead.
Hubert G. Locke, a Black minister in Churches of Christ, advised Young that this plan should make sure to "prevent the LA campus from becoming a ghetto college serving a ghetto community," according to Baird's book.
Young never carried out the creation for a College of Urban Affairs.
Six months after the Kimmons tragedy, Young appointed Calvin Bowers — a Black Church of Christ minister — as dean of ethnic studies at the LA campus.
President William S. Banowsky (1971–1978): Administration Building Lockdown and the Move To Malibu
During President Banowsky's time in office in the 1970s, numerous incidents following the killing of Larry Kimmons and other racially charged events illustrated the problematic nature of the college's standing in the surrounding Black community, propelling the college to consider relocation.
In 1970, the Black Student Union circulated a "hate sheet" that advocated "getting guns and starting to shoot." Two years later, a radio station in Berkeley, CA, received a note, presumably sent by the militant revolutionary organization the Symbionese Liberation Army, in an envelope also containing a .22-caliber bullet.
The note, which authorities eventually deemed a hoax, demanded that if Pepperdine did not turn its Los Angeles campus over to the Black community for protective custody, the college would be responsible for compromising the safety of Patricia Hearst — infamously known for being arrested for serious crimes committed after the SLA abducted her.
The general population also blamed incidents of crime on campus — including arson, burglary, bomb threats and physical and sexual assaults — on people from the surrounding low-income communities. For instance, a white adolescent lit a series of fires, but the arson was initially attributed to Black individuals. These commonly placed accusations further illustrated the University's problematic standing in the surrounding Black community.
Black students at Pepperdine came together in protest when the college fired Ron Ellerbe, a 23-year-old Black employee. The firing was "without justification," resulting in students "barricading" the administration building in December 1970, according to the BSU.
Ellerbe criticized the Pepperdine administration, saying that "more should be done in the area of community relations, particularly among the Black people," according to an LA Times article by Lee Dye,
At the protest, the students also presented administration with a list of demands, which were listed in an LA Times article published Dec. 10, 1970, titled "BSU Protests Negroes' Firing at Pepperdine."
"Efficient full-time counselors and tutors; two buildings to be dedicated to [Kimmons] who was killed two years ago; at least two mandatory ethnic studies classes for each student, and the immediate hiring of a Black financial official who would be more responsive to the financial needs of the Black students," according to the list of demands.
The Black students also requested a more ethnic curriculum and an "enlarged Black recruitment program"; Pepperdine, however, never fulfilled this request.
Banowsky agreed with Ellerbe's statement: "We're trying to change. Sometimes we change too slowly, but by and large, we have been successful," as quoted from the same LA Times article.
In response to the racial tensions on and off campus, Provost James Wilburn and other administrators worked to try to appease the situation: They doubled the size of the college's unarmed security force, adding more Black people to the staff; recruited and hired Black alumni as staff workers and appointed Black individuals to faculty positions; and recruited an Urban Board.
The Urban Board included some notable Black civic leaders such as Jesse Jackson, jazz musician Lionel Hampton and LA Mayor Tom Bradley.
Nonetheless, efforts satisfied neither the surrounding community nor Pepperdine's.
Pepperdine began searching for a new campus and discussing whether to relocate the college in 1962, according to Baird's book.
"If it hadn't been for race issues, Pepperdine would have never moved to Malibu. This is the heart of the matter," Baird said in a 2016 interview with the Graphic.
The relocation to Malibu in September 1972 is often viewed two ways: an instance of white flight or the University simply wanting to survive as an educational institution, according to Berkley's article.
The campus move not only changed the school's location and surrounding community, but it also caused a significant drop in the number of students of color.
Only 3.6% of Pepperdine's first class on the Malibu campus were Black, as opposed to 18% on the Los Angeles campus, according to Baird's book.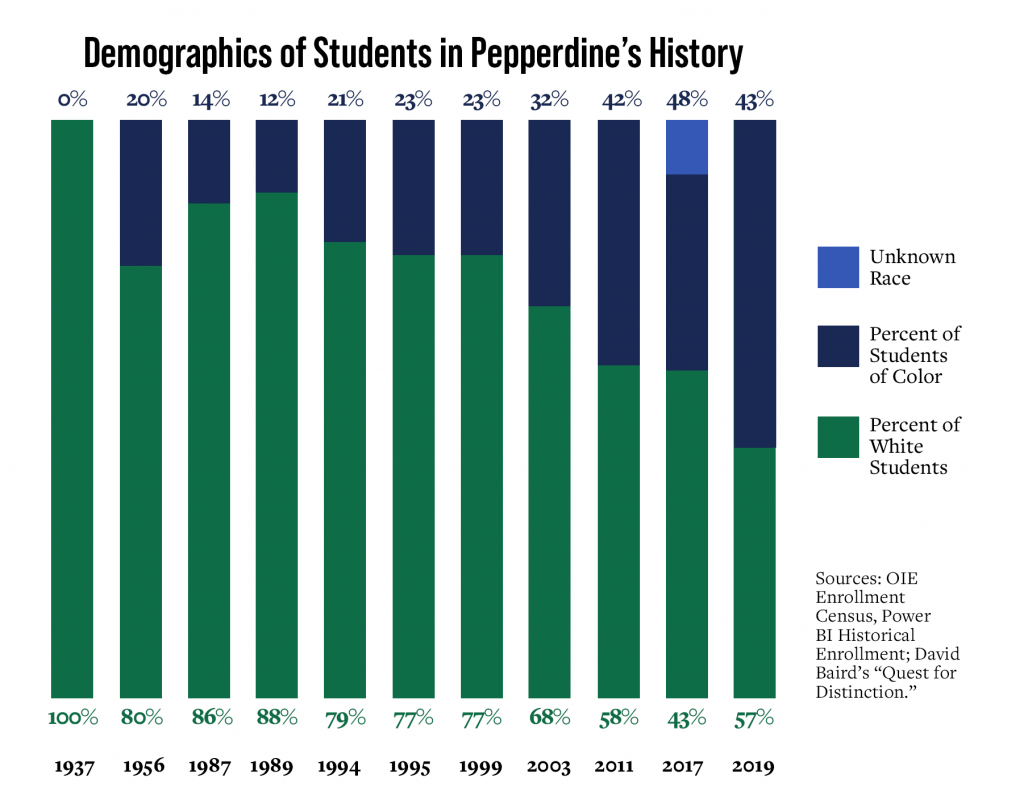 President Howard A. White (1978–1985): The 'Whitened' Student Body
The student population during President White's time in office was largely white, especially compared with the demographics of the students at the LA campus.
Although total enrollment increased throughout White's time in office, the percentage of Black students fell from 4% to less than 3%; Hispanic students continued to make up 4%, and Asian students increased one percentage point to 5% between 1983 and 1989.
"From President White's perspective, the maleness and whiteness of the Pepperdine University's administration and faculty had little to do with gender or ethnic discrimination," Baird wrote in his book. "The fundamental issue was whether the university would be Christian or not, which to him depended upon a relationship with Churches of Christ."
President David Davenport (1985–2000): A Cultural Enrichment Initiative
As the college's percentage of students of color slowly increased, President Davenport established a new Cultural Enrichment Center.
Filed in 1995, Pepperdine's "Third-Year Interim Report" stated that the percentage of minority students increased from 14.3% to 21% between 1988 and 1994.
That number grew to 22.6% in 1999, according to a later Pepperdine report sent to the Accrediting Commission for Schools, Western Association of Schools and Colleges.
In the fall of 1991, Pepperdine College received grants to fund a new Cultural Enrichment Center that would provide students of color with professional mentors and host events such as Rainbowfest to help all students become more culturally aware.
Rainbowfest celebrated the cultural contributions of diverse student groups on campus, as well as its visiting speakers, which included Maya Angelou in October 1993 and Carlos Fuentes in 1994. The CEC also sponsored activities that the Black Student Union organized during Black History Month. It is unknown when and why Pepperdine stopped organizing Rainbowfest.
President Andrew K. Benton (2000–2019): More Racial Tensions and Struggle
A new medium for expressing racist sentiments emerged when social media use grew during President Benton's time in office.
In his inaugural address Sept. 23, 2000, Benton identified five challenges of the University, one of which was strengthening the institution and its diversity by including more qualified women and racial and ethnic minorities to the faculty, staff and students.
Under Benton's administration, the University and the Inter-Club Council also officially recognized many cultural student organizations.
For example, the Panhellenic Association chartered the Tau Lambda chapter of Alpha Kappa Alpha, a historically African American sorority at Pepperdine in 2012, and the Interfraternity Council chartered the Upsilon Chi chapter of Alpha Phi Alpha, a historically African American fraternity in February 2017.
Other student clubs include Pakikisama: Pilipino American Student Association, founded in 2011, and Armenian Student Association, which ICC officially recognized in 2014.
Between 2003 and 2019, the percentage of students of color at Pepperdine grew from around 32% to 43%, according to the Office of Institutional Effectiveness Enrollment Census. Nonetheless, racial tensions persisted on campus.
In April 2003, the University unveiled the Freedom Wall on campus, aiming to provide a forum for the voices of students.
A sign posted on the Freedom Wall in January 2004 read, "Join the White Student Union," causing controversy among students and faculty. The sign also read in smaller print that it was not a genuine advertisement for a real club but rather the purpose of the sign was to raise a question about the fairness in the lack of club for white people.
Social media also became a space some individuals used to express prejudiced sentiments when, in October 2015, users on campus posted racist remarks on the anonymous confession app Yik Yak.
A month later, a group of students, known as Waves Against Ignorance, organized a peaceful sit-in on campus — sparked by the racist Yik Yak posts — to show solidarity with University of Missouri students who were demonstrating against racism on their own campus.
Students involved in the sit-in called on the University to implement mandates they identified: cultural sensitivity and diversity training for all students, faculty and staff; permanent removal of the Christopher Columbus statue on campus and the wood-carved mural in the Waves Cafe; as well as the addition of a General Education requirement course focused on diversity and inclusion.
Benton addressed the University a week after the sit-in, where he said the racial profiling of some of the Malibu faculty had also been brought to his attention.
"Change is hard, but it is necessary, or we are part of the problem," Benton said.
The racial conflicts were far from over, however, and real change on campus was yet to be seen.
In February of 2016, a first-year male student posted a blackface image of a white student.
In response, the administration sent a Seaver-wide email to students and faculty.
"A full investigation is underway," Dean of Seaver College Michael Feltner and Vice President for Student Life Mark Davis wrote in an email. "Any hateful, biased or disrespectful behavior will not be tolerated at Pepperdine."
BSA also released a statement to the Graphic in response to the incident.
"As an organization, we are disgusted by the hateful blackface image," Rahje Branch, vice president of membership of the Black Student Association, wrote. "Regardless of intent, the impact is hurtful and should not be tolerated under any circumstances. While we are not fully aware of all of the details, we are pleased with the administration's swift response to the bigotry."
Five months after the blackface incident, the Benton administration removed the wood-carved mural, which was one of the five demands listed from the student protest in November 2015. In an email to the Graphic, Vice President for Administration Phil Phillips wrote he supported Benton's decision to remove the "conquest art" from Waves Cafe.
Oct. 10, 2017, President Benton also announced the relocation of the Christopher Columbus statue from the Malibu campus to the Florence campus in response to another student protest on Columbus Day in 2016.
In 2016, the University implemented a voluntary diversity training program for staff and faculty called Seeking Educational Equity and Diversity, or SEED.
President Jim Gash (2019–Present): More Racial Tensions and Struggle
President Gash's presidency has so far been characterized by two major events: the resurgence of the Black Lives Matter Movement and the COVID-19 pandemic.
During the Presidential Selection Process in March 2019, many students on campus called for more diversity in Pepperdine leadership and staff to reflect the diversity of the students.
The University's administration since 1937 has been overwhelmingly white and male.
Before the University announced Gash as the eighth president, an anonymous display posted on the Freedom Wall expressed some students' belief that the all-white and majority-male candidate pool for the presidency lacked diversity.
At the beginning of the following semester, Gash assumed office Aug. 14, 2019.
In Gash's second semester as president, the University transitioned to remote learning due to COVID-19.
After the end of the partially online semester, and as the COVID-19 pandemic raged on, protests against police brutality toward Black people erupted across the nation. News organizations across the nation reported May 25 the death of George Floyd — a Black man in Minneapolis, Minn., who died in police custody as a victim of police violence.
Five days later, Gash released a statement on the death of George Floyd, stating Pepperdine's and his commitment to continue to listen and take action; however, students were unsatisfied with Gash's initial reaction.
In response to students' frustration and disappointment toward Pepperdine, Gash held conversations with various Pepperdine community members.
"There's a lot of different roles that our president has, and chief among them is listening," Gash said in an interview with the Graphic.
On June 3, the Graphic posted an Instagram story asking the Pepperdine community to share opinions on what anti-racist action they want to see from Pepperdine.
Some of the responses included cultural competency courses required of students, staff and faculty; more diverse voices in Pepperdine's convocation series; and financial support from Pepperdine to its Black community members through scholarship funds or by donating to a Black organization.
Instagram user @moore_brittni commented on Pepperdine's June 3 post, "Pepperdine has committed itself to diversity and inclusion, and by placing the primary work of ensuring the university is an inclusive environment onto us, it absolves leadership of that fundamental responsibility."
Many students took to social media and other online means to take on the responsibility of working toward an inclusive and diverse Pepperdine community. For example, the Instagram account @BlackAtPepperdine, which serves to document stories of racism at Pepperdine, uploaded its first post July 3.
In a June 8 email to the Pepperdine community, Gash shared how he and the administration planned to work to address racial injustice and inequity, which included the addition of a Chief Diversity Officer position on the Pepperdine Steering team. According to the President's Briefing on Sept. 23, the hiring for this position will occur early spring 2021.
A cultural competency course in the General Education program is also in the process of approval at Seaver College.
During the fall 2020 semester, a student of Cherokee and Choctaw descent and a Chumash student also founded an identity-based student organization in the fall of 2020 — the Indigenous People's Club.
On Sept. 29, Pepperdine Caruso Law announced guaranteed scholarships for students from historically Black colleges and universities to increase access to law school education for historically underserved student populations.
The School of Public Policy Dean shared a petition Oct. 12 against "far left indoctrinating" curriculum, specifically opposing The New York Times' The 1619 Project curriculum on behalf of Pepperdine and its School of Public Policy, prompting controversy within the University community.
This prompted a series of statements and responses from student groups, faculty organizations and clubs both in support of and against Peterson.
At a President's Briefing on Oct. 21, Gash addressed the controversy, and Peterson delivered an apology for and expressed his regret of the email.
"Let me also acknowledge the pain, hurt and divisiveness experienced as a result of this," Gash said at the briefing. "I am more committed than ever to fostering a strong sense of belonging in this community. It's clear to me there's more work to be done."

In an email to the Pepperdine community Oct. 28, Gash announced action steps his Presidential Action Advisory Team proposed to promote inclusion and racial justice that are organized under seven areas: curriculum, hiring, diversity and inclusion education, environment/culture, Center for Diversity, Presidential Speaker Series and assessment.
"In recent days, I've heard and seen many in our community in distress over recent events," Gash wrote. "I want you to know that I hear you and I see you. As Provost Marrs said on Monday and as I have said previously — we reject all forms of racism in our community and stand united with our Black students, faculty, and staff."⁠⠀
A Pattern of Unfulfilled Calls to Action
The discussion of inclusion, diversity and equity in Pepperdine's curriculum and culture has been ongoing since the University's conception. There has been a consistent call for action by students toward the administration over the course of Pepperdine's history.
Whether it be a mandated cultural competency or social justice course, financial support for Black students or more diversity within faculty, staff and students, students today are still asking for reform that students in 1970 — and possibly even further back — had asked from the institution.
Although Pepperdine students themselves have fought to make the campus more inclusive, many of those calls to action for the Pepperdine administration still have yet to happen.
"The same students this University claims to care for are exhausted — tired of having to continually fight for our collective dignity at the very institution we attend," according to the Seaver student group's Letter to the Editor after Dean Peterson's email controversy.
____________________
Follow the Graphic on Twitter: @PeppGraphic
Contact Emily Shaw: emily.c.shaw@pepperdine.edu
Contact Ali Levens: ali.levens@pepperdine.edu