Photos by Matt Benton
Voices chanting "take it down" echoed throughout main campus Monday as students protested the Christopher Columbus statue located above the amphitheater.
Approximately 26 students clad in black and wearing white ribbons deposited flowers at Columbus' feet and sat in front of the statue in silence for about 40 minutes during the "Waves Against Columbus" protest. Participants held up signs that read, "The student is the heart of the educational enterprise," "Representation matters," and "Does this man embody purpose, service and leadership?"
The protest was organized by the "Waves in Solidarity" movement, a recently renamed offshoot of the student group originally named "Waves Against Ignorance" that led a protest against racism last November.
A statement written by the "Waves Against Columbus" protest organizers was handed out during the event. It said the campus Christopher Columbus statue represents "a celebration of genocide and racial oppression," "a prioritization of nominally esteemed university donors above the cultural acceptance and personal experience of marginalized students," "an avoidance from wholly enhancing the inclusivity of Seaver College, particularly in recognition of Native American students, faculty and/or staff," a violation of the Pepperdine's Christian mission and "a culturally insensitive form of international exploration."
Sophomore Isabella Ordaz, SGA senator and vice president of the Latino Student Association, was one of the four organizers of the event.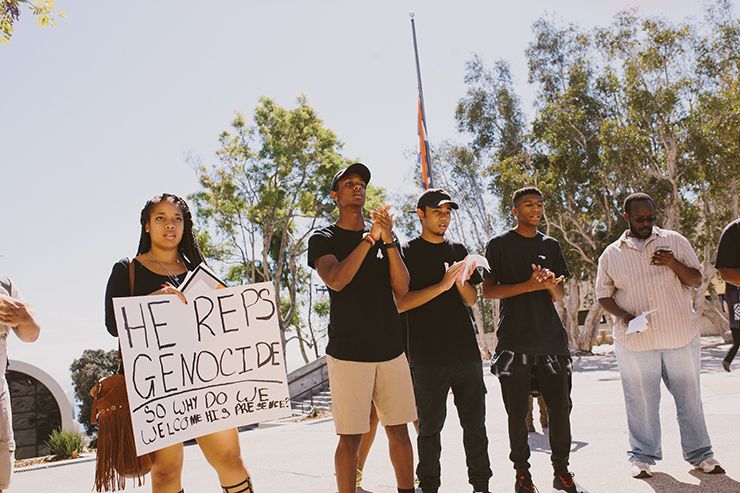 "We're trying to say that Christopher Columbus does not represent Pepperdine University's Christian values and morals, [the statue] does not represent the affirmation that students are at the heart of educational enterprise," Ordaz said. "It doesn't represent many things that I wish to be associated with as a Pepperdine student."
Protestors requested the donated Columbus statue be removed and either discarded or put in private storage, according to the statement: "Our refusal to remain idle to this issue is commemorated in the white ribbon — symbolizing our memorialization of the indigenous lives lost as a result of European colonization." When the ribbons were distributed, organizers of the protest requested that attendees wear them every day until the statue is removed.
Advertisements for the student-led protest were posted over social media Sunday, inviting the Seaver student body to meet by Stauffer Chapel and to wear black in solidarity.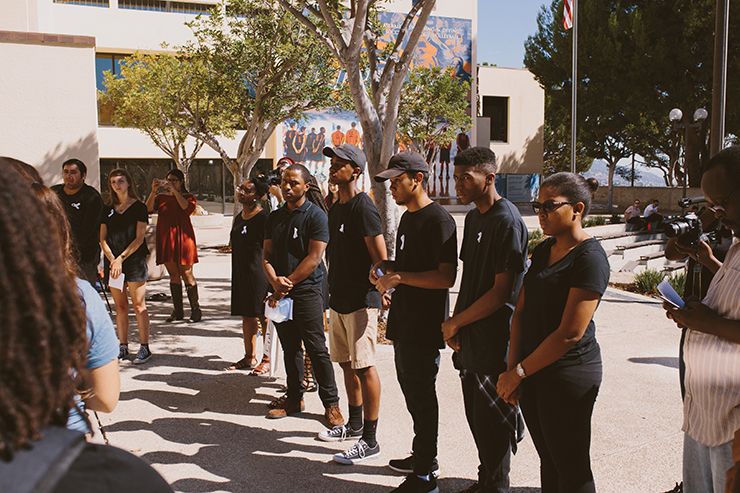 Ordaz said the Facebook group renamed "Waves Against Ignorance" to "Waves In Solidarity" to move toward the goal of being more proactive and reactive with this particular movement. She said the group hopes to plan more events in the future. "This is what's going to birth that movement. This protest. That's what we're hoping," she said.
Ordaz also said the group's next step is to "foster a community of mobilization within all students that is grassroots, while also working with administrators, with the group of students who organizes protests, along with the students who have been actively involved with pushing administration to create a more inclusive campus."
Sophomore Asa Bailey said she participated in the protest to show support for the removal of the statue. When recounting the Yik Yak and Snapchat "blackface" incidents that occurrred last year, she said, "I immediately felt unwanted and unwelcomed, and not like I was in a safe place at all."
Bailey said these incidents made her feel like Pepperdine was not the place for her, but since then, she can sense the progress that has been made.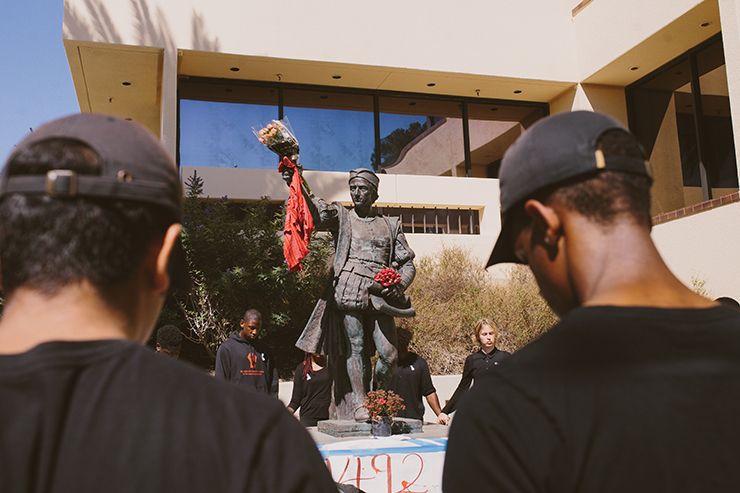 "I saw the will and the support that was shown by many of the students of different races that came together to support the fact that they don't stand with the people who participated in those things," Bailey said. "Being able to see how many people actually do want to contribute to fix the problem brings me some sort of comfort."
President Andrew K. Benton wrote in an email to the Graphic that he did not witness the protest, but he respects and admires thoughtful expressions of disagreement, including protest.
He also wrote that he acknowledges the differing opinions regarding Columbus' exploration of North America and his on-campus representation "depicted by [an] artistic sculpture funded by our Italian-American friends."
"Since I knew those who argued for the statue we have today, I can't forget the sincerity of their intent," Benton wrote. "My colleagues and I will listen carefully to those who disagree with the artistic rendition present today and we will measure those thoughts against others who have spoken. In my view, it is important to listen to all voices."
Freshman Mackenzie Mazen participated in the protest and said she hopes faculty and administrators will listen to students' requests for the statue to come down.
"I came just to show solidarity with people who need it," Mazen said. "I think that I'm at an advantage because I'm white…people listen to me because I'm white, and so if I can take that, and I can use it to help people who need help and who aren't listened to, I think that that's a really important thing for me to do."
Mazen also said that having the statue present on campus is not a benefit to the university.
"If this many people can come out of their day and sit down and discuss this and have this demonstration, I think that really speaks mountains as to what the statue represents and how it's interpreted by students," Mazen said.
Dean Michael Feltner wrote in an email to the Graphic that he supports "our students and their peaceful, yet powerful protest against Christopher Columbus" and the presence of his statue on Pepperdine's Malibu campus.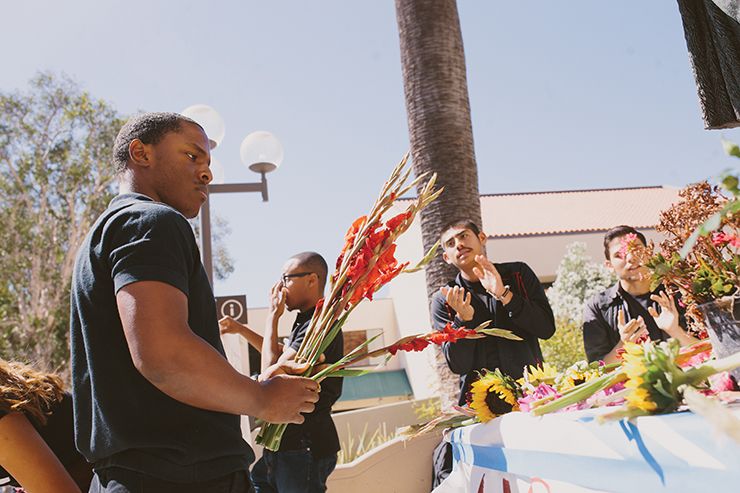 "Seaver College is committed to creating a campus climate that is inclusive and respectful of all people in our community," Feltner wrote. "We have made great strides in this effort during the past year, but the protest indicates that our community still has issues to address. I welcome the comments provided by the 'Waves Against Columbus' student group and appreciate their efforts to advocate for change at Pepperdine."
Bailey said she wants to continue to be a voice for all all those represented on Pepperdine's campus, including those who might be afraid to speak up.
"It's comforting in a sense knowing that there are people out there who care, as opposed to just letting it happen and trying to shoo it away or throw it under the rug," Bailey said.
Ordaz said the main reason she is involved in this student-led protest and leadership is because of her faith "in a Lord who is just, and who mourns over murder of His children."
"Students should be engaged with their realities, should be engaged with campus affairs [and] should be engaged with the transformation of our culture into one that is more Christ-like," Ordaz said.
Cassandra Stephenson contributed to the reporting of this article.
__________
Follow the Graphic on Twitter: @PeppGraphic