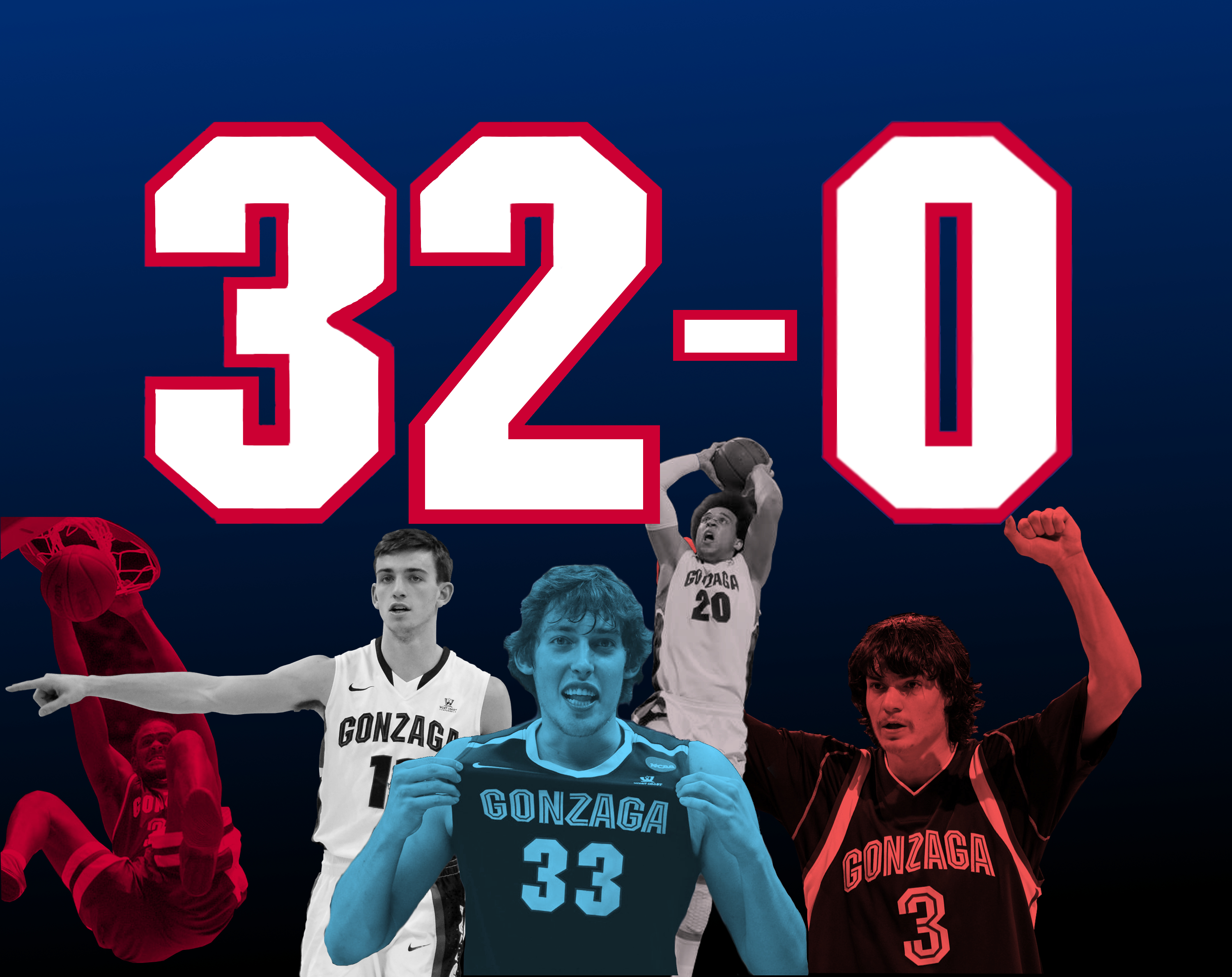 Image by Kyle Cajero
End the streak.
For the past 15 years, Waves fans have said, tweeted and written a variation of those three words before every men's basketball game against the Gonzaga Bulldogs. Over the span of 32 games, the Waves have lost to the Bulldogs in a myriad of ways, from missed tip-ins, to 40-point blowouts and to a controversial loss in the West Coast Conference Tournament.
Aside from an NCAA Tournament appearance or a former Wave hearing his name on NBA Draft night, the Waves' 32-game drought against Gonzaga is one of the longest — and arguably, one of the most painful — streaks in Pepperdine basketball history.
The worst part? There doesn't seem to be a light at the end of the tunnel. This season, Gonzaga is the final undefeated team in college basketball with a 20-0 record. The Bulldogs come into Firestone Fieldhouse as double-digit favorites on Saturday, Jan. 28, and are looking for their 33rd-consecutive win against Pepperdine. Barring anything short of a miracle, the Zags will win no. 33. And chances are, the loss will hurt.
"I'm not big on moral victories," former Head Coach Tom Asbury said after Pepperdine's 17th-straight loss to Gonzaga in the AP article "Gonzaga grabs sole possession of first place in WCC with win," published Jan 12, 2010. "It's a loss."
Pepperdine is one of two winless teams in the West Coast Conference against Gonzaga since 2002 (the other being Pacific, who joined the conference in the 2013-14 season, following a quarter-century stint in the Big West). Predictably, Saint Mary's leads the rest of the WCC with seven wins against the Bulldogs, per the chart below.
Image by Kyle Cajero
Although the Bulldogs are far from unbeatable, the Davids of the WCC have only toppled the Goliath 25 times in the past 15 seasons. Somehow, these 25 wins are still fewer than the number of losses Pepperdine has endured against Gonzaga over that same stretch. It's safe to say that this series between one-time-WCC giants has become rather lopsided in recent years.
But how lopsided has the Zags-Waves series been? Pepperdine fans: You might want to skip the next three paragraphs. They are not pretty.
Gonzaga has outscored Pepperdine in 54 out of the last 64 halves, and has won the past 32 contests by an average of 17.9 points. The Waves' sole halftime lead against the Bulldogs was a mere point (45-44), which occurred in the 2002 WCC Championship game, which was game number two in the Waves' 32-game losing streak. A grand total of five Pepperdine Head Coaches have participated in the 15-year drought, whereas Mark Few has been at the helm of the Bulldogs every time.
While Pepperdine has failed to enter the Associated Press top 25 rankings since the final poll of the 1975-76 season, Gonzaga has beaten the Waves while ranked 3 (twice), 5, 6 (twice), 7 (three times), 8 (twice), 10, 13 (twice), 14, 15, 16 (twice), 17, 23, 24 and 25 in the AP Poll. For those of you keeping score at home, Gonzaga is halfway to a National Ranking Bingo against the Waves (yes, I just made up this stat). It's very possible that Gonzaga will have beaten Pepperdine from every rank in the AP Poll before Pepperdine even cracks the national rankings.
Speaking of the AP Poll, Pepperdine has won one game against a nationally-ranked opponent since its last win against Gonzaga: a non-conference home win against No. 20 Wisconsin on Nov. 27 2004.
Ouch.
Both programs have embarked on opposite trajectories since the Bulldogs started its winning streak against the Waves in 2002. However, the past 32 games have seen its fair share of characters and drama between these two teams. Every so often, a David in a Pepperdine uniform has stood up to the Bulldogs. Guards Terrance Johnson and Devin Montgomery nearly toppled the Bulldogs in the dawn of the streak. Forward Glen McGowan chipped in 19 points and 9 rebounds off the bench in the last win against Gonzaga; merely months before, the controversial forward was suspended for punching his teammate Will Kimble in Payson Library. Former guard Keion Bell is in the school record book for his career-high 37 points against Gonzaga in January 2010. Even though he transferred to Missouri later in his career, Bell is the only Wave to drop 30-plus on the Bulldogs.
And most recently, Pepperdine's all-time leading scorer Stacy Davis was hailed as the one who would finally slay Goliath; in a Shakespearean twist of fate, the Waves were excruciatingly close to achieving the unthinkable in Davis' final home games against the Bulldogs.
With all of this in mind, here is an overview of all 32 losses. The games are ranked in tiers: the first being "predictable" losses, which are games Pepperdine had no business being in, yet weren't completely blown out by the Bulldogs. The "painful" losses are embarrassing either due to the margin of victory, or due to the players involved. The "heartbreaking" tier is for the extreme losses including, but not limited to, huge blowouts, last-second losses, blown leads and a loss in the WCC Championship game that not only impacted Pepperdine's NCAA seeding, but also changed the rivalry for the next several years.
Here we go.
TIER ONE — PREDICTABLE LOSSES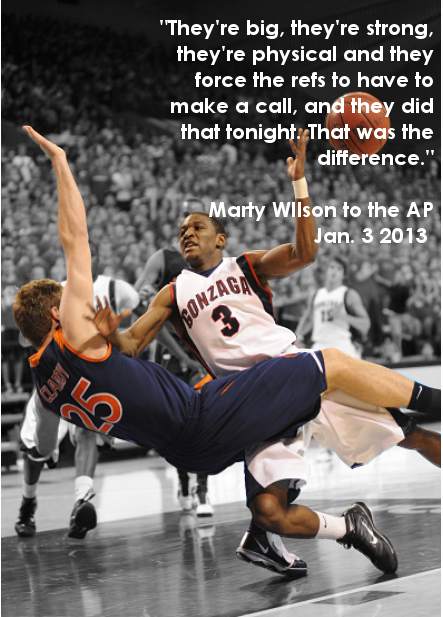 Image by Kyle Cajero
The Bulldogs were obviously out for revenge less than a month after losing to Pepperdine in Malibu. I'm sure the Waves saw this coming from a mile away.
This was the only time Pepperdine has been tied at half in Spokane, and if there's anything I learned in the one (and only) economics class I've taken, it's that a gain of zero is still a net positive. After all, not leading at half in the toughest venue in the conference is predictable.
The Waves haven't won in the Kennel since Feb. 19, 1998, and this losing streak will be older than several players on the current Men's Basketball roster by the time Pepperdine plays in Spokane next season.
"We've told our guys that there is a thin line between the elite in our league and everyone else. We obviously proved that tonight. We can play with everyone in the league if we're doing all the things we need to do," Marty Wilson said after the 12-point loss in the ESPN article "Gonzaga hangs on to beat Pepperdine for 22nd straight time," published on Feb. 5, 2012
At the time, Gonzaga was ranked 24th in the AP Poll with an 18-4 record. Pepperdine was 8-15.
"For one night, at least, the Gonzaga-Pepperdine rivalry was back in the West Coast Conference," read AP's recap, "Gonzaga grabs sole possession of first place in WCC with win," published on Jan 21, 2010..
This matchup had one of the best individual performances: Keion Bell scored 34 points in the second half on his way to notching 37 — his career high in a Waves uniform.
The fact that a 14-point loss is in the "Predictable" category says something about this rivalry. Pepperdine has lost the past 32 games in a myriad of painful ways that a loss like this doesn't feel as bad as it probably should.
AP's recap for this game was titled "Gonzaga outshoots, out rebounds foe," which is all anyone needs to remember about this game, or most of Gonzaga's games, for that matter.
Well, aside from the fact Pepperdine was referred to as simply a "foe."
Not "Pepperdine." Not "Waves." Foe.
Stop me if you've heard this before: According to the aptly titled AP recap "Gonzaga 69, Pepperdine 52," "The Waves came into the game ranked among the national leaders with per-game averages of 81.9 points, 28.7 3-point attempts and 10.9 3-pointers made." Pepperdine was 4-13 going into this game.
One decade later, the Waves are a 5-14 squad that shoots 37 percent from deep, is 92nd nationally in 3-point percentage according to ESPN's rankings, yet has failed to win because of its offense.
"We played OK," Gonzaga guard Jordan Mathews said in the AP article "No. 7 Gonzaga beats Pepperdine 92-62 in WCC opener," published Dec. 29, 2016. To be fair: The undefeated, seventh-ranked Bulldogs let a 4-8 Pepperdine team hang around for the majority of the first half, so he's not wrong.
TIER TWO — PAINFUL LOSSES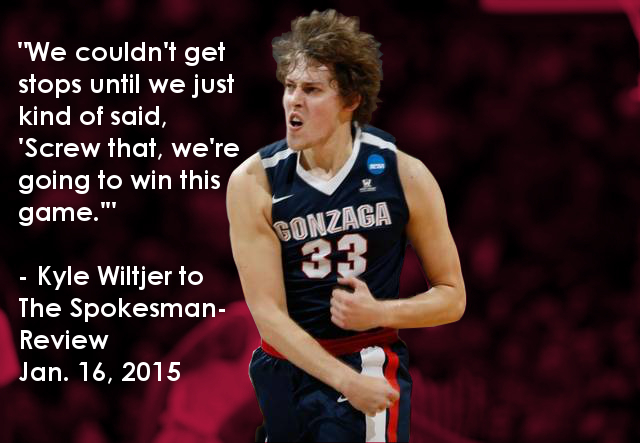 Image by Kyle Cajero
Gonzaga's semifinal win in the West Coast Conference tournament was "easily the most fun we've had in a game this year," to quote senior guard Byron Wesley from ESPN's article, "Byron Wesley, Kyle Wiltjer lead No. 7 Zags into WCC final," published Mar. 9, 2015.
In a game that was never particularly close, Gonzaga proved the old college basketball adage wrong: A team can beat an opponent three times in a row, especially when said opponent has lost the last 28 contests.
Pepperdine's all-time leading scorer Stacy Davis gave credit where it was due in the same article. "They're a great team," Davis said. "They're very balanced. We have nothing to hang our heads about."
Oh, Stacy. Pepperdine basketball misses you.
Fun fact: Mychel Thompson, brother of Los Angeles Dodgers outfielder Trayce Thompson and Golden State Warriors shooting guard Klay Thompson was the leading scorer for the Waves that night.
Not-so-fun fact: Thompson scored nine points on 2-14 shooting while sinking three of four free throws.

On this date, Gonzaga forward Josh Heytvelt set three career highs with 27 points and 22 rebounds and six blocks. No wonder why he loved playing in Malibu: He averaged 12.2 points and 5.8 rebounds in his career, according to his sports-reference.com page.
To further twist the knife, Pepperdine forced Gonzaga into an astronomical 28 turnovers, yet they couldn't pull within one possession of the Bulldogs.
The aforementioned Heytvelt nearly eclipsed his career-high in scoring, with his 25 points — plus 9 rebounds — against the Waves.
After the game, Heytvelt said this to AP reporters in "Heytvelt, Bouldin power Gonzaga past Pepperdine," published Jan. 22 2009 : "I don't know why I didn't come here because I always seem to have decent games [here] and then we end up winning most of the games when we come here. I don't know if it's the atmosphere of the heat, but I think I enjoy playing here."
On behalf of the City of Malibu: You're welcome. Please visit us anytime.
"We don't relax for any game," Gonzaga guard Kevin Pangos said in the AP recap of the game titled "Kevin Pangos helps No. 6 Gonzaga pound Pepperdine," published Feb. 7 2013. "I saw today that [unranked] Illinois beat [no.1] Indiana. It happens. We can't let that happen to us."
This is like saying "Nobody's gonna top my formal proposal" and hiring The Weeknd to serenade your prospective date during a dinner at Nobu, all while you film the scene with a custom Snapchat filter.
Former Head Coach Paul Westphal is a great example of someone who tells it like it is. The man simply does not use alternate facts.
"Our defense is very poor and their defense is very, very good," Westphal said in the AP article "Annual grudge match no contest in Kennel," published Feb. 5 2004. To wit: The 2003-04 Waves surrendered 79.1 points per game, good for 320th in the nation, according to sports-reference.com. Not a good look against the nation's seventh-highest scoring offense that year at 81.8 points per game, according to sports-reference.com.
Different year. Same Paul Westphal.
"When you give up 60 percent and shoot 33 percent, up here or anywhere, you're going to lose the game." he said in the AP article "Pepperdine stifled to just 33.9 percent shooting," published Jan 15, 2005.
I wasn't around to see Westphal coach, but man. I miss him so much.
"We're not ready to play them yet," Pepperdine coach Tom Asbury said of his young team in the AP article "Heytvelt's double-double lifts Bulldogs to rout of Waves," published Feb. 21 2009. "They are too big and physical and too experienced. We can't compete with that."
TIER THREE — HEARTBREAKING LOSSES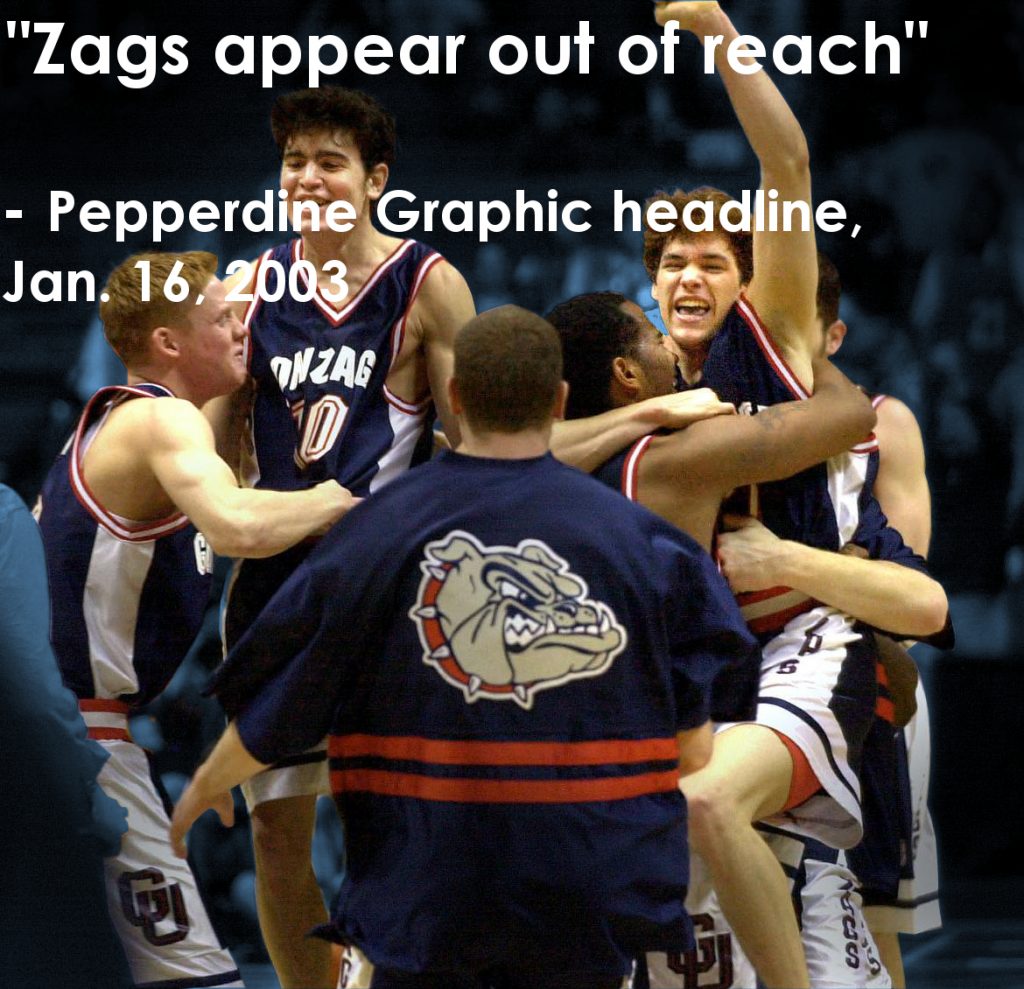 Image by Kyle Cajero
Welcome to rock bottom.
With an interim head coach and virtually no momentum in conference play (Pepperdine arrived in Spokane with a 1-6 record), the Waves surrendered 101 points to an unranked Gonzaga squad. Despite carrying a 19-point halftime lead, the Zags didn't let their foot off the gas pedal. The Bulldogs' 54 second half points were merely five points fewer than what the Waves had scored all game.
Pepperdine's worst loss against Gonzaga is tied for fourth among the Bulldogs' highest margins of victory against West Coast Conference opponents in the past 15 years, according to sports-reference.com. The Bulldogs have won by 40-plus against San Francisco (42), Santa Clara (42 and 43) and LMU (45).
Future NBA players Yakhouba Diawara and Ronny Turiaf battled it out to keep this game close. Diawara — one of five Waves to log an NBA minute in the millennium — hit two threes in the final minute to pull within 2 with 38 seconds left, but his effort wasn't enough.
"If we make our free throws and get our rebounds, we win that game," Diawara said in the AP article "Turiaf, Knight clutch down the stretch," published Feb. 11, 2005.
If only it was that easy.
"The Traffic Game" started under unique circumstances. Gonzaga was an hour late to the game because of horrible freeway traffic, which is #soLA, it hurts (other contenders: USC's in-game DJ/hypeman, UCLA fans showing up super late to games unless they're nationally televised, the palm tree design on Cal State Fullerton's court and the fact that Long Beach State plays in the glitzy-sounding Walter Pyramid). In an act of sportsmanship, Head Coach Marty Wilson gave the Bulldogs ample time for a pregame warm-up.
Pepperdine was down by 9 at halftime, but the Waves used a 13-5 run to pull within two at the first TV timeout of the second half. The Waves would go on to outscore Gonzaga 45-38 in the second half, thanks to shooting 60.3 percent from the field, 40 percent from deep and, critically, 81.8 percent from the free throw line.
It took the Waves nearly thirteen years to get within one possession of Gonzaga. Up until this point, the Pepperdine students — or even grad students — in attendance hadn't seen the Waves lose by single digits to the Bulldogs. This game was unknown territory. Like a first concert, a first trip overseas or a freshman orientation, Waves fans had no idea what to do or how to react, but they were definitely happy to be there.
The naiveté and feel-good atmosphere turned to nervousness and tension by the time Gonzaga threatened to pull ahead during second half. It was almost as if the dorky, scrawny sixth grader finally realized he could stand up to the eighth grade bully and throw a punch or two. As soon as the crowd realized that A) They could actually win, B) Hey wait, it's been how long since Pepperdine beat Gonzaga? and C) Forget it, let's just freakin' WIN, the legend of "The Traffic Game" was born.
Video courtesy of Pepperdine Athletics
On a personal note, this was the first time I watched Pepperdine play Gonzaga in person. I don't think I'll forget this game, especially the final eight minutes. As I've written before, there was enough hope in the building that maybe, just maybe the Waves would finally pull off the upset. For the first time in 15 years, Pepperdine could almost taste victory against the juggernaut from Spokane.
Alas, the unthinkable was a missed tip-in away.
It should have been a storybook ending. A nationally-televised game on a Saturday night. The Waves brought back all of its starters for Stacy Davis' and Jett Raines' senior seasons. Lamond Murray Jr. and Kameron Edwards were blossoming in real time. And there was no Przemek Karnowski for the Bulldogs. There was bound to be a raucous crowd (it was). Last year's two-point loss fresh in everyone's minds, so how much closer could the Waves get? Everything looked promising.
That is, until it didn't.
Stacy Davis singlehandedly willed the Waves to recapture the magic from the previous matchup in Malibu. In front of a national audience, the senior forward from Laveen, Arizona — who, by the way, was rated two stars by ESPN coming out of high school — led all scorers with 26 points, including 5 threes. Not to be outdone, Lamond Murray Jr. scored 15, including a sweet dunk in transition off a no-look assist from Jeremy Major to make it a one-possession game.
But the Waves' defense came through against the Bulldogs. As a team, the Bulldogs only shot 9-25 from the field in the second half — a far cry from its 13-26 mark in the first half. On the individual level, Pepperdine's defense limited 2015 Wooden Award finalist Kyle Wiltjer to a mere six points in the first half. Wiltjer finished with a pedestrian (by his standards) 17 points, and the Waves held him to only 16.7 percent from 3 (Wiltjer made 43.7 percent of his 3-pointers that season, according to sports-reference.com).
The lesson in this defeat, as always, was Gonzaga had (and has) so many weapons. Wiltjer and guard Josh Perkins were well off their season averages in scoring, yet sophomore forward (and current Oklahoma City rookie) Domontas Sabonis led the way with 20 and 11. Reserve forward Bryan Alberts was the only scoreless man in the lineup, which was eight-deep.
Despite the fact that Pepperdine also played an eight-man rotation, forwards Jett Raines and Kameron Edwards failed to score in the double digits: something they had done frequently during the season. Amid Udenyi also went cold by shooting 0-8 from the field. The usual go-to players didn't have their best games, which was the difference maker.
Unlike leaving Firestone after the 78-76 loss the year before, any feelings experienced after the final buzzer were those of emptiness, numbness and doubt. Chances are, Pepperdine will experience several years of 17-point losses before it comes within a possession of the Bulldogs.
As of now, future Gonzaga matchups look bleak, but it's only a matter of time before another David in a Waves uniform rises to the occasion.
Pepperdine held WCC Player of the Year Dan Dickau to two first-half points, outscored Gonzaga's bench, turned a one-point halftime advantage into a seven-point lead midway through the second half, shot 45 percent from the field (including 42.9 percent from 3-point land), saw starting point guard Devin Montgomery score a career-high 27 points.
Yet Pepperdine lost by six thanks to the aforementioned Dickau. With his fiancee in the crowd — heckled by Pepperdine fans who urged her to "keep her maiden name," according to the Graphic's article "The finer points," published March 14, 2002 — and ESPN's cameras fixed on his floppy mop of hair, the baby-faced Dickau came alive in the second half to score a whopping 27 points.
As soon as Dickau surged, the rest of the Bulldogs followed their senior leader; the sixth-ranked Zags saw their lead balloon to 15 with eight minutes left to play. Pepperdine's reserves had kept them in the game up until that point — coach's son Mike Westphal hit three 3-pointers in the second half and Craig Lewis chipped in 8 — but the Waves could no longer drive and kick as easily as they did in the first half. Dickau's offensive resurgence must've sparked something in Gonzaga's defense as well.
But the game did have its fair share of controversy, mostly surrounding Dickau. Pepperdine forward Boomer Brazzle was whistled for a rather questionable technical foul at 16:24; the forward took one high dribble in frustration after a play was whistled dead, and the gesture was enough in the eyes of the referees to T him up. The Bulldog on the line for the ensuing free throws? Dan Dickau.
Then, with 44 seconds left, Dickau proved to Pepperdine fans that yes, he could be a little more unlikable after dropping 27 on the Waves.
After two free throws from Devin Montgomery to put the Waves within five, the Bulldogs prepared to inbound the ball. Dickau tried to make a cut to the inbounder, but was tied up by Pepperdine forward Jimmy Miggins. Before they could get the pass off, referees noticed Dickau lose his balance. One of the referees blew his whistle. Foul on Miggins.
After the play was ruled dead, Miggins and Dickau exchanged words as Dickau stood up. Miggins turned to his left to walk away from Dickau, while Dickau was arms-length in front of a referee. At the last second, Dickau slid into Miggins' path, feigned contact and collapsed. A second whistle sounded. Technical foul on Miggins.
It's worth noting that a referee watched the whole scene transpire from a mere two feet away, but the whole scene was almost ridiculous. Was Dickau shoved, or was he flopping? The jury is still out.
But Dickau still made one of two free throws because of the technical and, by proxy, gave the Bulldogs' possession, which all but ended the Waves' slim chances at a comeback.
This game also marked the last time the Waves-Zags rivalry was close and meaningful. Although both teams entered the West Coast Conference tournament with a 13-1 conference record, Pepperdine was awarded the top seed thanks to a coin flip, according to The Graphic's article "Waves floored in Spokane," published on Feb. 21 2002 . Both teams won a combined 49 games coming into the tournament final: something that hasn't happened between these two teams in any games since.
The Waves have yet to make the WCC Championship game.
Less than a year after Pepperdine's last win over Gonzaga, the Waves came into the Kennel looking to avenge the 96-90 loss in the West Coast Conference tournament.
But, as an ancient Hindu philosopher once said: Life comes at you fast.
Pepperdine outscored Gonzaga 44-42 in the second half, but this wasn't even close to erasing its horrid 50-28 halftime deficit.
In most ways, this loss was the most painful because it not only showed the stark difference between the programs, but it also served as the turning point in the rivalry. Pepperdine lacked the depth, physicality and skill required to keep pace with Gonzaga.
The Bulldogs, on the other hand, were just taking off.
_________________________________
Follow Kyle Cajero on Twitter: @kylecajero