Photos Courtesy of Martin A. Folb, Pepperdine Athletics
Motivation can be found in unexpected places.
Hours before senior forward Stacy Davis' career tipped off against Cal State Northridge on Nov. 9, 2012, the Pepperdine Waves stumbled upon a misplaced scouting report.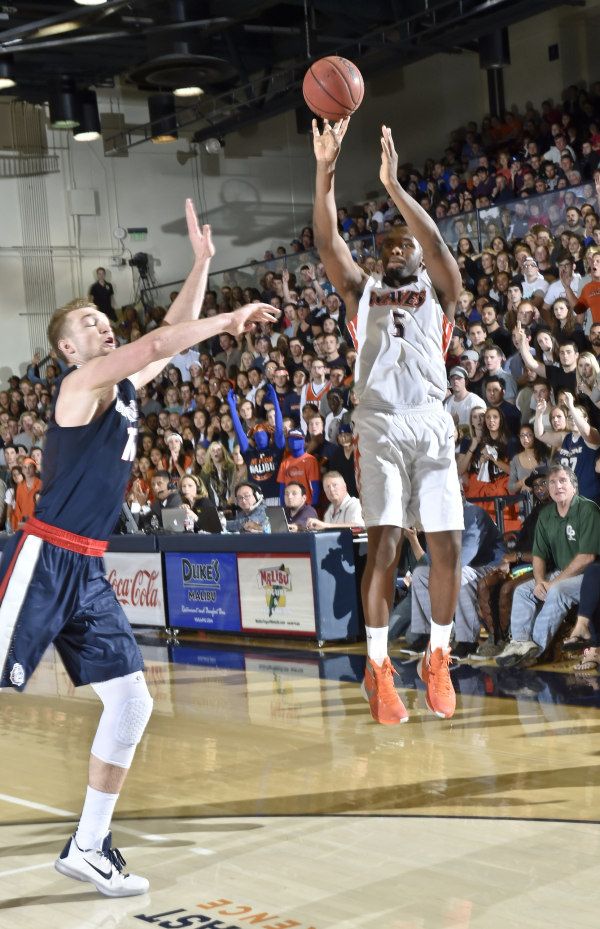 "One of [Cal State Northridge's] scouting reports was 'Our freshmen are better than theirs," Davis said, recalling the opening game of his freshman year.
As if the pre-game nervousness of his first Division I basketball game wasn't enough.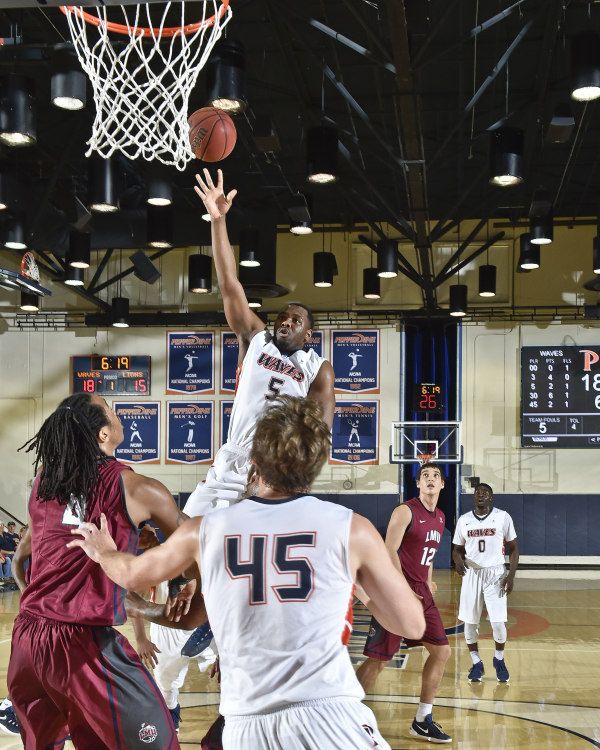 "At that point [the comment] was like adding fuel to the fire. I wanted to keep going. I wanted to prove them wrong, prove them wrong, prove these people wrong," Davis said. "I remember that point and I remember progressing the rest of the year to be on the all-freshman team and newcomer of the year — it's just crazy."
Since then, Davis has progressed into one of the West Coast Conference's premiere players. The Laveen, Arizona native has notched 1,693 points. Davis has scored 20 or more points in 24 games, snagged double-digit rebounds in 35 games and has never been held scoreless by opposing defenses. His consistent and methodical style of play has been a staple of Pepperdine basketball over the past four years. However, in Davis' eyes, he's just getting started.
"In high school, I felt like I thought I knew it all and I felt like I had worked hard enough," Davis said. "But now I'm the type of player who feels like I can do more. Regardless of how I perform on a day-to-day basis, I know I can do more to quench the thirst I have to be great. I really started to foster that when I got [to Pepperdine]. Now I look for any way to make myself better, whether it's yoga to improve my flexibility, or to help my mental focus, my mental strength. And also to change my diet, my mindset and my outlook on the game."
Any discussion about the past four years of Pepperdine basketball starts and ends with Davis' emergence as a star player. Davis has become the poster child for the Marty Wilson era. His progression as an individual mirrors the Waves' progress as a unit. After Davis' freshman season — the same season in which he was unanimously voted Newcomer of the Year in the WCC — Pepperdine rose from seventh to fifth in the West Coast Conference.
The Waves have surged to fourth in the conference in Davis' junior and senior seasons. This year, Davis expects the Waves to finish 19-10, which would be Pepperdine's best record since the 2001-2002 campaign.
"My goal has always been to improve every year, and the main way you can do that is to have more wins than the previous year. Last year, we won 18 games overall. This year, we're at 16-10. We've got three games left and one guaranteed game in Vegas. We can potentially go 20-10 and put ourselves in a good position to improve on the record that we had last year and showcase how we're getting better," Davis said.
Spending more than two minutes with Pepperdine's top-two scorer doesn't feel like spending time with a typical school scoring leader. One might expect Davis to rest on his laurels or flaunt his accomplishments in conversation. Nobody would blame Davis — the overlooked, two-star recruit ranked eighth in the state of Arizona, according to ESPN.com — if he carried himself like the Golden State Warriors' boisterous forward Draymond Green: a fellow undersized forward who accredits his bull in a china shop-esque style of play with the chip on his shoulder.
Davis doesn't. Well-spoken and quick to praise his teammates, Davis' team-first demeanor and service leadership appears genuine and down-to-earth. Just as men's basketball and Davis' successes blend together in the story of Pepperdine basketball's last four seasons, leadership and humility are woven together in his character. Davis walks the walk.
Last summer, Davis traveled with Athletes in Action — a Christian-based sports volunteer organization — to play basketball in impoverished communities in order to spread the Christian message. Davis said, "It's more than a game. There's more to life than basketball," in Dick Dorman's July 15, 2015 Malibu Times article, "Stacy Davis grows in his journey to know one's self."
His leadership is evident on the court as well. Although Davis wouldn't be the first to admit it, the Waves rely on Davis more than anyone on the roster, whether for offensive production, rebounds or for his tough defense. In fact, his presence on the court demands the attention of opposing defenders. Nearly every team double-teams Davis, which opens up opportunities for freshman forward Kameron Edwards, fellow senior forward Jett Raines and — most evidently — this season's breakout star, junior forward Lamond Murray Jr.
But as a testament to both Davis' skill set and his upperclassman leadership, the senior is one of the clearest indicators of Pepperdine's performance: When he's on, the team follows suit. When he's off, the team struggles to win games.
Pepperdine learned this the hard way during last season's non-conference road game at Arizona State University on Dec. 13. The Waves played the Sun Devils close until an exceptionally sloppy opening 10 minutes of the second half halted all momentum to the tune of 18 total fouls and 8 turnovers. In the midst of the trudge, Davis picked up a rare technical foul: his fourth on the day. To avoid losing Davis for the rest of the close game, Head Coach Marty Wilson sent Davis to the bench, which promptly gave the Sun Devils new life.
"Quite frankly, I feel like we should've won that game," said Davis on his homecoming of sorts. "When I got that technical, it really put us in a hole. [Arizona State] went on a run, and by the time I was able to sub back in the game we were too deep into the hole."
Despite foul trouble, Davis managed to put up 26 points and 9 rebounds in the 7-point loss. Regardless of his performance, Davis praises his teammates' performances more than his own. Davis still puts the team's needs above his own while reflecting on the game.
"I thought I had a good showing back at home." Davis said, "It was good to be around my people, it was good to have them watch me play against an in-state school. And as much as I'm happy about my performance from that day, I really wish we would've won that game."
Even with Pepperdine's scoring record within reach — Davis is nine points away (he averages roughly 14 per game, according to sports-reference.com) — Pepperdine's second-highest scorer focuses on performing for the team's performance in the conference standings rather than for personal gain.
"You can ask the guys: I don't talk about it much," he said. "The only time I'm really reminded of [the scoring record] is when someone tweets it out or this and that. I know how close I am, but it's never like I need to do 'this, this, this, and that.' I just go out there and play. I've honestly gone out there and played."
Davis said he expects to keep this mentality for his last two games at Firestone Fieldhouse.
"I said at the beginning of the year: If [breaking the scoring record] is going to happen, It's going to happen. They said if I had similar seasons to the ones I had my sophomore and my junior year, I'd reach the goal. And I've actually had a pretty good year as well. I don't really worry about it. I just keep my head in the game and stay focused," Davis said.
Stacy Davis will have two chances to break Dane Suttle's scoring record at Firestone Fieldhouse: first against the University of San Francisco Dons on Thursday Feb. 18, and then against the Santa Clara Broncos on Saturday Feb. 21.
_____________
Follow Kyle on Twitter: @kahairoh