Photos By Kaelin Mendez
The Borderline Bar and Grill mass shooting was the 307th mass shooting in America within the past 311 days — nearly one mass shooting a day for the 2018 calendar year, according to USA Today.
Sixteen Pepperdine students were present at the Borderline shooting the night of Nov. 7, and freshman Alaina Housley was killed.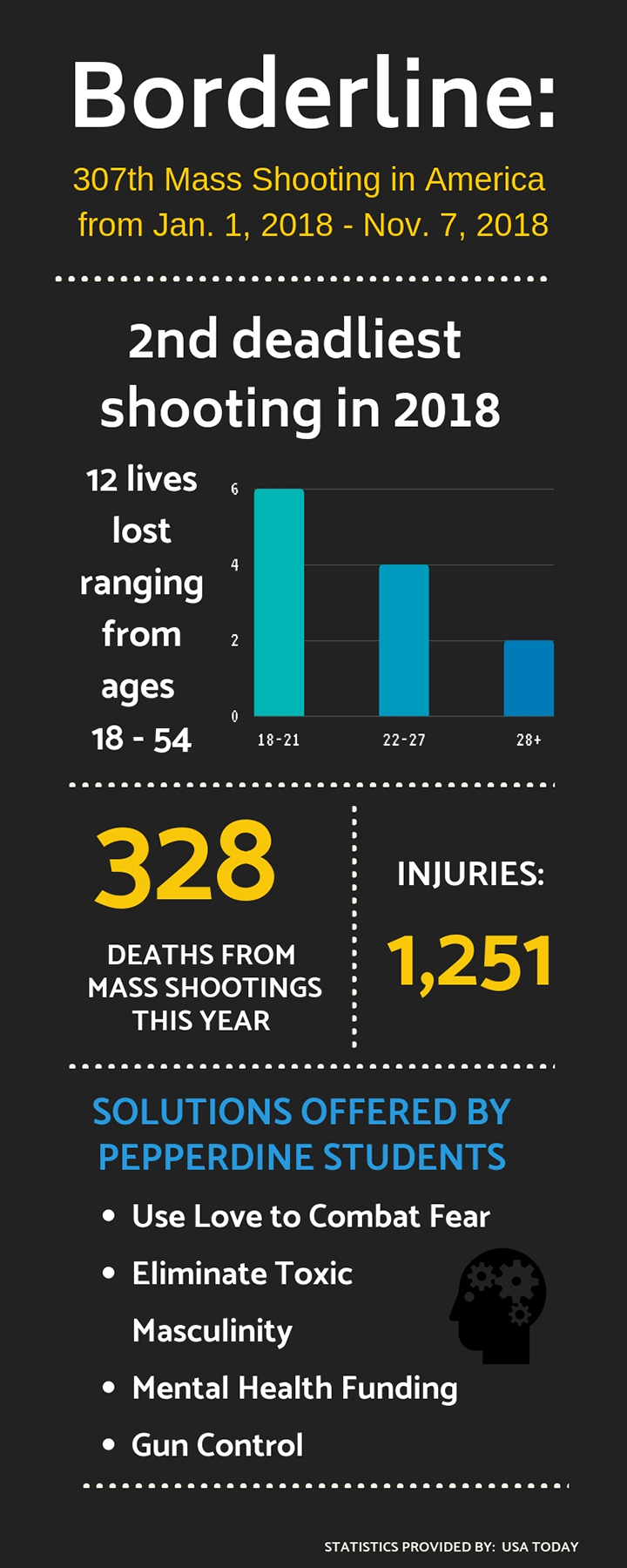 Infographic by Channa Steinmetz
With this high-volume of mass shootings, the average American will only read or hear about a small portion of these tragedies.
NPR covered a story on the mass shooting that occurred in Lawrence, Kansas the same day as the massacre in Las Vegas. With the Las Vegas death toll at a disturbing 58 people, the severity overshadowed the shooting in Lawrence.
Although only a small portion of mass shootings are nationally publicized, concerns are raised about mass desensitization — the extinction of an emotional response to stimuli that previously induced it. In January of this year, Time Magazine wrote that "exposure of violent media may make people less receptive to the pain and suffering of others in real life."
This could be a matter of how the story is portrayed. Junior Allison Lee, who was present the night of the Borderline shooting and is the editor-in-chief for Pepperdine Graphic Media's Currents Magazine, said she now sees how the news dehumanizes the shootings by rarely going in depth on the story of the survivors and the reasons behind why the tragedy occurred.
"We can't have an overgeneralization," Lee said. "Every shooting is different, different victims and different reasons why it happened … When people are looking at it like a routine, it doesn't hit as personal as it used to."
Desensitization
Pepperdine students shared their immediate and long-term reactions to mass shootings, before the intimate tragedy at Borderline. Junior Sydney Sauter said as mass shootings have been more frequent, she has seen less of a response.
"Back when the Sandy Hook shooting occurred, I remember it left my entire high school in a lot of sorrow," Sauter said. "Shootings weren't as normal and as common. Now, you think it's awful and sad, but don't really pay attention to it and then move on. The next one happens, and you hope it doesn't happen to you one day."
As Time Magazine reported, the violent media coverage becomes so routine that what was outrageous five or ten years ago is now ordinary.
With shootings occurring in various venues from synagogues to nightclubs to schools, junior Natalie Rulon said she is no longer surprised by shootings. She added she was previously afraid to go out to venues such as nightclubs or music festivals, but now realizes nowhere is completely safe.
"Shootings have become so normal that there is no way to avoid the possibility of being involved," Rulon said. "The only option is not to live in fear at all."
Freshman Margot Knight said she notices herself and others react upon first mention, but the distractions of everyday life take over.
"I feel frustration," Knight said. "It transmits into feeling anger, sadness and helplessness. But it's easy to have that immediate reaction. It's more difficult to continue with those feelings in daily life."
In agreement, junior Shea Corwin said along with the normalization of mass shootings, desensitization comes from the challenge to genuinely imagine what it would feel like to go through a shooting or have it happen to one's community.
"I get sad at first, but then go about my day," Corwin said. "It's so hard to relate. A shooting is difficult to conceptualize. It seems like it just couldn't happen, that is until it does."
The Borderline Shooting
The way in which someone processes mass shootings may change once their community is affected by one. Rulon was on campus the morning after the Borderline shooting and said she had never seen a community in such immense mourning, as though "a dark cloud covered the campus."
"[I felt] guilty because I had no idea that 306 other communities had experienced the same dark cloud in this year alone, and I simply said 'Oh dang, another shooting, that sucks,'" Rulon said. "I was angry because, statistically, I knew that there would be a 308th community feeling the dark cloud only one or two days from then."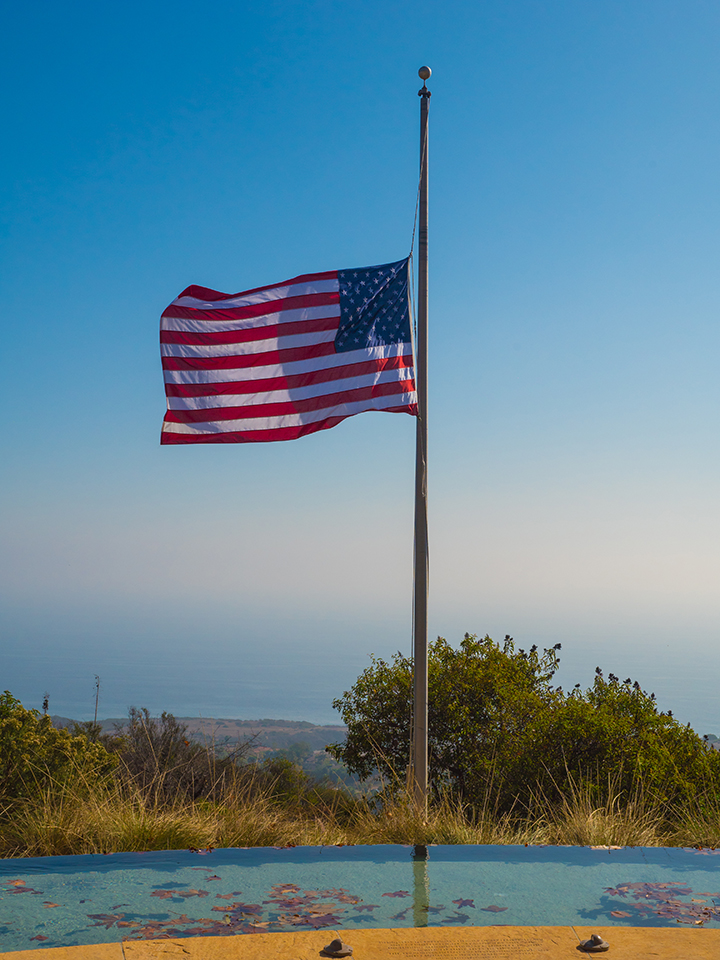 Whereas other shootings have been said to be difficult to remember long term, junior Sarah Blase said she will never forget the Borderline shooting and the effects it had on her personal community.
"The proximity of the situation has made an immense impact on not only me, but the community of Pepperdine as a whole," Blase said. "I went to the vigil last week for the victims and could not stop crying once I saw the impact on my community. I couldn't stop thinking about it, even if I tried."
Recovery is a process everyone affected by a shooting needs to go through. For someone who was present at the shooting, Lee said she is unsure of what she needs quite yet.
"I know I need peace and healing, but I don't know what that looks like yet," Lee said. "My friends made a post telling everyone we have this love that is supposed to overcome all else. We may not know how yet, but it will."
Varieties of Solutions
The discussion of what must be done about mass shootings is ongoing. Students talked about issues regarding gun control, mental health, the rehabilitation of returning soldiers and as Lee put it, "truly using love to combat fear."
In order to stop the violence, the issue must be combated at the root, Lee said. Understanding that all humans need love and receive it differently is the first step, she added.
"If you look at the five love languages, there are different ways to give and receive love," Lee said. "We need to be able to give love in the way someone else wants to receive it, in a way that would grow them."
Some students said they think change must be implemented in legislation. Knight said it comes down to putting restrictions on who can purchase a gun.
"I do not advocate for taking away the right to the Second Amendment," Knight said. "But making background checks more extensive, so those who should not have guns cannot legally purchase them."
Blase agreed that to end the cycle would be to introduce a form of gun control.
"There will always be the argument that if people want guns, and guns are illegal, they will just get illegal guns," Blase said. "Although this argument has validity, the key is that placing restrictions on guns will make it significantly harder for people to obtain guns."
Sauter said the easy answer for ending shootings would be gun control, but it would not actually fix the problem at hand. It takes a change in society's approach and dialogue when it comes to toxic masculinity and funding mental health programs, Sauter said.
"Men aren't really encouraged to be vulnerable," Sauter said. "Especially when you look at the population that [comes] back from the war and [doesn't] have the resources to talk about what's happening in their mind, because then they would be less masculine. I think that wears on them mentally."
The shooter from Borderline was reported to be suffering from post-traumatic stress disorder (PTSD). Lee said in order to relieve and end the pain, it takes one being the bigger person.
"I don't want to be mad at the shooter," Lee said. "I don't want to be mad at the government for bringing back young boys with PTSD … The next time we see someone who is a veteran or someone who is struggling, we need to look out for them, care for them. Everyone needs someone who is ready to talk to you."
Since Borderline, there have been nine more mass shootings, according to Gun Violence Archive. The total number of mass shootings is now 316 within 324 days as of Nov. 20 at 8:50 p.m. PST.
__________
Follow Channa Steinmetz on Twitter: @ChannaSteinmetz