Photos courtesy of Facebook and Twitter
Family members of freshman Alaina Housley announced this morning that she is one of the 12 victims killed in the shooting at the Borderline Bar & Grill on Wednesday night.
Her uncle, Adam Housley and his wife, Tamera Mowry-Housley released a joint statement Thursday morning stating that their niece was killed in the shooting.
The shooting at Borderline Bar & Grill began around 11:20 p.m. on Wednesday night. Housley's phone and Apple Watch were tracked to Borderline and placed her in the middle of the dance floor where most of the shots were fired.
The 18-year-old Napa Valley native started at Pepperdine in August. She was a resident of DeBell house. Housley was an English major involved with Pepperdine Choir and was starting Mock Trial. She began the process of becoming a new member of the Gamma Phi Beta sorority, but later dropped according to junior Caityln Roark.
Housley's parents released the following statement Thursday night:
Words can't describe our grief over losing our daughter, Alaina. She was everything we could hope for in a child: kind, smart, beautiful and respectful.
She continued the family's tradition of attending Pepperdine University. She was so happy to be a Wave. We are grateful to the Pepperdine community for their support during this difficult time.
We want to honor Alaina by focusing on how she lived her life. She would have enjoyed the public debate that is certain to happen after this tragedy. But she would have insisted that it be respectful with an eye toward solving these senseless shootings.
We send our condolences to the family and friends of the other victims. We especially thank Sgt. Ron Helus' family for their sacrifice.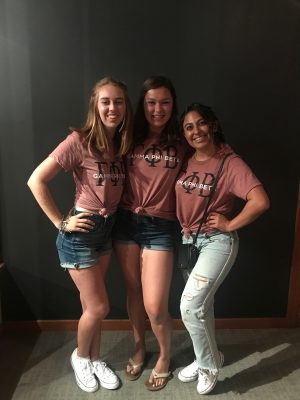 Photo courtesy of Abby LaPine
Housley is pictured with Abby LaPine (left) and Lily Spiritos (right).
As a member of the concert choir, Housley took private voice lessons once a week with Ida Nicolosi, an adjunct professor of music and the wife of Ryan Board, associate professor of music and conducting.
Nicolosi was able to get to know Housley on a personal level each week in their one-on-one sessions.
"Alaina was a very thoughtful and kind of calm, a little reserved, at times cautious. But [she was] so generous and around her friends really silly and funny," Nicolosi said. "She may have seemed shy when she talks to people, but when she sang she just lit up and she just let it out."
Housley was an English major but had an interest in acquiring a Music minor.
"She loved musical theater, I think it was her first love," Nicolosi said. "I just had her lesson on Tuesday and she was really getting it. She would have auditioned for us during finals week and I know she would've gotten in."
Nicolosi said that the Music Department is feeling her absence, and that she will be missed by her peers.
"She was a very supportive friend," Nicolosi said. "She was a hugger. She was a light. A strong light. I know she's singing."
She was planning on spending her sophomore year studying abroad at Pepperdine's Florence campus.
Housley was a legacy at Pepperdine. Both of her parents graduated from Seaver College. She is also the niece of Pepperdine alumnus and former Fox News reporter Adam Housley.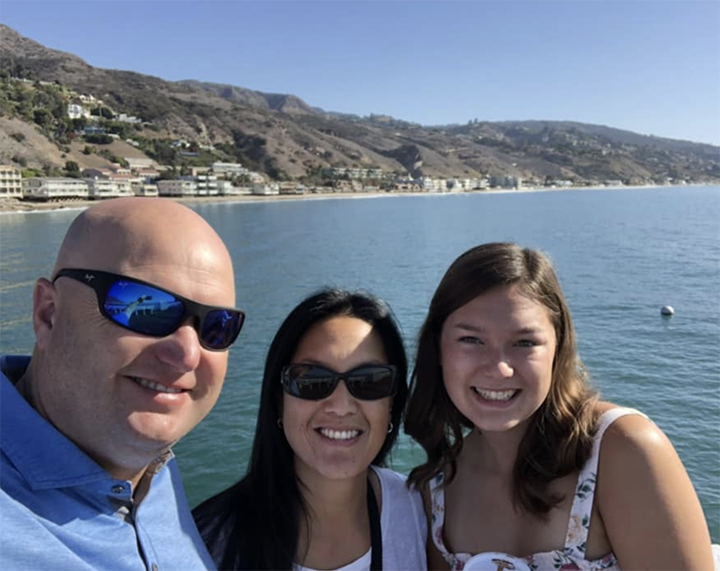 Her parents and her uncle both posted about the incident prior to learning of Alaina's death.
Pepperdine University released the following statement:
We are devastated to report that one of our students, Alaina Housley, was among those who passed away at Borderline in Thousand Oaks last night.Our hearts are broken with the news of this profound loss. We offer our deepest condolences to the Housley family and ask that our community join us in keeping Alaina's family, friends, and loved ones in their prayers during this incredibly difficult time.We are here to guide and support our students, faculty, staff, and alumni in as many ways as we can, and this includes providing access to grief counselors and licensed clinicians to help them cope with the pain and sorrow this tragedy brings. In this time of deep concern and sadness, we are focused on making sure the entire Pepperdine family comes together in a compassionate way that leads to individual and community healing.As we try to process yet another act of senseless violence, please know that the following resources are available here on campus:
Students may contact the Counseling Center at 310.506.4210 orstudent.counseling.center@pepperdine.edu. The Counseling Center provides free, confidential emotional/psychological support to all Pepperdine students.

Faculty and staff may access counseling services through their Employee Assistance Program. Details are available on the HR website or by contacting HR at 310.506.4397.

Pastoral support is available to the Pepperdine community through the Office of the Chaplain. Contact chaplain Sara Barton atsara.barton@pepperdine.edu or associate chaplain Eric Wilson ateric.wilson@pepperdine.edu or at 310.506.4275.
For those who wish to send condolences to the family, please send your cards, notes, or letters to: Vice President for Student Affairs Office, Tyler Campus Center Suite 210, Mail Code 4472, and we will forward them to the family. In times like this, we need each other and our faith to carry us through. Please join me in lifting up Alaina's family, friends, loved ones, as well as all those affected by this tragedy in prayer.