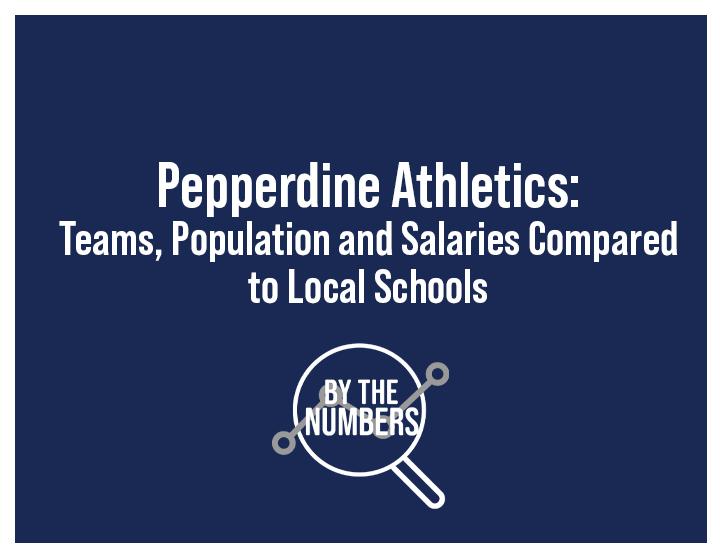 Infographics by Ali Levens
Pepperdine Athletics stacks up admirably compared to conference schools and the most athletically talented in Southern California. To better understand the data taken from Pepperdine and various in-state schools, it's important to break it down by category.
The first category is athletic participation. This details number of teams and the number of student-athletes by sport and gender. This also includes scholarships given by the school. Second, there is coaching data and salaries: the number of coaches that schools employ per team and how much money they make on average. The last category is not a comparison but a look at Pepperdine's international student-athlete numbers by sport and gender.
Athletic Participation
Pepperdine will be compared to the West Coast Conference's Loyola Marymount University, The Big West's University of California, Santa Barbara and University of Southern California from the Pac-12.
Pepperdine has 313 students on active rosters. LMU, a WCC rival less than 20 miles from Pepperdine's campus, has roughly 427 student-athletes. The number can't be taken as exact for LMU or the three other schools, as the data is from 2018.
LMU's undergraduate enrollment does not explain their significantly higher number of student-athletes.
While their 6,400 far exceeds Pepperdine's 3,333, they roughly have the same number of teams. The Waves have eight men's teams and nine women's teams. The Lions have nine men's teams and eleven women's teams, offering men's soccer, women's softball and women's rowing — none of which Pepperdine offers.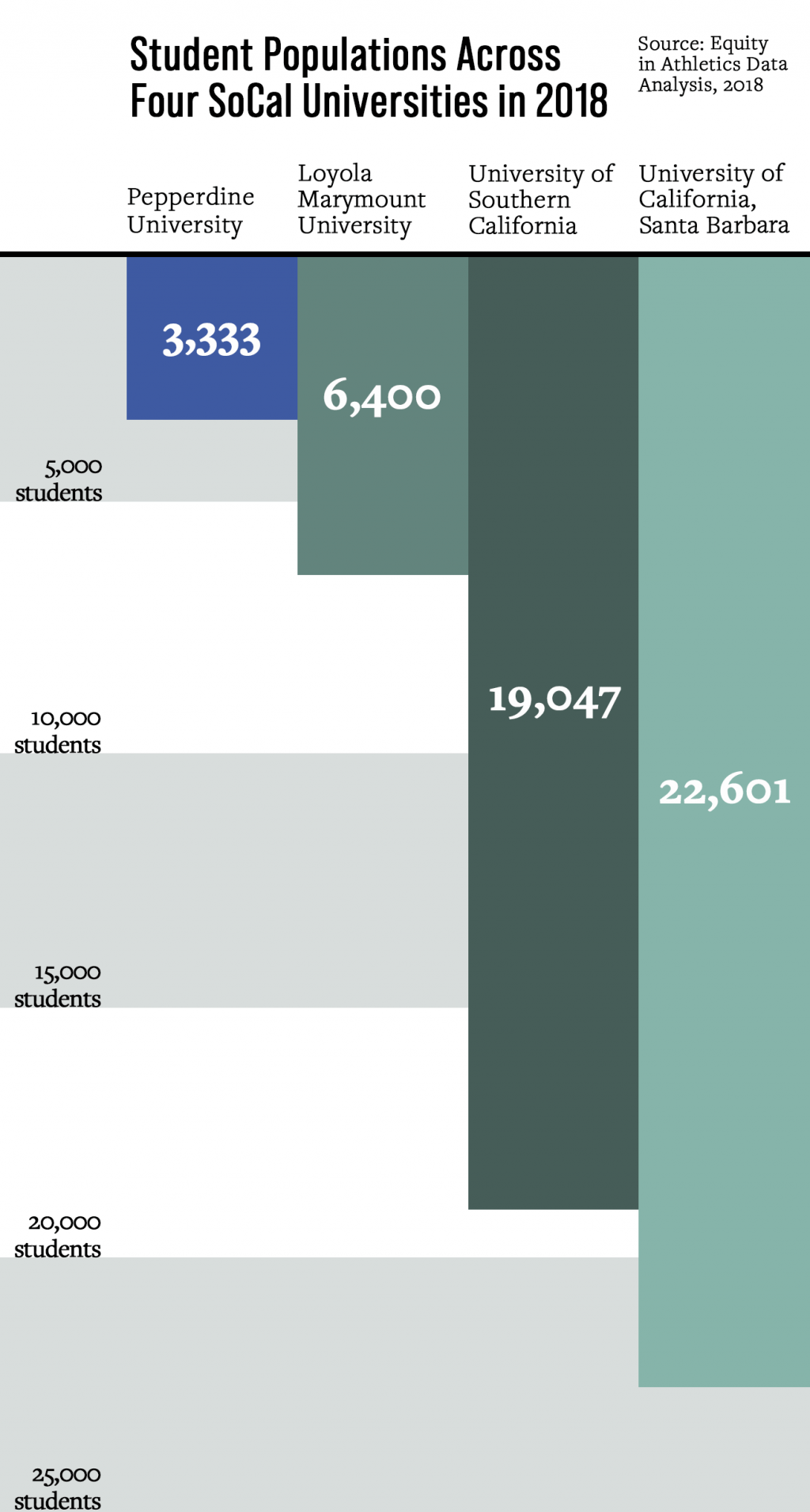 These numbers are put into perspective when you look at USC. Their undergraduate total is over 20,000 and they had 623 student-athletes in 2018 — 300 or more in both men's and women's sports. Even with a larger school, USC's number of is notable considering they have nine men's teams and 12 women's teams. The three women's teams the Trojans offer that the Waves do not are rowing, lacrosse and water polo.
About a third of USC's male student-athletes are on one team: football. In 2018, there were 107 players on their official roster. In 2020, the number is 113.
UCSB also has a high numbers of student-athletes on their rosters, especially for a Big West university that doesn't have a football team. UCSB's undergraduate enrollment is 23,349. Other than Cal Poly San Luis Obispo and University of California Riverside, it's the lowest in the Big West Conference by a sizable margin.
Their athletics numbers are more comparable to USC's than Pepperdine or LMU. They have roughly 569 student-athletes. There are 291 male athletes and 278 female athletes — the closest number of all four schools. Many schools have more female students and student-athletes due to the Title IX enrollment ratio that "protects people from discrimination based on sex in education programs or activities that receive federal financial assistance," according to Allan Hancock College.
UCSB is the only team out of the four schools that has more male athletes than female, largely because they have one additional men's team.
Horne and the athletic department also provided scholarship information for all programs. The NCAA awards approximately $3.5 billion in national athletics scholarships each year. Pepperdine is fully funded in all sports except Men's and Women's Cross Country, which have 2.27 and 0.08 designated scholarships, respectively, and Women's Swim and Dive. Swim and Dive's scholarships come from donors and do not have a set percentage.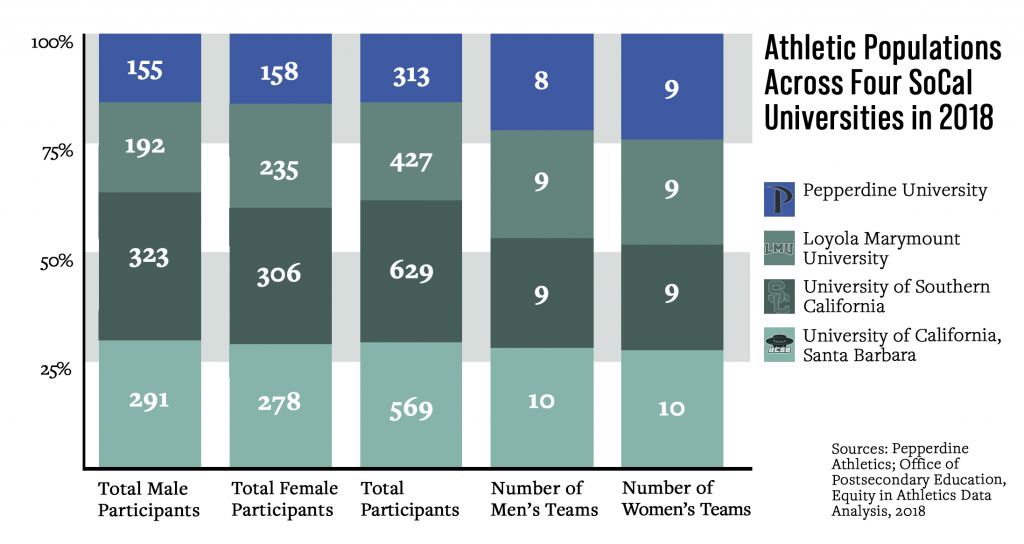 Women's Basketball has the most scholarships with 15 and Women's Soccer has 14.
Men's Basketball headlines the male sports with 13 scholarships. Men's Tennis, Golf, Volleyball and Water Polo all have 4.5 to divide as they see fit.
To round out scholarships with the remaining women's sports; Volleyball has 12, Tennis has eight, Golf has six.
Between the four universities, Pepperdine, LMU and USC all have six full-time head coaches for male sports. UCSB is close with seven. Pepperdine also has six full-time female head coaches, while USC has five, and LMU and UCSB have four.
Coaching Data and Salaries
Salary is another part of the coach breakdown and further separates USC. The average salary for male head coaches is $193,000 at Pepperdine, $130,813 at LMU and $126,220 at UCSB.
For the Trojans, it's a different story, as the average salary for male head coaches is $1,116,669.
It can be inferred the average is ramped up by USC's head football and basketball coach: Clay Helton and Andy Enfield, respectively. As a private university, USC is not required to give official salaries of individual employees. A tax return from the 2017-2018 fiscal year showed that Helton made $3.2 million and Enfield made $2.8 million.
Head coaches for women's teams get paid less across the four schools. Pepperdine, LMU and UCSB have six males as head coaches of women's teams while USC has eight.
Pepperdine also has four women serving as the head coach for five women's teams, as Sylvia Mosqueda coaches Women's Cross Country and Women's Track. USC and LMU have five and UCSB has four.
Across the four schools, Mosqueda and Caryl Smith-Gilbert, the director of Track and Field at USC, are the only female head coaches of men's teams. Mosqueda also coaches Pepperdine Men's Cross Country and Track.
The average salary of both men and women serving as head coaches for women's teams is as follows: $157,268 at USC, $115,380 at Pepperdine, $79,966 at LMU and $73,007 at UCSB.
The last look into Pepperdine Athletics is by nationality. Out of the 313 student-athletes, 28 are international, roughly 9%. This includes players born outside the U.S., but played some or all of their prep careers in the states. Women's teams make up 13 of the international players, with Tennis having the most on the team with five out of nine. The NCAA estimates 20,000 international students-athletes currently competing for U.S. schools.

For men's sports, Tennis also has over half their roster from other countries, with seven of nine. Men's Basketball is close behind, as five of their 16 players are international and all five are from different countries.
____________________
Follow the Graphic on Twitter: @PeppGraphic
Email Austin Hall: austin.hall@pepperdine.edu