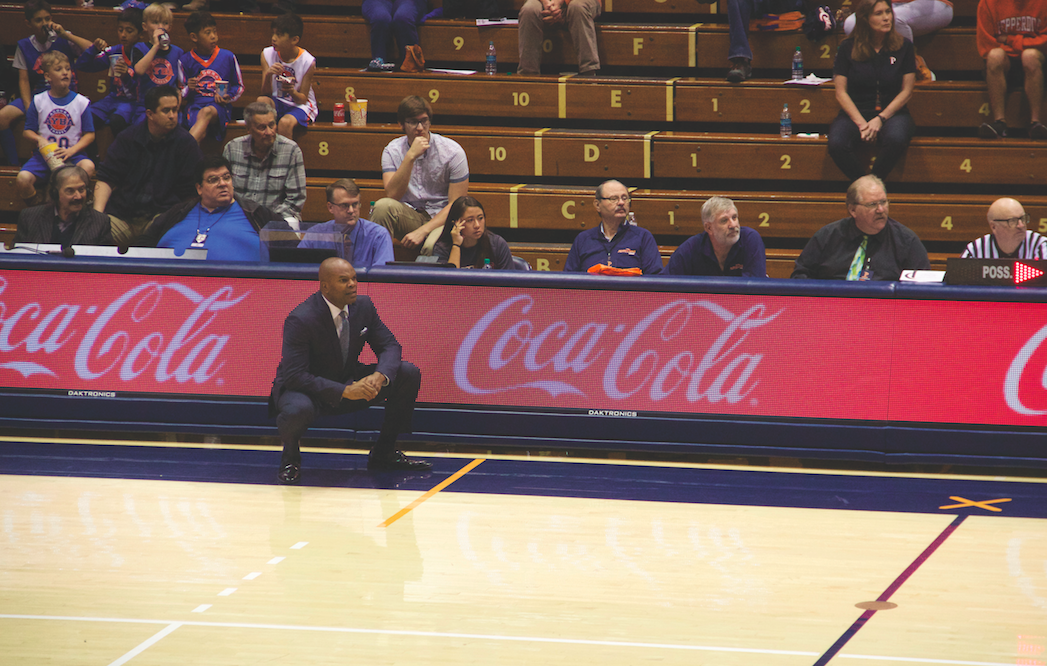 Photo by Arthur Puu
Marty Wilson will not return as the Pepperdine Men's Basketball Head Coach next season, the University announced Tuesday.
"It has been decided that terminating the current contract at the end of this season is in the best interests of the program," Pepperdine's Director of Athletics Dr. Steve Potts said in the press release. "Marty Wilson will always be a Pepperdine Wave. He has worked tirelessly for our men's basketball program for many years and we sincerely thank him for his commitment and contributions to our program. We wish great success for Marty in the future. We all wish that we had experienced more success in our men's basketball program and we are committed to identifying new leadership that can help bring us that success."
Wilson will remain as the head coach for the final four regular-season games and the upcoming WCC Tournament in the start of March.
In his statement, Wilson said he knows the ultimate goal is to win, but knows the responsibility lies with him since the Waves didn't consistently do so. He also had high praise for the members of his coaching and training staff.
"I have been in college coaching for 28 years and realize that the ultimate goal is to win basketball games," Wilson said. "The fact that we did not consistently achieve that goal lies on my shoulders; however, I praise our staff for the integrity that they showed in such a challenging profession where the pressure to bend the rules are great in order to win basketball games."
Over the past seven seasons as the Waves head coach, Wilson has an 86-125 record. Pepperdine is currently 4-22, including 1-13 in West Coast Conference play heading into a home matchup against BYU on Thursday, Feb. 15.

Three of Pepperdine's top five scorers this season have missed at least nine games due to injury, with junior guard Eric Cooper Jr. and sophomore forward Nolan Taylor being sidelined with shoulder injuries and sophomore forward Kameron Edwards missing time with a concussion.
Wilson took over prior to the 2011-12 season when former Head Coach Tom Asbury retired. Pepperdine made noticeable steps in his first five seasons, going from ten wins in his debut season to identical 18-14 records in the 2014-15 and 2015-16 seasons, good for fourth-place in the WCC and back-to-back appearances in the College Basketball Invitational. However, last year's team dropped to 9-22 overall and 4-22 this season.
A 1989 Pepperdine graduate, Wilson is in his 21st year with the Waves as a student-athlete and coach. He served as an assistant from 1991-96 (serving as interim head coach for the final 13 games of the 1995-96 season) before returning as the associate head coach in 2008-09.
Wilson also shared the impact Pepperdine has on him as a coach, father, husband and mentor in his statement.
"I will always take great pride in all that Pepperdine has done for my family and me as well as what our university represents," Wilson said. "We will leave the program with some very good young talent, and equally important, young men who are of high character and from great families. I told our staff over the years that we will eventually look back on the type of people that we had in our program and feel extremely proud of how they represented our program, themselves and their families, and we will always cherish the opportunity we had to help them grow. Lastly, my family and I had the opportunity to live on the most beautiful campus in the country and in Malibu for 10 years and build some great relationships with some great people that will continue to be our friends for years to come. My wife Mayra, our daughter Jessica and I all have our degrees from Pepperdine. Soon our son Jalon will earn his Pepperdine degree and we will continue to support and be proud Waves for years to come."
According to the release, a national search for a replacement has already begun.

To read the University's full statement, as well as Wilson's, click here.
NEWS | Pepperdine will make a men's basketball coaching change at the end of the season: https://t.co/TzchFuDVKQ

— Pepperdine M. Hoops (@PeppBasketball) February 13, 2018

___________________________________
Follow Arthur Puu on Twitter: @arthurpuu