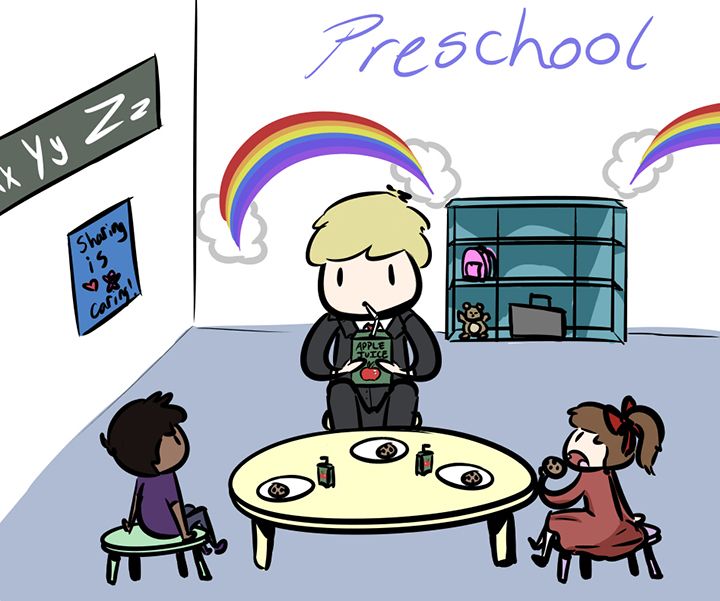 Art by Sacha Irick
How much do you remember from preschool? Maybe you remember the snot-filled, teary-eyed goodbye when your parents dropped you off, or the squishy, salty Play-Doh your teacher handed you to distract you from your parental abandonment, or the nap time you always resisted but so desperately needed. No matter what you do or don't remember, we still feel that sense of nostalgia for those days that now seem so simple and desirable.
Some certainly feel this longing for the past more than others. Michelle Joni took her "half-degree" in early childhood education to the real world and created Preschool Mastermind, a preschool course for adults in Brooklyn, New York. If any of you have been to Brooklyn, this kind of fad wouldn't make you bat an eye, but at Preschool Mastermind you can let your imagination fly, glitter-glue, finger-paint, snack time and all. But the cost might make you think twice.
Adult preschoolers paid anywhere between $333 and $999 to participate in this one-month adventure of such exuberant engagements, and according to Joni, they thoroughly enjoyed every second of it. This money is said to go toward the experience of channeling your inner child and learning from that experience to input newfound knowledge into your everyday life.
When it comes to the benefits of taking this course, Joni wrote on her website, "We'll explore preschool concepts, like sharing and friendship, in order to apply and inject play, wonder, self-belief and community into our grown-up lives."
But who knew that bringing out your inner child could be so costly?
I do think Joni is on to something — while that something isn't too economically friendly, it is definitely something that can be healthy for the mind, soul and body. It's not often that us wound-up, working, stressed human beings receive a break from our chaotic lives. Leaving our creative, playful, child-like attributes to remain in the past might not be as productive and mature as we think it is.
We spend our daily lives in a classroom learning skills that will be beneficial for our futures, on the Internet using social media to cyber-analyze our lives or out in the real world attempting to appear more grown up than we actually are. It's no secret that practically since birth we have been trying to force ourselves to grow up faster than we are actually prepared for.
Forfeiting a thousand dollars to achieve childhood recognition might not be the way to go about filling this void that we have created over decades of attempting to reach maturity. But taking time away from your responsibilities to do something fun and creative can certainly do you more good than harm.
According to Helpguide.com, adults who take the time out of their busy lives for playtime are less stressed, have improved brain function, have better relationships with others and tend to feel more young and energetic.
Instead of staying in on that sunny, beautiful Sunday afternoon to write an essay or study for an exam, take your work outside and enjoy the Malibu breeze (no, not that kind of Malibu breeze). Grab your friends and encourage them to join you for a game or two — Cards Against Humanity always seems to bring out the inner immaturity in me (and those around me that have a better poker face than I do). Or simply set aside 10 minutes to play your coveted iPhone game to get your creative juices flowing. (But whatever you do, don't go down the Netflix path, because once you go there there's no turning back.)
Whatever it is that makes you calm and relaxed do it. You've earned it. You are worth those extra few minutes or hours of mental cleansing in order to get in touch with your inner, happy, child-like self. None of us are perfect, even though we attempt to appear otherwise. But it's important to use those imperfections to our advantage instead of hiding them from the masses to seem mature, put together and maybe even older than we actually are.
These people who sign up for Joni's classes are seeking something bigger than themselves to find an inner happiness they haven't been able to find in the real world. Instead of paying for something that you can get for free, go out and take the time to look for it. You might say, "Who has time for that?" But that's just an excuse. Everyone has time to inhabit a healthy mind, soul and body. And if you don't, then that's a problem in and of itself.
Take Joni's advice, and if you truly want to, go ahead and venture to Brooklyn to take her class. Do whatever floats your boat. But be sure to set aside time for yourself to channel your inner creativity and to reconnect with the youth in you.
__________
Follow Rachel on Twitter: @RachelEttlinger