Redshirt freshman setter Tayah Mahi sets a ball for sophomore middle blocker Rosie Ballo during the third set Wednesday against UC Irvine. Photos by Karl Winter.

Trailing 22-15 in the second set against UC Irvine on Wednesday night, it looked like Pepperdine Women's Volleyball was going to take a step backward.
The Waves were looking for a pick-me-up, momentum-building victory against the Anteaters, who entered the match at only 2-7 on the season. It seemed they were going to have to grind it out in at least four sets.
After Head Coach Scott Wong called a timeout and entered a few substitutes, his team promptly staged an 8-1 run and came back to win the set and close out the Anteaters in three.
"We just weren't playing very clean volleyball, so we just cleaned it up a little bit," Wong said. "We talked about a couple of things we can adjust."
The sweep snapped a four-match losing streak for the Waves, dating back to the Pepperdine Tournament. However, the fourth loss in that streak was actually "the best we've ever played," team kills leader Shannon Scully said.
In that final match of the Pepperdine Asics Classic on Sept. 14, the Waves pushed the sixth-ranked team in the nation, the Pittsburgh Panthers, to the very end, eventually falling in a tight fifth set. The encouraging match spurred the Waves in their final week of nonconference play, Wong said.
"I think [the loss against Pitt] just really validates a lot of things we've been doing and talking about in practice," Wong said. "There's been a lot of progress that's been made."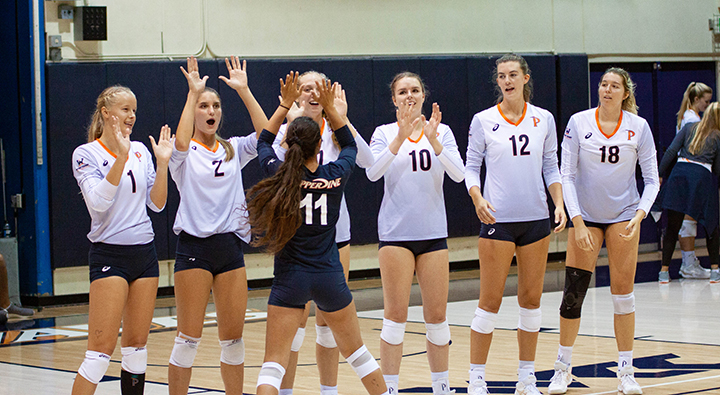 Senior libero Hana Lishman greets her fellow starters prior to the match. From left: Hannah Frohling, Isabel Zelaya, Alli O'Harra, Shannon Scully, Tarah Wylie and Rachel Ahrens.
Against Irvine, it was all about getting a result and avenging a 2018 defeat at the hands of the Anteaters in Irvine.
"It's nice to have an actual victory, not just moral victories," Wong said.
The first set was dicey for the Waves, with four lead changes and six ties, but they closed it out 25-23.
Loryn Carter, a redshirt junior, registered seven of her team-leading nine kills in the first set for the Anteaters. Scully, a junior hitter, carried the Waves with 10 kills in the set.
"I like getting in a rhythm, personally, early on in the game because it helps you steady out for the rest," Scully said. "As a team, we just wanted to start off with some more energy in general."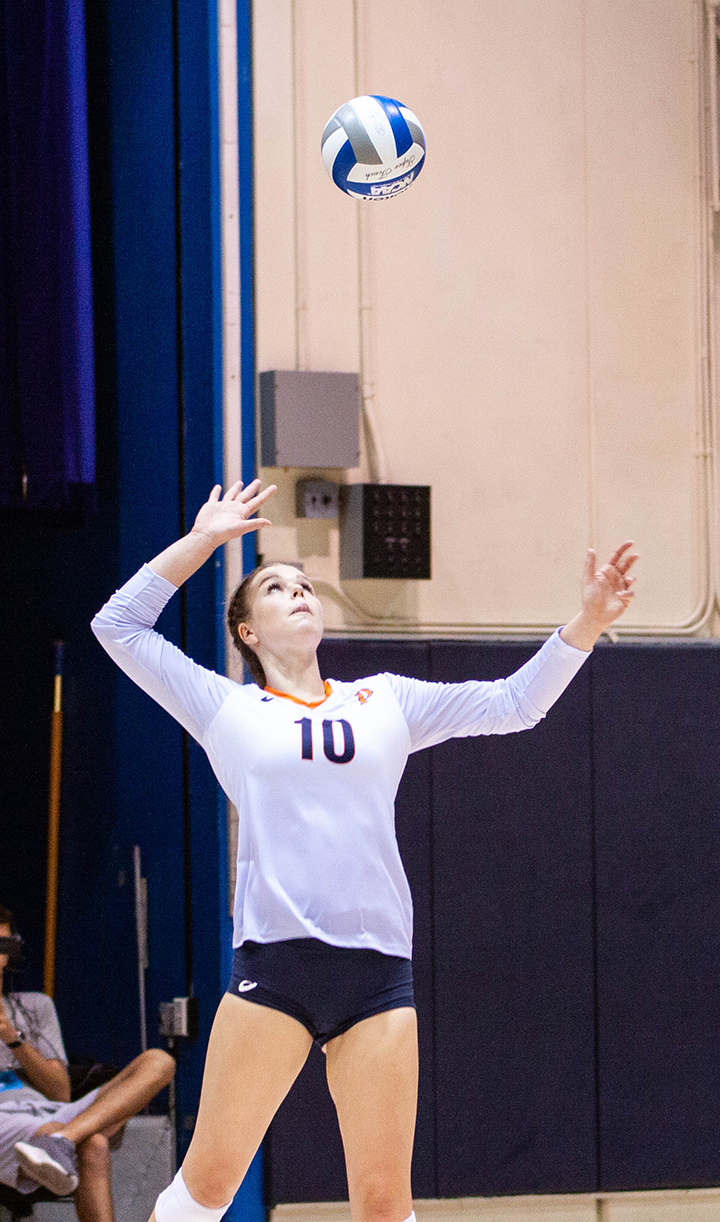 Scully prepares to serve.
The second set was even more uncertain, as Irvine pulled ahead 16-10 with a 7-1 run.
Freshman outside hitter Kayleigh Hames entered the match for senior hitter Hannah Frohling, who had only one kill on 11 attempts at the time.
When the Anteaters further extended the lead, Wong inserted redshirt freshman Tayah Mahi for true freshman Isabel Zelaya at setter.
"Tayah [Mahi] did a nice job stabilizing our offense and mounting a great effort with the comeback in the second set," Wong said.
The comeback was dramatic. Three service aces (two by Mahi and one by Scully) and two Alli O'Harra kills helped the Waves pull even at 23-23, and Pepperdine then fought off a set point before winning the set 26-24.
"Coach [Wong] made some great subs," O'Harra said. "[It was] some great encouragement for us to, like, 'Hey, turn it on. This is not us.'"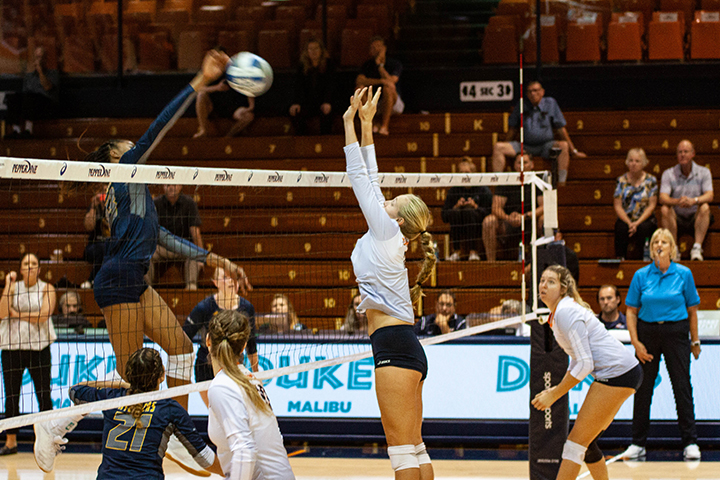 O'Harra elevates for a block attempt during the wild second set.
The third and final set was an entirely different story, as the Waves jumped out to a huge 17-5 lead and closed out the match with a 25-17 victory.
"We carried that [momentum] into the third set and just killed them like we should have in the first place," O'Harra said.
Frohling found her rhythm with four kills on five points, sophomore middle blocker Rosie Ballo smacked three kills and every Pepperdine player in uniform saw the court.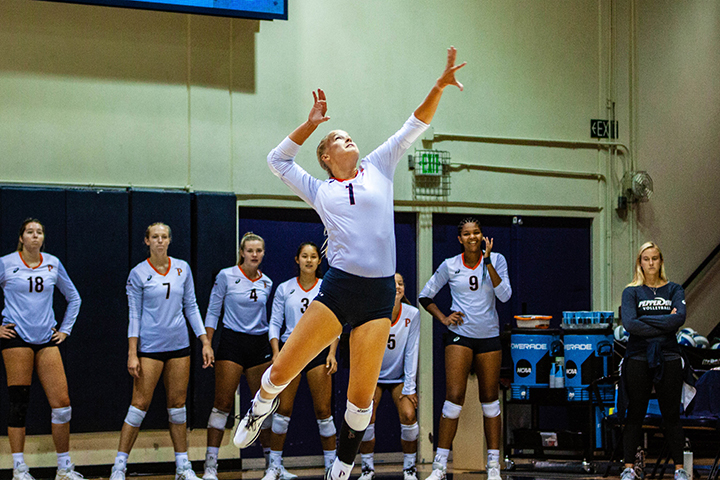 Frohling reaches back to unleash a jump serve.
"I love when everybody gets to play because everybody's working very hard during the week in practice and chipping in in a lot of ways," Wong said. "Rosie [Ballo] came in off the bench and did a nice job."
Wednesday's match was the final home game for the Waves before West Coast Conference (WCC) play begins Thursday, Sept. 26 against San Francisco.
Unfortunately, the momentum from the Irvine win did not quite carry into Friday's nonconference finale. On the road at UC Santa Barbara, the Waves blew a two-set lead and eventually fell 3-2.
"We need to get better at everything," Wong said.
Eleven games into the season, the Waves are 4-7 and still have not decided on a full-time setter.
However, the team has played a tough schedule, five of their losses have been in five sets and they were only 6-4 in nonconference play in 2018 before going 14-4 in WCC play and finishing second in the conference to earn an NCAA Tournament bid.
The Waves take on San Francisco and Santa Clara at Firestone Fieldhouse this week, two teams who finished at the bottom of the conference standings in 2018.
"With conference coming up, I think we just have to keep that consistent mindset of always showing up and being ready to play no matter who we're playing," O'Harra said.
______________
Follow The Graphic on Twitter @PeppGraphic
Contact Karl Winter at karl.winter@pepperdine.edu