Isabel Zelaya sets a pass for an awaiting hitter Saturday. Photos by Ali Levens.
Succeeding a two-three record at Pepperdine's home tournament last weekend, the Waves were set to compete in the Asics Classic Tournament on Friday and Saturday, Sept. 13 and 14. Their contenders are No. 16 University of Utah, California Polytechnic State University and No. 6 University of Pittsburgh.
The decision to establish the team's setter continued at the forefront of the tournament. Freshman Isabel Zelaya and redshirt freshman Tayah Mahi are vying for the position, and Head Coach Scott Wong tested both in this tournament.
Zelaya played the first two sets against Utah, with Mahi rotating in midway through the third set. Mahi started the fourth set, but Zelaya subbed when Utah led Pepperdine, 6-2. In the matches versus Cal Poly and Pitt, though, Zelaya maintained her setting position.
"We've pushed [Zelaya] mostly by just helping teach her along the way, like decision making technique," Wong said. "We're bombarding her with all kinds of stuff, and she's handling it well. She's responding, and as she continues to grow, so does our team."
As Wong makes a call for who will be in the setter's position, Zelaya said she looks to her team for guidance.
"I think the team trusts me and Tayah [Mahi] both, and I think [the setter does] a really good job of whoever's in, they give it their all," Zelaya said. "[The team has] helped me a lot just with all the pressure and everything. And it's really easy to do when you have great teammates."
Among the setter toss-up, Hannah Frohling, senior outside hitter and team leader, returned to the court for a few points against Utah and Cal Poly but played the entirety of the Pitt match.
"It's good to have Hannah back," Wong said. "She's been a great leader for us the last three years, and then she continues to lead well.
Frohling was previously unable to play due to a lower leg injury but was able to go out and play her game.
"I love being out there the whole time," Frohling said.
Friday, Sept. 13 – Utah 3, Pepperdine 1
The Waves started off with a bang in the first set against Utah. No team led by more than a point until freshman outside hitter Kayleigh Hames slammed down one of her two kills, establishing a 6-4 lead. Confidence continued to grow for the Waves as they edged out their only win for the night, 25-20, holding a solid front that would not let Utah within four points.
The second set was a game of catch-up. Despite a parallel score four times, Pepperdine was unable to surpass the Ute barrier. The Waves were unable to stay on top; they dropped their first loss of the night, 25-22.
They established a quick lead, and the Waves gained some confidence. They had 15 kills in this set but, yet again, could not escape the Utes and their 17 kills. The Waves were unable to add to their 23 points after a second Utah timeout was called, making the Utes victors once more.
The fourth set proved to be a struggle for the Waves from the beginning, as Utah quickly jumped out to the lead, with six of their points being from kills. Pepperdine fought to dig themselves out of a large deficit, but to no avail; the Utes were ruthless and held the Waves to a mere 13 points, concluding the match in favor of Utah.
"The things that Utah thought ahead and changed on our side affected us a little bit," Wong said. "Good teams do that, so that was a tough loss for us and a hard fought match."
Saturday, Sept. 14 – Cal Poly 3, Pepperdine 2
Pepperdine had a chance to redeem their Utah loss with a win versus unranked Cal Poly.
"In the time in between [matches], I think our team reset," Wong said. "They did a good job learning from that last match and then played some pretty good volleyball."
The Mustangs quickly garnered three points against the Waves, and Pepperdine could not keep up with Cal Poly's quick net play and solid blocks, dropping the first set 22-25.
The Waves and Mustangs aggressively battled at the net for the entire match. Middle blockers junior Alli O'Hara and senior Tarah Wylie dominated the net, with 12 kills each and a combined seven block assists.
"[Hitting well] was honestly just my connection with [the team]," O'Hara said. "It was my team that helped me make me look good, but I can really thank them for that."

Alli O'Hara deflects a Mustang tip Saturday.
Kill after kill, the Waves dominated the second set (25-18) after a whopping 18 successful attacks compared to the Mustangs' eight.
The team fell out of rotation in the third set. After missing three serves in a row, the Waves fell victim to the Mustangs' capitalization on their weak spots, keeping Pepperdine from scoring more than 17 points.
"It's really tough to say, like, what was wrong, but I think probably the connection and confidence," O'Hara said. "Once we get into [a rut], it's hard to come back. But again, we're doing so much better and continuing to do that. We're still coming up from losing our senior setter."
Taking the loss in stride, the Waves battled back in the fourth game and took the Mustangs to five.
"In the fourth set, we said we wanted to keep playing as long as we could before it was too late, and we decided to fight for it," Frohling said.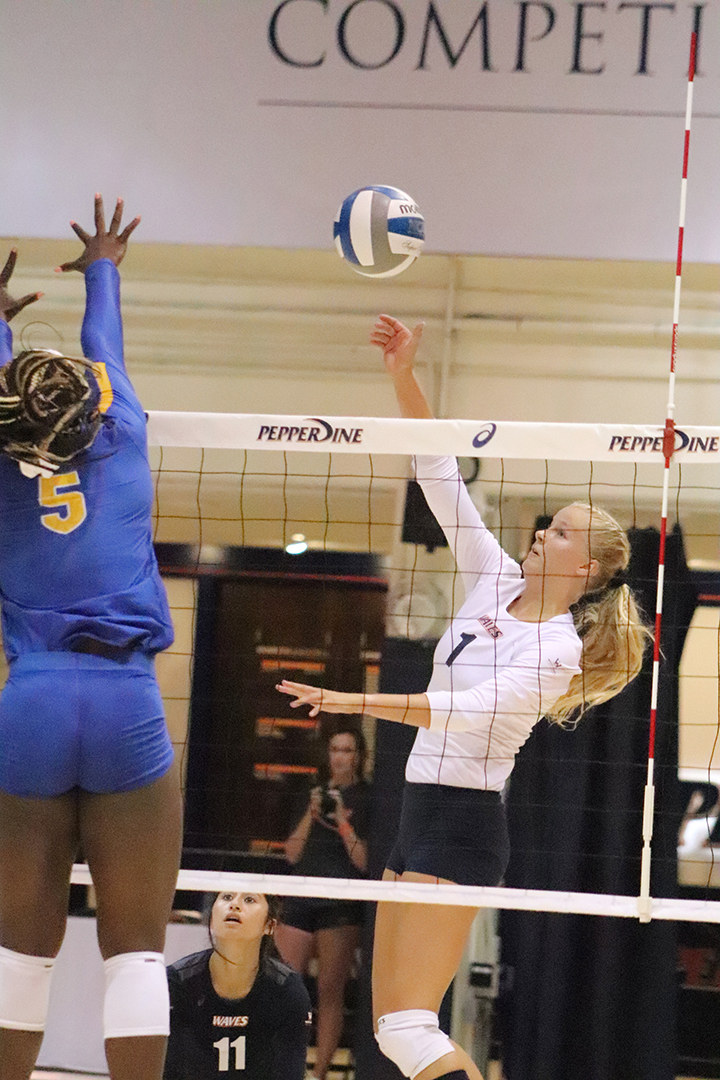 Hannah Frohling spikes the ball against a Pitt blocker.
Cal Poly once again established a five-point lead early on in the 15-point set, but Pepperdine managed to tie the score at 10. Despite the long rallies and net aggressiveness, the Waves only scored a single point after the tie. The Mustangs earned their first win at the tournament. Cal Poly got two victories after defeating Utah 3-2 later in the day.
Even though the Waves were sitting at 0-2 going into the last match versus the Pitt Panthers, they had four players get into double digits with their attacks: junior outside hitter Shannon Scully accumulated 16, sophomore opposite hitter Rachel Ahrens 13, and the 12 each from O'Hara and Wylie.
"I love it when everybody pitches in and helps," Wong said. "I thought [Zelaya] did a nice job spreading it around, finding the hot hitter and keeping the other team off balance a little bit."
Saturday, Sept. 14 – Pitt 3, Pepperdine 2
With unpredictable front-row moves and a scrappy back row, undefeated and sixth-ranked Pitt proved they were a force to be reckoned with. The Waves struggled to keep up and could never close the five-point gap the Panthers set out to expand, losing the opening set 17-25.
"I think our offense started clicking in," Wong said, following the start of the second set. "We also played our volleyball and they settled down."
Pepperdine spiked back with a vengeance by adjusting their hitting zones, ending up with 18 kills compared to Pitt's 12. The Waves controlled the set with an early five-point lead, but the Panthers soon tied the game at 12. The home team prevailed, winning 25-21.
"I think at the start, we were like, 'We don't know,' but then after we lost, [we said] 'No, we can do this,'" Scully said, who had a double-double in kills and digs. "[We said] we're supposed to be here; we earned this and we deserve this. So I think it was just like the mentality of having that that helped us to push through and end up beating them on that side."
The Waves remained on fire through set three. They took advantage of their momentum from the previous set to continue their lead over the Panthers with aggressive back row rallies. The second victory was achieved (25-23), and Pepperdine became the only team to win two sets versus Pitt this season.
"I felt like we got on them in the second set and kept on going," Wong said.
The Panthers were not done yet; they adjusted their targets and hit the weak spots in the Waves' defense and serve-receive, securing a solid lead and 25-18 defeat.
Following a defeat after two big wins, the Waves needed to stay on their toes and be ready for whatever the Panthers threw at them.
"We said [Pitt's team is] another six people on the other side of [the court] and [to] just play our game, so we decided to have fun with it," Wylie said.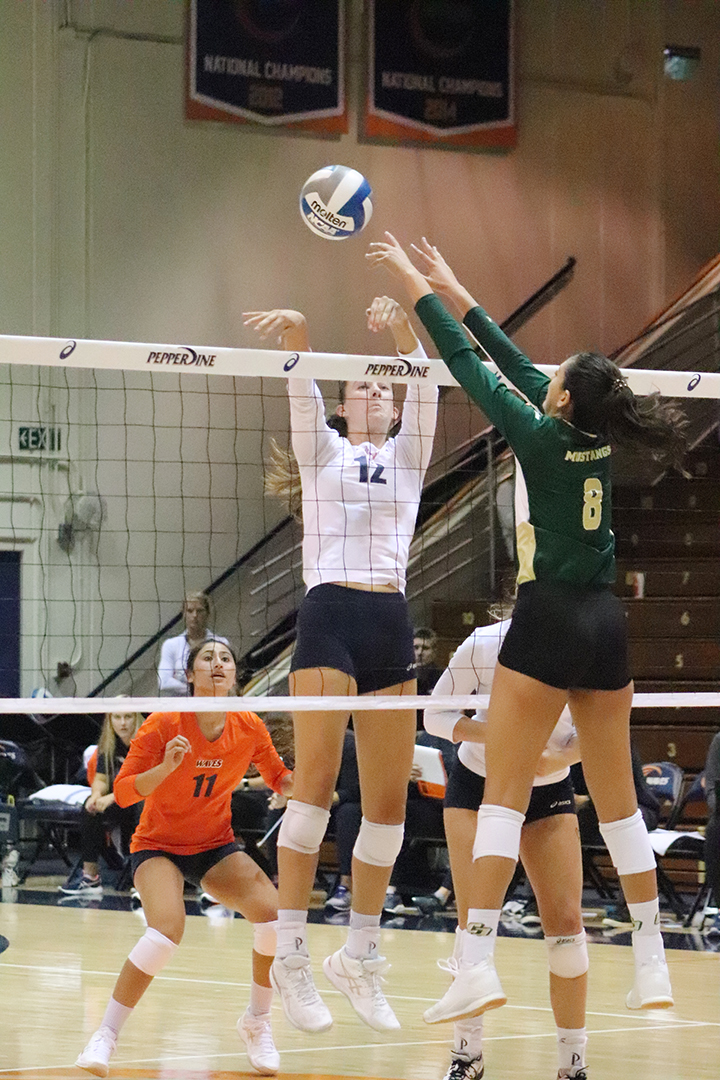 Tarah Wylie successfully jousts a Cal Poly blocker.
Pepperdine trailed the entire set but never let the point deficit grow larger than three. An attack error by Ahrens ended the match 14-16, and Pitt's undefeated status prevailed. The Waves remained unsuccessful in adding a win to their now 3-6 record.
"I think sometimes maybe there's better lessons learned through losses," Wong said about the weekend results. "I think they've kept it very positive, but I think they kind of rely on each other to pick each other up."
Wong said the team is focusing on making adjustments to playing with one another and getting a feel for their chemistry on and off the court.
"Each person has a couple of things they're focusing on to change," Wong said. "They've started to make those changes, which is really hard … this is a different team than last year, and we just gotta let it flow; let's find our rhythm and just go for it."
__________________
Email Ali Levens: ali.levens@pepperdine.edu
Follow The Graphic on Twitter @PeppGraphic