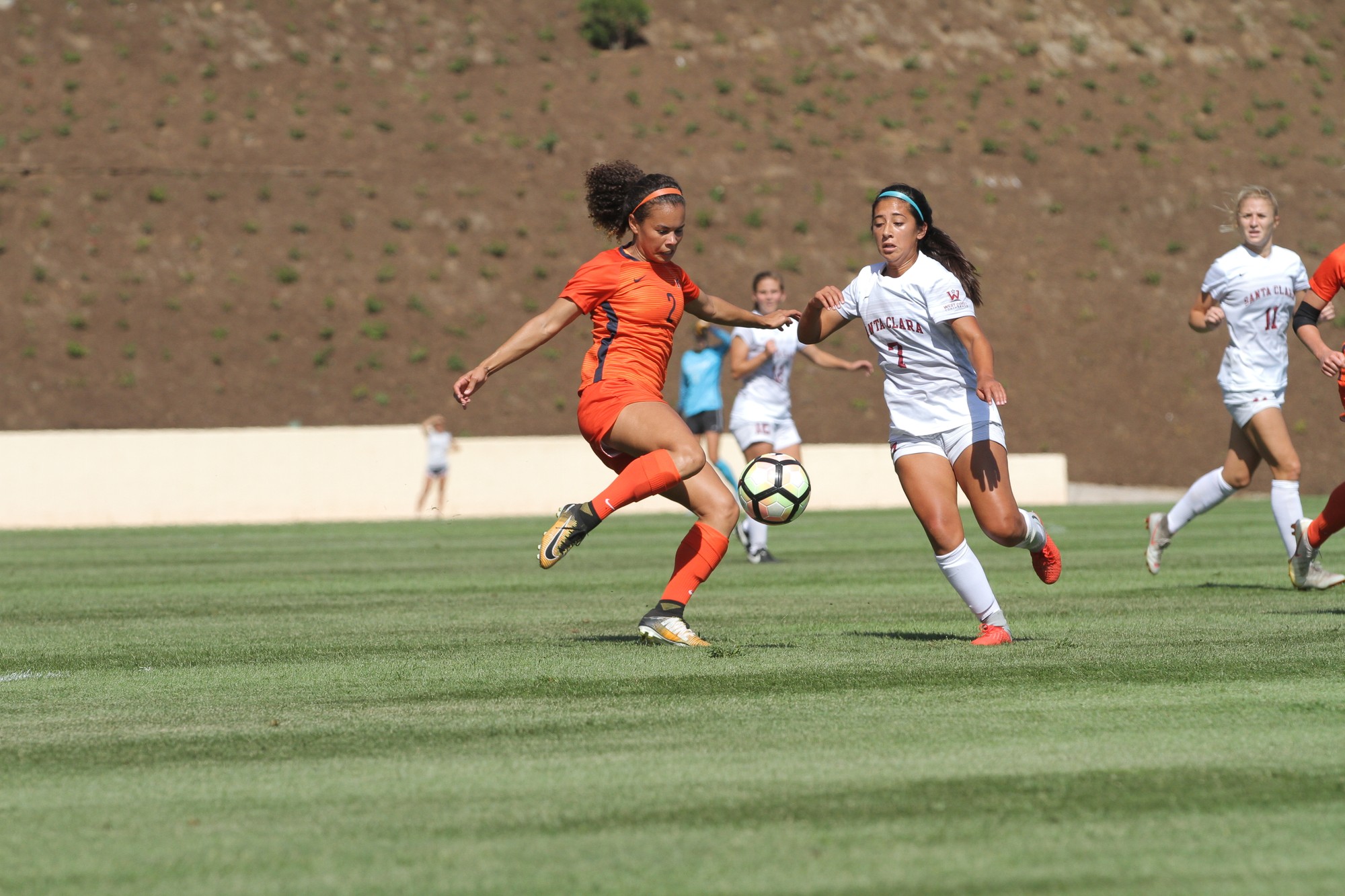 Photos courtesy of Pepperdine Athletics
In a competitive defensive showdown Sunday, Oct. 7, the Waves prevailed against the No. 2 ranked team in the NCAA, Santa Clara University. The lone goal of the game was scored by senior Meghan Healy in the 43rd minute.
The Waves came into their third league game with a record of 6-6-1. Santa Clara had a record of 11-1-1, only losing to Texas A&M University and tying No. 1 Stanford University.
The game started out fast-paced. Both teams were playing sound soccer for much of the first half, and the defenders for the Waves set the tone early.
"They're really strong offensively, and even though we'll always play against our scout team, before today we were just working on staying together as a unit, sliding, and covering," senior defender Danielle Thomas said. "We wanted to utilize our outside backs for the attacks and I think we did a good job."
At the 39th minute, there was a big collision between Pepperdine freshman Izzy Nelson and Santa Clara junior Kelcie Hedge, resulting in the first yellow card of the game for Pepperdine and a penalty kick for Santa Clara. Head Coach Tim Ward disagreed with the call.
"The ref said that she just shoved her in the back," Ward said. "It looked like just one of those shoulder things where the two girls graze each other and one of them goes down."
Hedge shot the penalty kick over the goal, missing a chance for Santa Clara to take the lead.
Just four minutes later in minute 43, sophomore Joelle Anderson made her way down the right side of the field and passed to Healy who knocked through her first goal of the season.
"[Healy] is such a valuable senior and a great girl," Ward said. "She's been through a lot. She's truly been through the grinder. She's been scoring goals in practice too, so I looked at my staff and said we should put her in. Sure enough she put one through and it was awesome."
Thomas recounted what it was like seeing Healy get her first goal.
"I was so happy," Thomas said. "After [Healy] scored it she was just looking around like she didn't know what was happening. I said 'Megan come over here right now!' So we all came together and hugged, she just started bawling. It was so cute."
Healy was also shocked and spoke about her hopes for the season after the win.
"It was a clutch moment, and I'm just a little bit emotional and really excited," Healy said. "I am in awe. I think our team is doing amazing and we're closer than ever as a team. We can go really far because we believe in ourselves."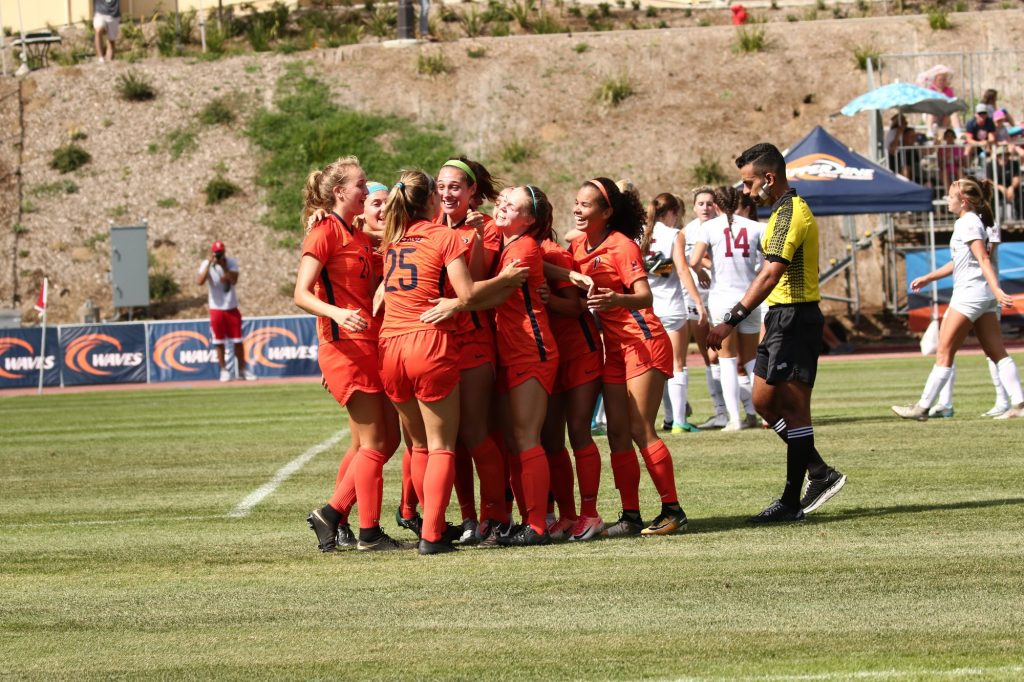 Early in the second half, there was another high-speed collision between Pepperdine senior Christina Settles and Santa Clara sophomore Alex Loera. That blow resulted in the Waves' third yellow card of the game and a penalty kick for the Broncos. It sailed over the goal once again, keeping the Broncos scoreless.
Senior goalkeeper Brielle Preece came up big when the Waves needed to hold Santa Clara scoreless and hauled in four saves.
"We locked them down pretty well defensively," Preece said. "Before the game, we talked about how often they try and cross the ball. That's how they create most of their attacks and our outside backs ability to shut that down was huge."
The game stayed physical as the Waves earned three more yellow cards and the Broncos earned one. The penalties didn't stop the Waves from being aggressive offensively, as midfielder Settles traveled the majority of the field, made a series of moves and put a shot on goal that was blocked by Santa Clara goalie Melissa Lowder.
Santa Clara came into the game with 30 goals in the season, but the Waves did enough defensively in the second period to keep the Broncos out of the box score for good.
Ward is very pleased with his team's recent effort on the defensive side of the ball and it reminds him of the success his team had last year.
"We've only conceded two goals in the past eight games," Ward said. "Last year during our championship run our platform was defending. We take pride in the work it requires to defend well. It's not a talent thing, it's a choice thing."
Preece and Thomas are two senior leaders on this team and said that a victory of this caliber is a great motivator for the rest of the season.
"Today I learned that we have a belief and a fight that has always been there," Preece said. "We were able to display that today and we can do anything if we set our minds to it."
Thomas said she is excited for what this team can bring to the table as the season rolls on.
"I'm really optimistic," Thomas said. "And while we have a few tweaks to work on we definitely have so much potential and the more we play, the more it shows which is really exciting."
Ward said he knows that this victory is a great sign for the growth of his team.
"Seasons are defined by games. Games are defined by moments," Ward said. "This is so true in our sport. Our girls made a few of those moments today that can be remembered in Pepperdine history."
Pepperdine Women's Soccer continues league play on Saturday, Oct. 13 at 1 p.m. versus Brigham Young University.
_______________________
Follow the Pepperdine Graphic on Twitter: @PeppGraphic