Photo courtesy of Haley Videckis
The next trial date for the discrimination lawsuit against Pepperdine, a case in which University staff members allegedly discriminated against two student athletes suspected of engaging in a homosexual relationship, will be determined at a scheduling conference on March 3, according to the United States District Court.
As mentioned in a recent Graphic article, on Dec. 15 Judge Dean D. Pregerson denied Pepperdine's motion to dismiss discrimination allegations against the University under Title IX statute, moving the case from District to Federal Court.
The lawsuit's initial filing occurred back in 2014 by two former Pepperdine basketball players, Haley Videckis and Layana White. The two athletes sued the University for allegedly "harassing" them and "discriminating" against them due to their suspected romantic relationship, ultimately "forcing" them to quit the team, court documents said.
Videckis and White were then given permission to amend their complaint, which was initially dismissed by the court in 2014, and when they did, Pepperdine moved to dismiss the case once again. However, Pepperdine has been unsuccessful in doing so thus far.
Title IX is a statute prohibiting sex discrimination at schools and colleges, like Pepperdine, that receive federal funding, requiring that the University abide by the statute, which Pepperdine fully intends to do, according to the Sexual Misconduct Policy.
The University's Sexual Misconduct Policy states the following:
"Sexual harassment also includes gender-based harassment, which may include acts of verbal, nonverbal or physical aggression, intimidation or hostility based on sex or sex-stereotyping, even if those acts do not involve conduct of a sexual nature."
Soon after Judge Pregerson's ruling in December, a statement was released by Pepperdine's Public Relations Department regarding the court's "interpretation of Title IX" and its "application to this specific case," which was described as "surprising" to the University.
The statement reads as follows:
"Pepperdine always strives to act in the best interests of its students and the teams on which they play. A thorough and comprehensive investigation confirmed this and found no evidence to support the plaintiffs' allegations. The University anticipates that the court will reach the same conclusion. Our University remains committed to a diverse and inclusive environment."
Erin Buzuvis, professor of law and director of the Center for Gender & Sexuality Studies at Western New England University, provided her understanding of the case from a legal standpoint and why this ruling is particularly significant.
"The case is significant because judges have not ruled similarly in the past under Title IX," Buzuvis wrote in an email.
Buzuvis then elaborated on the uniqueness of the case, perceiving it as a "milestone step" toward the recognition of sexual orientation discrimination as a "form" of sex discrimination.
According to court documents, the two players filed a case against the University under seven allegations:

Violation of the right to privacy under the California Constitution; Violation of the California Educational Code; Violation of Title IX — deliberate indifference; Violation Title IX — intentional discrimination; Violation of Title IX — retaliation for complaints against discrimination; Violation of the Unruh Act and intentional infliction of emotional distress.
Pepperdine countered the three Title IX allegations, arguing that "Title IX did not cover claims based on sexual orientation discrimination," that the allegations don't "support" a claim based on "gender stereotype discrimination" and ultimately that these claims should be dismissed because they are "uncertain" and not "legally cognizable," according to court documents.
Though Title IX does not specifically prohibit discrimination based on sexual orientation, Pregerson ruled that it is the "biased mind of the discriminator" that should be the "focus of analysis" and that the sexual orientation of the victim of discrimination is "irrelevant."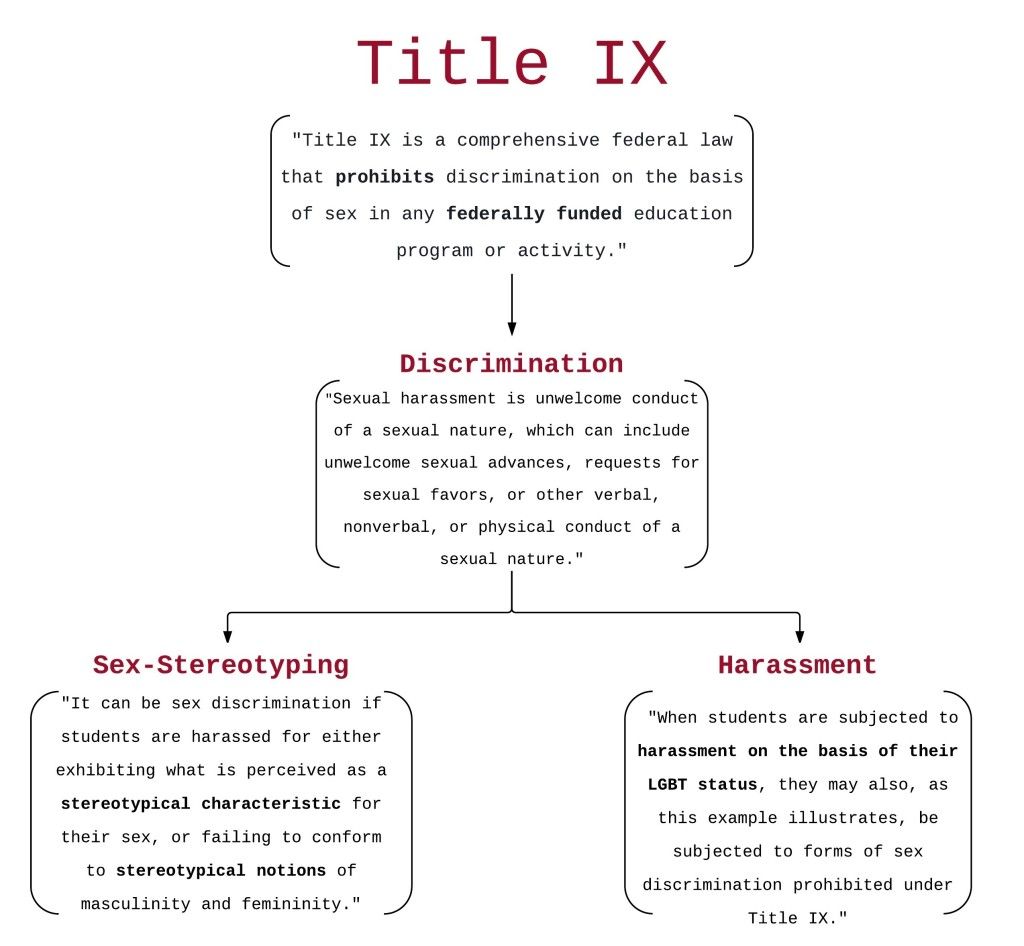 Infographic courtesy of Berkley Mason
The Sexual Misconduct Policy also gives "immediate steps" for reporting any form of sexual misconduct. One of these "steps" includes contacting one of the University's Title IX coordinators, which is what Videckis allegedly did.
Videckis said in the legal documents that she had notified the University of the discrimination and harassment taking place against her and White, and was under the impression that Pepperdine had been investigating the situation.
On Nov. 7, 2014, after Pepperdine had "thoroughly investigated the allegations" that Videckis reported, Videckis received a letter response from the University's Deputy Title IX Coordinator for Students Tabatha Jolivet. The letter said there was "insufficient evidence to conclude that harassment or sexual orientation discrimination occurred," according to court documents.
Jolivet was not available for comment on the court's ruling. However, Chief Business Officer and Title IX Coordinator Edna Powell responded via email regarding the courts ruling under the Title IX statute.
"Pepperdine acknowledges that Title IX is an important federal law that applies to its operations," Powell wrote. "We strive to comply with Title IX in all applicable areas of the university."
Powell also elaborated on her responsibilities as Title IX coordinator, which included the "monitoring and overseeing of the University's compliance with Title IX," awareness of any "systemic issues" happening at the University, and ultimately preventing sexual harassment and/or discrimination from occurring at the University.
According to court documents, Pregerson acknowledged that the the line between sexual orientation discrimination and sex discrimination is "blurry, at best," therefore ruling that this "blurry" line is difficult to draw because it "simply does not exist."

Buzuvis elaborated on what Pregerson means when referring to this "blurry line" and provided insight on Pregerson's reasons for his decision.
"Sexual orientation discrimination is sex discrimination in that it treats one sex differently for conduct that would be permitted by the other sex," Buzuvis. " [For example,] punishing women who are sexually oriented to women, but not men who are sexually oriented to women."
Upon issuing his verdict, Judge Pregerson deems the difference between sex discrimination and sexual orientation discrimination to be "illusory" and "artificial."
In terms of the University's investigation, after receiving Videckis' report of sexual misconduct, the jury concluded the following in the two athletes initial Complaint for Damages:
"The University, at the request of Haley and Layana, investigated discriminatory and harassing treatment of Plaintiffs. The report found that there was no evidence supporting Plaintiffs' complaint. The investigation was a cover up. It was not done by an outside independent investigator. Important witnesses were either not questioned or not asked the revealing questions."
Women's Basketball Coach Ryan Weisenberg — who allegedly told the team that "lesbianism was a big concern for him and for women's basketball" and that it "would not be tolerated on the team" — wrote in an email that he is still committed to the University's basketball team and excited about the upcoming season, regardless of the status of the case.
"I'm committed to our team and this season, and I'm glad that our story will be heard," Weisenberg wrote when asked his reaction to the ruling under Title IX. "I'm happy to connect with you and with others at the University, who may be in a better position to speak to the legal matter."
Weisenberg was asked whether or not this case has affected recruiting for the women's basketball team, but it seems that the case has had no negative affect.
"We had a great recruiting class for 2015 and another great class coming in for 2016," Weisenberg said in an email. "Our recruiting is strong, and we are encouraged by how this young team is making big noise in the WCC."
_______
Follow Berkley Mason on Twitter: @youcberkley