Photos by Allison Hubbard
Pepperdine is building a legacy on sand. The women's sand volleyball team has won two AVCA championships in three years under the guidance of Head Coach Nina Matthies and Assistant Coach Marcio Sicoli.
Sand volleyball has only existed as an official NCAA sport for three years, which begs the question, "How are we so dominant?"
"I think we have an edge because Nina got it [sand volleyball] started," sophomore Delaney Knudsen said. "She knew what direction she wanted to take the program. Other teams had to find their groove while we've already been in it."
The Waves' season doesn't commence until March, but the team's already in training at Zuma Beach. Junior Sophie Asprey attributed part of their success to the team's rigorous training plan. Sand and weights training combined, the squad said they commit about 14 hours per week.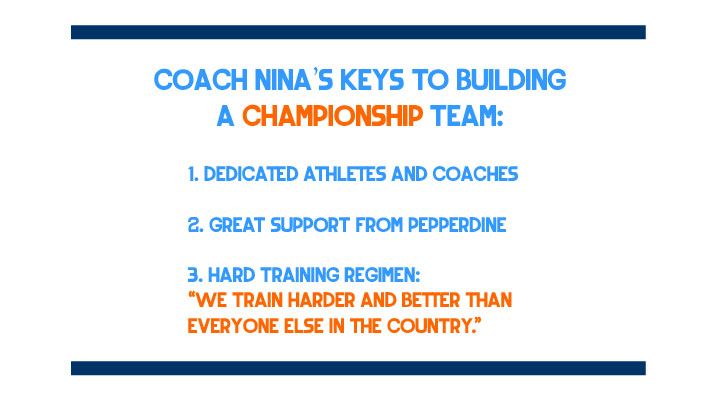 Winning two national titles in three years is fun, but it tends to place a target on your back. "Everyone's here to come at us," Asprey said. The women in blue and orange said they aren't backing down, however. Instead, they are intensifying their focus.
In November 2013, Matthies retired from coaching indoor women's volleyball, allowing her to dedicate all her time to sand volleyball. When asked how she feels, Matthies flashed a wide smile and said, "Fantastic."
Previously, Matthies would have to travel in the fall as the head coach of the indoor women's volleyball team. However, now she says she has more "teaching time" for sand. She is loving her first sand volleyball offseason.
However, she added that she misses coaching the indoor team, especially since there are still women on the team that she helped recruit.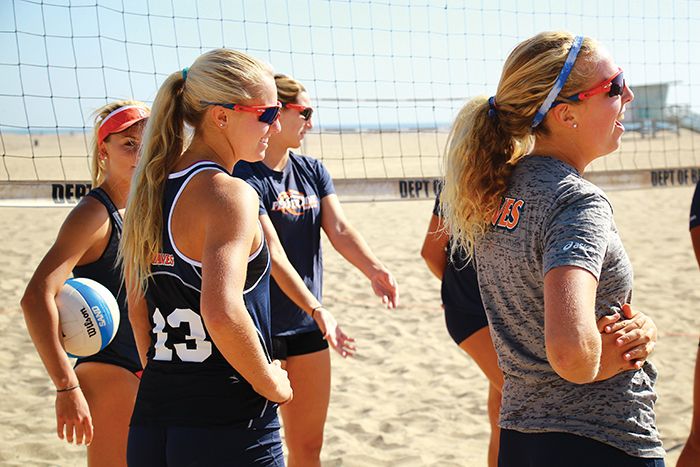 Assistant coach Sicoli is also 100 percent dedicated to the sand team, and all but three of the players on the team's roster are sand-only. Having a staff and players solely focused on the sand game gives the Waves yet another boost over the competition.
Plus, having volleyball legend Matthies, entering her 32nd season coaching for Pepperdine, and Sicoli, former tutor of Kerri Walsh and Misty May-Treanor, on the bench can't hurt.
One thing the Waves said they want to emphasize to the student body is fan support. They said friends ask them, "Is this a real thing?" There may be no bleachers and the "arena" may not be conventional, but it is a collegiate sport. And Pepperdine is crushing the competition.
__________
Follow Alysha Tsuji on Twitter: @AlyshaTsuji