In the latest event in the ongoing saga of LGBT affairs at Pepperdine University, two former players have filed a lawsuit against the university and Women's Head Basketball Coach Ryan Weisenberg. This lawsuit, filed in December, came after years of public and intra-university scrutiny for the treatment that lesbian, gay, bisexual and transgender students have allegedly received from the university and members within it.
In 2014, the university was ranked by the Princeton Review as No. 7 on its list of "Top 20 LGBT Unfriendly Schools." Pepperdine ranked No. 19 in 2013 and No. 17 in 2011. College Magazine also ranked Pepperdine as No. 4 on its list of "Top 10 Most Prude Colleges," in 2012, citing the university's actions in regard to LGBT students as a factor in its ranking.
ReachOUT, an unofficial student-led gay/straight alliance sought official recognition by the university and was denied in 2011. There was university-wide debate and national coverage following this denial.
The university has cited the Christian mission as the primary reason behind the denial of the group. In recent years the university has opened up the conversation with students about LGBT affairs in Seaver College through Building Bridges. Two of Pepperdine's graduate schools have also formally recognized LGBT organizations. However, these organizations have been characterized as professional networking rather than identity groups.
A Short History of LGBT Affairs at Pepperdine
While the Princeton Review provides many different types of rankings, including "Most Beautiful Campus," the methodology used to produce the "LGBT Unfriendly" Princeton Review rankings has been questioned by other ranking services, such as Campus Pride and administrators at the university. Campus Pride is "a national nonprofit organization for student leaders and campus groups working to create a safer college environment for [LGBT] students" according to its website.
In a Campus Pride blog post published on Aug. 20, 2012 titled "Campus Pride cautions Princeton Review's LGBT college rankings as commercially flawed, not reliable," Campus Pride founder and executive director Shane Windmeyer is quoted saying, "'the majority of students responding to such a question — irrespective of response — will be straight. Their perceptions of equality are likely quite different from those of LGBT students. The Princeton Review should be asking LGBT students about their perceptions of 'friendliness' and safety.'"
When asked recently about their reactions to the Review's ranking, President Andrew K. Benton and Dean of Student Affairs Mark Davis echoed the same belief.
"It is not a ranking service known for careful methodology or anything in which one should put much confidence, whether the outcome is good or bad. Most university leaders would agree. Having said that, it still bothers me when our university is portrayed as indifferent to any student group, and it troubles me when the emphasis seems to be on a perception of what we are not, instead of what we are," Benton wrote in an email.
The Princeton Review explains at the bottom of the 2013 survey that the survey "ask[ed] students 80 questions about their school's academics, administration, student body, and themselves." It went on to explain that "the ranking methodology uses a five-point Likert scale to convert qualitative student assessments into quantitative data for school-to-school comparisons."
However, only one question was asked in the survey that produced the "LGBT Unfriendly" rankings in 2014.
"It certainly oversimplifies a complex issue. The single survey question that this 'LGBT friendly/unfriendly' ranking is based on reads, 'Students treat all persons equally, regardless of their sexual orientation and gender identity/expression.' It's simplistic to base an 'unfriendly' institutional ranking on this one question, but it's a good question about the student culture," Davis wrote in an email. He added that he felt the question "only focuses on how students treat other LGBT students," which he wrote "misrepresents the vast majority of our student body."
Although the methodology of the Princeton Review has been called into question this is not the end of the story. What the ranking and the discussion seem to show more clearly is that the state of LGBT affairs at Pepperdine is complex, not that the ranking should be completely negated.
According to the 2014-2015 Seaver College student handbook the university "has denied recognition to other LGBT student organizations with broader missions that do not clearly support Pepperdine's affirmation of the traditional sexual ethic, since official recognition would imply to many that Pepperdine is endorsing and funding a position on sexuality inconsistent with Pepperdine's Christian heritage."
In February 2012, Benton addressed the denial of recognition for ReachOUT.
Benton explained in the recorded address that ReachOUT was denied for not being "mission supportive." This address was made in a monthly briefing three years ago, according to Benton. He has held these monthly briefings throughout his presidency.
In the address he explained that "mission matters most at Pepperdine University," and that if ReachOUT had been recognized it would have meant going against the mission and "saying no to a lot of other people."
Benton also said he told the students who were requesting recognition of ReachOUT that "in many respects I wish that you hadn't submitted the petition because that put it on the table." Benton said he felt this petition "forced our hand a little bit."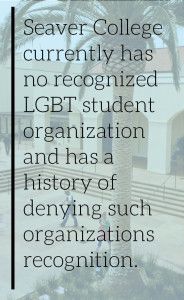 In a Change.org petition, started by alumnus and former ReachOUT co-president Alexander Cooper, to the Pepperdine administration and Board of Regents called "Pepperdine: Overturn Your Decision to Deny Recognition to LGBT Students," Cooper wrote the decision to apply for recognition was based on the feeling that the recommendations generated in the Building Bridges committee "even if adopted, would not provide LGBT students with a sense of community." The petition, to date, has more than 11,000 supporters.
What remains unclear is whether the graduate schools of Pepperdine were meant to be lumped into the same ranking as Seaver College, or if the Princeton Review was only referring to Seaver College. It is also unclear whether or not the Review sent their survey question to any graduate students at the university.
There are four graduate schools at Pepperdine, two of which, the School of Law and The George L. Graziadio School of Business and Management, have recognized LGBT student groups.
The School of Law
Dean and Professor of Law Deanell Reece Tacha said the Princeton Review ranking was unfairly assigned to the university as a whole.
"We were disappointed with that too because if it were law school specific, I don't think it would be anywhere near like that and … prospective students do look at that and alumni and everybody else looks at that," Tacha said.
The LGBT Legal Society was founded in 2012. This came after an advisory task force was authorized by Tacha in the wake of the denial of ReachOUT. Dean of Students Al Sturgeon chaired this task force.
"We noticed that we were missing out on having an opportunity for our students to go to events and network with others in that field of law," Sturgeon said.
He explained the LGBT Legal Society was "specifically limited to two different purposes." One of the purposes, according to Sturgeon, was for the discussion of LGBT legal issues. The other purpose "was to provide networking and professional development opportunities for students interested in careers in that field."
Tacha said that not having the LGBT Legal Society would "deprive [students] of a very important educational piece of their law school experience." She explained that the forum the LGBT Legal Society provides to students is one of the most important reasons for its existence at the School of Law.
"I was a judge for many years, and I believe that there are very important and very legitimate arguments to be made on all sides of this particular issue and every issue for that matter. If we are to train good lawyers, some of them who will be judges, I think it's so important for us to provide the background and the means and the forum for great legal debate and discussion," Tacha said.
David Moreshead, the president of the LGBT Legal Society, said he feels those in the School of Law express care and sensitivity toward LGBT identifying students. He cited personal experiences such as professors asking before serving Chick-fil-A in the classroom in case doing so might be offensive. Chick-fil-A has come under fire for its corporate stance on the LGBT community, which like Pepperdine, is based in Christianity.
"I think [this] shows that people really care and that ultimately people in [the School of Law] campus, students and professors, are really aware of the issue and have an opinion on the issue, whichever way that opinion is, which I think is great," Moreshead said.
The LGBT Legal Society enables members to connect with and gain representation in the Lesbian and Gay Lawyers Association of Los Angeles, according to Moreshead. Other groups that work with LGLA include the law schools of University of California Los Angeles, University of Southern California and Loyola Marymount University.
"By having a group, we receive funding from LGLA separate from what we receive from the school," Moreshead said. This funding helps the society to send students to Lavender Law, an annual nationwide legal conference, and allows them to send representatives and volunteers to events that LGLA hosts, he added.
"It's important because it connects the LGLA to the student body… and it's important to the [School of Law] because it shows the law school administration, in particular, has a real interest in representing LGBT students on its campus," Moreshead said.
On the actions of Pepperdine University regarding it's undergraduate LGBT students, Moreshead said, "I think it would be ideal for the school to change its view, of course, but I think that's much easier said than done and that's a large uphill battle."
He said he feels the presence and recognition of the LGBT Legal Society is "a small step, and there are many more things that could be done to make it better. You have to look at it like the glass half full, not glass half empty."
The George L. Graziadio School of Business and Management
In October 2014, GSBM formally recognized Graziadio Reaching OUT. Like the LGBT Legal Society, GRO is limited in scope to networking and professional pursuits.
"Our core mission is to create a networking community for MBA students to focus in on the importance of inclusion, diversity and social responsibility," co-founder Patrick Allen said. He went on to explain that the social aspects of diversity and inclusion in the workplace are the major focus and educating students on these.
Allen co-founded GRO with Frank Hundley.
The LGBT Legal Society was used as a framework in the recognition process, according to Interim Dean and Associate Professor of Economics David Smith.
On Jan. 10, GRO and the LGBT Legal Society had their first mixer. The event was hosted by Pepperdine alumni and "Real Housewives of Beverly Hills" cast mates Pandora Vanderpump Sabo (Seaver '08) and her husband Jason Sabo (Seaver '08 and Graziadio '12).
The School of Public Policy
Although SPP does not have a formally recognized LGBT student group, Dean James Wilburn said he is supportive of the LGBT community.
He explained he has a personal interest in LGBT issues because his daughter identifies as gay.
"She's probably my best friend in the world, so it's been very helpful to me to have my best friend and be able to see the world through her eyes," Wilburn said. He also noted that he supports same-sex marriage.
He went on to explain that in a school of fewer than 100 students "the interests of the student body change and vary dramatically from year to year" and that in general "there just isn't a lot of interest for student groups" at SPP.
"We've discussed it with students, and there has never really been an interest in doing that on the part of the students," Wilburn said.
Despite the lack of interest for an LGBT student group he said students and faculty who are LGBT have always felt comfortable at the school.
"I like to treat it as a very normal, ordinary thing," Wilburn said.
The Graduate School of Education and Psychology
In the video of Benton's initial statement about the denial of ReachOUT, Associate Dean of the Psychology Division at GSEP Robert deMayo spoke out in front of the crowd of attendees about the stance GSEP took on the denial of ReachOUT.
"For us, as respectful as we are toward the university mission and toward things such as Biblical views around sexuality and marriage, as a psychologist there's quite a lot of research that sexual orientation is about identity much more than about sexual behavior, and so to deny students, based upon their identity, to have an officially sanctioned group at Pepperdine is deeply disturbing to many of us," deMayo said.
Members of the Doctorate of Psychology Student Government Association held a meeting with Benton to voice their concerns after the denial, according to deMayo.
More recently, deMayo said he perceived there has been progress at Seaver College and was "surprised" at the Princeton Review ranking.
"I think the university as a whole and my perception from the outside looking into Seaver College is that there has been progress in fostering productive discourse that can provide the basis in which people feel seen and heard and included," deMayo said.
Like SPP, students at GSEP have not shown interest in having an LGBT student group, according to deMayo.
To LGBT students seeking more inclusion at Seaver deMayo said "a good place to start would be to "[seek] out support from members of the community who are committed to providing a positive environment for LGBT students."
Pepperdine Building Bridges
The university has made efforts to open the conversation between students, faculty and the administration and provide support from members of the community through Building Bridges.
In November 2010 the first "Building Bridges: Pepperdine's Response to Homosexuality" meeting was held. There were seven subsequent meetings during that school year, the last of which was held in March 2011. The participants of these first meetings included members of the administration. Judicial Affairs, the Student Government Association, the University Church of Christ, the Convocation Office, Campus Ministries, Housing and Residence Life, the Counseling Center, Intercultural Affairs, the Convocation Office, Student Activities and the Center for Faith and Learning, according to a schedule of the first year of meetings provided by Davis.
In a guest blog from Feb. 2012 on CampusPride.org, Seaver alumna, former ReachOUT co-president and former Graphic staff member Lindsay Jakows wrote that an event called "Building Bridges Through Prayer: Stories of the LGBT community," was organized along with Campus Ministries in October 2010 and repeated in October 2011.
Davis and former University Chaplain David Lemley began the Building Bridges committee in November 2011 to help improve relations between the administration, faculty, staff and students in regard to the LGBT community. Building Bridges has since hosted support groups, forums and the "Transforming the Conversation" convocations, the last of which was in March 2014.
"I started it … to bring together faculty and staff who shared the concern that this topic could divide our community. We wanted to make sure that all views were respected and that all students were treated with dignity. Our meetings that year included listening to students who identified as gay or lesbian. Together, we discovered several areas of common ground," Davis wrote.
Davis went on to explain that from what was accomplished the first year, a task force was formed to accomplish the initiatives set forth and a support group was created "where students [could] engage in open and safe dialogue." This, he said, "provid[ed] additional educational forums for the University community to become better informed about sexual identity issues."
In 2012 the "Building Bridges" forum was hosted through the Chaplain's office. Meetings of large and small groups were held which were open to all students. The Chaplain's office hosted the second "Transforming the Conversation" forum last year and also partnered with Professor Juanie Walker's upper-division Communication Training and Development class to develop instructional materials for leading more in-depth small group conversations on moral conflict topics such as sexual identity. The work with Walker's class is on-going, according to Davis.
"When the Building Bridges group met back in 2012 it included members of ReachOUT and it included other students who identified as gay [or another gender minority]," Davis said.
These students helped to write the FAQs [about sexual relationships] that appear in the current student handbook and, along with representatives of SGA, rewrote the harassment policy to reflect that harassment of LGBT students would not be tolerated at the university, according to Davis.
"During the 2011-2012 meeting, six students were selected by Mark Davis to take part in changing language in the student handbook to sound friendlier toward LGBT students, but not to substantially change policy," Jakows wrote in her blog post. She went on to write that three subcommittees were formed. These "includ[ed] a support group for questioning students facilitated by the counseling center, an educational programming subcommittee and a harassment policy subcommittee." Jakows was a member the harassment policy subcommittee, according to her blog post.
University Chaplain Sara Barton said she plans on continuing the work of the former chaplain in regard to improving LGBT relations at Pepperdine. Barton is also the parent of a current Graphic staff member.
"It is important for a Christian institution like Pepperdine to be cognizant and mindful about perceptions indicated by lists like these. We should be active in important discussions about sexual identity, and we have intentionally done so through efforts such as the Building Bridges group and events, various Convo offerings, and "Transforming the Conversation" forums. As Christians, I would say that we have a much higher bar than mere friendliness as we seek to be a community characterized by the mutuality and reciprocity inherent in the Golden Rule, treating others as we would like to be treated," Barton wrote in an email statement.
Besides efforts by the university itself, outside donors have also come to the aid of LGBT students and their supporters through financial means.
The Frank James 'Buddy' Vinci and George B. Ellsworth Scholarship became available for Seaver students in February 2013 and is funded by from the estate of Frank James Vinci and George Bushnell Ellsworth. It was a needs-based scholarship for those students "whose academic work or personal involvement has demonstrated a commitment to promoting the health (mental or physical) and wellness of the lesbian, gay, bisexual and transgender (LGBT) community," according to the 2013-2014 scholarship application. Students can apply for the scholarship whether or not they identify as LGBT.
However, the scholarship is no longer available for students online. Whether this has to do with the recent redesign of the university website or it was intentionally taken offline is unclear.
"To date, the scholarship has not been placed back on line," Project Director for the Senior Vice President and Chief Investment Officer Heidi Jaeger said.
The original scholarship committee responsible for choosing who the recipients of the scholarship would be were Professor of Psychology and Chair of the Social Sciences Division Steve Rouse, who was also the faculty adviser for ReachOUT, Director of the Center for Entertainment, Media and Culture and Professor of Communication Craig Detweiler, Jaeger, who was also a donor, GSBM Adjunct Professor, Director of Real Estate and Executor of the Vinci-Ellsworth estate Dennis Torres and his wife Averi Torres, according to Dennis Torres. He was also a donor to the scholarship fund.
The scholarship recipients are now selected by Provost Rick Marrs and Dean of Admission and Enrollment Management Michael Truschke, according to Marrs.
Torres was also best friends with Vinci and Ellsworth, who he said were already donors to the university before establishing the scholarship. Ellsworth passed away in October 2011, and Vinci passed away in June 2012, according to Torres. They "had already celebrated 61 years together when they established the … scholarship," according to a biography attached to the scholarship documents. Although Ellsworth's last name is often spelled without the "e," he preferred to have the "e" put at the end of his last name, according to Torres.
Junior David Hylton received the scholarship for the 2013-2014 and 2014-2015 school years.
"It's actually been really an honor to receive the scholarship the past two years. It's nice to know that the administration recognizes individuals' hard work in the community, and I believe it shows they take it very seriously. It shows that they aren't ignorant or blind to the fact that this is a community that needs to be advocated for," Hylton said.
There are, however, members of the LGBT community like senior Elijah Sims who said the scholarship is a way for Pepperdine to appear "less homophobic."
"I would never accept that scholarship. I've done great work for the LGBT community, and I won't apply for it because I won't accept money from Pepperdine that's oriented toward making the school look less homophobic when that's what it is," Sims said in a panel for Dr. Jeff Banks' Social Action and Justice class last semester.
Perceptions of Seaver LGBT students
Current and former Seaver students said they have mixed feels about their experience at Pepperdine.
In her 2012 CampusPride blog post Jakows pointed out that conversation about same-sex relationships was not discussed as a part of Relationship IQ. The Boone Center for the Family at Pepperdine hosts "rIQ," which works at "equipping young adults with the skills, attitude and character for healthy relationships, according to the page for "rIQ" at Pepperdine. As Jakows noted in 2012 and is still the case to date, "rIQ" does not address same-sex relationships at all.
A quick word search of the Boone website with keywords "LGBT" or "same-sex relationships" yields zero results.
Former Seaver student, Graphic writer and Vinci-Ellsworth scholarship recipient Amy Fan said she was "appalled at how gay students and queer students were treated" at Pepperdine. She said LGBT students were treated as if they were nonexistent. "You're treated as the problem, as the dilemma, as the gay dilemma, and I was just really not OK with that," she said.
Fan said she thinks that "specific people" in the administration are not the problem, but instead it's "the image they choose to project … the boundaries they choose to draw." She said she believes "they're playing to different people who hold the money who are donors to Pepperdine." She said this is hurting Pepperdine students.
Former student athletes Haley Videckis and Layana White filed a lawsuit against the university and Head Women's Basketball Coach Ryan Weisenberg for harassment over their suspected relationship. They were not open about their relationship while on the team because they feared adverse repercussions.
"We were just minding our business wanting to play basketball, and we just kept getting harassed," White said.
Videckis explained the lawsuit is not about trying to get Pepperdine to accept them for "being gay" even though she believes "no one should be harassed for their relationship."
"We're filing it because of the harassment and … not allowing both of us to get on the court and play," Videckis said.
The harassment became so severe that White tried to commit suicide, according to Videckis and White.
Director of Athletics Steve Potts and Davis referred questions about the case to Pepperdine's office of Public Relations. Weisenberg did not return multiple requests for comment.
White and Videckis are not the only students who said they have had a negative experience at Pepperdine because of their sexual orientation. Sims said that some people at the university struggle to accept him being gay along with the Christian faith.
"At Pepperdine I interact with people on a daily basis who would not tell me I'm going to hell, probably, but probably do think I'm going to hell, or I interact with people who, even though they don't think I'm going to hell, have a very personalized view of what my lifestyle should be like, or they have somehow rationalized being gay with the Christian faith," Sims said.
Sims said he moved off campus to get away from much of the discomfort, fear and discrimination he said he felt in the atmosphere of campus.
"As a gay person, I never feel as discriminated against, prejudice toward or as uncomfortable with myself and my sexuality in everything else that I do, all the hundreds of people I brush shoulders with every day in Los Angeles or waiting tables in the [Conejo] Valley except when I'm on campus at Pepperdine. On campus at Pepperdine you better bet that I will feel prejudice toward or uncomfortable about my sexuality. Off-campus — never a problem," Sims said.
Senior Jonathan Buckley said he felt the Princeton Review ranking is "unfortunate," but that the sense of community among LGBT students has weakened during his time at Pepperdine.
"In my time here, the gay community has gotten weaker, and I attribute that largely to the press Pepperdine has gotten. Why would gay high schoolers want to come to a hateful school? But I'll say this: Despite a handful of students and the administration, the faculty and many friends have been great. And with people that know me, I've been treated with respect. It makes me sad that the negative press would frighten potential gay students from the school," Buckley said.
While some such as Sims said they feel the atmosphere has harmed their experience as a Christian, Buckley said he feels differently.
"The reason I remain a Christian is due to certain individuals at this school, and Pepperdine's negative press, bad policies about gay students and hostile administration do harm to the spiritual life of the gay community here. You can be gay and Christian; it makes me sad that Pepperdine officially says you can't. It's sad that Pepperdine's administration would like to make you choose between being gay or being a Christian. You can be both, and it is very rewarding," said Buckley.
Hylton helped to organize the last "Transforming The Conversation" Convo. He came to Pepperdine as part of the Posse program and feels his experience has been positive overall.
"I do think that Pepperdine has a different perception of the LGBT community. I do think that when it comes to students mostly everyone is accepting of it. I've never had that bad of an experience that I wouldn't have anywhere else. I do just think it's the stereotype of Pepperdine from the hierarchy of the administration that gives this negative connotation, but all of my experiences with professors and students have been positive," Hylton said.
Sexual Misconduct
Still others within the university and outside of it have wondered if the university's affirmations on sexual relationships, as outlined in the student handbook, lead to discrimination of students.
The handbook states that "Pepperdine University affirms that sexual relationships are designed by God to be expressed solely within a marriage between husband and wife." The handbook also seems to discuss LGBT issues largely under the focus of sexual relationships and discusses "students who experience same-sex attraction" and sexual misconduct.
Pepperdine has a statement about sexual relationships "…so that those who join our community are aware of our values and expectations," according to the handbook. It goes on to say "we believe that Scripture is the ultimate authority on how to conduct our lives and serves as a light to guide our way in a manner that honors God and others." It then affirms that the university's "understanding of Scripture" is that "sexual activity is to be expressed only in a marriage between husband and wife, and therefore we are called to a life of chastity when unmarried and a life of fidelity within marriage."
As outlined in the handbook, "sexual misconduct, depending on the facts and circumstances of each case, may result in disciplinary action." The handbooks goes on to say "…the University will offer pastoral care and assistance to support and strengthen the student's resolve to live consistently with traditional Christian teaching on sexuality" if the "facts and circumstances" of their case are deemed necessary to result in discipline.
One example of what harassment might look like given in the handbook is, "Over the course of the semester, a gay student is repeatedly called names (including anti-gay slurs like "fag" and "homo") both to his face and on social networking sites."
This example is part of what members of ReachOUT, other LGBT identifying students and members of SGA helped to write in 2012, according to Davis.
The future of LGBT affairs at Pepperdine
So, what's next for the LGBT community at Pepperdine University?
"As part of our ongoing dialogue on this important topic, this semester the Chaplain's office is sponsoring a program on March 10 called 'Theology and Sexuality' and is also offering a club Convo for students to discuss Christian perspectives on LGBT issues," Davis wrote.
Barton made it clear, in response to White v. Weisenberg, that her door is open to those in need of a chaplain, if she might be of help.
"This is a sensitive conversation and will continue to bring up a variety of reactions in our community. The primary role of a Christian chaplain is to extend Christ's love, Barton wrote. "I offer pastoral care and prayer to all community members who find a need for gentleness and compassion in trying times," Barton wrote.
With the Supreme Court decision to decide on same-sex marriage cases as well as the White v. Weisenberg, Moreshead reiterated that the LGBT Legal Society is a forum for bipartisan discussions.
"We are confident the judicial system will best represent the rights of the plaintiffs in White v. Weisenberg. While the legal system is still sorting through the facts and comes to a decision, we want to reiterate that the LGBT Legal Society exists to offer a platform for discussion from both sides of the aisle about issues like those in White," Moreshead wrote. He continued, "The LGBT Legal Society is looking forward to these developments in the legal landscape and the Society hopes to participate in bipartisan discussions leading up to, and during the process of, the Supreme Court proceedings and ultimate holding."
It is unclear how the White lawsuit will affect future rankings of the university.
Although the School of Law and more recently GSBM have recognized LGBT students groups, there have been no calls by ReachOUT or another organization at Seaver College for recognition of an LGBT organization since the denial. Students such as Buckley, Sims and others have expressed that the sense of community among LGBT students is nearly nonexistent since the denial.
But now, with not one but two recognized LGBT student groups at the graduate level, undergraduate students have models for what an undergraduate LGBT organization that could gain recognition might look like.
Moreshead said he feels the future is bright for the LGBT community at Pepperdine.
"The school's willingness over the past several years to make decisions that make the LGBT population more welcome here at Pepperdine indicates that the school will only continue to become more welcoming, open, and accepting. Change is coming, but it doesn't happen all at once," Moreshead wrote. He concluded that the Pepperdine community must continue to do its part "to make Pepperdine a warm, collegiate and diverse community for students today."
Sims said the university will progress as the rest of the United States has.
"It's a matter of how long it'll take. There is stubborn, ignorant and hurtful opposition at the top, but in time we will see increased and more genuine acceptance as homophobic faculty and administrators are replaced by more modern and compassionate people," Sims wrote.
Echoing what Sims wrote, Hundley said he sees the future of the Pepperdine LGBT community mirroring the future of the larger LGBT community.
"A gradual move toward full inclusion and enfranchisement as well as an end to marginalization and stigmatization. I think the only thing unique to Pepperdine is how gradual this change will be, and how it will be managed, and that will be determined by the school's governing body," Hundley wrote.
Hundley also wrote that he shares the view of Christian psychologist David Myers who said that "'when torn between judgment and grace, let us err on the side of grace. When torn between self-certain conviction and uncertain humility, let us err on the side of humility. When torn between contempt and love, let us err on the side of love. In so doing we may be more faithful disciples of the one who embodied grace, humility, and love.'"
Hylton said he has hopes the LGBT community at Pepperdine will "be a more vocal, respected and unified one." He continued writing that he "hope[s] there would be more opportunities on campus for all students to come together and show support and that [LGBT issues will] no longer be a topic that students, professors or administration would be afraid of commenting on."
Hylton concluded that Pepperdine is on its way to being a more positive place for LGBT students "as long as this "issue" is not defined by whether or not there is a recognized club on campus."
As Hundley, Moreshead and Sims have concluded, time will tell what the continued state of LGBT affairs will be at Pepperdine.
__________
Follow Breanna Grigsby on Twitter: @Bre_Louise