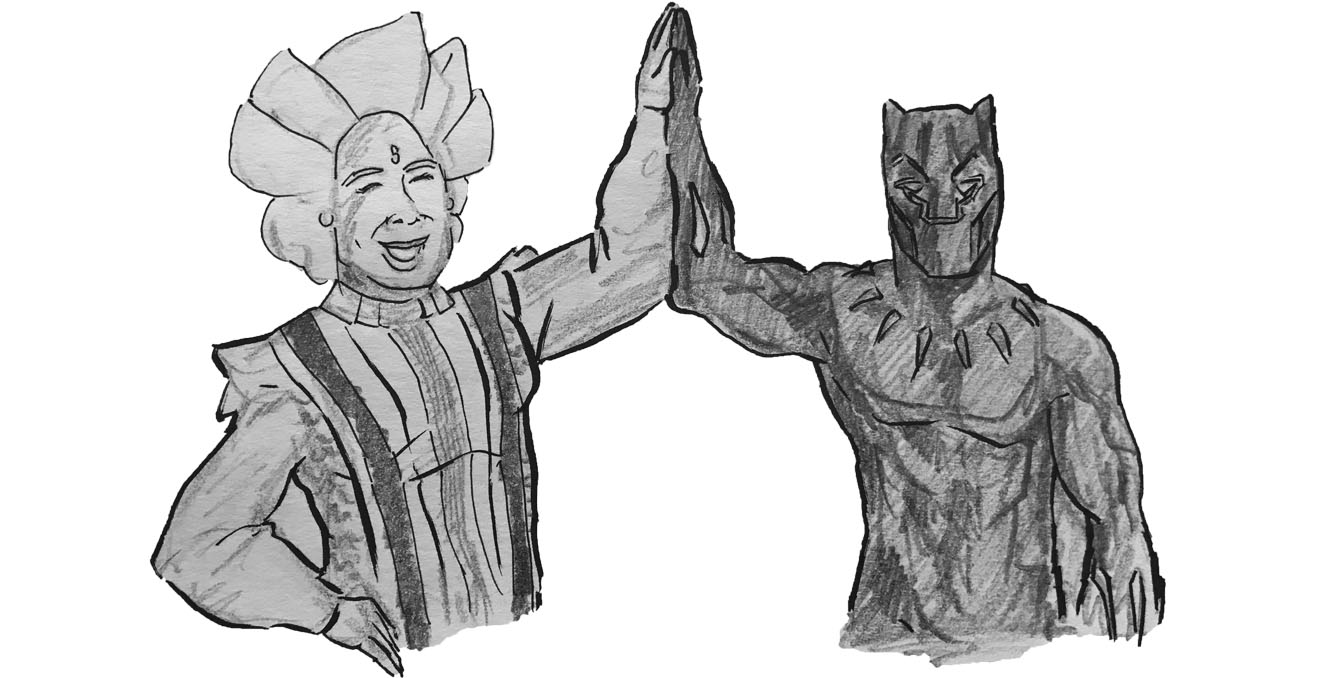 Art by Peau Porotesano
The recent box office success of Marvel's "Black Panther," released Feb. 16, and Disney's "A Wrinkle in Time," released March 9, made history the first weekend the two films were in theaters simultaneously.
"Black Panther" and "A Wrinkle in Time" held the No. 1 and No. 2 spots for box office earnings the weekend of March 9, making it the first time two movies with Black directors have ever dominated at the box office, according to CNN. These successes matter because they show the impact of films with directors, writers and casts predominantly featuring people of color have in media and representation around the world. Pepperdine must acknowledge this significance so it can properly support minority students who will shape the way cultures and stories are represented in the film industry in the future.
Both "Black Panther" and "A Wrinkle in Time" have significant importance as films on their own. "Black Panther" was the first mainstream Black comic book character, created in 1963, and had his story brought to life by Ryan Coogler, Marvel's youngest and first Black director. "A Wrinkle in Time," directed by Ava DuVernay, is the first film to ever have a Black female director with a movie budget of over $100M.
The media plays a significant role in the way the public forms opinions about people, places and things to which they have little to no in-person exposure. This leaves room for stereotypes to develop. These directors and their films matter because representation paves the way for more opportunities for minority groups, and leaves little room for stereotypes to develop.
An interview conducted by Asian Boss shows how important accurate and diverse representation is. On the streets of South Korea, where scenes of "Black Panther" were filmed, native South Koreans were asked about "Black Panther" and their perception of Black people before and after seeing the movie. The consensus among those interviewed was that the South Korean people held a negative view of Black people. One interview subject explained that "for most Koreans, the main exposure they had to foreigners was through movies, but there weren't many Black people in mainstream cinema." Another said, "There are a lot of movies that portray Blacks as evil."
After watching the movie, the majority agreed that "Black Panther" changed their perception of Black people. Representation can change the perception of others.
After witnessing the cultural phenomenon "Black Panther" has turned into, many have come forward about how the predominantly Black cast impacted them. Even the actor who plays Black Panther, Chadwick Boseman, was moved to tears during an interview with SirusXM while reflecting upon how his role in the movie gave Black youth something to look forward to.
Coogler's influence as a Black director on the success of "Black Panther" is highlighted in "What 'Black Panther' director Ryan Coogler Can Teach Hollywood About Being More Inclusive," published by the LA Times on Feb. 20. "Black Panther's" quality execution came from the fact that they hired a Black director and writer that ultimately helped connect the film to the Black audience and exposed the general public to way of perceiving Black people in a way that's never been done before.
Ava DuVernay spoke about the importance of inclusion in an interview with PBS, stating that she wanted to "make sure that all kinds of kids can see themselves in the film." This is why equipping minority directors, writers and actors with the tools to succeed is so powerful.
As the Pepperdine community witnesses the impact of films such as "Black Panther" and "A Wrinkle in Time" have on representation, they should be encouraged to see the film industry investing in minority directors, actors and actresses, but should use this opportunity to reflect upon the ways Pepperdine can do the same.
The faculty of the Film Studies, Media Production, Creative Writing and Theatre departments should be reminded of the same opportunities they can give to minority filmmakers, writers, actors and future industry professionals on this campus and in the LA area. Pepperdine could begin to support prospective and current students of color pursuing these majors with departmental scholarships to encourage their academic success. Pepperdine could also host screenings and discussions for more films by minority filmmakers on campus, or find a way to incorporate them into more classes so that students can be more aware of their contributions to the entertainment industry.
Pepperdine often mentions how its students will go on to change the world for the better, and it starts by encouraging and giving underrepresented students the access and encouragement to use their talents to become the future professionals that can bring powerful, diverse narratives to the silver screen.
___________
Follow the Pepperdine Graphic on Twitter: @PeppGraphic