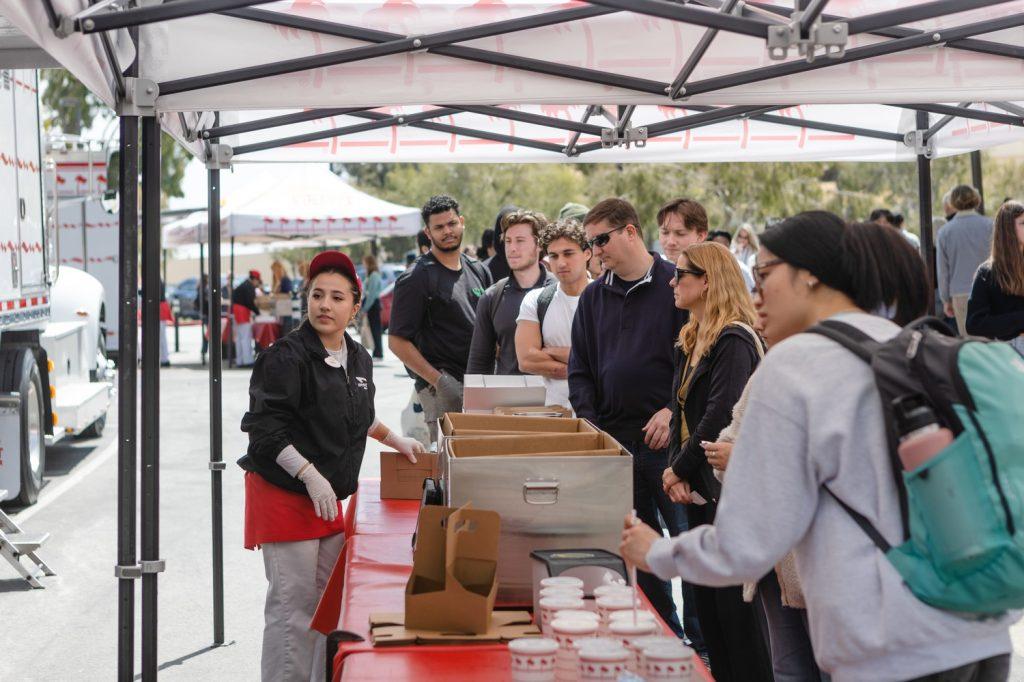 Admitted students and families wait in line for In-N-Out Burger outside Smothers Parking Lot on March 31, during the Malibu Reception. Students said seeing campus in person taught them more about Pepperdine. Photos by Lucian Himes
The rain stopped and the sun began to shine, just in time for newly admitted students to attend Seaver College's Malibu Reception on Friday, March 31.
The Malibu Reception offers a day-long, on-campus opportunity for admitted students to tour and learn about Pepperdine, according to the Malibu Reception website. Prospective students met professors, attended a club fair and went on campus tours.
"Learning more about the program[s] and seeing the campus has been really helpful in deciding [whether or not to attend]," said Jillian Bogosien, an admitted student from the San Francisco Bay Area. "Because it's one thing to see campus on a screen on your computer, but seeing everything in real life is pretty cool."
Students could also enroll for their first year at Pepperdine during the reception.
"I'm excited to do my enrollment deposit, so it's official," said Taylor Karr, an admitted student from Northern California.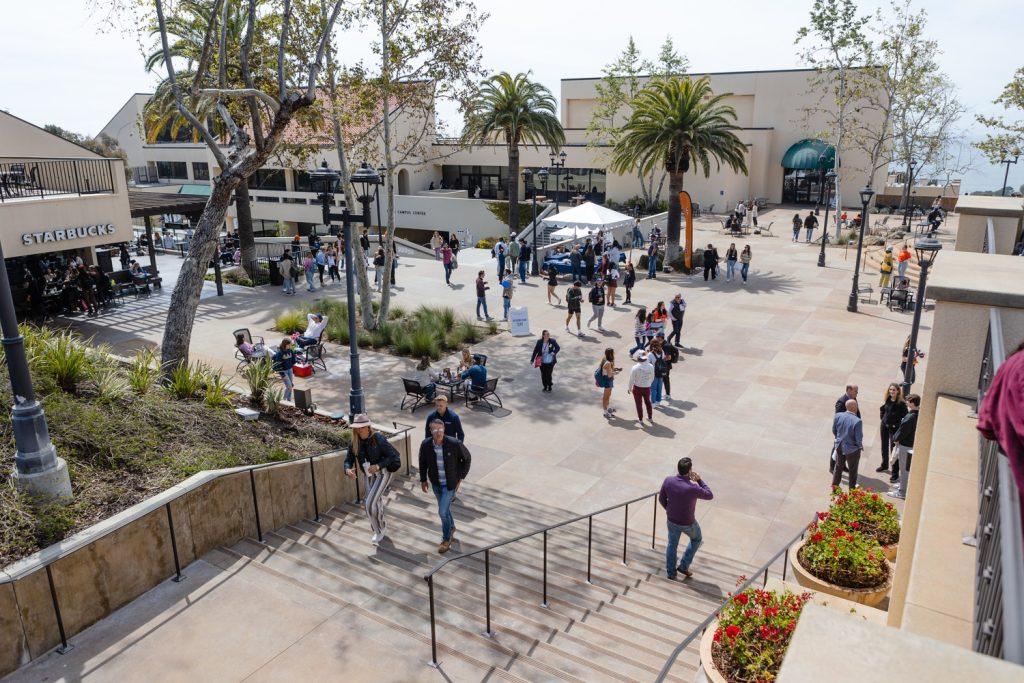 The event began with a kickoff at 9:30 a.m., on Alumni Park. Members of the Seaver College Office of Admission and President Jim Gash spoke, and students could participate in a trivia game for a swag bag. Admission counselors also shared statistics about the admitted students.
Justin Wells, undergraduate admission counselor, said Seaver admitted 42 sets of twins this year, and the application pool represented 77 countries.
Michael Rodriguez, undergraduate admission counselor, told those assembled Pepperdine admitted the most students from these five states: California, Texas, Washington, Colorado and Illinois. Pepperdine also admitted 94 people with the name Isabella.
"If it's not clear, we had a really, really fun time reviewing your [admitted students'] application," said Lexi Aguayo, associate director of Admission. "The admission committee has been overwhelmed with how amazing you all are."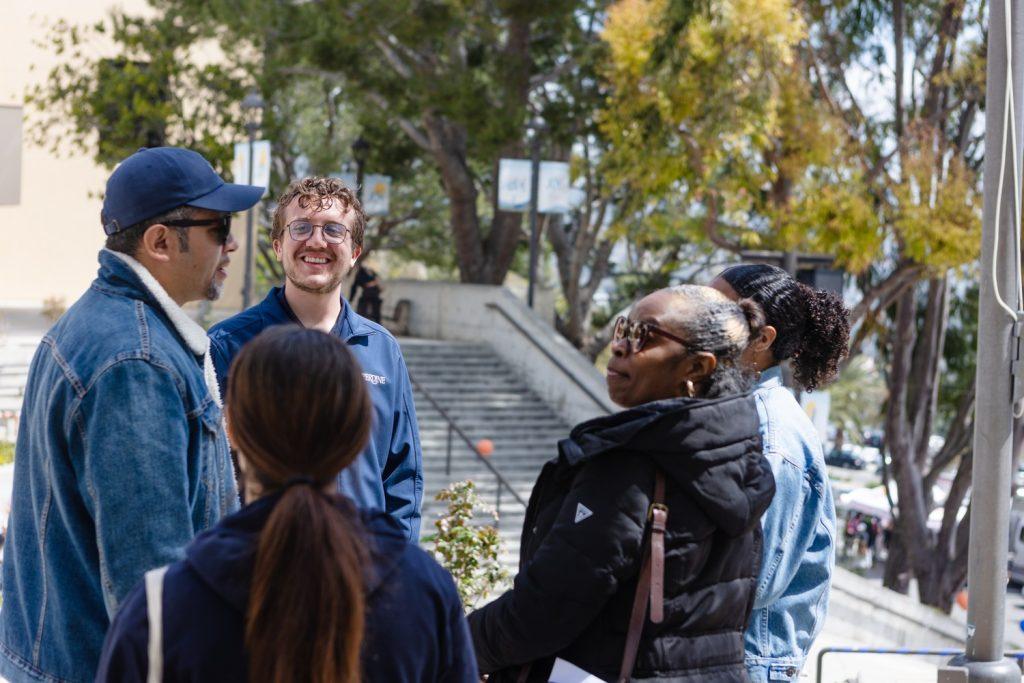 This admissions cycle had the second highest number of applications in Seaver College's history, Aguayo said.
"You [admitted students] all shared so much with us through your applications," Aguayo said. "Whether it was your passions, the fun hobbies that you've picked up over the past couple of years, whether it was your insights, the ways that Pepperdine would contribute to you and who you hope to be in the next four years."
After the admission counselors spoke, Gash took the stage and spoke about his memories of bringing his children to admitted students day. Gash said all his children loved their time attending Pepperdine.
"Students at Pepperdine — you're going to be challenged, and you're going to be strengthened, and you're going to be loved," Gash said.
Sophomore Delanie Tuumalo said she did not attend the Malibu Reception as a newly admitted student, but she chose to volunteer at the reception because she thought it would be a fun way to meet people.
"I hope they know there are people here that they can connect with, and they just have to find that sense of community," Tuumalo said. "The first year is always the hardest. And so just getting past that first year. It gets a lot easier."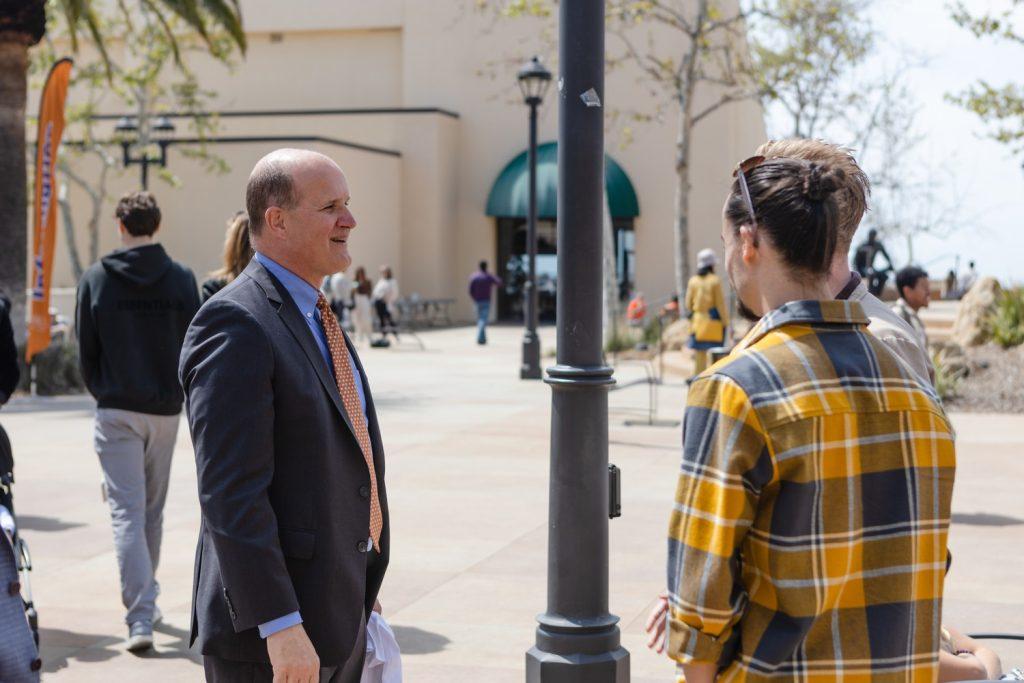 Derek Alearad, an admitted student from East Los Angeles, said learning about the class sizes at Pepperdine was helpful. However, he would like to learn more about spiritual life at Pepperdine. Alearad said he applied to Pepperdine through a scholarship program and is excited for study abroad opportunities.
Bogosien said she enjoyed speaking with professors, who provided her more information about the Computer Science program, but she would have liked to learn more about student life.
"What [Pepperdine's] like on a daily basis?" Bogosien said. "Like the gym and can you have a car and things like that. I just haven't learned enough about that."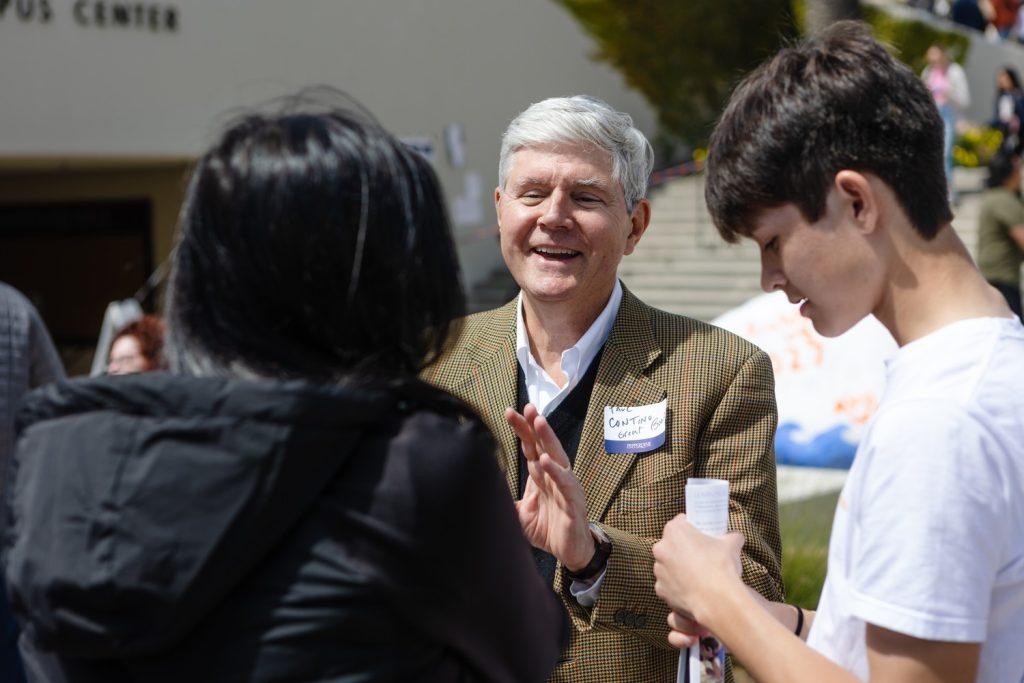 Brooklyn Courtney-Moore, an admitted student from Little Rock, Arkansas, said she applied to Pepperdine for both the location and the opportunities it offered her as a prospective Theatre and Screen Arts major.
Courtney-Moore said she would like to hear more major-specific information, but she said the Malibu Reception made it easy to speak with professors in person. She is still in the process of deciding what school to attend next year.
"Everyone keeps on talking about how outstanding the community aspect of Pepperdine is, and that's definitely something that I consider when choosing a university," Courtney-Moore said.
___________________
Follow the Graphic on Twitter: @PeppGraphic
Contact Samantha Torre via Twitter (@Sam_t394) or email: sam.torre@pepperdine.edu