Graphic by Ali Levens
Lifelong fans. Local diehards. Fellow coaches. Worldwide basketball lovers.
They will all remember Kobe Bean Bryant.
Better known by the singular "Kobe," Bryant was a five-time NBA champion, two-time Most Valuable Player, 18-time NBA All-Star and a 20-year NBA veteran.
Every one of those 20 seasons was in the purple and gold of the Los Angeles Lakers, from his first game at age 18 to his 60-point performance in his final game.
However, the local community will remember Bryant for far more than his exhaustive list of accomplishments on the court. They will remember his tireless work ethic, faith, commitment to his role as a parent and contributions to the game post-retirement.
"Because of his skill, he's gonna leave more of a basketball legacy around the globe," LA native Austin Wilmot said. "But I think more than anything after his career … he took his mentality and his passion for whatever he was doing into the next stage of his life. He won an Oscar. He tried to teach [his daughter] Gianna as much as he could about the game."
Wilmot, a redshirt junior for Pepperdine Men's Volleyball, is one of many local athletes and fans who grew up watching Bryant progress from the youngest player to ever play in an NBA game to one of the game's most electrifying figures.
"Whatever sport I played, I always try to emulate him and be the best player I can be because that's what Kobe did," Wilmot said.
For Generation Z basketball fans like Wilmot, Bryant played for nearly as long as they've been alive.
Mia Satie, who grew up in Perth, Australia — 9,000 miles from LA — was raised a Lakers fan in part because of their young star player.
"Kobe was our Michael Jordan," Satie, a junior on Pepperdine's Women's Basketball team, said.
Bryant won his first three NBA titles in the first three years of the new millennium, but it was the fourth and fifth rings, without fellow star Shaquille O'Neal, that captivated new fans.
"My first memory of basketball was the 2008 [NBA] Finals," said Marcus Flint, a freshman runner on Pepperdine's Cross Country and Track teams. "[The Lakers] lost to the Celtics. But then, the year after, we came back and won in 2009, and then again in 2010, and that cemented for me Kobe Bryant and the Lakers as my team."
During his playing days, Bryant was famous for his intense work ethic and astounding stories of his additional practice hours.
"He was just the hardest-working player on the court," Colbey Ross said. "You hear about the stories about [Kobe] waking up at four in the morning, then taking a nap and coming back again, and then doing that, like, three times in the day."
Ross, a junior on Pepperdine's Men's Basketball team, is not from Southern California, but he still listed Bryant as one of his sports heroes well prior to Bryant's death at age 41.
Ross, Pepperdine's all-time assists leader, invoked a term seen in just about every Kobe obituary.
"Even though I never knew him, it feels like I had known him for the longest just because of how he inspired me — how he inspired people who don't play sports, people just in the regular world, who understand the Mamba Mentality," Ross said.
Bryant, who nicknamed himself the Black Mamba, coined the term "Mamba Mentality" and described it as "constantly try[ing] to be the best version of yourself," following his retirement from the league in 2016. He even wrote a book about it in 2018.
He continued to live the Mamba Mentality post-retirement, as he raised his four daughters, coached his daughter Gianna and her teammates at the Mamba Sports Academy and in 2018 became the first African-American to win the Academy Award for Best Short Film.
"Everything that happened is so tragic because he wasn't just a basketball player," Flint said. "He was reinventing himself off the court. It was just an extension of him being the hardest worker in the room, that we saw when he was playing — but then transitioning to a time where he wasn't playing but still exhibiting those qualities we expected from him."
Though success seems to have followed Bryant throughout his life, he dealt with several controversies off the court, especially early in his career. Drafted out of high school and engaged at 21, there were bound to be roadblocks.
A 2003 sexual assault case will forever remain a part of Bryant's legacy. Though the case was dropped and a lawsuit was settled behind closed doors, Bryant publicly admitted to an extra-marital affair. His wife Vanessa filed for divorce in 2011, but the pair called off the divorce in 2013. The fourth Bryant daughter was born in June 2019, mere months before she would lose her father and second-eldest sister.
"[Kobe Bryant] totally made a transition, and he did it really well," Pepperdine Women's Basketball Head Coach Kristen Dowling said. "He was a young kid in the spotlight at 17 years old. He was growing up, especially with all the money and all the fame, but he did a tremendous job."
For Southern California natives, the highs and lows of Kobe's Lakers were part of life — the titles, departure of Shaq, scoring outbursts, playoff losses, clutch shots and injuries.
"He [was] in the NBA two years before I was born, so I grew up with him in my life," Wilmot said. "He's the reason I started playing basketball [and] the reason I continued on playing volleyball. I always wanted to wear his number."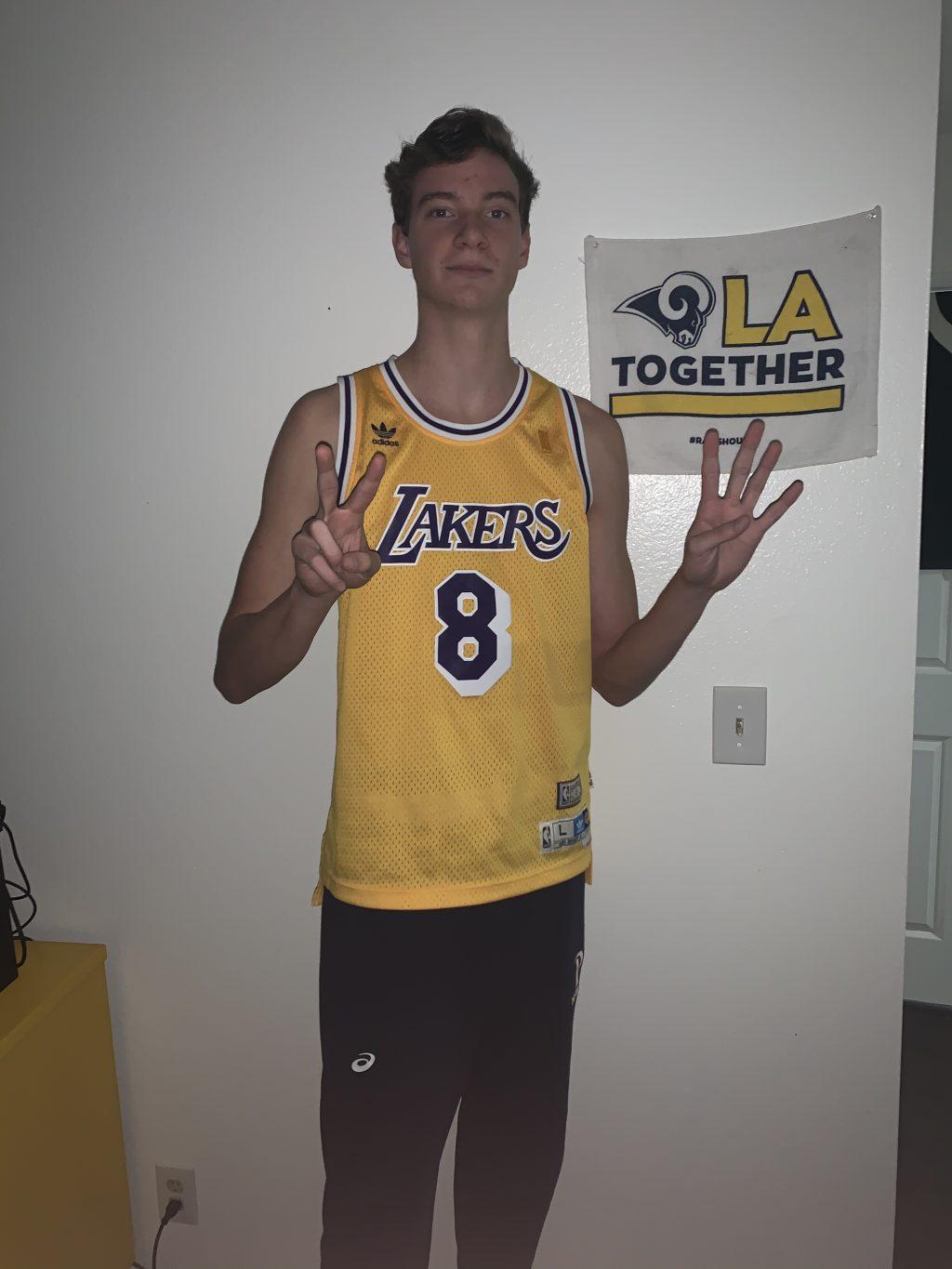 Like many other celebrities who seem larger than life, local fans invited Bryant's name into their own homes.
"I was basically born into a Lakers family and born into loving Kobe, so even before I saw him play, I knew I loved Kobe," Barbara Sitanggan said. "It hurts like he was one of my own family members. He just had such a big impact on people he knew and people he didn't even know."
Sitanggan, a senior on Pepperdine's Women's Basketball team, was born and raised in Orange County.
Bryant's sudden death also struck Sahith Theegala, another SoCal native, rather hard.
"I live in Calabasas, so [the helicopter crash that killed Bryant] was literally right next to where I live," Theegala said. "I couldn't believe it when the news broke out, so I figured I could do something to honor him."
Theegala, a redshirt senior for Pepperdine Men's Golf, donned a Kobe jersey for his walk to the final green and the last two putts of his individual victory at the Southwestern Invitational.
"I couldn't have asked for a better way to pay respects to the guy who meant so much to me and my family," Theegala said.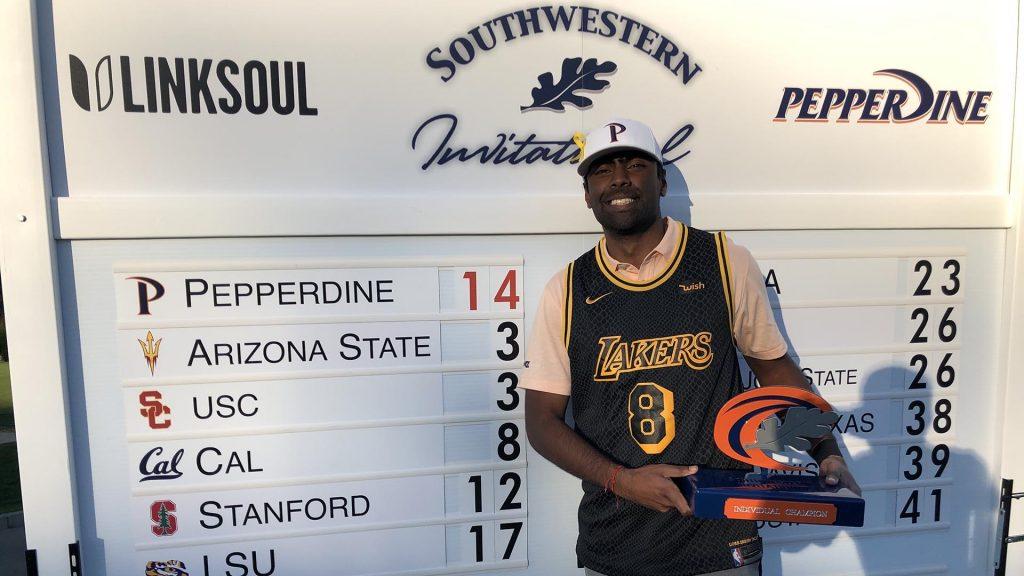 Hundreds of well-wishers turned out to pay their respects to Bryant first at the crash site in Calabasas on Sunday, Jan. 26, and then at a massive memorial at the Staples Center.
Stadium staff cleaned up the memorial early Monday morning, collecting monumental numbers of memorabilia and flowers, including more than 1,300 basketballs, according to a tweet from Staples Center President Lee Zeidman.
"The whole city was hurt, and they will remain to be hurt," Wilmot said. "I don't know if I'll ever get over it. I think the emotions have settled down, but he's given so much to the city of Los Angeles."

Though jokes about a lack of passing abounded during his career, Bryant's coaching and involvement in local philanthropy will also be remembered in the greater LA area.
He was the official ambassador for After School All-Stars, a non-profit organization that provides after-school programs for low-income children.
"It was just never about him," Ross said. "It was always about, how can he use the game of basketball to help someone else?"
Included in this were Bryant's efforts to support the growth of the women's game. These efforts were rooted in the basketball prowess of Gianna, who died at 13 with ambitions of one day playing for the most successful collegiate women's program in the nation, the University of Connecticut Huskies.
"I really wish we could see her in the NBA and go to UConn or wherever she ended up going, and doing her best," Wilmot said.
Bryant took pride in being a #GirlDad.
"Part of his legacy was just being a good father, and the way he was involved in women's sports because of Gianna," Dowling said. "Ever since he was a player, he took a huge role in the WNBA and supported the women's game."
Ultimately, for fans and locals, Kobe Bean Bryant transcended basketball. He was far from perfect, but he worked harder than anyone else, and the community embraced him for it.
Who else could win an Oscar, raise four daughters and run circles around opponents on a court for 20 years?
"He will leave a very huge hole in a lot of people's hearts, but a tremendous legacy for all of us who are involved in sports to want to follow and emulate," Dowling said.
________________________________
Follow Karl Winter on Twitter @karlwinter23
Contact Karl Winter at karl.winter@pepperdine.edu