On the cloudy morning of Sept. 11, 2023, Pepperdine faculty and students honored guests joined together to commemorate those who lost their lives on 9/11 in front of Pepperdine's annual Waves of Flags display.
This year Pepperdine held the 9/11 Remembrance Ceremony with remarks from President Jim Gash, Director of Student Veteran Affairs Eric Leshinsky and honoree actor-producer Chris Pratt. Pepperdine has held annual 9/11 ceremonies since 2002.
"We're the United States of America," Pratt said "When we are one nation under God, we are indivisible. Let us never forget that lest it be lost. To the heroes and the victims of 9/11 and their families, we salute you. To the next generation, we need you. God bless America."
The display features 2,977 flags, one for each of the lives lost on 9/11 and one flag for each country that lost a citizen. The Waves of Flags display has been a nationally recognized Pepperdine tradition since 2008. Pepperdine Alumni Ryan Sawtelle ('09) and Chris Garcia ('11) first brought the idea to Former President Andrew K. Benton in 2006, and 18 months later, it became a reality, according to previous Graphic reporting.
Lauren Cosentino, vice president for Advancement and chief development officer, opened the Remembrance Ceremony. She said, although what is being remembered on this day is somber, attendees could also be reminded of this school year's chosen theme of light.
"That light shone in acts of heroism through the police, the fire crews, the rescue workers and also the co-workers, the neighbors, and friends, all sons and daughters, brothers and sisters, wives and husbands and mothers and fathers who ran toward the darkness that morning and gave their lives to help others," Cosentino said.
Cosentino took this time to ask all active-duty military and first responders to stand for applause.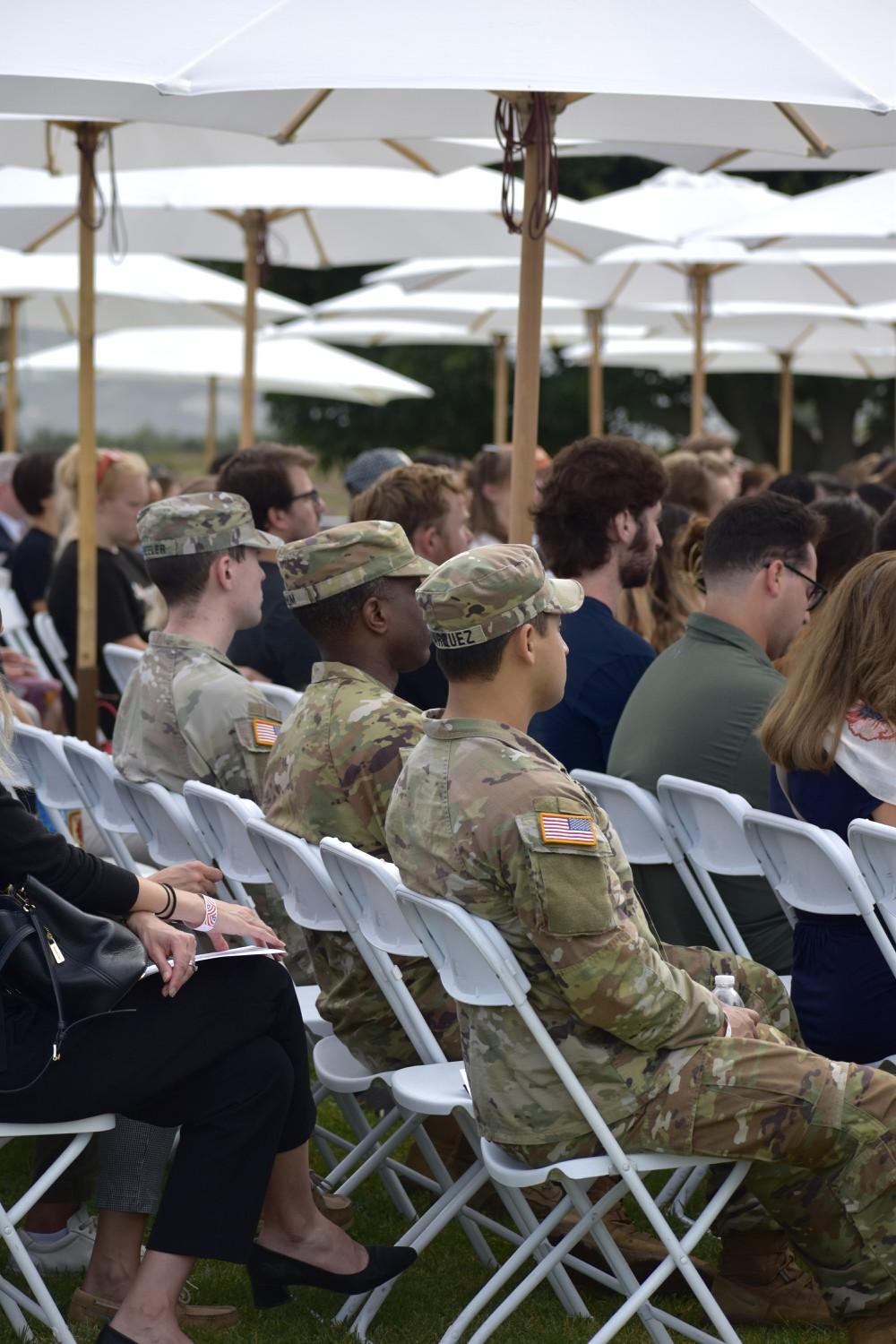 Tim Spivey, associate vice president for spiritual life, followed with a prayer over the ceremony.
"This is a day etched into the fabric of our nation's history," Spivey said. "A day when tragedy and heroism intertwined, forever changing the course of our lives in our world."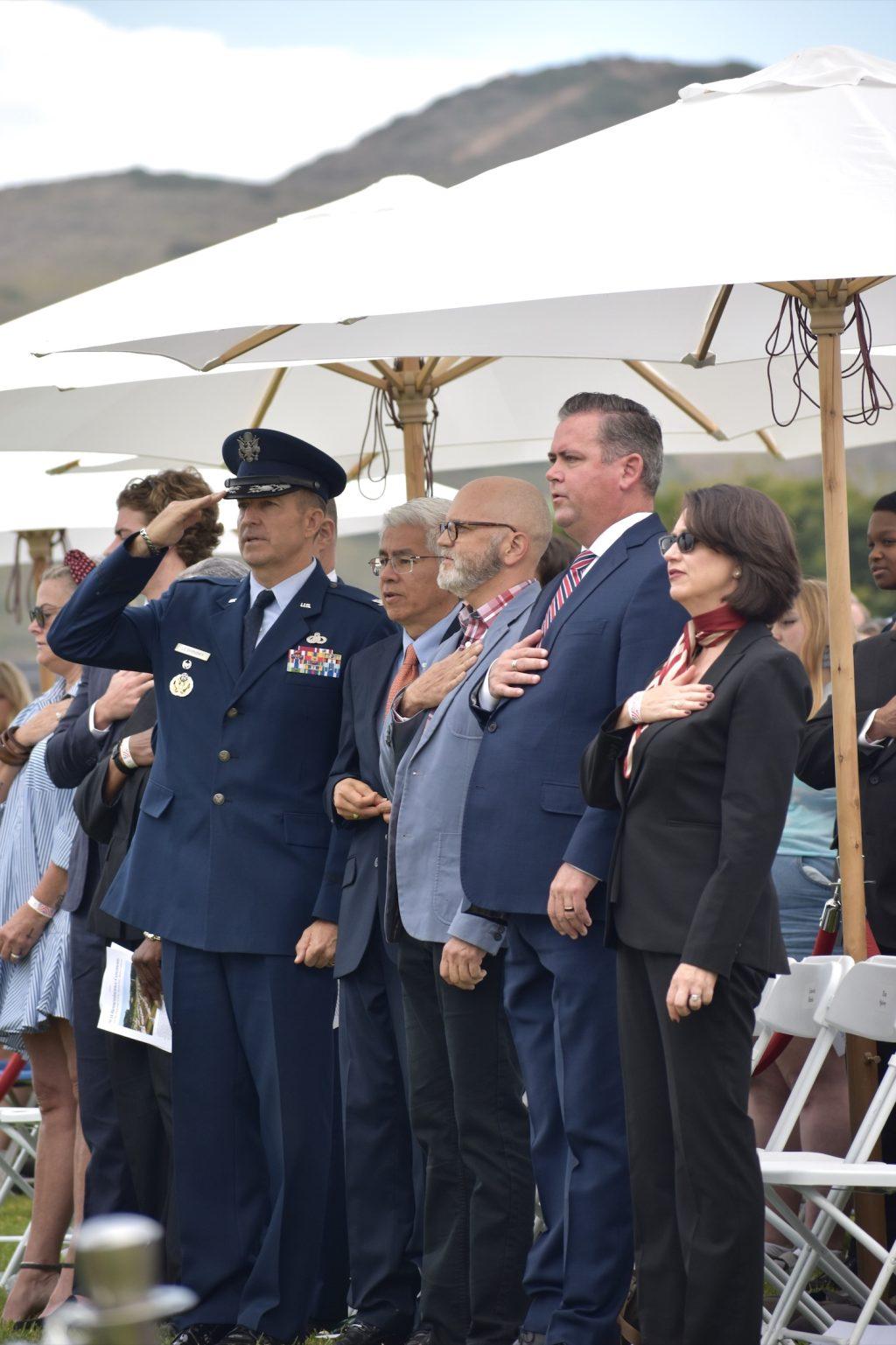 Hung Le, senior vice chancellor for alumni affairs, read scripture from Romans 12:9-10. He said to let God's light of love shine through the darkness of hate.
"Let this memorial be a reflection of God's light in and through us," Le said. "The light on the hill, calling the world to goodness, to peace, to freedom and to hope."
Leshinsky, an Air Force veteran, said though darkness and evil had their way that day, shortly after, there was unity.
"Millions joined together in prayer for the lost and the injured," Leshinksy said. "Priority shifted back to the basics to what matters most: family, friends, God."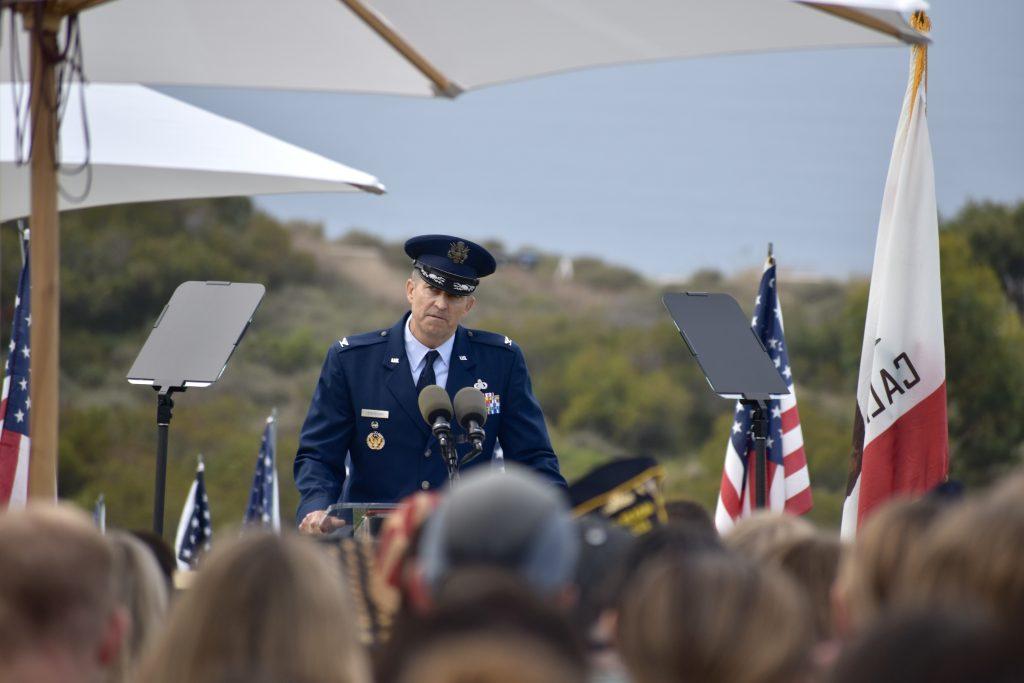 Our world is still full of darkness, but the light will always shine through, Leshinsky said.
Gash said one of the reasons Pepperdine chose Pratt as the keynote speaker was because of a post Pratt made to Instagram in 2022 after he saw the display while driving down Pacific Coast Highway and decided to stop.
Gash presented Pratt with a retired flag from one of the previous Waves of Flags displays.
Pratt wanted people to know part of the reason he spoke was because of his care for his country and those whom 9/11 affected. He said he is a deeply patriotic person who feels Americans must unite as a country.
"I want to speak here because I wanted the opportunity to honor the victims and their families along with people that stepped up, that walked in and ran in, that gave their lives," Pratt said.
Pratt said he hopes the victims and their families feel honored this day, and remembering 9/11 can expand the minds of young people beyond their personal slice of the world.
Students said they appreciated this event and felt its impact.
"It is of the utmost importance to commemorate this tragedy and pay tribute to the sacrifice and strength of all those who were affected," junior William Thompson said.
Junior Allexa Larson said Pratt's speech made her feel hopeful that Americans can come together with strong faith foundations they want to share with others.
The number of Americans who do not share the collective memory of 9/11 is increasing, Pratt said.
"They [the Americans who do not have memory of 9/11] were too young," Pratt said. "They were not yet born. For them, the ceremonies commemorate a history for which they are now a generation removed."
Service men and women put themselves in harm's way to serve Americans and to provide hope, Pratt said. He said they serve without reservation.
"I may have played a guardian in the movie, but they [service men and women] are the true guardians of our communities and our country," Pratt said.
Pratt said the United States is more divided now than ever before.
"Do you remember national unity," Pratt said. "Do you know what that feels like?"
Pratt said the 9/11 effect was a time of national unity — a time when Americans turned to faith and one another. He said Americans must rekindle the unity felt after 9/11 and keep it alive in themselves and their communities.
Pratt said he felt called to be at the ceremony Monday; if he were 20 in this day and age, he would want someone to ignite his patriotism in a new way.
"And I say this gently to those who are immersed in their own worlds who think their country doesn't need them," Pratt said. "It is your torch to carry. Your country needs you."
Joe Ramirez, a United States Marine who attended the ceremony and is also a Pepperdine Graziadio Business School alum ('11), said this ceremony was emotional for him. He said Pratt's message was important for the new generation to hear.
"The nation needs you," Ramirez said.
Gash gave his remarks directly following Pratt. He called the Pepperdine community to love one another and never forget. The good of all humanity means picking up the broken, Gash said.
"It means breaking chains and mending hearts. [It] means hating what is evil, and holding fast what is good," Gash said. "It means loving each other with mutual affection."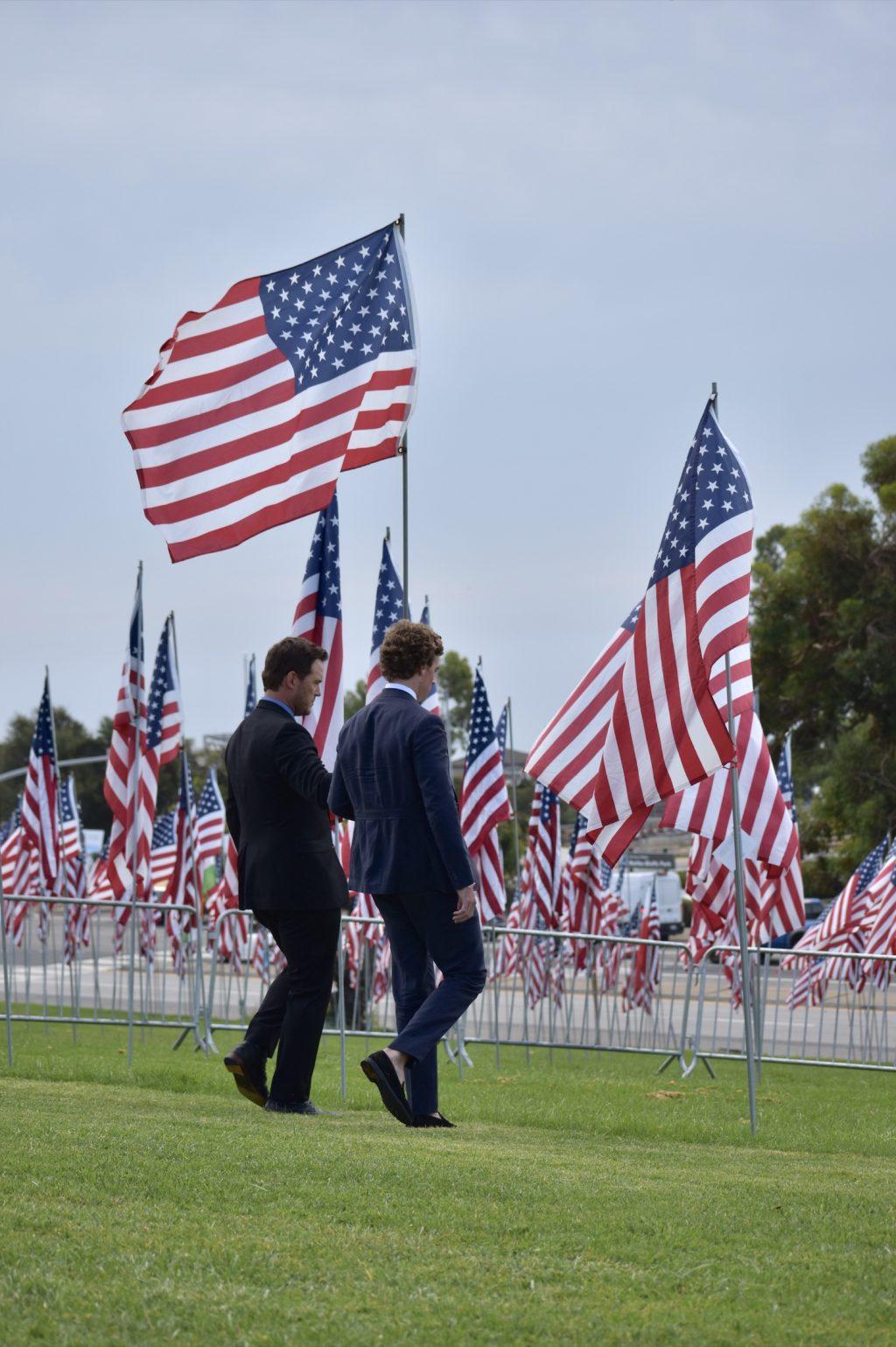 The ceremony ended with Pratt and junior Colton Cherry, who lost his father Stephen Cherry in the Twin Towers on 9/11, staking the final flag in the ground.
The two walked together holding the flag, and as the sun peaked out on this overcast day, they placed the flag in a bed of flowers.
___________________
Follow the Graphic on Twitter: @PeppGraphic
Email Ava Heinert: ava.heinert@pepperdine.edu