Photo courtesy of Roger Horne | Pepperdine Athletics
The 2019–2020 Pepperdine Men's Golf roster includes seven or eight legitimate standouts who could make a major impact on any collegiate team.
The problem is, only five can play at a time.
"A lot of good players who, on any other team, would be one of the starting five all the time, may not travel because our team is just that deep and loaded," Joey Vrzich, a junior transfer, said.
It's certainly a good problem to have, and as a result, several national polls have taken notice.
Golfweek Magazine placed the Waves at No. 2 in the USA in their preseason rankings, while Golf Channel put them at No. 3 and the Bushnell Golfweek poll had them at No. 10.
Rather than seeing the rankings as added pressure, the men said they use them as fuel to get to No. 1.
"I think it motivates us," Vrzich said. "We want to be the top team in the nation, so us not being there now makes us work toward something."
Vrzich, who was the top player at the University of Nevada, Reno, last season, joins an already formidable lineup.
The Waves return their top four players from the 2018–2019 squad: sophomore Joe Highsmith, defending West Coast Conference (WCC) individual champion and junior RJ Manke, and seniors Clay Feagler and Joshua McCarthy.
"Having RJ, Joe, Josh, and me back — the core four who played most of the tournaments last year — I think it's the culture," Feagler said. "You're basically bringing that top-tier program culture back."
Not to mention that redshirt senior Sahith Theegala, a two-time All-American who sat out 2018–2019 with a wrist injury, also returns.
"[Sitting out] was really tough because we were projected to be really good [in 2018–2019]. We were returning all of our guys and getting a couple of studs coming in," Theegala said. "I knew it was best long-term, and [I] also knew we had a couple more really good guys coming in this year."
Golfweek named Theegala a preseason first-team All-American, which Theegala said was "an honor."
"To get accolades before the season even starts — that's great, because a lot of those are from coaches and peers and people who really know the game," Theegala said.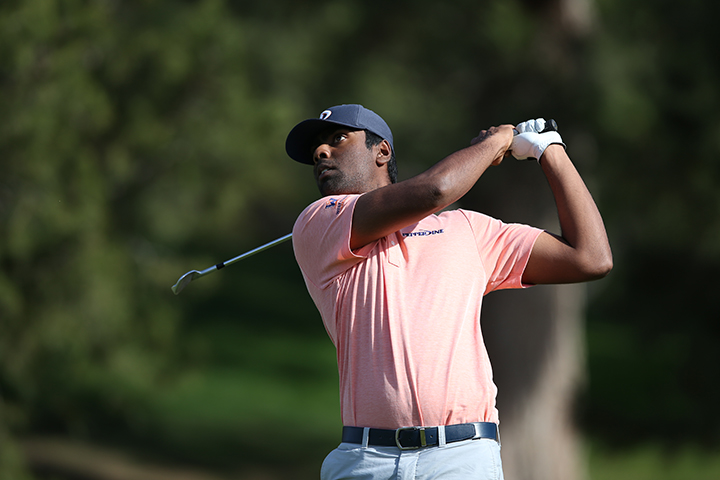 Theegala takes a swing with an iron. Photo courtesy of Jeff Golden | Pepperdine Athletics.
Theegala completed his major in Sports Administration in 2019, and he has now added a minor, with plans to take the Graduate Management Admission Test for admission to an MBA program.
Vrzich, a Southern California native, joins the roster after the Mountain West Conference selected him as a 2019 all-conference player. He said that not "having to deal with snow" is an advantage of the transfer to Malibu.
"I can play golf whenever I want and not have to worry about weather," Vrzich said. "It's a lot more comfortable being closer to home too."
Vrzich is not the only newcomer who will make an immediate impact.
Golfweek named incoming Pepperdine freshman William Mouw to the preseason All-American third team. The American Junior Golf Association currently ranks Mouw, who is from Chino, California, the No. 1 junior player in the country.
Mouw's fellow freshman teammates are Dylan Menante, a Carlsbad native who is currently ranked No. 8 in the class of 2019, and Tristan Gretzky, a Westlake Village native who also happens to be the son of hockey legend Wayne Gretzky.
The three talented freshmen will need to battle the returners to crack the lineup.
"With the addition of [Theegala] coming back off his injury, and a couple of good newcomers … qualifying is going to be a little bit more intense," Feagler said.
Prior to each tournament, Head Coach Michael Beard decides which five players will compete based on five or six rounds of qualifying in practice. In short, each player needs to bring their A game every day.
"We know that six, seven, eight guys can for sure make the lineup and even compete in any tournament," Theegala said. "All the guys know that. It's a good thing; it's going to keep us all competitive ⁠— in the end, it's just going to make everyone better."
Feagler agreed that making the team for tournaments would be "the hardest part" in 2019–2020, but also that the competitiveness would be good for the team.
The Waves said they are confident that their depth is a strength.
"We're going to perform no matter who [Coach Beard] takes," Vrzich said.
Friday was the first day of qualifying for the Waves' first tournament of the fall season, the Maui Jim Intercollegiate, which begins Sept. 13 in Scottsdale, Arizona.
Scottsdale is also where Pepperdine hopes to complete their season. The 2020 NCAA Division 1 Men's Golf Championships begin May 29 at the Grayhawk Golf Club in Scottsdale.
"Being [ranked] number two is kind of motivation to get to number one," Feagler, the 2018 WCC individual champion, said. "At the end of the year, the goal is to be number one and holding that trophy."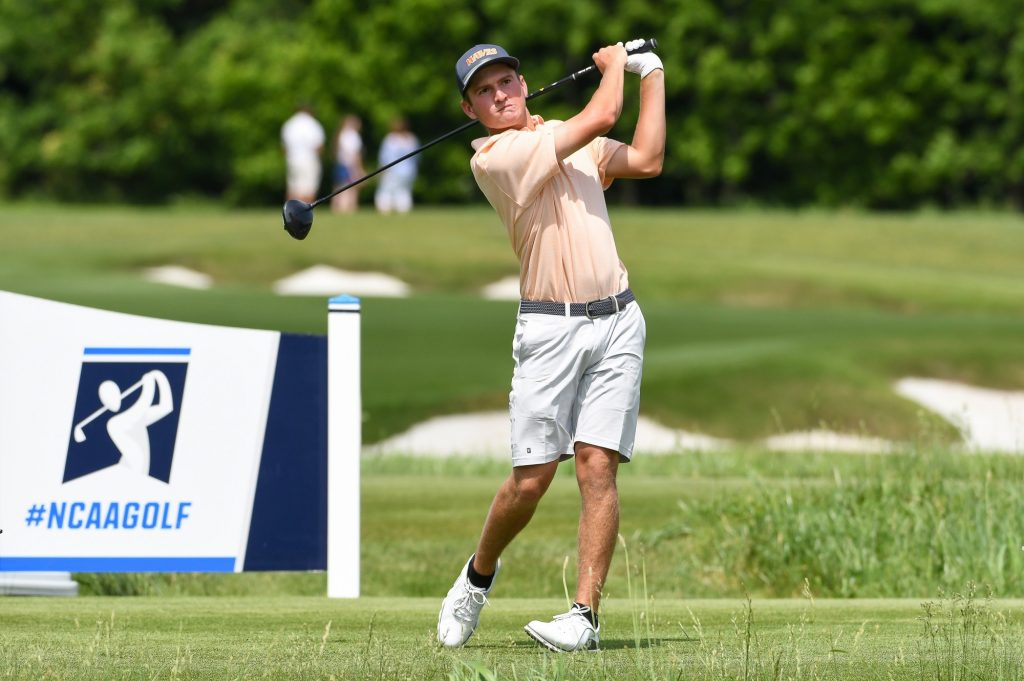 Feagler tees off at the NCAA Championships. Photo courtesy of Todd Drexler | Pepperdine Athletics.
The Waves are seeking their third trip to the NCAA Championships in four years. They are attempting to not only improve on their 11th-place finish from 2019 but to ascend to the top of the collegiate golf world.
However, they will not allow the preseason hype to become a distraction.
"Coach [Beard] has already done a good job of taking our attention away from that stuff," Theegala said. "We all know our potential and how good we can be, so we're not really worried about the rankings."
The two-time defending WCC champions are simply eager to start playing together.
"I'm excited to get things going," Vrzich said. "Rankings are just rankings. We haven't even played golf yet."
___________________________
Contact Karl Winter at karl.winter@pepperdine.edu