Sophomore forward Kessler Edwards goes over the Torero defense and finishes above the rim.
Photos by Taylor Gather
In their 13th conference game, Pepperdine Men's Basketball defeated the 9–17 San Diego Toreros 72–69.
In a game where Pepperdine trailed for over 33 of the 40 minutes and had 16 turnovers, the Waves' offense staged a comeback that was completed by some Colbey Ross magic.
The Toreros, one game ahead of Portland at the bottom of the West Coast Conference standings, started hot. With the Waves coming off a last-second loss to Pacific, they were also clicking offensively early in the first half.
Around the halfway point in the first half, Pepperdine's offense halted, and their defense broke down on multiple possessions. Their 16–15 lead lead with 13:09 in the first half evaporated into a 33–43 deficit at halftime.
Ross, Pepperdine's leading scorer, played all but two minutes in the first half. The Torero defense held Ross to four points off 1–2 shooting. The Waves' typical stat-sheet stuffers, Ross and Kessler and Kameron Edwards, had a combined 12 points.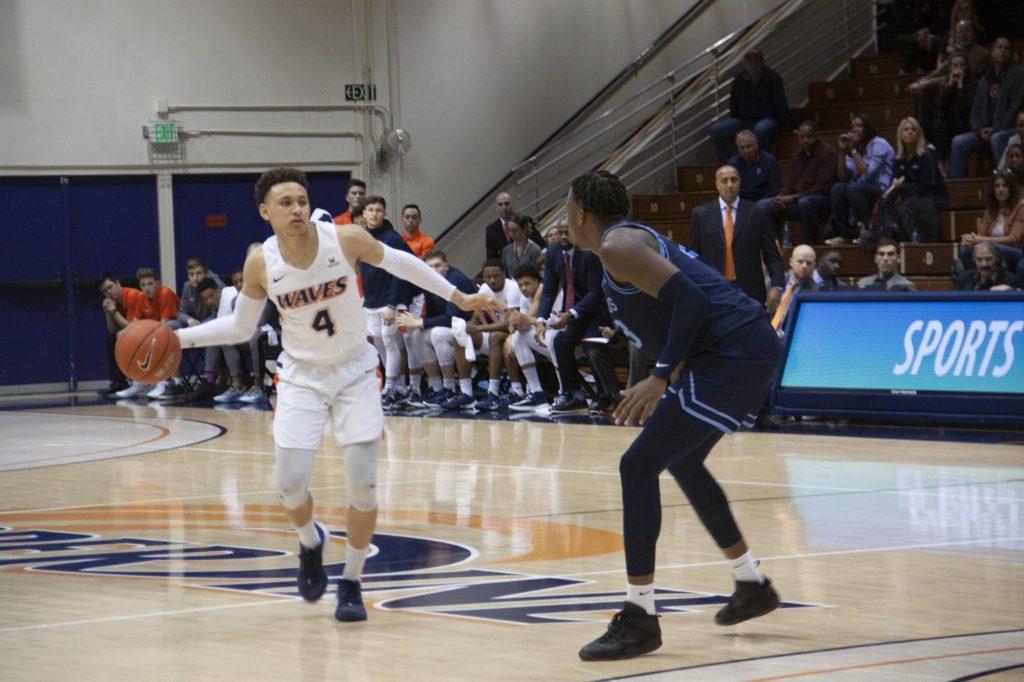 Head Coach Lorenzo Romar said he knew his team couldn't play down to their competition.
"We were lethargic in the first half," Romar said. "USD has been playing really good basketball, and we informed our team prior to the game this week that we're gonna have to take that game from them. They weren't gonna give it to us."
Pepperdine started the second half more focused but still susceptible to defensive miscues. The Toreros often relied on spacing most of the floor with a "four out, one in" offensive look that drew the attention of the Pepperdine defense. This would often result in a kick-out pass to the three-point line where they hurt the Waves the early in game.
San Diego was due for a solid outing from three-point land, as the team has shot a combined 15–49 from downtown in their past three games. The Toreros went 10–27 against the Waves for a lethal 37%.
In the second half, Romar said he knew the adjustments he needed to make.
"We decided to put more pressure when they caught the ball inside," Romar said. "They were really hurting us with that. And that made a difference. When we started to it, woke us up and got us going."
Pepperdine faced their largest deficit after a fast-break three by USD's Braun Hartfield, bringing the score to 52–40 with 14:37 remaining in the game.
The Waves offense ignited under the pressure, going on a 22–11 run to bring the Torero lead to two.
Graduate senior Kameron Edwards had a better second half, scoring eight points and grabbing seven rebounds. He said he was confident the team would turn things around in the second half.
"We needed to turn around our execution," Kameron Edwards said. "We knew that we weren't playing anywhere near as good as we could have. So the team knew we had to turn that around, and we started to do that."
The two teams traded baskets for the last six minutes of the game. A turning point was a drive-and-kick by Kameron Edwards to the left wing, where freshman guard Sedrick Altman knocked-down a three-pointer to deadlock the score at 65.
Two minutes later, USD forward Yauhen Massalaski fouled Skylar Chavez on a pull-up jump shot from the baseline. With the score now at 69–67 in San Diego's favor, Chavez had a chance to tie the game at the free throw line.
He made the first but missed the second, and with less than two minutes left, the Waves needed a stop.
Ross said he knew that the team's defensive ability would give them a chance late in the game.
"We weren't defending early, but we were never out of it," Ross said. "I knew that if we kept chipping away, we'd have a chance."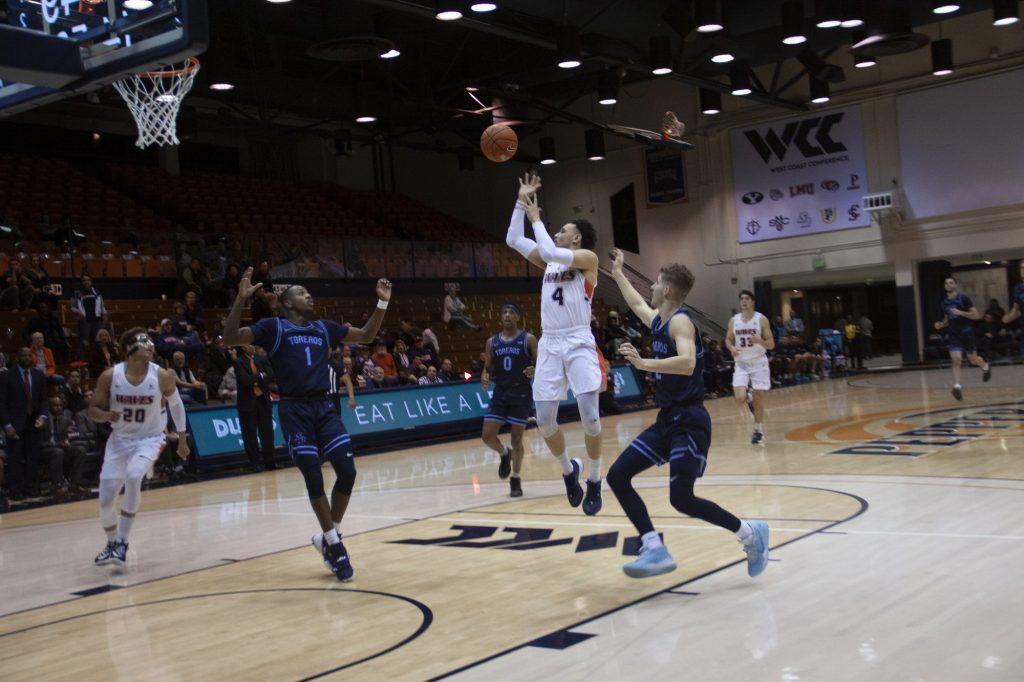 Off of a missed three-point shot, Pepperdine ran a fast break and got the ball to Kameron Edwards, who was fouled. This time, Pepperdine had the opportunity to take the lead at the charity stripe.
While he only hit one, Kameron Edwards said he was confident they still had a chance.
"I knew I needed to make at least one of the free throws to at least tie the game up," Kameron Edwards said. "I'm thankful I did that, but I'm a little upset I didn't make a second one. But at least I was able to tie the game up to put us in a position to win."
The USD offense took the miss with 33 seconds to go in the game. With the college basketball shot clock being 30 seconds, Pepperdine would have a chance to score, once again barring an off-the-ball foul or USD offensive rebound.
Hartfield had another open three-pointer with six seconds remaining but missed. Redshirt junior Keith Smith snatched the rebound and immediately flipped it to Ross. He went straight to the top of the three-point line and created just enough separation to put up a shot. Mid-flight, the buzzer sounded and Ross' heave was on target.
CDOT CALLED GAME.

Its cool tho, keep sleeping on him.

⌚@cdot_ross ⌚@SportsCenter #SCTop10 @WCChoops pic.twitter.com/TKfo5jPwWe

— Pepperdine Men's Basketball (@PeppBasketball) February 14, 2020
"Me and our graduate assistant practice those situations every day after practice," Ross said. "I'm confident in shooting those; I feel like those moments I'm made for."
After the buzzer-beater, the team swarmed Ross before he emerged and took a bow at center court.
________________________
Follow Taylor Gather on Twitter: @taylorgather
Email Taylor Gather: taylor.gather@pepperdine.edu
Email Austin Hall: austin.hall@pepperdine.edu