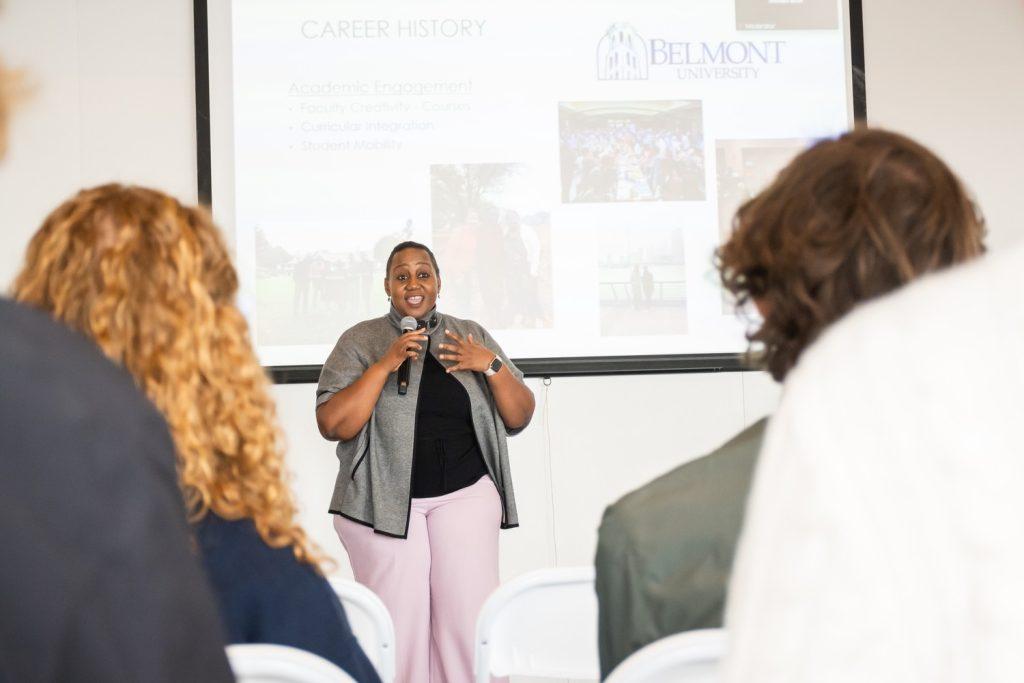 Students watch Thandi Dinani, associate dean and director of Global Education for Eckerd College's present on her journey working in study abroad, at the Jan. 11 forum in the Fireside Room. Dinani was one of the three final candidates for the dean of IP position. Photos by Lucian Himes
From Jan. 11-13, Seaver College hosted three student forums in the Fireside Room for attendees to meet the final candidates for the dean of International Programs.
Thandi Dinani, associate dean and director of Global Education for Eckerd College; Charlie Engelmann, director of Asia Programming; and Ron Cox, the interim dean of IP, are the three finalists, according to the University's dean of IP candidate materials webpage update Jan. 4.
Each forum began with a short presentation from each candidate, then student questions. Until Jan. 20, a feedback form is open on the selection website for students to give their opinions, Seaver Dean Michael Feltner said.
"The IP programs at the end of the day are for students and so if the students were not a part of that conversation, it would be kind of problematic," Sabrina Musharbash, junior and vice president of Finance for Student Government Association, said.
Musharbash said she was the student representative for the dean of IP selection committee. Musharbash has not been abroad, and she said because of this, there is only so much perspective she can offer.
"Whereas students who have been to these programs and seen firsthand the problems and things that can be improved would be able to ask more meaningful questions to the candidates and just allow the search committee to better see how the Dean interacts with students," Musharbash said.
Thandi Dinani Shows Her Heart
On Jan. 11, Dinani said she worked in a study abroad program at the University of Illinois, sending 2,000 students abroad per year. Dinani said she "cut her teeth" in IP and got used to planning and contracts.
In her time at the University of Tennessee, Dinani said the program grew from 500 to 1,000 participants, and the University focused on the "breadth and the depth" of study abroad. At Eckerd, Dinani said the University has 450 students abroad under her supervision.
"Really what I look at a lot of times with Christian education too is yes, we can send you there," Dinani said. "Yes, we can give you all those experiences. But what do you do with it afterwards?"
Junior Quinn Conway said he and junior Colin Wiese attended Dinani's forum because they worked in the IP office, and already knew Engelmann and Cox.
"The fact that she was asking us questions I thought was really kind," Wiese said. "It showed a lot of her heart for students. So I think she's amazing."
Charlie Engelmann Reflects on the Fruit of IP
Engelmann said ultimately he will be asking what is "the fruit" of studying abroad at his forum Jan. 12.
"I think my life, my kind of trajectory after Pepperdine, is somewhat of a reflection of the fruit of International Programs," Engelmann said.
Engelmann attended Pepperdine, and said he studied at the Heidelberg IP. After graduating, Engelmann moved to China for seven years, before returning to the U.S.. In 2013, Engelmann joined Pepperdine as the director of the Shanghai program, and remained there until the program's closure in 2021.
Engelmann said the University needs to prioritize having a presence in Asia and Africa — not just to point at a map, but to give students the opportunity to learn from different cultures.
"We need to have a geographic portfolio that represents our claim to be a global university," Engelmann said. "I know this is a priority of universities of senior leadership and many times from senior leadership. But we need to get that. So right now we have seven programs [six are in] Europe, right, one is in South America. And yeah, it's a little embarrassing."
Engelmann also said the students going to the programs need to represent a diverse array of experiences.
"How do we prepare students to have the skills, to have the mindset of going through an abroad experience, knowing that they're gonna go through something that's very life changing, and then when they get back, how are we supporting that continued growth?" Engelmann said.
Ron Cox Hopes to Build On Good Work
Cox said he came to Pepperdine for a Master of Divinity in 1991, and after returning as a tenure-track faculty in 2005, served as faculty-in-residence in a variety of international programs. For the last five years, Cox has served as associate dean of IP.
"I see, I hear, I know the good the International Programs does," Cox said. "And so at the core of why I want to be dean of International Programs is because I care deeply about the good work that we're doing. I want to preserve in advance and build upon that good work."
As interim dean, Cox said he has approached the position with the idea of setting up the next dean for "maximum" success. Challenges included the process of establishing a new program in Asia and providing students with mental health resources.
In addition, Cox said the new GE program will pose opportunities but also challenges for IP — as many students utilize IP to complete their GE requirement.
"I'd say that the main thing here is communication, setting proper expectations and supporting students along the way," Cox said.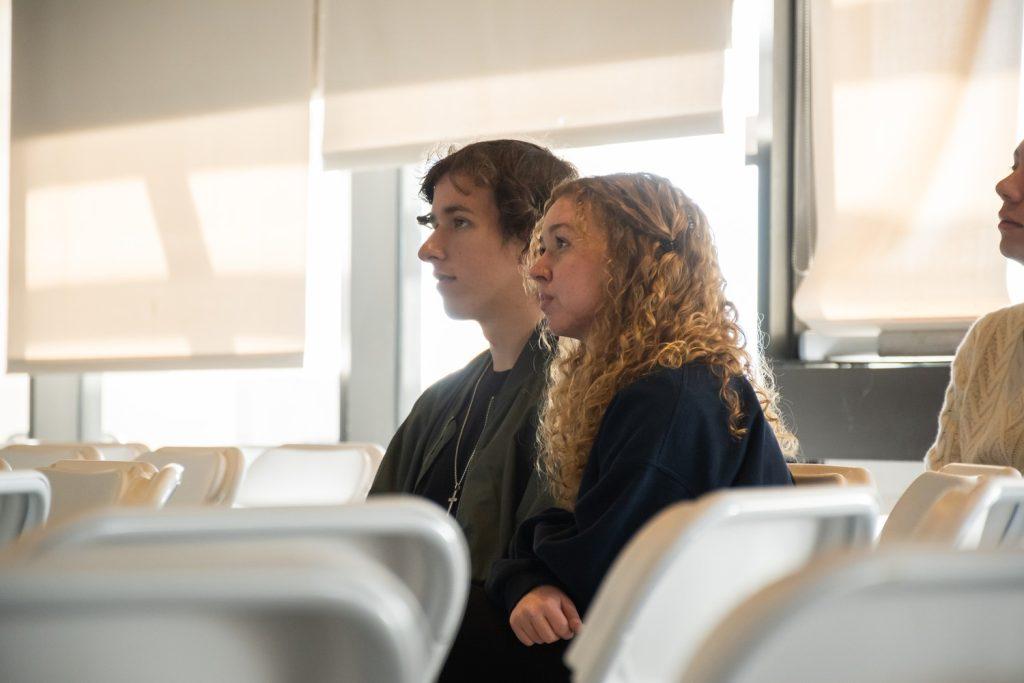 Student Feedback
For students, Musharbash said the forums were a great way to see Pepperdine from behind the scenes.
"It's easy to just be a student and go through classes and go through the motions but like being on the other side of it and seeing how these hiring committees work and meeting all these people, it just gives you a different view of Pepperdine," Musharbash said.
Wiese said the turnout of the event — with four to six students each day — surprised him, and thought more people would want to be a part of the decision-making process.
Junior Jacey Hoy attended all three forum dates. Hoy said the uniqueness of the candidate's answers surprised her.
"I think the biggest [aspect] for me is the diversity of the programs and IP in general," Hoy said. "All three of them touched on that in various ways, and I think that is the most important step for Pepperdine now with IP to get less Eurocentric."
___________________
Follow the Graphic on Twitter: @PeppGraphic
Contact Samantha Torre via Twitter (@Sam_t394) or email: sam.torre@pepperdine.edu