First-year basketball player Kendyl Carson celebrates after winning the Washington Class 3A state title during her junior year in 2019. Carson joined Pepperdine's team this season after playing in Washington and her home state of Alaska during her high school years. Photo courtesy of Kendyl Carson
The Pepperdine experience for freshman athletes has been anything but usual. From weekly COVID-19 tests to socially distanced training, first-year Women's Basketball player Isabel Montoya said this new normal hasn't been a setback but instead fueled her motivation to be the best player possible.
While the West Coast Conference postponed the fall season for numerous teams, as well as fellow first-year athletes Kendyl Carson and Isabel Montoya have lived on campus for the past two months, training as much as possible following Los Angeles County's set health protocols.
Although there's a level of uncertainty regarding future WCC seasons, Montoya said she doesn't let the fear of the unknown affect her training.
"The fact that there might not be a season is always in the back of your head, but we can't let that affect us right now," Montoya said. "When you're picking up weights or shooting the ball, you can't say, 'Oh, you can slack because it isn't happening.' You always have to be ready at any given time."
The Graphic caught up with Montoya, Carson and Davis about their collegiate athletic experience since they committed to Pepperdine.
Isabel Montoya, Women's Basketball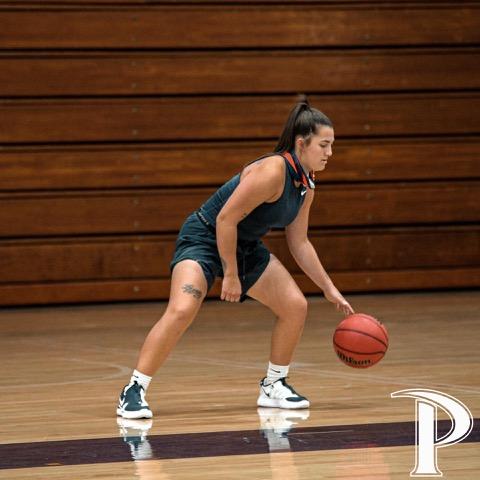 After making the McDonald's All-District First Team and being named a McDonald's All-American nominee her high school senior season, Montoya said she was hungry to play at a higher level.
Montoya said her love for the game developed at the early age of 6 in her home state of New Mexico. After seeing kids playing basketball at recess, she begged her parents to put her in a league.
"It was game time from there," Montoya said.
Montoya said playing basketball not only gave her access to higher education but allowed her to pursue her passion for four more years.
"I came on my unofficial visit, and the girls and coaches were so nice — it was just a great vibe," Montoya said. "You could tell right away it was just completely genuine. There was a type of pace and tempo that I like to play at, and so I knew this is the place I want to be."
Montoya said she practiced as much as New Mexico mandates allowed during her summer quarantine, including getting shots up, running on a track and jumping rope.
"It's been crazy," Montoya said. "I've been doing the things that I can control; you can control that you can go outside."
While her transition to on-campus training looked a little different than she expected, Montoya said she's happy to be starting a 20-hour-per-week training schedule.
Montoya said their makeshift weight room is set up on the tennis courts with squat racks partitioned with tape six feet apart. All athletes must wear masks while training and spread out as much as possible.
Although COVID-19 threatened the idea of team bonding, Montoya said the pandemic has strengthened the team's dynamic and chemistry.
"I feel like our team got more in tune since we have less time on the court to figure each other out," Montoya said. "It's like, 'Let's use this time off the court right now to get to know each other as an individual instead of as a basketball player.'"
Montoya said being the new player to an established team can be tough at times, but she hopes to bring the positivity to her teammates.
"Whether I'm on or off the court, I'll be the first one cheering them on," Montoya said.
Montoya said she's leaned on the team's upper-level players throughout the past two months.
"I look up to a lot of my teammates," Montoya said. "Every older vet player who's on the team gives me something different every day from their own experiences."
Montoya said she's appreciative she gets to be with her team in Malibu and looks forward to the upcoming season.
"We've been trying to look at it not as the glass is half full or half empty; we're just thankful that the glass is even filled," Montoya said.
While the spring season lies in the balance, Montoya said she has set high goals for her first season as a Wave.
"I definitely want to make the [NCAA] tournament, which means we're going to win some rings," Montoya said. "I want to take the WCC, and I want to put Pepperdine back where it should be."
Kendyl Carson, Women's Basketball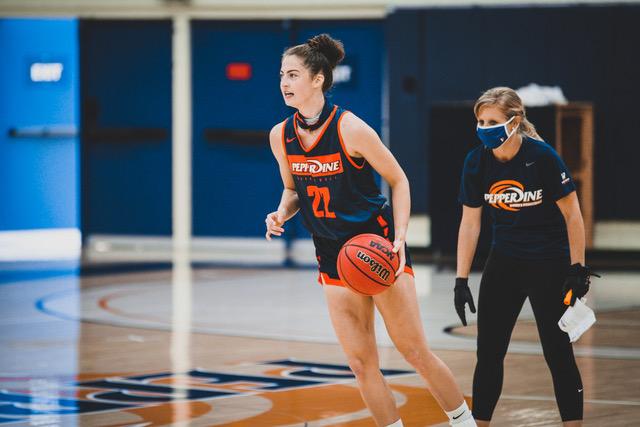 Growing up in Juneau, Alaska, first-year Carson said she took up basketball to follow in her dad's footsteps.
"I'm from a small town, so it was either you hike mountains and ski or you play indoor sports," Carson said. "My dad was a big basketball player. I touched a ball when I was little, and I haven't put it down."
Carson said she never thought her basketball career would lead her to Malibu.
After making a name for herself as Most Valuable Player of her region and making Alaska All-State First Team her senior season, she gained the attention of college coaches across the country.
"I actually got recruited pretty late in the process my senior year," Carson said. "One of my coaches came down here with a middle school team and toured the campus and talked to coaches. They were looking for someone in my position, and the coaches actually flew to Alaska. I know a lot of people don't do that."
Carson said her decision to play for Pepperdine was an easy one.
"I always did well in school, but I never thought of going to school to do something unless I really knew what I was going to do," Carson said. "But Pepperdine gave me the opportunity to play basketball at the highest level I can right now and get a great Pepperdine education."
Echoing teammate Montoya's sentiments, Carson said she's looked to older players and coaches for guidance throughout summer and fall.
"The coaches have held everything together," Carson said. "It's not one coach checking up on you — it's all four. They know it's a hard time; they check on you individually, but they're also seeing if you want to get shots up or go get more reps."
Self-proclaimed as loud on and off the court, Carson said she hopes to bring a new energy that pushes her teammates to perform better.
"I'm always trying to be talkative and bring energy," Carson said. "That's a huge thing for me because it's a constant. I can be having a bad day, but as soon as I step onto the court, I have to be there to pick up my team."
Carson said she's not worried if there will be a season but rather if not there will be fans in the stands.
"I just want to stay hopeful — hopeful that we can get some fans here," Carson said. "I know my parents want to come watch."
Like Montoya, Carson said she not only wants to win but make a name for herself in the collegiate basketball realm and beyond.
"However many games we have this season, we want to win most of them," Carson said. "I want to see where basketball takes me. I really enjoy sports, so hopefully one day I can play overseas, but right now, it's just working on the future and our little goals we have as a team."
Skylar Davis, Cross Country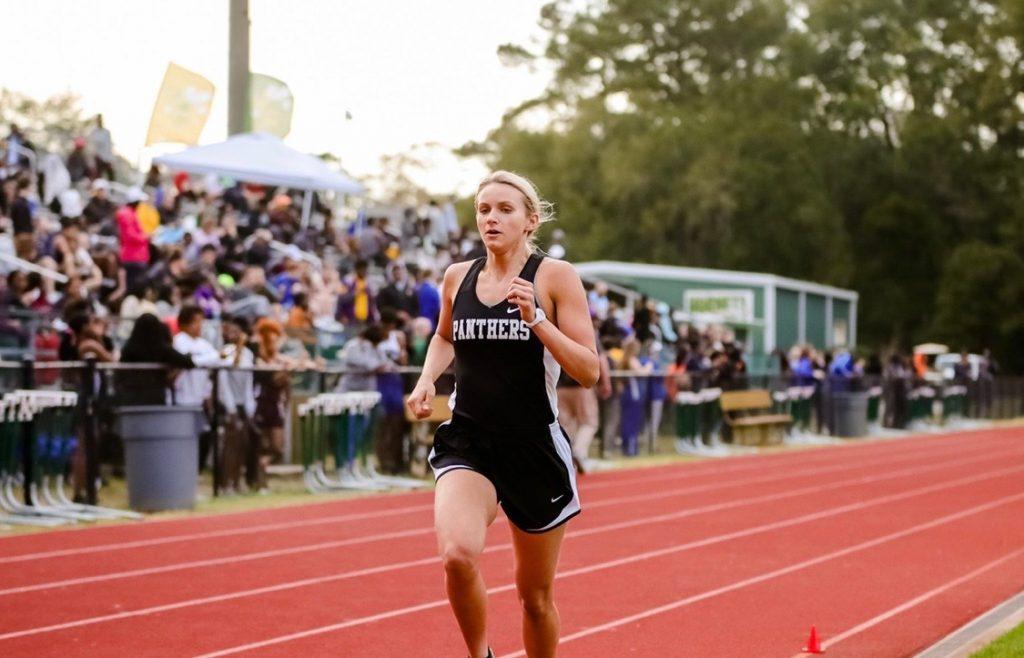 First-year runner Davis competitively swam for most of her childhood.
Despite her years spent in the water, Davis said she found more success on land, quitting swim for cross country her sophomore year of high school.
Davis quickly rose in the ranks of the Savannah Arts Academy cross country team in Savannah, Ga. She ended her senior season with a school record in the 5K and a 3A cross country regional title, and led her high school to consecutive top-10 team finishes at state with a 2019 3A perfect region race score.
Initially attracted to the campus' beauty and strong academics, Davis said she chose to attend Pepperdine for the education. It was Head Coach Sylvia Mosqueda who persuaded her to join the cross country team.
"I really liked her," Davis said. "She has a phenomenal background of distance running, so I thought it would be an honor to train under her."
While the WCC postponed the cross country season, Davis said she's happy she is able to continue training with teammates in Malibu.
"I'm thankful that one unique opportunity in this season is that, with all of us freshmen being stuck on campus together, we've all gotten really, really close," Davis said. "It's been nice having the freshman runners as my little close-knit community."
Regardless of setbacks, Davis said she still hopes to accomplish the goals she set for herself, during quarantine or in future seasons.
"My short term goal is to break 19 [in the 5K], since that's the next obstacle to tackle," Davis. "I just want to be as fast as I can possibly be."
____________________
Follow the Graphic on Twitter: @PeppGraphic
Contact Taylor Gather via Twitter: @taylorgather or by email: taylor.gather@pepperdine.edu