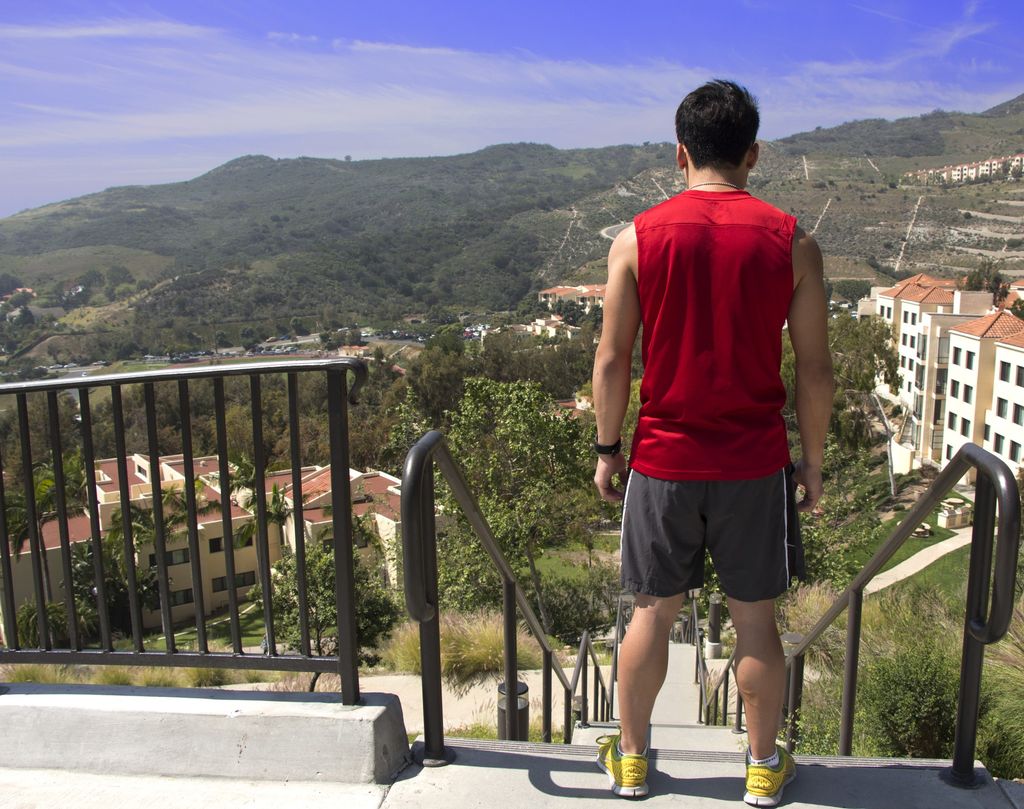 Photos by Annette Lee
In a results-oriented society, it's easy to lose sight of the beauty so inherent in the process of exercise. Although some may not consider the sweating, panting and dragging themselves up these blessed hills to their next class as a beautiful way to get around, perhaps it is time to stop seeing these daily treks around campus as just a way to get to a destination. The uphills, downhills and, yes, even the stairs can be part of the process toward a better self. For students at the Pepperdine Malibu campus, there is an opportunity to quite literally explore the highs and the lows while also pursuing personal fitness goals. Beyond the calorie burn, stronger calf muscles and increased cardiovascular endurance, individuals may discover and appreciate the beauty that exists completely outside of themselves. The views are worth it. More than that, the work to get there, the process that we must endure, is worth it, too. That, my friends, is beautiful.
Total Workout Playlist
EYE OF THE TIGER – Survivor
LOOK AT ME NOW – Chris Brown
DO MY THANG – Miley Cyrus
DON'T STOP BELIEVIN' – Journey
BOJANGLES – Pitbull
WORTH IT – Fifth Harmony
ROAR – Katy Perry
SHE KNOWS – NeYo
GERONIMO – Sheppard
SURVIVOR – Destiny's Child
HARDER, BETTER, FASTER, STRONGER – Daft Punk
Beginner Route
START AT PEPPERDINE THEME TOWER (follow path)
You may hear the traffic of PCH or you may even hear your own muscles screaming at you; in any case, take a moment, just a moment, to gear up for the workout of your life. Also, the space in front of the tower provides plenty of room for a few DOWNWARD DOGS OR TREE POSES, because one can always use a little more yoga.
Duration: 5-10 minutes
PIT STOP 1 — BEGINNER HILLS (TO CCB)
Take a STROLL from the Theme Tower up to the CCB. It is a gradual uphill slope, but it proves to be much longer than it appears at first glance, so running is certainly admired, but not required.
Duration: 7-10 minutes
PIT STOP 2 — BEGINNER STAIRS (SEAVER DR.)
These stairs are sectioned off — perfect for stadium work. Start by RACEING UP THOSE STAIRS and then catch your breath. Then turn right around and RACE BACK DOWN the way you came. Enjoy the Pacific view as you feel your elevated your heart rate, burning legs and your gluteus muscles at work while instilling school spirit. Ayo Waves!CLIMB BACK UP to the CCB parking lot and walk to Page.
Duration: 30 seconds each round, total of 2-3 minutes
FINISH AT ALUMNI PARK
Intermediate Route
START AT PEPPERDINE THEME TOWER (follow path)
PIT STOP 1 — INTERMEDIATE STAIRS (FIELDHOUSE)
Take both stair routes, one after the other and get double the workout for only a few more minutes of your time. Who could say no to such a deal? Additionally, because these stairs are a bit long, try ALTERNATING BETWEEN LANDINGS by taking one set of stairs by two and the next by single steps. This technique makes the workout more mentally stimulating as well as allowing your leg and gluteus muscles to rest, and then push that much harder.
Duration: 2 minutes or fewer
PIT STOP 2 —INTERMEDIATE HILLS (CCB)
Starting from the CCB, make your way up to say a friendly hello to our beloved President Andrew K. Benton and Debbie Benton. Their driveway, which also happens to be a hill, proves to be just steep enough to leave you panting as you SPRINT/limp/drag your body to the roundabout at the top. Additionally, as you drink from your water bottle (stay hydrated), drink in the hilltop air and the refreshing Pacific Ocean breeze.
Duration: 2-3 minutes
FINISH AT ALUMNI PARK
Advanced Route
START AT PEPPERDINE THEME TOWER
PIT STOP 1 — ADVANCED STAIRS
Every student at Pepperdine has, at one time in their college careers, made the trek up to the CCB. The calorie burn from these stairs, especially if you run them, is significant. Because the stairs are several flights long, it requires the highest level of muscular and cardiovascular endurance. For maximum burn, SPRINT THESE MULTIPLE TIMES, up and down. Make sure you take a breather at the top of the stairs. And if you are lucky enough to catch that golden hour sunset, take a picture and Instagram it just for good measure. #fitspo.
Duration: 1 minute or less
PIT STOP 2 — ADVANCED HILLS (WARNING! NOT FOR THE FAINT OF HEART)
Steep, long, curved and truly a test of endurance, this hill will test every muscle, every cell in your body. Tackle the beast by setting your music to a song with the hardest hitting beat, give your legs one last stretch and take the hill one step at a time. A couple tips: DO NOT SPRINT, but do not let yourself walk, either. RUN LIGHT ON YOUR TOES, because, yes, running this hill is possible. Anything is possible. Your body can do great things. Do them.
Duration: 5 minutes or less
PIT STOP 3 —ADVANCED TABLES WORKOUT
If you like high intensity interval training (also known as HIIT), then this mini-workout is for you. Use the tables above the track by Banowsky for these exercises: TRICEP DIPS, BOX JUMPS, ANGLED PLANK, ONE-LEGGED LUNGES, SIDE LUNGES AND BUTT KICKBACKS. These exercises let you show off to everyone walking past that yes, bro, you do lift — in a way.
Duration: 5 minutes (each exercise for one minute; repeat three times)
FINISH AT ALUMNI PARK
Face your fear of heights (or your fear of nature) by climbing the trees of our beloved Alumni Park. Long known to provide the perfect spots for sunset-watching or hammocking, these branches also offer ample opportunity to use your upper body, especially your deltoid and biceps muscles. TREE CLIMBING will stress your muscles in different ways and to a different extent than a traditional weightlifting regimen. Variety, besides being the spice of life, will shorten the time until you start to see what our good friends, the body builders, like to call "gains."
Duration: 5-10 minutes
Although you may have been cursing the hills, stairs and sprints, my hope is that you have found some kind of beauty or, at least, some kind of betterment in the process. Fitness is a process.
Touring our campus is most definitely a process. Our time at Pepperdine is one long, emotional, growing and even spiritual development. There is beauty in this process, beauty that I hope you will find as you summit, climb and sweat. Total duration: 30-40 minutes.
_________
Follow Taylor Nam on Twitter: @nam_nam330