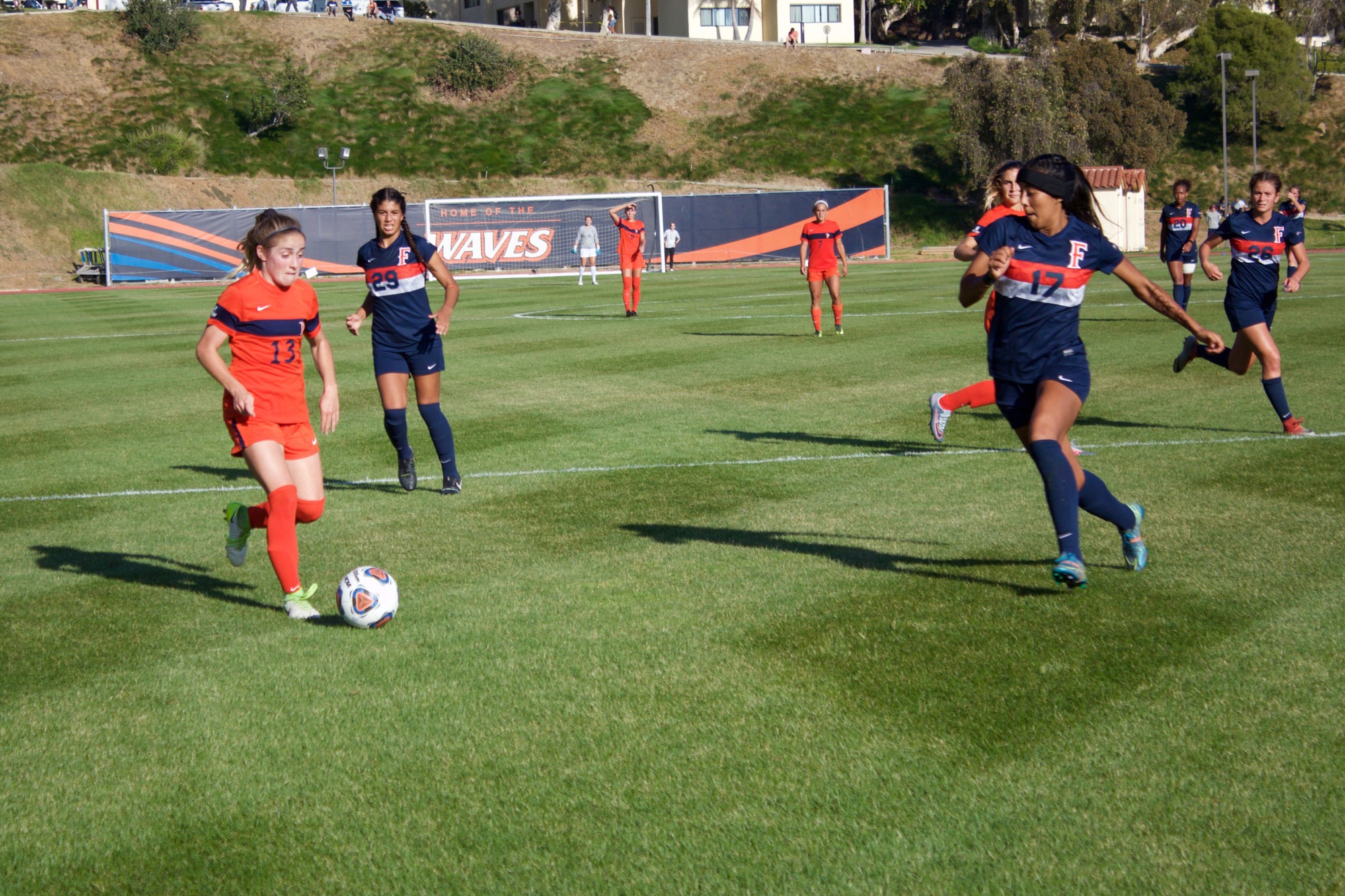 No. 11 Pepperdine shut out Cal State Fullerton at Tari Frahm Rokus Field in the first round of the NCAA Tournament on Saturday afternoon, 1-0. Senior Bri Visalli scored the lone goal of the game in the 87th minute off a feed from freshman Calista Reyes.
The Waves hosted the first round of the NCAA Tournament after going 14-2-3 overall (8-0-1 in WCC play) on the season. The first round appearance marks the tenth NCAA Tournament appearance the Waves have appeared in and their fifth in the past seven years.
The Waves and Titans played in a see-saw battle for much of the first half, as strong defense by both teams kept the game close. Pepperdine outshot Cal State Fullerton, 6-0 in the half, but the score remained tied, 0-0 at the half.
Pepperdine continued to stay aggressive on the offensive end in the second half, getting eight shot attempts off early on, but the game remained scoreless. However, in the 87th minute mark, Visalli broke the scoreless tie with a chip shot into the upper right corner off an assist by Reyes to give the Waves a 1-0 lead.
Big time #GOAL by Bri Visalli for @WavesSoccer to take the 1-0 lead with 3 minutes left over #Fullerton in @NCAA tournament pic.twitter.com/Mmf6vhzupJ

— Marty Wilson (@MartyWilson4) November 11, 2017
Goals (vs. Cal State Fullerton):
87′ – PEPP – Bri Visalli (assist by Calista Reyes)
Quotables:
On scoring the game-winning goal: "I was just happy I was in the position to score," Visalli said. "There was some clean passing during that play and I just so happened to be in the right position at the right time."
On Visalli's goal: "She's been our leader and a captain for us this year, among many leaders for us," Head Coach Tim Ward said. "She had many moments on during the game, but that was a well-taken shot. And with only four minutes left to go, and if you're going to lead the way, that's the way to do it."
On being a senior playing at home for the final time: "As a senior, I think it's nice to finish strong at our home field for the final time ever," Visalli said. "It's kind of a sad feeling, but I'm excited to move on to the next round."
On the matchup: "It was one heck of a soccer match," Ward said. "I thought from the run of play, we created the best chances, but in the second half, we managed to fight through some adversity and that was critical."
On advancing to the second round: "We're still not done yet," Ward said. "We're making the impossible possible, and we have God on our side so we're going to enjoy this one."
Up Next:

Pepperdine will take on Virginia on Friday, Nov. 17 at UCLA in the NCAA second round.
___________________________________
Follow Arthur Puu on Twitter: @arthurpuu