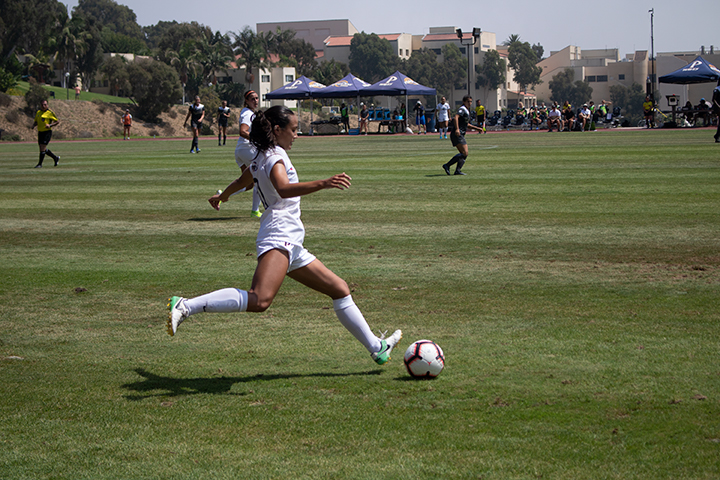 Photos by Kyle McCabe
Women's Soccer lost their second game of the season Sunday to the No. 9 ranked University of Vanderbilt by a score of 1-0. The game was another hard-fought defensive battle for the Waves, and the team suffered its first injury of the season.
Both teams started the game balanced and conservative. As Vanderbilt made their first offensive surge in the fifth minute, one of their forwards collided with redshirt sophomore Zoe Clevely as she jumped for a save.
Cleveley believes the injury is not serious.
"I think I'm going to be OK," Clevely said. "I went up to punch the ball out and while I was in the air, I got hit by one of the forwards and landed funny on my knee."
Head Coach Tim Ward said he does not think his starting goalie will miss any time.
"The best-case scenario is that it was just a scare with her kneecap," Ward said. "We're thinking she'll be OK. It could have been a whole lot worse and we're grateful that it's not."
Redshirt freshman goalkeeper Kinsey Ehmann replaced Clevely and played the rest of the game. A minute after Ehmann checked into the game, she made a leaping save in the corner, the first of her career.
After the game, Ehmann said she was glad she got experience under her belt.
"I was super excited to get a chance to play," Ehmann said. "It's really unfortunate how it happened, but Zoe will make a speedy recovery. We have a great coaching staff, and I feel like they prepared me for today."
After going into halftime scoreless, Vanderbilt came out more aggressive on offense to start the second half. At the 59th minute, junior midfielder Calista Reyes collided with a Vanderbilt player near the Pepperdine goal. This was only two days after she had another collision versus Illinois. Reyes was down for about a minute before she was helped by the training staff and stayed in the game.
Reyes said the Pepperdine offense is close to hitting its stride.
"We've had a lot of chances," Reyes said. "We just really need to start putting more goals in. I think once we do that, we'll open the floodgates for the rest of the year. In the spring, when we were scoring early in games, we would feed off of that and keep it up. We need to find that again."
In the 77th minute, Ehmann recorded her third and final save of the day off a Vanderbilt corner kick.
In the 85th minute, Vanderbilt ran their only scoring play, where sophomore forward Haley Hopkins passed to senior midfielder Grace Jackson, drawing Ehmann to the right side of the goal. Jackson then tapped the ball left back to Hopkins, who had a clear path for a goal in the center of the net. It was the only score of the game.
Pepperdine drops to 1-2-1 on the season with a difficult schedule ahead of them.
Ward said he feels his offense has room to improve before their next game.
"We have to be ruthless in those moments on offense," Ward said. "In this game, you can look back and see five or six really clean opportunities to score. We've gotta grip it and rip it and see what happens. We never tested their goalkeeper, and that's one more disappointing things from today."
Even in the loss, Ward had reasons to be happy with his team.
"I was impressed with our composure on the ball," Ward said. "That's a step forward for us. After Zoe [Clevely] went down and we made the switch, we adapted well. That's gonna bode well for us in the future."
Pepperdine travels to Cal Poly San Luis Obispo on Friday, Sep. 6 for their first road game. Ward said he believes that his team is up for the challenge.
"We need to go up there with a relentless attitude and not be denied," Ward said. "If we can marry our possession ability with a ruthlessness in the final third, I know we'll be all right."
_______________________________
Follow The Graphic on Twitter @PeppGraphic
Email Austin Hall: austin.hall@pepperdine.edu