Pepperdine senior Ashley Lahey, the Intercollegiate Tennis Association's top-ranked player for most of 2019–2020, announced this week that she will return for a fifth year with the Waves. Graphic by Ali Levens
The nation's best women's tennis player is coming back for more.
After an NCAA singles quarterfinal appearance as a freshmen, runner-up finish as a sophomore and 26–1 singles record as a senior, Ashley Lahey told The Graphic she plans to don the blue and orange for a fifth year.
"Once the option was given that I could come back, and I thought about it, I realized what an amazing opportunity that would be to get to be here for one more year," Lahey said. "I think that I've just continued to get better throughout my years at Pepperdine, because this place is such a good place for me to train."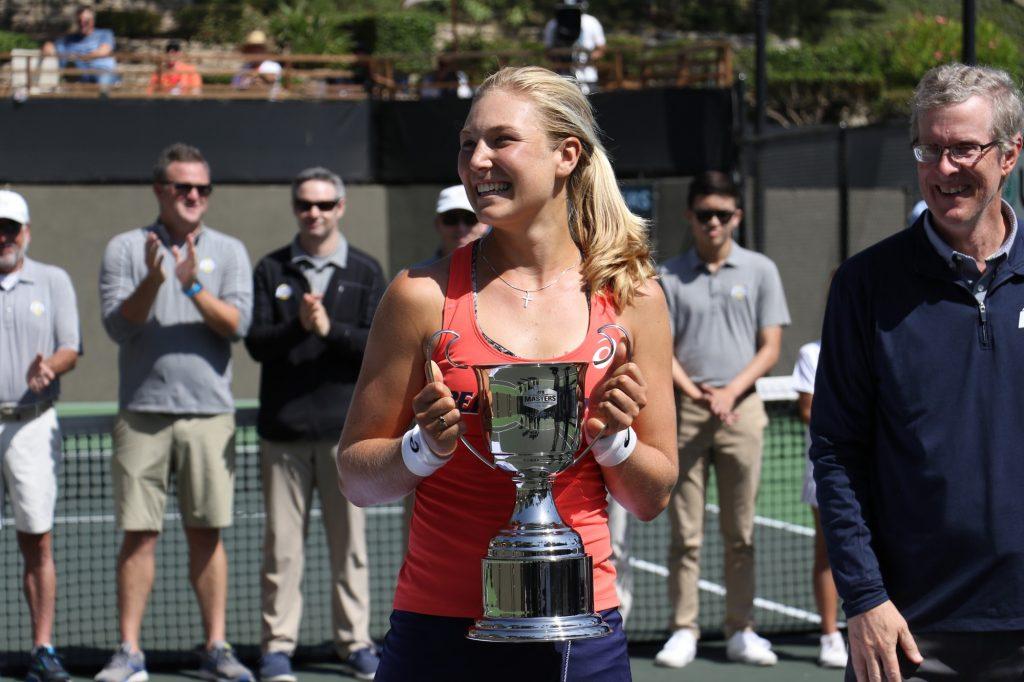 A senior at only 20 years old, Lahey will graduate from Pepperdine in 2020 with a Bachelor of Science in Sports Medicine. Through her first three years, she had a 3.93 GPA.
She now plans to return to Malibu for the 2020–2021 academic year and pursue the NCAA team and singles championships, which have thus far evaded her.
Once the NCAA canceled all spring sports March 12, Lahey was emotional but said she planned to move on with her life and professional career.
"I didn't know if I would come back when I first heard about everything because, in my mind, I had been planning on what I was going to do afterward for so long," Lahey said. "I had already started to think about it and was excited about it and everything. Not that I didn't want to come back — it was such a quick change of everything."
Lahey was the No. 1-ranked player in the country for the majority of the fall and spring seasons and won three consecutive tournaments in the fall. Women's Tennis was ranked No. 13 in the nation (and climbing) when their season ended as a result of COVID-19.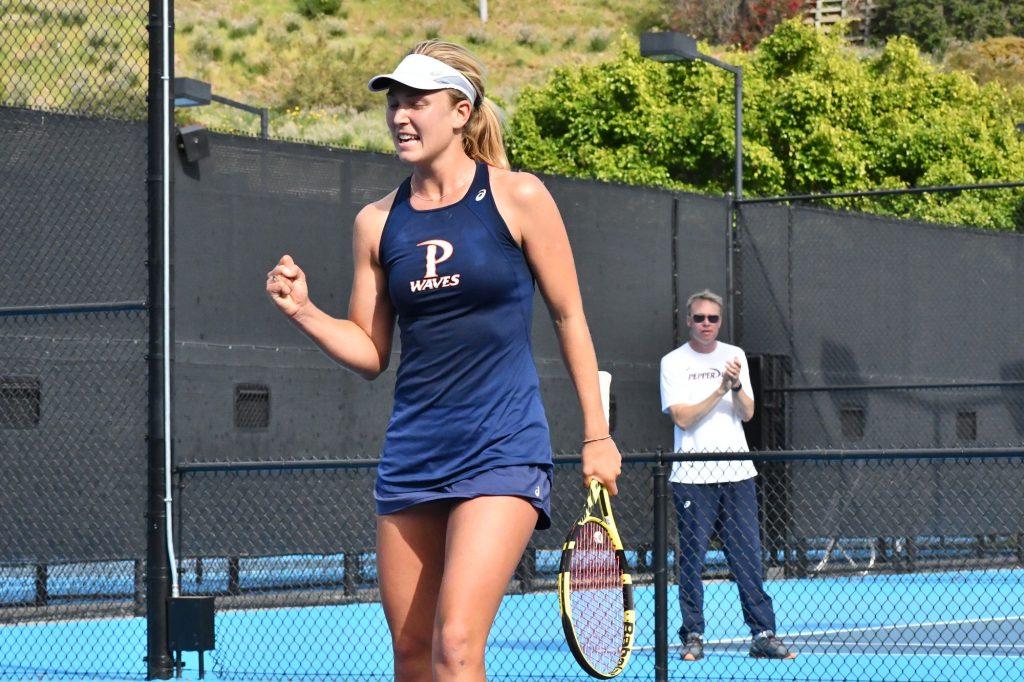 After March 12, Lahey had accepted that her decorated career as a Wave was over. Then, on March 18, the NCAA announced "eligibility relief is appropriate for all Division I student-athletes who participated in spring sports."
The wheels began to turn in Lahey's head. She may be able to return.
On March 30, the NCAA clarified its initial announcement. All spring sports student-athletes would receive an additional season of competition and an extension of their period of eligibility. NCAA rules usually limit collegiate athletes to four seasons of competition in a five-year period, but now this period would be extended.
Lahey's decision was nearly made.
"When I first heard, I was still thinking, maybe it's time for the next chapter," Lahey said. "But now that I look back, I really think I could learn a lot more in one more year here, so I'm super excited."
When she considered her rapport with Waves Head Coach Per Nilsson, and Nilsson realized that Lahey could compete against professionals during the fall season, Lahey was sold.
"We have a really good relationship; [Nilsson is] an amazing coach for me, and the assistant coaches as well — we get along very well," Lahey said. "They said that they would do whatever they could to allow me to get a schedule that I can build my ranking with and that they could take me to pro tournaments in the fall."
The NCAA's March 30 decisions also relaxed scholarship limits and roster sizes to accommodate for potential returning seniors. Pepperdine Women's Tennis has eight full scholarships to distribute, so potential new freshmen should not prevent Lahey or fellow senior, fifth-year graduate Jessica Failla, to return if they so choose.
Failla has not yet made a decision, but Lahey said she wants to be in Malibu.
"This is the best place for me to be training-wise — the best environment for me to be in," Lahey said. "So if I can still play pro and get to train here, then it's the best possible solution."
The NCAA did not lay out specific guidelines about how seniors could return. The way in which schools decide to distribute scholarship money will be up to the school itself, so not every school will be able to accommodate all seniors who would like to return, or at least not with the same amount of scholarship money as previously received.
Lahey said she will maintain the academic requirements to remain an NCAA student-athlete, whether that means taking online classes or perhaps a certificate program at the Caruso School of Law.
As the hiatus from organized practice and competition continues, Lahey and her teammates are separated from their sport and each other, but they are staying active.
"In tennis, you just put tons of miles on your body, so if you're not training for anything, it's not really necessary to be practicing on court," Lahey said. "We can still do other things to stay in shape and continue to eat healthy and keep our bodies from falling apart — but it makes sense to just use this time as time to do other things because there's never going to be another time where tennis is canceled for three months."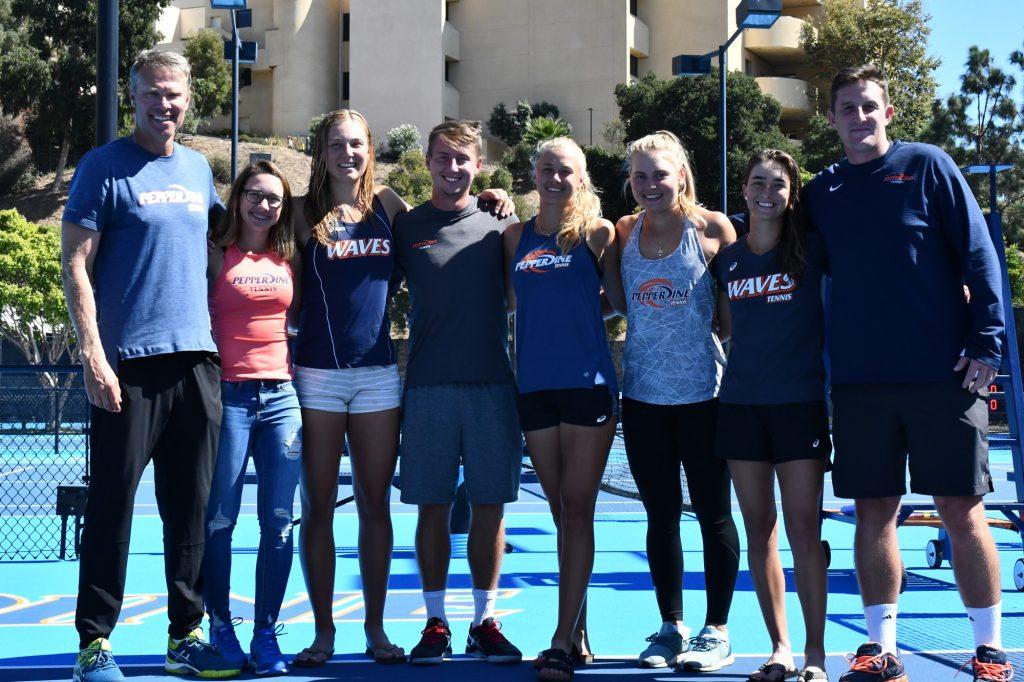 Though the NCAA rule changes and potential to play professional tournaments in the fall helped Lahey to make her decision, she emphasized that she wanted to make an effort to return to Pepperdine regardless.
"I would really, really want to come back like even if it wasn't the perfect situation," Lahey said. "I love my team here. I love the coaches, my friends here, my church family, everything — it's just an amazing place for me to be. I feel extremely blessed to have an opportunity to come back for one more year. I don't feel like I'm ready to leave."
____________________________________
Follow Karl Winter on Twitter @karlwinter23
Email Karl Winter: karl.winter@pepperdine.edu