Photos Courtesy of Pepperdine Athletics

She moved halfway across the country at age 12 to train full time. She was sidelined by injuries for 14 months at the peak of her young career. She began college at 16 years old.
And yet, those obstacles weren't even the toughest part for Ashley Lahey.
Lahey, 19 and now a junior at Pepperdine, is the defending NCAA Women's Tennis singles runner-up and a two-time all-WCC singles first team player. She is the fourth-ranked collegiate player in the nation but, en-route to these successes, the biggest obstacle has been maintaining her identity off the court.
"When you do anything at this level, you let it become your identity; you measure your self-worth in your performance," Lahey said. "That's really not a way to live."
Lahey's life centered around tennis since moving from her mountainous hometown of Boulder, Colorado to Southern California in order to practice at the United States Tennis Association (USTA) Training Center West in Carson, California.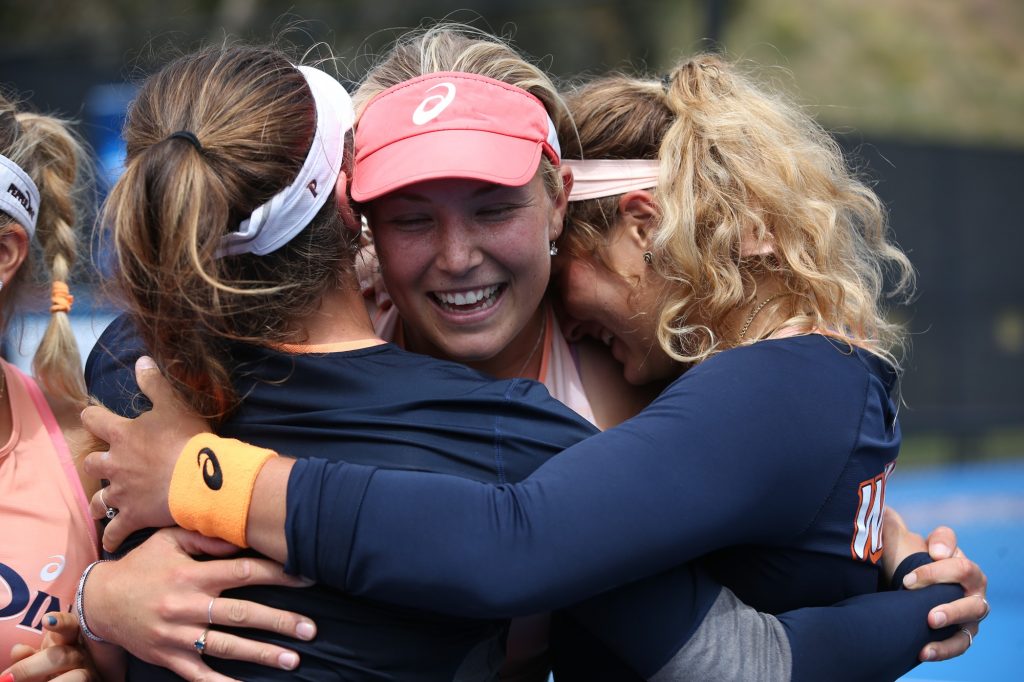 Despite professional aspirations in the sport, she is a Sports Medicine major with the intention of earning a medical degree and establishing hospitals in developing nations around the world.
Lahey's childhood was unique in that she practiced from 9 a.m. until 4 p.m., on average days, with schoolwork following the grueling training schedule. Living and training with fellow rising tennis prodigies allowed Lahey to maintain the social aspect of being a kid.
"The homeschool part was pretty easy," said Pauline Lahey, Ashley's mother, a native of South Africa. "The stress of the travel and tournaments made [life] more stressful during those years."
After first picking up a racquet at age 3 at her mother's squash practices, first playing in a tournament at age 6 (against 12-year-olds) and playing every youth sport from soccer to skiing, the younger Lahey was competitive and energetic, to say the least.
"I go crazy when I get bored," Lahey said. "I would much rather have a day where I get up at 6 and go to bed at 11 and be doing stuff the entire day in a stressed mode than just wake up whenever and go to bed whenever and have nothing to do that day."
The tennis lifestyle not only kept Lahey on her toes, but also forced her to develop early. In her short career thus far, she traveled to so many countries that she lost count and even endured stress fractures in both feet in a single year.
"I had to learn at 12 years old how to travel across the country, how to manage my studies with a rigorous training schedule, how to pack for traveling, how to deal with losing," Lahey said. "It's such a good character developer because it teaches you how to behave and be mature."
She ranked in the top three nationally for her age group at 14, but then was dropped by the USTA due to the foot injuries. After considering quitting, Lahey has since worked up to her national-class level today, and this roller-coaster ride is what she considers her best accomplishment.
"No one really believed in me anymore [after the injury]," she said. "I set out to prove people wrong."
The injury recovery took mental toughness and maximum effort, things that Lahey carried with her to college. She said she felt no difficulty transitioning to Pepperdine at such a young age, just as she felt no difficulty transitioning to homeschooling earlier on in her life. Pepperdine is where she felt like she belonged, Lahey said.
"She takes doing her very best to a whole new level and puts effort into every single part of her day continuously," said Lahey's boyfriend Treet Allison, a junior Engineering major at Pepperdine.
Now, Lahey is balancing tennis, her pre-med major, her relationship with Allison and as many outdoor activities as time allows.
"There's a lot of energy that goes into everything she does," said Per Nilsson, Women's Tennis head coach. "She wants the best for everyone."
Nilsson also called Lahey a perfectionist, one who was always looking for a new challenge. She continues improving her game and character, saying that she hopes to improve on "humility, demeanor and losing with dignity."
Lahey said she is developing the physical and mental tools to succeed in a sport that she calls a constant battle with one's own self-doubt. However, she has also made sure to assemble the tools for a fruitful life beyond her tennis career.
"I have a ball in every court," Lahey said.
Catch Lahey and her teammates as they begin their quest to defend their West Coast Conference title and pursue a national title. The Women's Tennis team has five more fall and winter tournaments before opening their spring season Jan. 26 and 27 at home at the ITA Kick-off Weekend.
____________________
Follow Karl Winter on Twitter @karlwinter23