Photo Courtesy of Amy Pezeshkifar
After auditioning against thousands of others across the country, the Season 5 "Masterchef" Top 30 contestants have been revealed. Two of the Top 30 competing in the cooking competition are Waves.
"Masterchef" takes home cooks with passion and crowns one MasterChef.
"Masterchef" is "the biggest culinary competition anywhere in the world today," host Gordan Ramsay said in the premiere episode on May 26.
Contestants compete for a quarter of a million dollars, their own cookbook and the "Masterchef" trophy. Competing for the coveted apron are Pepperdine's own, Amy Pezeshkifar and Chandis Siwek. Pezeshkifar is working to earn her Masters in Business Administration and Siwek is a 2012 Seaver graduate.
"I think my passion for cooking goes further than the food, I genuinely love how food brings people together," Pezeshkifar said.
She spoke of watching her mom and grandma cook while growing up and receiving her first cookbook in middle school. She began preparing her own lunch for school every day. In high school, she hosted "cooking nights" to bring her family and close friends together.
Pezeshkifar points to her brother's support as her biggest motivation.
"We watch MasterChef as a family…and when my brother found out about the auditions, he gave me no choice but to try out," Pezeshkifar said.
"My journey has been tough and I have had times of questioning myself. In the Persian community, there is not much support for having a career in the food industry. I am blessed to have my brother as my biggest supporter and motivator."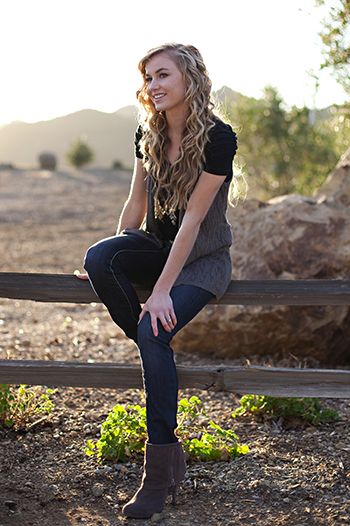 Similarly, Siwek's passion for cooking developed when she was very young. She grew up on a farm in Idaho where she would fish and hunt with her dad and garden with her mom.
"My mom began teaching me her 'signature recipes,' which incorporated the elk, salmon and chukar that my dad and I brought home, with the herbs, peppers and tomatoes that we grew in the garden. I loved that we put in the hard work as a family to make fresh, delicious food," she said.
Siwek said that her four years spent at Pepperdine were the "perfect catalyst" for her "Masterchef" experience.
"Coupled with my love for cooking, I hope to empower and inspire kids to learn how to cook and know how to eat locally, seasonally and healthfully."
Siwek, who graduated from Seaver College with a bachelor's degree in nutritional science, will soon be a registered dietician.
"Masterchef" contestants are judged by award-winning chef Gordon Ramsay, restaurateur Joe Bastianich and chef Graham Elliot.
Both Pezeshkifar and Siwek have great respect and appreciation for the challenge and enrichment the judges are providing in their endeavors.
"At the end of the day, it was a true blessing to cook for them and get feedback. It's difficult to work with the judges because you never know what they are thinking or what they will do," Pezeshkifar said.
"I really respect [Bastianich] and love his restaurants. Chef Graham Elliot rocks! He has the coolest style and he definitely helped me to feel more relaxed. You can tell he wants the contestants to do well. After my experience on the show,  I have even more respect for [Ramsay]. I think he genuinely loves teaching and fostering a love for exceptional food," Siwek said.
Although Pezeshkifar and Siwek did not advance past the premiere episode of the competition, they feel that competing in "Masterchef" has been an invaluable experience.
"The competition has made me realize that I have a passion and I will embrace what I love to do. The competition also gave me the confidence to invest more time into what I love in order for continuously succeed," Pezeshkifar said.
"The competition has made it clear that I am ready to continue my education in the culinary field. I have a deep understanding of food science and nutrition, but I want to continue sharpening my culinary skills. In the food and nutrition world, learning never stops. Things are always changing. That's what I love," Siwek said.
Tune in to "Masterchef" Mondays on FOX 8/7c.
__________________________________________________________________________
Follow Breanna Grigsby on Twitter: @Bre_Louise