Photos courtesy of Pepperdine Athletics
Sophomore Shannon Scully earned a starting spot on the Women's Volleyball team and is making an immediate impact. She originally committed to the University of Utah as a senior in high school but was drawn to Pepperdine University after her freshman season in Salt Lake City.
"I'm definitely always striving for more and always focusing on what I can do better in the future," Scully said. "What happens in the past is great and it's good to look back on and build confidence, but being the person I am I always strive to do more."
There was plenty of hype surrounding senior high school prospect Scully, a 6'2" outside hitter from Mater Dei High School in Santa Ana, in 2016. As an Under Armor All-American, USA Junior bronze medalist, Trinity League first-teamer and a finalist for the Gatorade Player of the Year Award, she could have played volleyball just about anywhere in the country. A resumé of that capacity is never short on garnering attention. Even with those accomplishments, Scully is not one just to reflect on the past.
Scully was born in Huntington Beach, but as a senior, she felt it was best to attend college elsewhere and committed to the University of Utah in November of 2016.
"I was thinking that I wanted to get away and that it would be great to have a change," Scully said. "I thought there would be a lot to do in Salt Lake City. I wanted to go to the Pac 12. I liked the big school, the academics and the volleyball."
Scully had to alter her style of play as a freshman. She was behind two senior outside hitters at Utah but used her skill as a passer to get on the court in the back row. Although she played in every game, she wanted to come back to California.
"I loved the volleyball, but what made me transfer was that I was really homesick there," Scully said. "There wasn't nearly as much to do around Salt Lake City as I thought there would be. I really didn't think I wanted to spend four years of my life there."
The transition process for NCAA transfers can be a complicated process. It involves meetings, visits and reopening recruitment often while the school year is still going on. While some rules are being revisited, the potential for transfer reform discussions continue according to a June 19 article on SB Nation.
"I met with a sports psychologist in Utah. I was giving it a few more weeks before I made a decision and stuck with it," Scully said. "The psychologist told me that if you're not happy and are already thinking about transferring, then it's not going to get any better."
After she was granted her transfer, two weeks went by and she was in contact with Pepperdine. The university, among other schools in the West Coast Conference recruited Scully, but Pepperdine's offer of a full scholarship and the friendships made through past club volleyballs and high school play made the decision easy.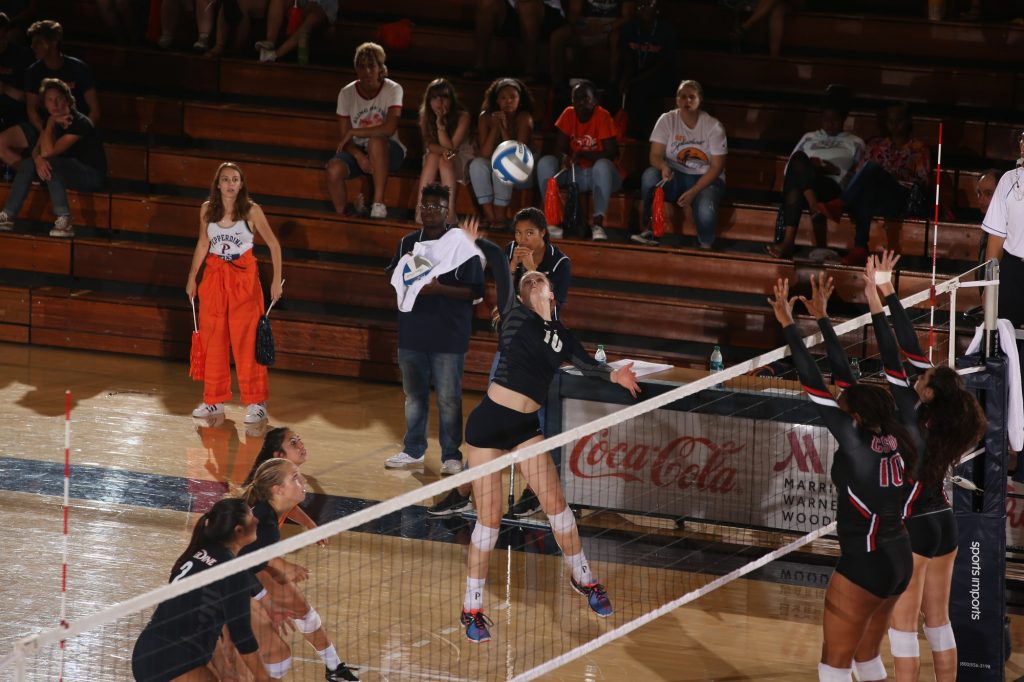 "What really stuck out to me was how great the team was and how welcoming the community was," Scully said. "I actually played club with Lily Dyer, Rosie Ballo and Rachel Ahrens. When I got on campus this just felt like home to me."
Dyer, a freshman, recounts the time she spent with Scully and what it's like sharing the court once again.
"We played club for five years," Dyer said. "So it's like hopping back on the wagon with her and feels normal and natural on the court. We have this understanding of each other and a respect that worked in club and here at Pepperdine."
Although Pepperdine is her new home, Scully is thankful for her time as a Ute.
"I'm definitely really thankful for the experience of competing in the Pac 12 and those great friendships that I've made," Scully said. "But I would say my biggest takeaway is if you're not happy then don't stick with something that doesn't make you happy."
Her Pepperdine player profile has a personal section explaining why she chose Pepperdine. She explains, "it's perfect combination of strong academics, great athletics and a picturesque setting." Now that she's here, another factor sticks out to her that she doesn't take for granted.
"I like how small the classes are and how well you get to know your professors," Scully said. "Everyone wants you to be successful and cares about you. I went to Catholic schools my whole life and am really into faith. Being back at a school with those themes reminds me how much I like that."
Scully has no shortage of big plays through the first 10 games of her sophomore year. She recorded 114 kills (over 10 per game), has an attack average of .264, has 13 serving aces and has 10 blocks. The stage has not been too big for Scully and she is thankful for the opportunity.
"It's been such an amazing experience. It's great how well I did fit in with the girls," Scully said. "It has a lot to do with them rather than me, and I'm reminded of this experience every day."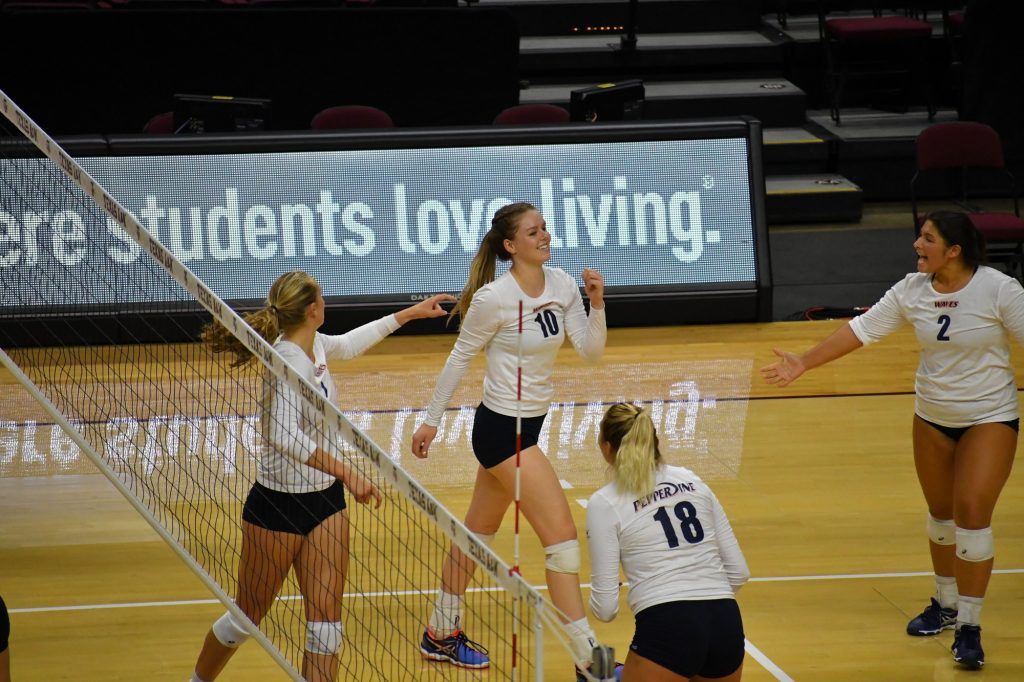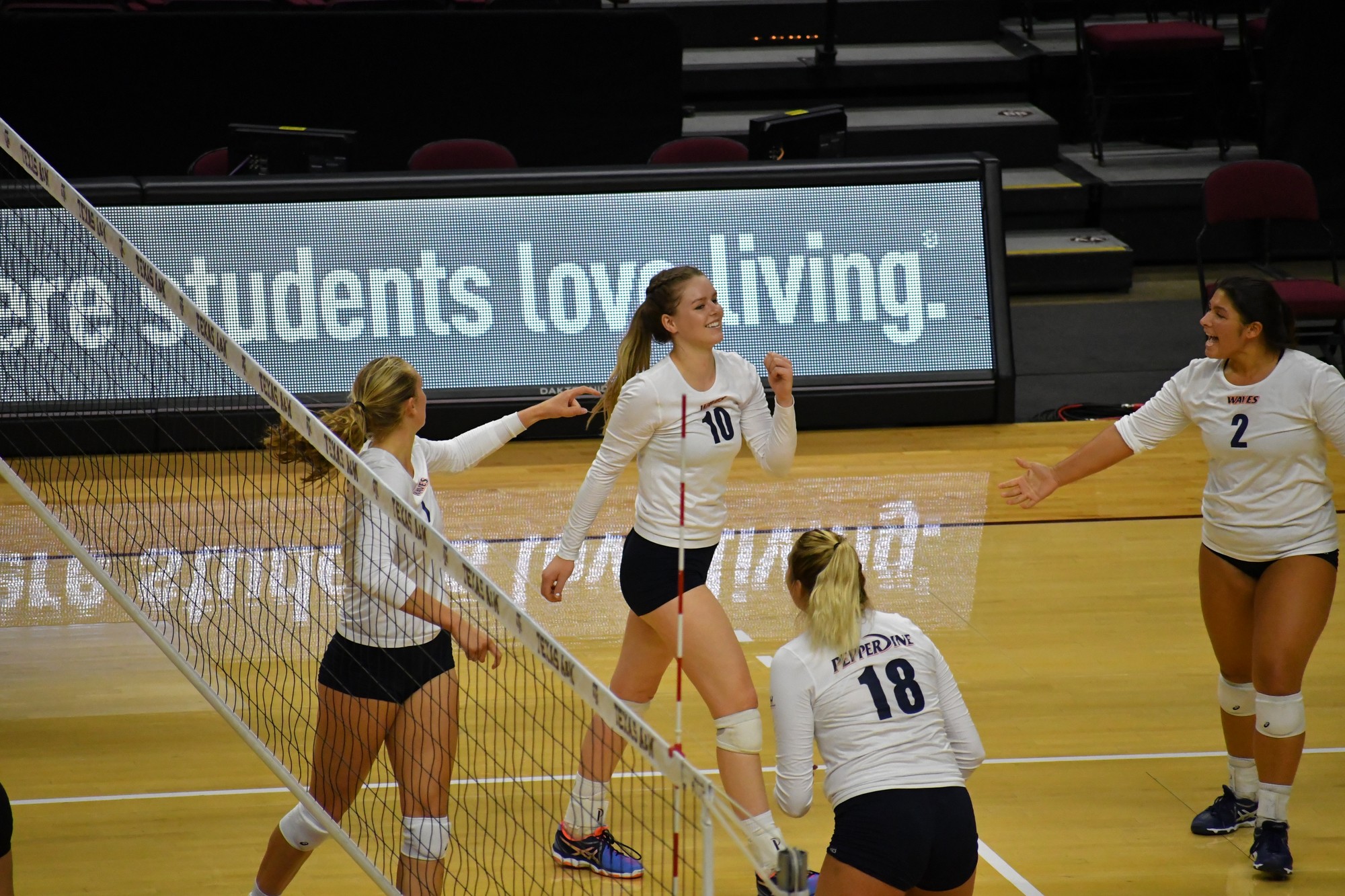 As for Head Coach Scott Wong, he was thrilled to have Scully on board for this season.
"[Scully] knows the game well and has played at a very high level, so her transition into our program's systems were pretty seamless," Wong said.
Wong wasn't hesitant to mention Scully's value to the team and the type of person and player that he sees every day.
"[Scully] is as cool, calm and collected as you could possibly get and that's extremely valuable," Wong said.
After the home opener on Aug. 31 versus the University of Idaho, Scully said she doesn't expect anything less than a league championship. Her aspirations for the team don't stop there.
"One of the other goals is to make the NCAA Tournament," Scully said. "Our preseason went really well, and so now our goal should be with each day and each game just improving on what we can do as a team. We have to do the little things; hold each other accountable, and be relentless in the gym. That's how we'll get to the NCAA Tournament."
Pepperdine Women's Volleyball continues their season with an away game on Thursday, Sept. 20 versus the University of Portland.
_____________________
Follow the Pepperdine Graphic on Twitter: @PeppGraphic