Photos by Milan Loiacono
The Women's Volleyball team defeated the The University of Idaho Vandals in their home opener Friday, Aug. 31. The team was 1-2 entering the game; all three of those previous games were played in the Panther Challenge at the University of Pittsburgh. The Waves won in convincing fashion, handling the Vandals in three sets to one.
Head Coach Scott Wong was pleased with his team's performance as they did not disappoint in the home opener.
"It always feels great to win, especially to do it with toughness in this arena against a really good Idaho team who's going to win a lot this year," Wong said. "It's a great feeling not just because we played well throughout, it is because of the response as well."
Sophomore Shannon Scully picked up right where she left off in the Panther Challenge scoring the first two points of the set for the Waves with big time kills. The first set was back and forth between the Waves and Vandals, and although it was a tie game at three separate times, Pepperdine let Idaho take the lead. When the score was 16-12, a kill by junior Tarah Wylie sparked a 9-3 run to end the first set.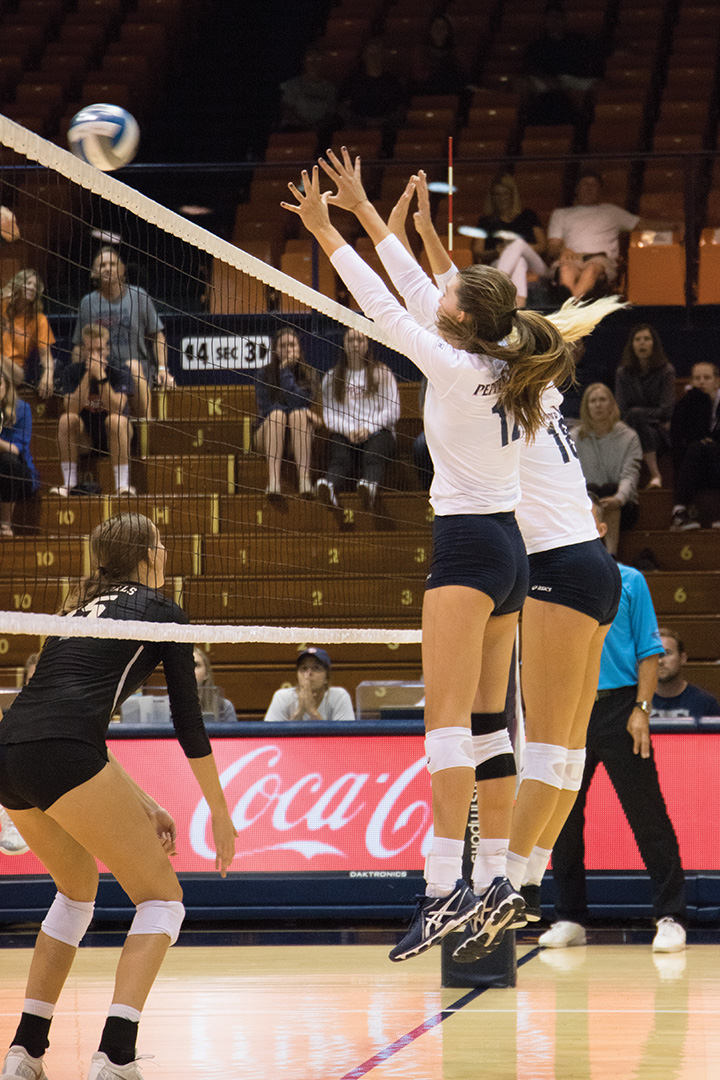 The second set began in similar fashion, as Pepperdine continued their offensive efficiency and took advantage of attack errors by the Vandals. Out of Pepperdine's first 10 points of the second set, seven were kills by five different Waves. This time around there were four more ties but only one lead change, the Waves came out on top 25-21.
The Waves carried their momentum and opened the third set with a bang with kills from freshman Rachel Ahrens and senior Nikki Lyons, Scully, with Blossom Sato assisting on all three. The Vandals took charge after that and were on the heels of the Waves with 12 tied scores and three lead changes. The outside hitter combination of Idaho seniors Sarah Sharp and Kaela Straw was tough to stop as the set came to a close. The Vandals surged after the final tied score, pulling away to a 25-21 victory.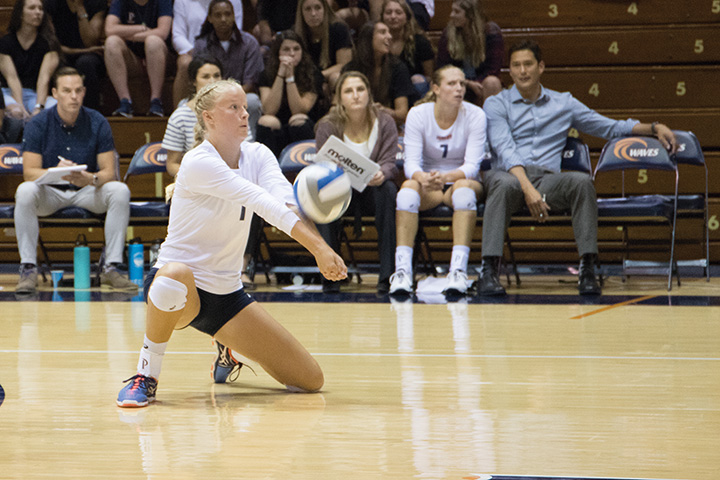 The fourth set was when Pepperdine showed some resilience. As expected, both teams came out strong once again. There were five tied scores and three lead changes before a team even reached 10 points. As the score was 16-14, a kill by sophomore Alli O'Harra sparked a 9-1 run that would end the game.
Ahrens led the way with 16 kills, Wylie, O'Harra and Scully all had over 10 as well. Sato continues her senior season with 59 assists, elevating her total to 184 on the year.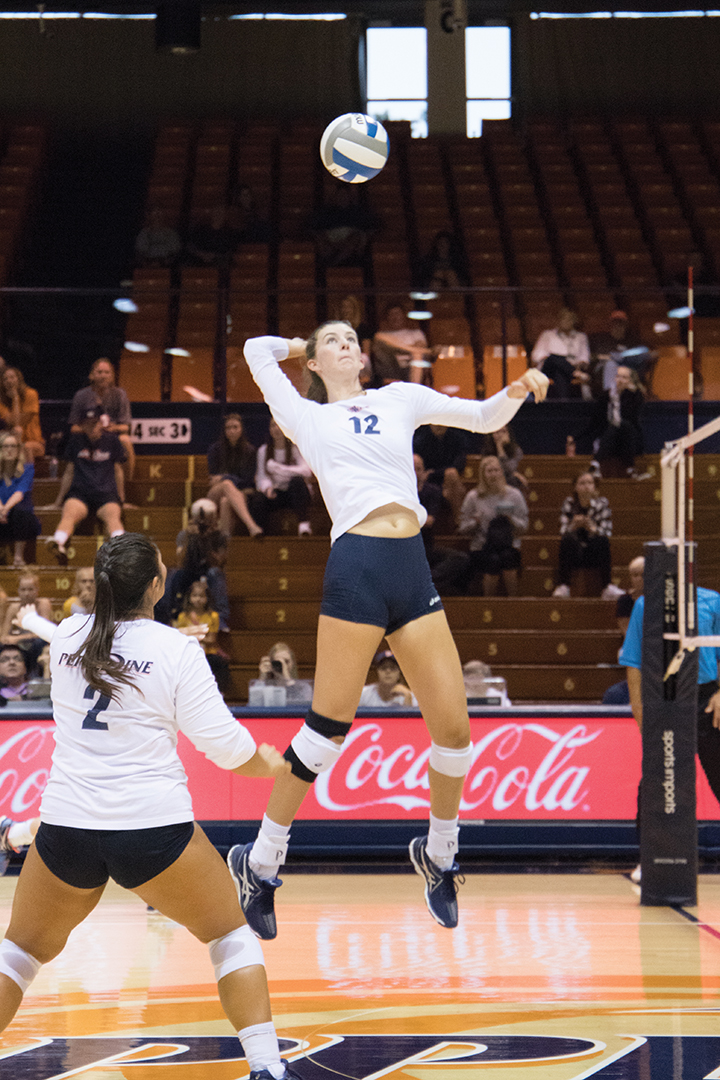 Many players took part in the victory, and what stood out was the mix of veterans and younger players . Wong is very excited about his team's chemistry this early in the season.
"It's pretty amazing. It's something I've tried to do ever since I got here and it's my fourth season now," Wong said. "The senior class and junior class has set the tone for what the season is going to be about. And it's the sophomores and freshman in our program that just come in and blend into the tempo of what's being said here."
Scully, a University of Utah transfer mentioned that the team's work ethic was her biggest takeaway after the game.
"Today I learned that through the long rallies we can really work hard as a team," Scully said. "All week we worked on blocking and our defense and I think that really helped tonight. As those rallies continued we got to use our middles more which opened up the offense,"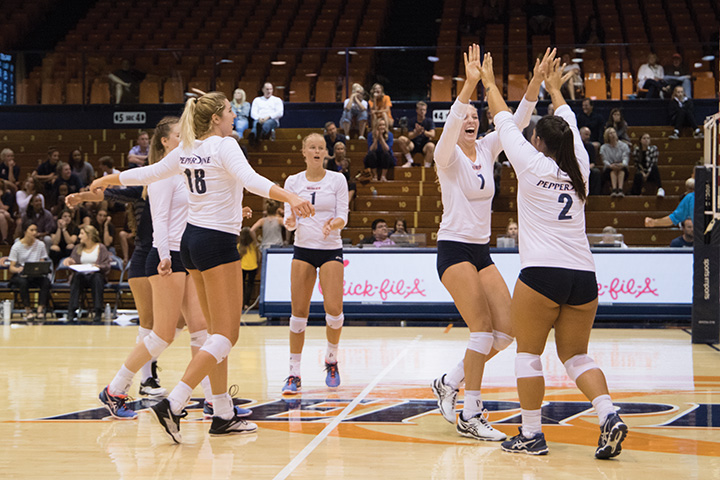 Scully also spoke about her excitement for the year and what she looks forward to most of all.
"I'm just really excited to see where we finish compared to where we started," Scully said. "So much can change, and it's so much about the process and not just the beginning and end. I'm also most excited for when we start conference play just to see how we do because what we're going for is a conference championship,"
Pepperdine moves to 2-2 and continues their homestand Saturday vs. North Texas and Sunday vs. Cal State Northridge.
____________
Follow the Pepperdine Graphic on Twitter: @PeppGraphic