While fire may be a natural cycle of the Santa Monica Mountains, short-term plant life recovery is not.
"If you're interested in Mediterranean ecosystems, you're interested in fire," said Marti Witter, a fire ecologist with the National Park Service.
The Santa Monica Mountains are part of California's natural chaparral environment. Shrubs with large leaves dominate the landscape, designed to hold water through summer dry spells.
"Chaparral is like the perfect fuel. It has all the characteristics that makes it able to burn and burn rapidly and burn hot and spread quickly," Witter said. "If you get an ignition, you have the perfect storm for fire. So it will burn hot and it will spread fast and they usually stop when they hit the ocean or the weather changes."
These plants have adapted to fire, but only at natural intervals of 70 to 100 years. Recently, fires have occurred within seven to 15 years. Damage from the increased frequency has only been compounded by drought conditions.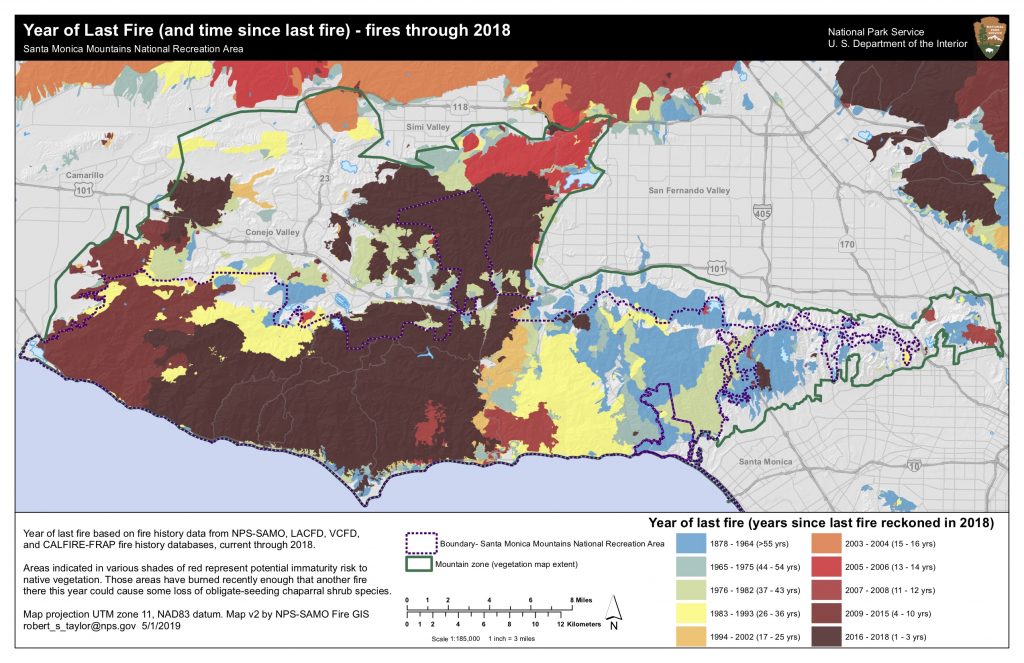 Map courtesy of the National Parks Service. A significant portion of the Santa Monica Mountains Recreation Area has burned within the last 40 years.
Lee Kats, vice provost for research and strategic initiatives and Frank R. Seaver chair of Natural Science cited Pepperdine Professor Steve Davis as the expert on wildfire impacts on local plants.
"Dr. Davis' data set is the one of the best, probably in the country, on the impacts of wildfire frequency, wildfire intensity on plans and vegetation systems," Kats said. Davis is abroad for the 2019-2020 school year as faculty in residence with the Pepperdine Buenos Aires program.
Junior biology major Brandon Grinovich said he worked in the fire recovery lab, specifically on a project examining plant population densities that builds off of Davis' data beginning in 1986. He has noticed a sharp decline in the number of wild seeding plants in a plot on the Malibu campus above Baxter Drive.
"They were probably like 60% of the relative density of the plot," Grinovich said. "And now it's more like we actually didn't find any up there at all. Which is saddening, to say the least."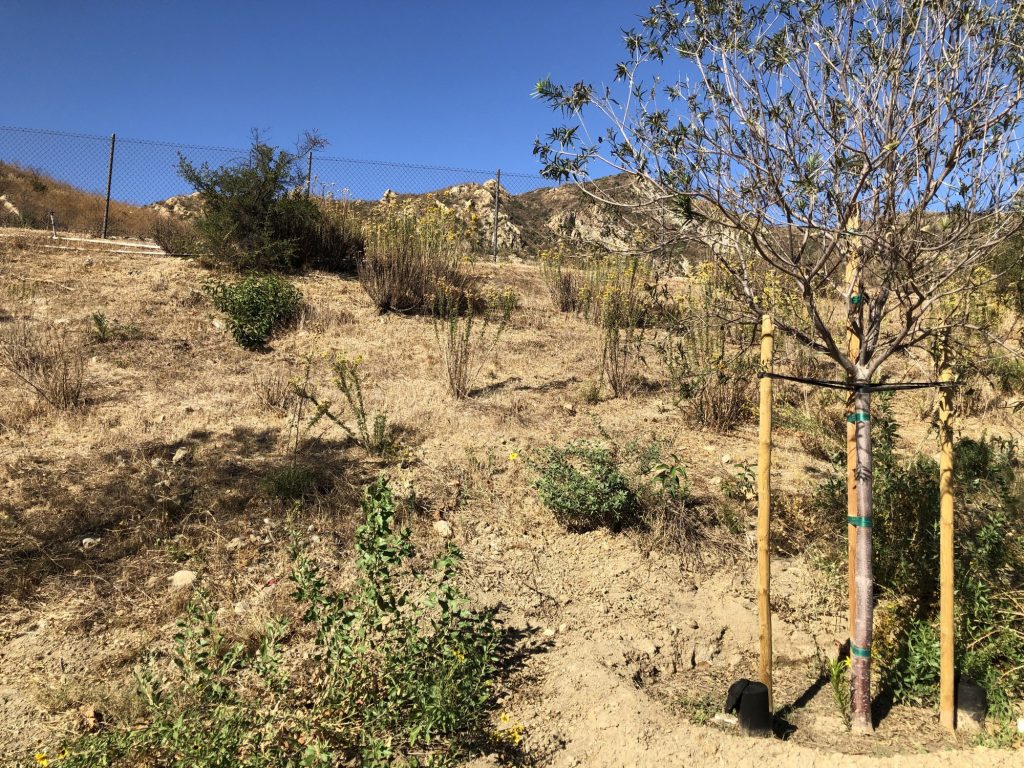 Photo by Marisa Dragos. Native plants live on the hillside directly behind the Drescher campus.
Kevin Gaston, an ecologist and director of planning and strategy for the Mountains Restoration Trust, said most chaparral plants take 10 to 20 years to develop their seed banks. If a fire comes before that, the plant simply isn't prepared.
"I'd say this is the first fire I've seen in awhile where we did get a large amount of rain afterward, so the regrowth of species like scrub oak, toyon, some of these more obligate resprouters — we're actually seeing pretty good recovery of those," Gaston said. "Overall the upland is actually doing pretty well."
Witter agreed that the recovery from Woolsey is progressing well, especially as compared to the 2013 Springs Fire, which burned over 30,000 acres in the west end of the Santa Monica Mountains.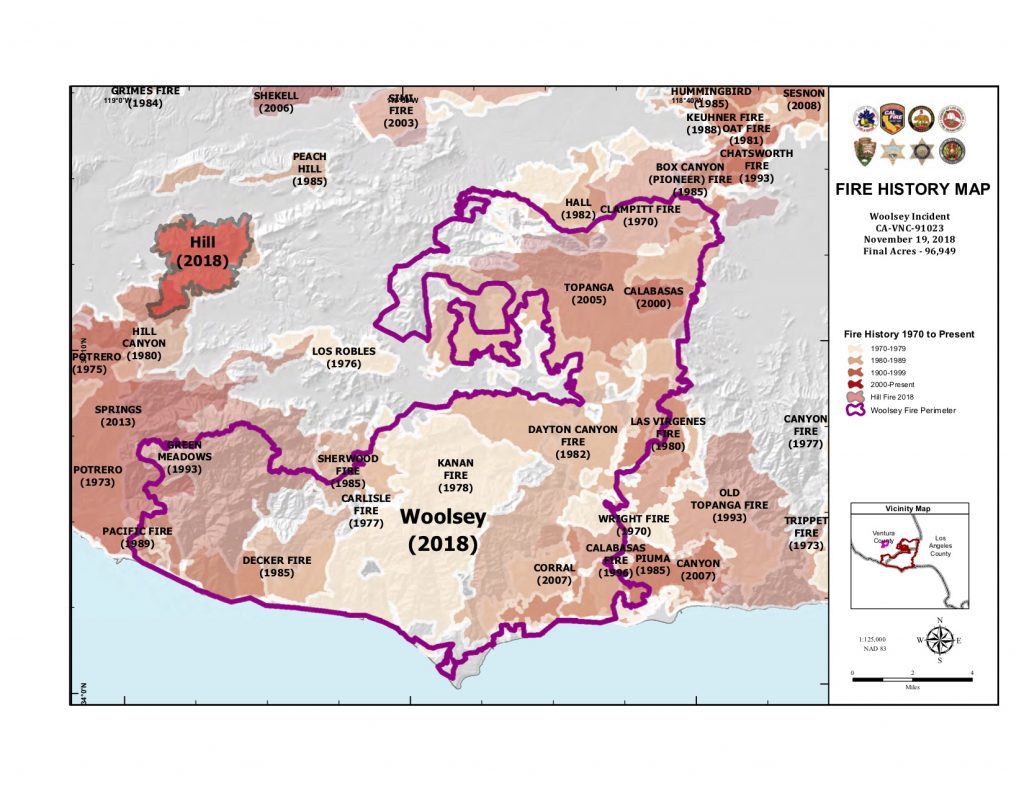 Map courtesy of the National Parks Service. The 2018 Woolsey fire slightly overlapped the 2013 Springs fire.
"Actually, Woolsey is a really good news story; I mean apart from the amazing devastation to the communities and the huge economic toll of a wildfire," Witter said. "It was a well-timed fire for us and there's been amazing recovery in it. We have seen a lot of dieback [when a plant begins to die due to poor conditions] from the five-year drought that we had just before Woolsey."
Specifically, Grinovich said a shrub called Ceanothus megacarpus had been dying out locally due to drought conditions. Witter said with seeds cued to fire, Woolsey helped spark a recovery process supported by post-fire rains.
"Things are looking very good for just across the board for all of our native species," Witter said.
But Kats pointed out that stream ecosystems remain affected by displaced top soil from last year's fire.
"Our native streams have a natural topography to them," Kats said. "They have fast moving parts of the stream and they have slow deeper parts of the stream. What you see after a wildfire like Woolsey is kind of just a silted flat surface that shows no habitat diversity. You don't see fast areas, you don't see slow areas, you don't see deep areas."
Endangered red-legged frogs need deep pockets in streams to avoid predators. The Resource Conservation District got permission to dig out the stream to restore the frog's habitat.
Kats said the intervention was nearly the first of its kind in California and seems to have worked. He said he is hoping to see further natural recovery in the streams, as many animals depend on this only source of freshwater in the mountains, but isn't sure of a timeline.
"Being an ecologist, it's very unpredictable," Kats said. "Nature is highly variable."
___________
Email Marisa Dragos: marisa.dragos@pepperdine.edu