Lahey follows through on a forehand Sunday, Jan. 26 against Arkansas. Photos by Paxton Ritchey
The Pepperdine Women's Tennis team has plenty of experience in big-time situations over the past few years.
The Waves won the past seven West Coast Conference tournament titles and are favored to win another in the preseason coaches poll. They have made the quarterfinals of the NCAA tournament in three of the past four years. The Waves enter the season with a No. 6 team ranking and four singles players ranked in the top 90 nationally, including senior Ashley Lahey at No. 1 overall.
Despite this, Pepperdine isn't concerned with the pressure of lofty expectations or specific goals. With a free-flowing approach and a commitment to the process of getting better, this Waves team believes that they are part of the top tier in the NCAA.
"We want to compete with the best," Head Coach Per Nilsson said. "And we feel like if we're healthy and the girls are doing what they're supposed to be doing, we can compete with anyone."
The collegiate tennis structure divides the season in half: a fall season of singles tournaments where players try to improve their individual ranking, and a spring season of team matches in which programs compete against each other for conference and national championships.
Pepperdine had a run of success in the fall season. Lahey stormed to the No. 1 ranking by posting a flawless 16–0 record and winning all three tournaments she entered, including a victory over teammate Jessica Failla in one of the finals. Freshman Lisa Zaar also won a fall tournament for the Waves.
Whether that fall success carries over to the spring remains to be seen, as Nilsson noted the stark differences between the two seasons, especially for freshmen who have never experienced them before.
"It's totally different once the team dual matches start," Nilsson said. "It's a completely different pressure because suddenly, you have your teammates who you're playing for. It's easy to get tight, especially in the beginning of the season, so it will be good for us to see who handles that well."
The Waves need their young players to adjust quickly. Between Zaar, fellow freshman Astrid Olsen and returning sophomores Anastasia Iamachkine and Daria Kuczer, four of the six players on Pepperdine's gameday roster will be underclassmen.
Zaar said she is looking forward to the challenge.
"It's going to be way more energy," Zaar said. "It's going to be so much fun."
The freshmen are off to a good start, but they are getting playing time out of necessity. If Pepperdine has a weakness other than experience, it's depth. The Waves roster is at only seven (walk-on Daniela Baum is the final player), and with six needed every match day, the team will be spread thin.
"If somebody does get hurt, it's gonna hurt us," Nilsson said. "We just have to be smart with our training and avoid the little injuries."
While the Waves may have to rely on some younger players, they have two top-notch seniors in Lahey and Failla to anchor the team.
Failla, in her second season playing for Pepperdine after transferring from USC, is ranked No. 50 in the nation for singles and No. 36 in doubles along with Iamachkine.
A fifth-year senior currently obtaining a master's degree at Pepperdine Caruso School of Law, Failla said she feels much more comfortable at Pepperdine in several different areas.
"I feel so fortunate that I was able to transfer to such a great athletic and academic school," Failla said. "Every season, just getting to know the girls better — it's been a great experience."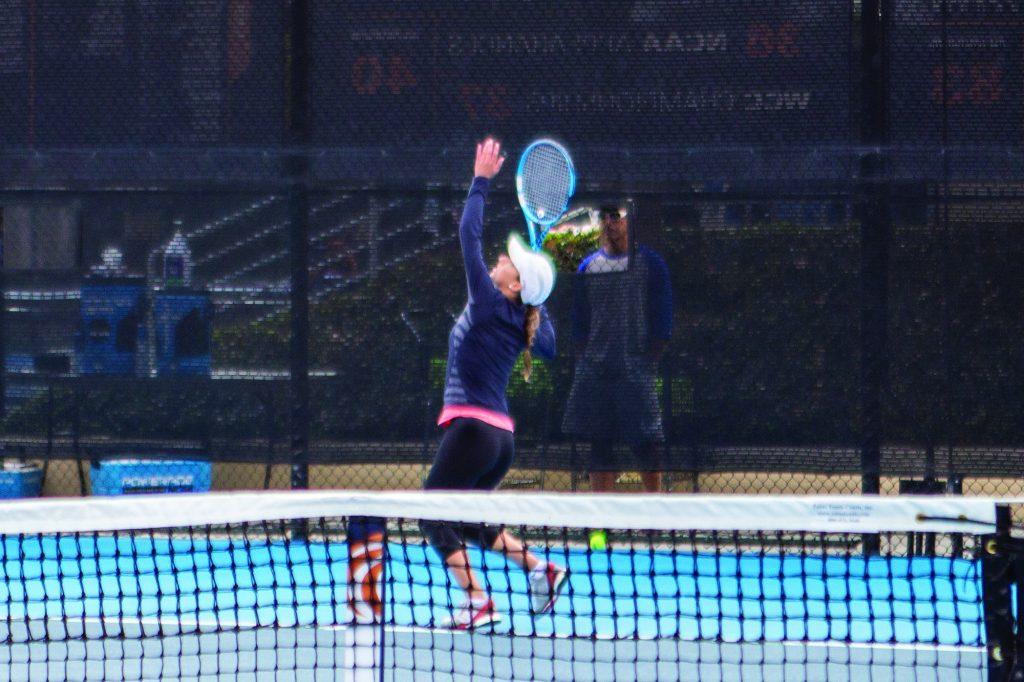 Lahey dominated every court she stepped on during her rise to No. 1, but she's not buying in to any hype. For her, the run of success comes from a more relaxed attitude and a conscious effort to not put any pressure on the results.
"I didn't really care whether I won or lost the match, which is kind of the first time I've experienced that in my life," Lahey said. "Throughout the whole fall, I just noticed myself playing so freely, and on the important points, I reached a new level."
For new players looking to improve like Zaar, having the country's top-ranked player on their team is a major advantage.
"Having [Lahey] on the court everyday is a really good way to set the goals and bars for me," Zaar said. "I'm striving to be No. 1 in the country, and she is. So how is she working? What can I learn from her?"
Lahey singled out team chemistry as a huge advantage for this season's Waves.
"There's something about the kind of bonds we have on this team where we really do love to be around each other," Lahey said. "It's going to be really special when we go out and fight for each other."
With as many as six matches going on at once and echoes of encouragement bouncing between courts, the tennis stadium is alive during a dual match. Both Nilsson and the players stressed that college tennis is nothing like pro tennis, where fans are repeatedly asked to be quiet.
"There's always someone to be watching," Lahey said. "It's more fun if you bring a bunch of friends and really get into it."
If Pepperdine continues its WCC dominance and maintains its top-10 ranking, then a lot of meaningful matches will take place at the Ralphs-Straus Tennis Center. Already, the non-conference schedule is stacked, as schools including Texas, USC, Michigan and UCLA will come to Malibu. All four of those schools accompany Pepperdine in the Top 25. Pepperdine was the only mid-major to make the preseason rankings.
"When you look at the rankings, we stick out like a sore thumb," Nilsson said. "Like, what's that little school doing there? I guess we take a lot of pride in that."
Pepperdine will stack up against several big schools Feb. 6 when it is one of 16 schools invited to compete in the National Indoor Championships in Chicago.
"This next week will really tell a lot," Failla said. "It's really the first big matches of the year for every school."
_____________________________________
Contact Paxton Ritchey: paxton.ritchey@pepperdine.edu