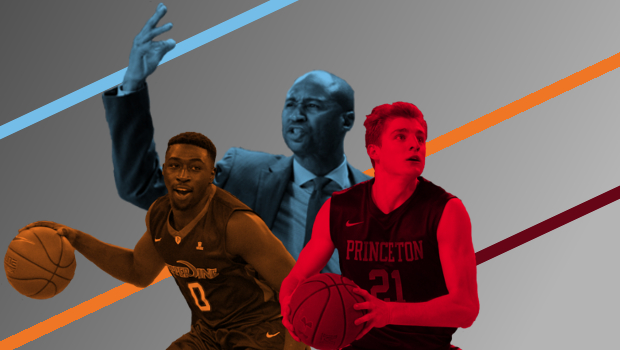 Photos from YouTube and Palm Beach Post, Image by Kyle Cajero
This is part two of a series. Read part one here.
Here's where the WCC gets interesting.
The middle tier of the West Coast Conference has been a revolving door: Over the past three seasons, six different institutions have graced the conference's 5 through 7 seeds. Although being in the middle of the pack has negative connotations in a mid-major conference, the WCC's middle-tier teams can often make conference play interesting. Sometimes, one of these teams makes a postseason tournament — like the Pilots did in 2014-15.
So how will the WCC's middle tier shake up this year? This tier is the hardest to pin down; the margin between these three teams is incredibly slim. In the middle of the chaos, one thing is for certain: The shakeup will continue. If these rankings hold, then expect a seventh WCC institution to find itself in the 5-7 seed range by the end of the season.
7. San Diego Toreros
Last season: 13-18 (6-12 WCC)
Don't let last year's unceremonious exit in the WCC Tournament, nor that San Diego plays in the WCC's easiest venue, fool you. The Toreros have something good up their sleeves this season.
Last season showed glimpses of what Lamont Smith's team could be this season. Although the Toreros were swept by the top four teams in the conference (and Pacific, for some reason), San Diego stole road wins from Portland (the Pacific Northwest is never a sure thing), Santa Clara (in double overtime) and the Los Angeles schools. Not only that, the Toreros slowed down BYU's high-flying offense at home by limiting Cougar contributors Elijah Bryant, Nick Emery and Yoeli Childs to single-digit scoring and rebounding outputs.
Junior guard Olin Carter III not only was the spark plug in the BYU upset — he notched 28 points on 8-15 shooting (including connecting on five of his eight threes) — but also will be the catalyst behind San Diego's potential resurgence this year. In his sophomore campaign, Carter doubled his scoring output from 7.3 points per game to 15.3, while also improving his shooting percentages across the board, per his sports-reference.com page.
Although last season's leading scorer Brett Bailey graduated, the Toreros bring in one of the WCC's crucial, under-the-radar transfer acquisitions. Onetime Utah backup point guard Isaiah Wright will join Carter in the backcourt this season after sitting out due to NCAA transfer rules. The onetime Idaho Boys Basketball Player of the Year was stuck behind current Toronto Raptor Delon Wright and Pac-12 Defensive Player of the Year Brandon Taylor. With nobody ahead of him on the depth chart, Wright can finally reach his potential.
Best case scenario: Carter and Wright lead the Toreros over the hump in year three of the Lamont Smith era. By posting a record over .500, the Toreros earn their first postseason bid since the 2013-14 season.
Worst-case scenario: San Diego drops too many winnable games in conference play, sending them to the first-four matchup in the WCC Tournament for the third consecutive season. As an insult to injury, another loss to 10-seed Portland sends them one game blow .500, rendering them ineligible for postseason play.
Stat of note: The Toreros were 2-4 whenever one of their players fouled out last season. At the same time, San Diego's bench played only 22.1 percent of possible minutes, which was ninth-fewest in the NCAA, per KenPom. Forcing Head Coach Lamont Smith to use his bench is a good indicator for a win.
Player to Watch: Olin Carter III
6. Santa Clara Broncos
Last season: 17-16 (10-8 WCC)
Quick quiz: Spot the Broncos on the WCC's three-point percentage leaders:

Screenshot via KenPom.com
Let's start with the extremes. Saint Mary's and its reedonkulus offense led the conference last season. Pacific's outdated, midrange-based offense was in dead last. The team that went 37-2 and made the National Championship game was in third, but this can be attributed to Gonzaga's balanced offensive attack. Fifth-place BYU underperformed.
So who is the team a hair behind the Gaels?
Say hello to the Santa Clara Broncos.
In his first year at the helm, Head Coach Herb Sendek made the Broncos reliant on the three-ball: 44 percent of Santa Clara's offensive production came from beyond the arc, per KenPom.com. Believe it or not, this mark was second in the nation. Three Broncos were the top-20 three-point makes, which was a feat no WCC team accomplished last season, per-sports-reference.com. This is not a small feat in a conference with Saint Mary's, BYU and Gonzaga's offenses.
This season, however, two of the aforementioned Broncos have graduated, leaving junior guard K.J. Feagin as the number one backcourt option. If he can stay on the court — Feagin played only 19 of Santa Clara's 33 games last year after breaking a foot in practice — he will be a good complimentary player to grad transfer Henry Caruso. The onetime All-Ivy League selection looks to be the only person in human history to call the move from Princeton to Santa Clara an upgrade.
Best case scenario: K.J. Feagin stays healthy, and the Broncos' bench makes up for Jared Brownridge's absence. Henry Caruso averages a double-double in the WCC Newcomer of the Year campaign. Thanks to a home-heavy non-conference schedule, Santa Clara wins 20 games for the first time since the 2012-13 season.
Worst-case scenario: K.J. Feagin can't stay on the court and the Broncos' offense dearly misses Brownridge's dominance. The Broncos slip in the WCC standings in year two of the Herb Sendek era.
Stat of note: Santa Clara isn't afraid to grind it out on defense. The Broncos' average defensive possession was 18.8 seconds long (the longest in the nation, per KenPom), yet they had the fifth-most efficient defensive in the WCC.
Player to Watch: Henry Caruso
5. Pepperdine Waves
Last season: 9-22 (5-13 WCC)
Here we are.

From a purely objective perspective, a fifth-place finish in the WCC seems a little too high, seeing as the Waves lost high-volume scorer Lamond Murray Jr, experienced point guard Jeremy Major and Utah transfer Chris Reyes to graduation this year. Not only that, the Waves are picked seventh in the WCC Coaches Poll. Who am I to say that I know more than people whose careers revolve around basketball?
Yet as a Pepperdine student and as a fan, I can't help but feel optimistic about this season.
Although I've tried to keep my expectations in check, a few things about this roster stand out as things to be undeniably optimistic about.
For starters, senior leader Amadi Udenyi returns as a fifth-year senior. It's no surprise that the Waves missed him last year: Without Udenyi's defensive presence, the Waves struggled immensely on that end of the floor; due to Pepperdine's plethora of injuries, current sophomores Elijah Lee and Knox Hellums were thrown into the mix earlier than anticipated.
Relying on those freshmen for so many quality minutes was problematic in the short term, but the benefits of adjusting them to the college game early on will benefit them in the long run.
Speaking of the long run, sophomore Nolan Taylor showed flashes of potential during his debut season, in which he averaged 7.1 points (on 46.1 percent shooting, which trailed only high-usage seniors Reyes and Murray Jr.) and 3.7 rebounds per game, according to his sports-reference.com profile. Taylor was a fitting shoe-in for the injured Kameron Edwards. Now that Edwards is healthy, Pepperdine's sophomore forward tandem looks intriguing on paper.
With all of this in mind, replacing Murray Jr., Major and Reyes will be a tall task.
Murray Jr. was the Waves' go-to scorer — which was a gross understatement at times — and no one on this season's roster looks like a clear replacement. Former Nevada transfer Eric Cooper Jr. appears to be the guy.
Head Coach Marty Wilson has mentioned the Nevada transfer's "old man['s scoring] game" and his shooting prowess several times in the PeppTalk podcast series. If Cooper Jr. can be as much of a midrange threat for the Waves, then he will be invaluable to their offense, which also struggled last season.
More likely than not, Pepperdine will have several players capable of leading the team in scoring on any given night instead of having one national-caliber scorer. And this might not be a bad thing, given the chemistry the underclassmen will continue to develop this season.
Aside from the void left from Murray Jr.'s scoring, Pepperdine's clearest struggle will be its size.
Standing at 6'9," Washington graduate transfer Matthew Atewe will likely be the tallest Wave on the floor. Matching up with proven WCC bigs like Saint Mary's Jock Landale, BYU's Yoeli Childs and Gonzaga's three-headed monster of Johnathan Williams, Killian Tillie and Rui Huachimura will be difficult for any team, but the Waves' could be at the biggest defensive rebounding disadvantage in the conference.
Pepperdine's roster looks more suitable as an uptempo, small-ball attack with its backcourt depth this season. It'll be interesting to see what Wilson and company have up their sleeves.
All in all, this season looks like a rebuilding year. The next two seasons will be incredibly interesting to watch with a Lee-Cooper Jr.-Berhow-Edwards-Taylor starting lineup with Hellums being the go-to scorer off the bench, freshman Jadé Smith as the defensive stopper and freshman Colbey Ross backing up Lee. This isn't factoring in any future junior college and graduate transfers, which will most likely be the case, given the Waves have yet to earn verbal commitments from current high school players.
Pepperdine's sophomore class (plus redshirt sophomore Kameron Edwards) appears to be the core the coaching staff is investing in for the future.
In the meantime, hovering around .500 looks incredibly doable for this team. A third CIT berth in four seasons could be in the cards if either one of the junior college newcomers — Darnell Dunn (Miami Dade College) and Harrison Meads (Laramie Community College) — or one of the trio of freshmen — Smith, Ross and Berhow — become surprise contributors. Let the record show my breakout picks are Darnell Dunn and Trae Berhow.
Excuse me as I knock on all the wood fixtures in New Payson.
Best case scenario: With major injuries in the rear view mirror, the 2017-18 Pepperdine Waves correct course from last season's 9-21 record. Newcomers Atewe, Cooper Jr. and Dunn will have major roles, whereas Meads, Smith and Berhow will give the Waves the deepest, most talented bench they've had in several seasons.
Worst-case scenario: This team suckered me in again, didn't it?
Stat of note: Nolan Taylor takes care of the basketball. He turned the ball over only 9.7 percent of times he had possession, which was second-lowest in the conference, per KenPom's metrics.
Player to Watch: Eric Cooper, Jr.
__________________________________

Follow Kyle on Twitter: @kylecajero