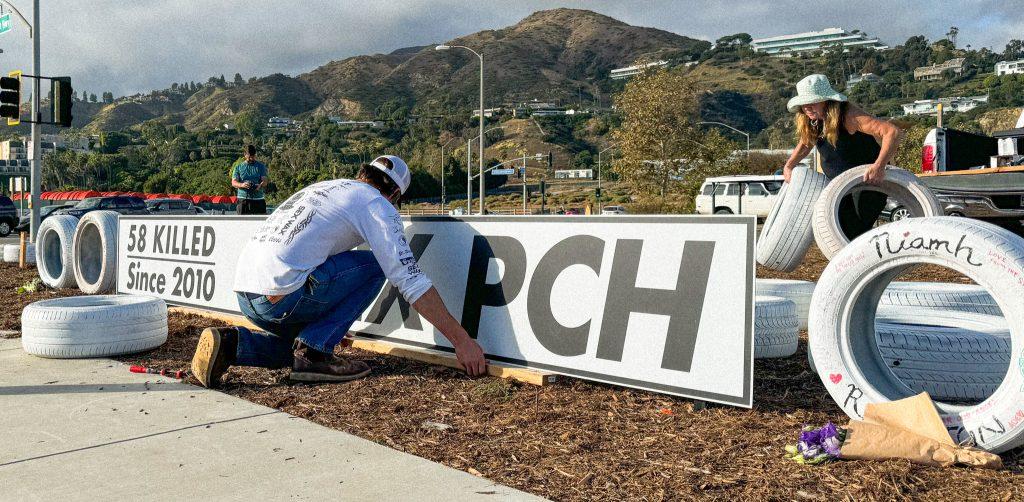 Cars honked as Streets Are For Everyone and Fix PCH volunteers placed 58 white ghost tires at the intersection of Pacific Coast Highway and Stuart Ranch Road on Nov. 18.
The ghost tires represent the lives lost due to traffic violence on PCH in Malibu since 2010, said Damian Kevitt, executive director and founder of Streets Are For Everyone, a road safety organization. The Ghost Bike memorial, a white bike located at the site of a cyclist's death or severe injury usually caused by a motor vehicle, inspired the ghost tire memorial, Damian said.
On Nov. 14, family members, Pepperdine students and community members placed four ghost tires at the same intersection for Niamh Rolston, Peyton Stewart, Asha Weir and Deslyn Williams, according to a Malibu Times article.
"When is this going to stop? Damian said. At what point do we stop adding tires?"
The tires will remain at the intersection for at least the next six months, said Michel Shane, movie director and father of Emily Shane. Emily died in 2010 after a driver purposefully hit her as she walked on the shoulder of PCH near Heathercliff Road/Emily Shane Way, according to a CBS News article.
Shane said Streets Are For Everyone has reserved 10 extra tires to be erected at the memorial in the event of more deaths on PCH.
"The community's disgusted at the fact that this keeps happening over and over again," Damian said.
Sunday, Nov. 19, is World Remembrance Day, a day to honor victims of traffic violence, Damian said. An official reveal of the ghost tires will take place Sunday morning. A variety of officials, family members of traffic violence victims, Pepperdine students and other community members will be present, Damian said.
Through the ghost tire memorial, Michel said he hopes to achieve consciousness in the minds of those who walk, cycle or drive on PCH. He said he wants the tires to make people aware of their actions on the road and the consequences of them.
"Maybe if they look over and see these white tires and go, 'What's this?'" Michel said, "and they've realized that's what each one of these white tires represents — one person, one family destroyed —maybe they'll slow down."
Damian, Michel and Kylea-Rose Kevitt, Damian's wife and Streets Are For Everyone volunteer, said they are frustrated with how CalTrans has handled PCH safety for decades. The destruction caused by the fire under Interstate 10 on Nov. 12, and its subsequent rapid reconstruction compared with the lack of action around PCH shows how little CalTrans cares about PCH safety, they said.
"People are losing 10 minutes of their commute, maybe 20 minutes of their commute, but it doesn't matter to them [CalTrans] that people are losing their lives time and time and time again," Kylea-Rose said.
Road safety is near and dear to Kylea-Rose, she said. Her husband, Damian, lost his leg and almost his life in 2013, after a car struck him while on a bike ride in Griffith Park, Kylea-Rose said.
"It's a miracle that he is with us today," Kylea-Rose said.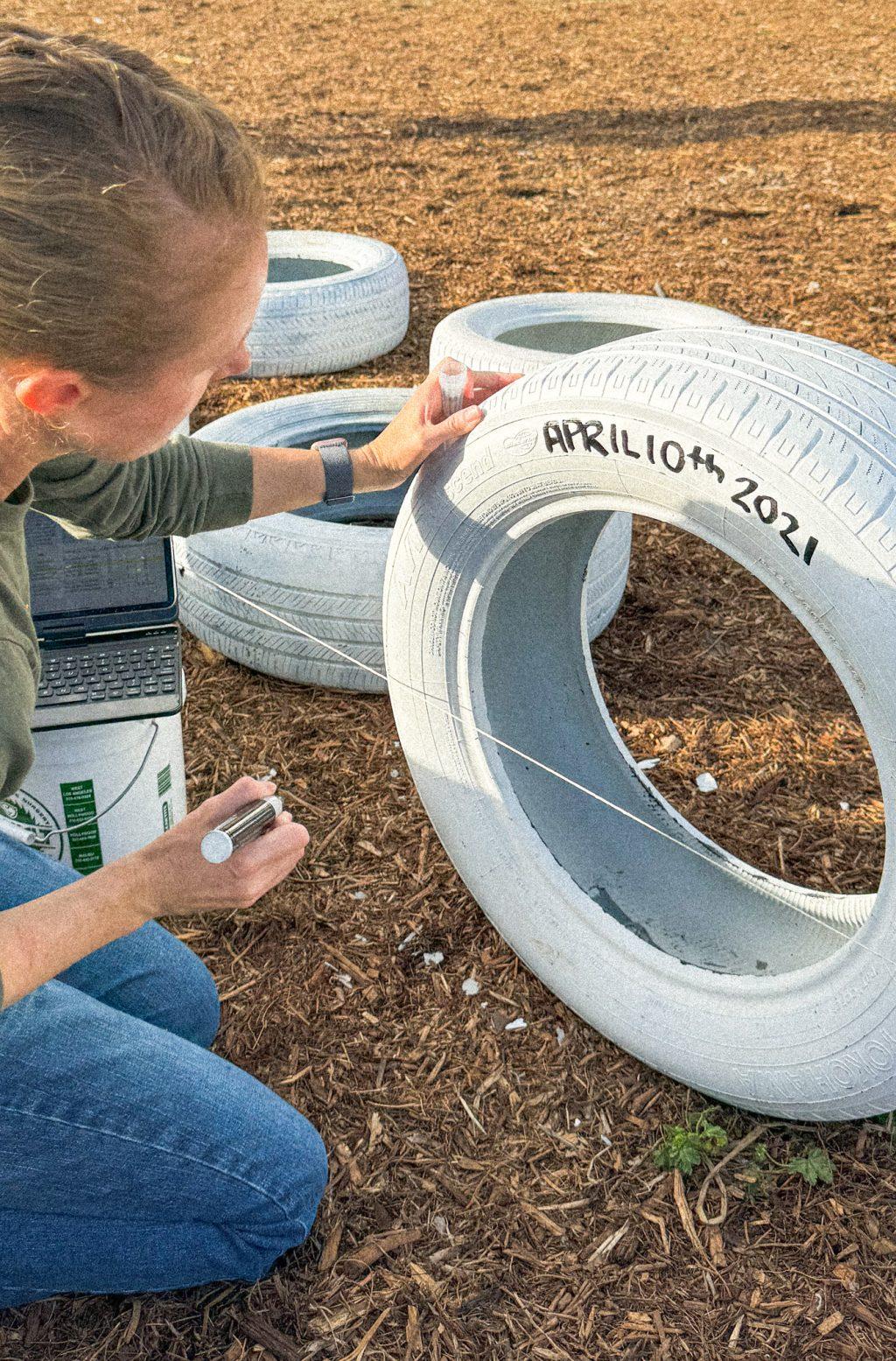 Damian said he has known about the danger of PCH for years and so has CalTrans.
"We unfortunately, how sad as this sounds, have been waiting for the day when a tragedy happened that we could use to mobilize to hopefully get CalTrans to make PCH safe," Damian said.
The tragedy Damian referred to is the deaths of Niamh, Peyton, Asha and Deslyn.
"The fact that these four beautiful Pepperdine students just lost their entire future means nothing," Kylea-Rose said. "That's the message they're [CalTrans] sending.
World Remembrance Day event serves not only as a reminder to drivers but also as a demand to CalTrans, Damian said.
"At what point are you [CalTrans] going to manage people who are doing 60, 80 miles an hour or 100 miles an hour on a freeway that's in the middle of a residential and business zone?" Damian said.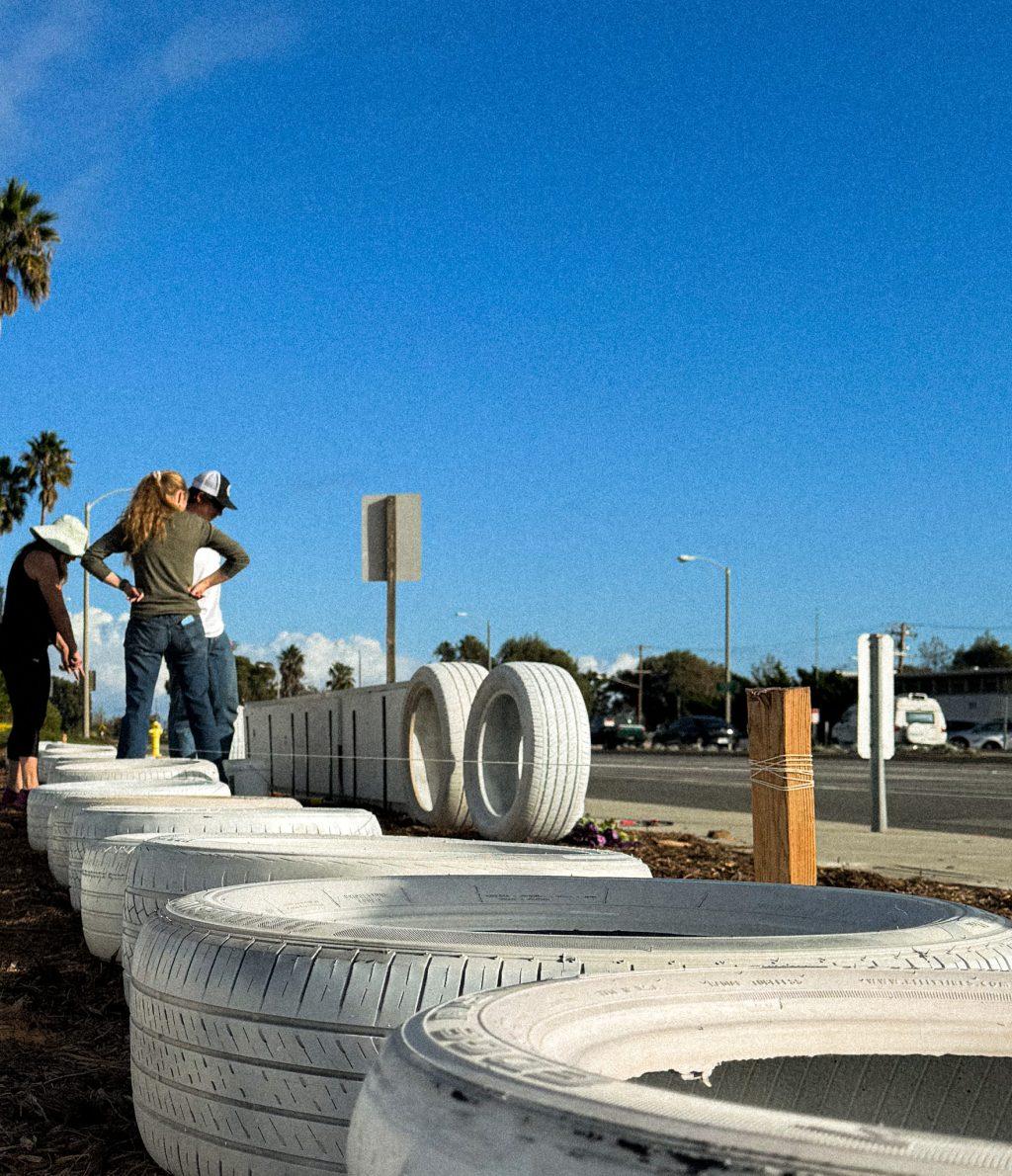 Damian said, when the state of California built PCH, they designed the highway with a 45-mile-per-hour speed limit. At the time, Malibu was not nearly as trafficked as it is now, Damian said. Today Damian said there are plenty of pedestrians and tourists making the speed unsafe.
"It's not appropriate to have freeway speeds in the center of a town," Damian said.
He said, although he is no traffic engineer, he thinks 35 miles per hour might even be too fast for some sections of PCH in Malibu. CalTrans can reduce the speed limit, according to KBUU Newswire.
"This is not rocket science," Damian said. "This is not unprecedented. This is not like we're trying to carve out some new law. We're just trying to get them [CalTrans] to do their job."
Damain said he is unsure why CalTrans is so hard to reach.
"Your guess is as good as mine," Damian said.
Sign Michel Shane's petition for safety improvements and educational initiatives on PCH.
___________________
Follow the Graphic on Twitter: @PeppGraphic
Email Millie Auchard: millie.auchard@pepperdine.edu