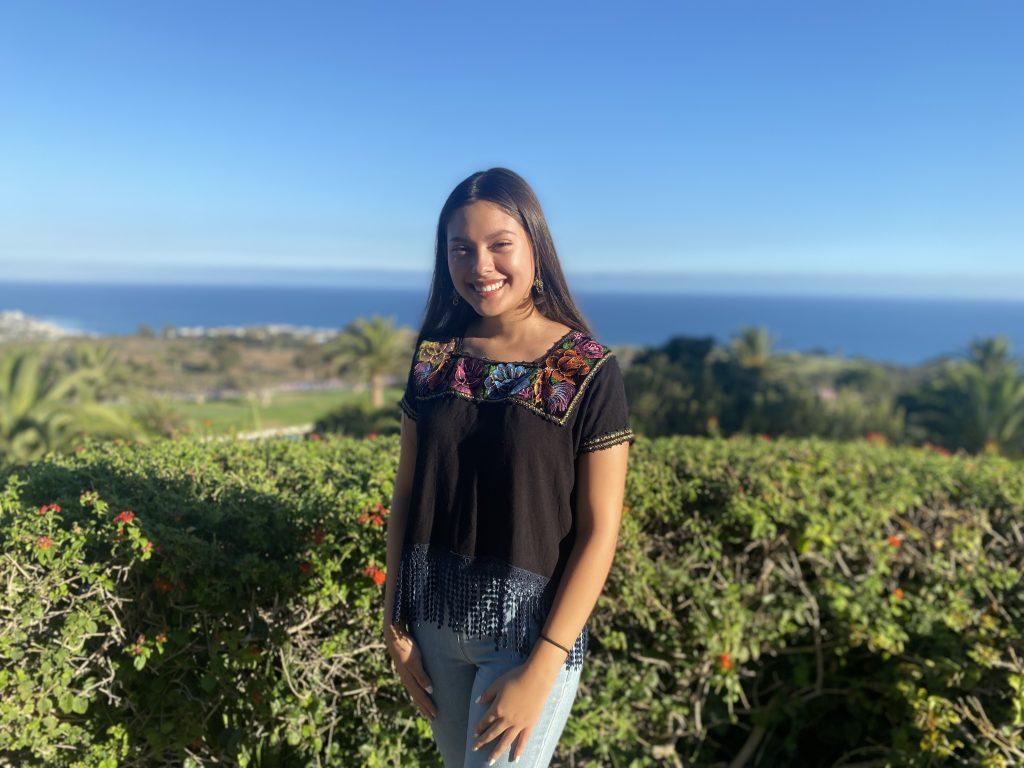 Sophomore Nelly Figueroa-Herrera wearing a Huipil, a piece of traditional clothing from Arguacatán. She said wearing traditional clothing is one of the ways she celebrates her culture. Photo courtesy of Nelly Figueroa-Herrera
For senior Lisette Isiordia, amplifying her family's story is a way to celebrate her heritage. Her story, as a first-generation student, is something Isiordia said is not typical to many Pepperdine students.
Isiordia is a Hispanic student, and as Hispanic Heritage Month approaches, she and the Latinx Student Alliance are finding ways to celebrate their culture.
Across the U.S., people celebrate Hispanic Heritage Month between Sept. 15 and Oct. 15. At Pepperdine, Hispanic students speak on the importance of the month and ways to share about Hispanic culture, beyond the month.
"Hispanic identity should always be celebrated," Isiordia said. "I think specifically during this month, it's heightened celebration and appreciation for our identities. And there's so many different cultures under the title of Hispanic, which I think is so beautiful and so wonderful."
Hispanic refers to anyone from or descended from a Spanish-speaking country, but Latino/a/x refers to someone from or descended from a Latin America country, according to the Hispanic Network. All Latino/a/x are Hispanic, but not all Hispanics are Latino/a/x.
How Pepperdine Celebrates Hispanic Heritage Month
Pepperdine's School of Public Policy and Graduate School of Education and Psychology highlight programs and faculty through Hispanic Heritage Month. Intercultural Affairs will also host workshops.
Over the course of the month, The Center for Global Partnerships and Learning will host the Latino Heritage Month Speaker series, with seven events ranging from a Panel Event on Sept. 19, to a Fireside Chat with Guest Speaker: Dr. Misty Resendez. Events will be held via Zoom and occur every three days to once a week.
Pepperdine's libraries, alongside the Office of Community Belonging, created a resource list of books about Hispanic culture to commemorate Hispanic Heritage Month.
A Major Presence
Isiordia said both of her parents are immigrants — her mom from Peru and her dad from Mexico — which she said makes her a first-generation college student, as well as a Latinx student.
"That's definitely something interesting that I'd have to learn to navigate from a day to day basis, including in my senior year, what is grad school, how do I go about that?" Isiordia said. "I am very grateful for my background, but also it comes with some challenges just trying to figure out the college world."
Nationally, 21.7% of college students were Latino/a/x in 2019, according to the Postsecondary National College Institute. Hispanic/Latino/a/x students make up 19% of the Pepperdine population according to the fall 2021 enrollment census.
Intercultural Affairs, Latinx Student Association and the University's cultural events helped Isiordia feel more at home at Pepperdine, Isiordia said.
Isiordia said she talks about her family from Peru and Mexico to hold onto her cultural identity.
"When my grandma passed away I was like, 'I want to keep her memory alive,'" Isiordia said. "Whether that be through food and like introducing my friends to Peruvian food, so I definitely think through vocalization of my family's history and culture."
Isiordia said for Hispanic Heritage Month, she wants her non-Hispanic peers to listen to the stories of Hispanic students around them. She wants her non-Hispanic peers to consider how their journeys differ from a Hispanic student's experience.
"They don't have to change their way of life," Isiordia said. "They don't have to change anything about it, but I think listening is one very big step in order to changing the way that we accept diversity here on campus."
For Pepperdine as a whole to acknowledge Hispanic Heritage Month, highlighting Hispanic members of faculty and staff would help provide a sense of unity on campus, Isiordia said.
"That was just the first thing that came to mind because I think when I came I was like, 'Are there Hispanic teachers here? Are there teachers who are from similar backgrounds as me?'" Isiordia said. "If they could just highlight those individuals who work here on campus, could be something to help promote the community."
Isiordia is the Underclassmen Liason for LSA, and is working to bridge the relationship between first-year, transfer students and upper-level students.

"You're looking at a student coming in and knowing that the population is predominately white," Isiordia said. "I was very much nervous, and afraid that I needed to change myself and adopt a new culture, when in reality, my culture makes me so unique and different."
As a History major, Isiordia said she understands the importance of amplifying diverse voices.
"It's just so important to uplift those voices, even though we have a month it's important to celebrate [beyond that]," Isiordia said. "And I think that the Latino community is one that has faced a lot of turmoil throughout the last few generations. And I feel like it's important to recognize that we are a major presence, not just on Pepperdine campus, but in the United States."
Remembering Contributions
Sophomore Nelly ​Figueroa-Herrera ​said she is Guatemalan American and both her parents were born in Guatemala. Figueroa-Herrera said she is excited when people ask her about her culture because it did not happen much before she came to Pepperdine.
In her time at Pepperdine, Figueroa-Herrera said her culture has not become any more or less important — she still commemorates it in a variety of ways.
"Cooking traditional foods, speaking Spanish, I continue to speak the slang that we use in Guatemala," Figueroa-Herrera said. "I think it's very important. It's really funny, I really enjoy it. I'm also wearing traditional clothing pieces, even like simple things like earrings."
Hispanic Heritage Month, Figueroa-Herrera said, is a time to celebrate the contributions people who are Hispanic have all across the world.
"I feel like last year, there was no talk about Hispanic Heritage Month," Figueroa-Herrera said. "I think I would kind of like it if there were more events around it. Which doesn't necessarily have to fall into just Pepperdine, but also LSA, having them speak out a little bit more about it, have more events on campus that are bigger."
Figueroa-Herrera said it can be easy to take Hispanic contributions for granted, such as Captcha code, which Luis Von Ahn created, or Guillermo González Camarena and color T.V..
"Without the contributions that have been made by Hispanic people or the inventions created by people who are Hispanic, we wouldn't be where we are today, at least not maybe as progressive, maybe we would have taken a little longer to figure things out," Figueroa-Herrera said.
A Chance for Conversation
Pepperdine junior Diana Flores is Guatemalan, and said at Pepperdine, she can explain her culture to her peers.
"That starts to become a conversation where I'm able to talk about Guatemalan culture and Guatemalan food and traditions and the country so that's how it plays into me as a student," Flores said. "I love sharing about my culture, identity and ethnic identity to other people, just because I feel like there's not many students whose parents are from Guatemala or come from Guatemala."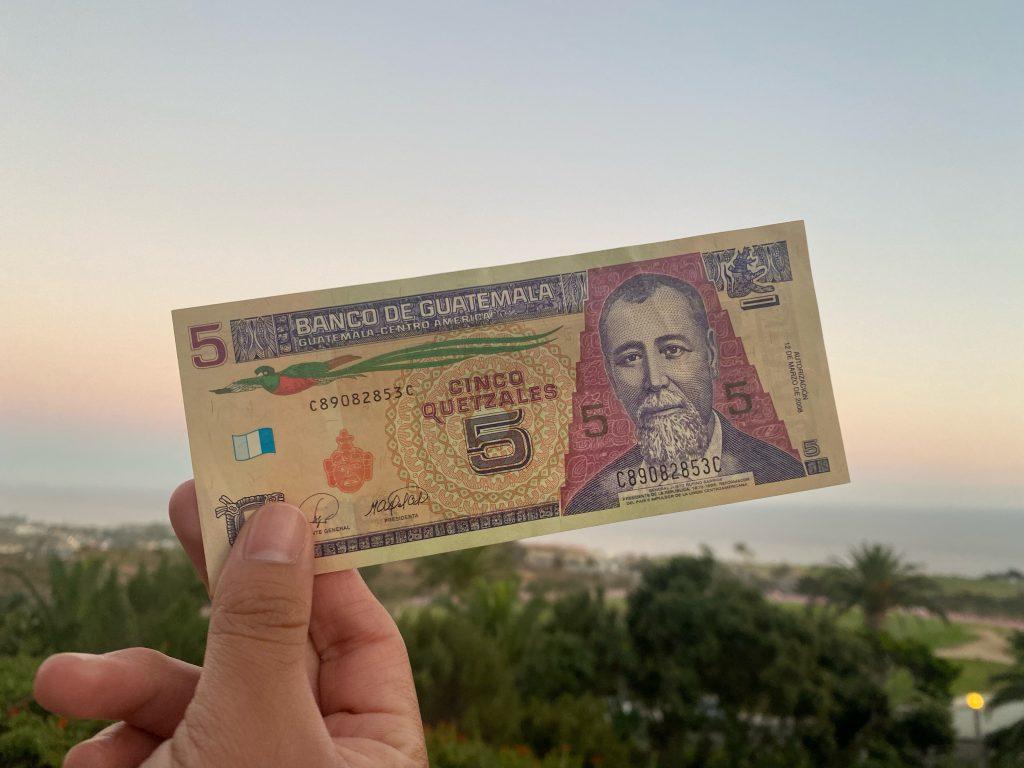 Eating her favorite Guatemalan foods, attending Easter parades and informing others are ways Flores said she celebrates her culture.
"I also am actively trying to even learn more about Guatemalan culture because I'm not born there," Flores said. "The last time I visited was when I was probably 12 years old. So it's been years. So I try to ask my parents about modern Guatemalan culture."
To celebrate Hispanic Heritage Month, Flores said she calls attention to it through social media posts. Flores said for her, the month involves celebrating all Hispanic cultures, traditions, language, food, song and dance.
"Hispanic Heritage Month is not only just about the superficial things of like, the dance and the culture and all that," Flores said. "But also learning about the history of Hispanics, and the huge things that have been accomplished by Hispanics and celebrating that."
During Hispanic Heritage Month, Flores said non-Hispanic students can be open to going to events, actively learning and taking part in the festivities.
As for Pepperdine, Flores said the school can host more events, such as something similar to the Global Market in the cafeteria with foods from different Hispanic cultures, or events discussing history to inform students about Hispanic heritage.
"I actually think it's a form of appreciation," Flores said. "Just appreciating the culture means a lot to me personally."
Both of Flores' parents immigrated from Guatemala in the 1980s, and learned English while in America. Flores said something her family and culture instilled a hard work ethic in her. Flores said the celebration of Hispanic Heritage Month should also extend to celebrating the average, day-to-day family.
"They had to work their way up little by little and make so many sacrifices and worked super hard," Flores said. "And it's really inspiring to see that and that inspiration that I have is not only just personal to me, I know there's so many other Hispanics that also admire that type of inspiration from my parents or other family relative."
___________________
Follow the Graphic on Twitter: @PeppGraphic
Contact Samantha Torre via Twitter (@Sam_t394) or email: sam.torre@pepperdine.edu