Photos courtesy of Pepperdine Athletics
As a member of the top-ranked Beach Volleyball team in the nation, junior Skylar Caputo is a force to be reckoned with. Over the course of two full seasons with the Waves, Caputo has demonstrated her capacity to dominate in the sand with a .796 winning percentage. This season, Caputo has stepped it up a notch and is currently undefeated alongside her partner, freshman Alexis Filipponse.
In her 2016 and 2017 seasons at Pepperdine, Caputo has produced a 42-11 record. She was also awarded All-WCC second team in both years. Caputo and her then-partner junior Heidi Dyer were ranked No. 41 in DiG Magazine's Collegiate Beach Pairs 2017 Rankings. In addition, at the beginning of the 2018 Beach season, Caputo was tabbed to the All-WCC Preseason Beach Volleyball Team.
Heading into the back half of the season, the Waves are currently 15-2 and are ranked No. 1 in the AVCA Coaches Beach Volleyball Rankings. Caputo and Filippone are 17-0 in their matches, the best record on the team.
Head Coach Nina Matthies said Caputo and Filippone's wins so far this season have helped team to secure and maintain the number one spot in the country.
"Skylar and Alexis have won all of their matches so far this season, which has obviously helped the entire team win our matches and keep us at number one," Matthies said.
Caputo's contributions on the court are obviously impactful for the team. Caputo said her resilience and dedication to the sport began when she was very young and that foundation is what has made her into the player she is today.
From left to right: Skylar Caputo and Heidi Dyer
Caputo's parents met playing beach volleyball in Manhattan Beach.
"As long as I can remember, I was either hanging out watching my parents play or trying to learn the game myself with me friends," Caputo said. "I grew up in the bubble of beach volleyball."
Caputo said growing up with beach volleyball at the center of her life helped her develop not only skills, but also a tight knit community of friends that all shared the same passion.
"Living in a beach volleyball culture allowed me to fall in love with the sport pretty quickly," Caputo said.
Over the years, beach volleyball has grown to mean something totally new to Caputo beyond just the culture she grew up in.
"Beach volleyball encompasses grit and hard work, yet also thrill," Caputo said.
She acknowledged the highs and lows of playing beach volleyball and the emotional toll that high level competition has had on her. However, despite the challenges Caputo feels she has grown and learned more than she could have ever imagined.
"Mentally and physically I have realized what a high level team really looks like, how to push myself and others to the peak of our potential, and have a purpose everyday," Caputo said.
When it came time to choose a place to continue her education Pepperdine stuck in Caputo's mind because of its outstanding beach volleyball program.
"The team culture and successful history of the program intrigued me," Caputo said. "I wanted to be a part of it the moment I saw the Waves compete on the sand."
However, it wasn't all about the volleyball. She said she chose Pepperdine for its high-level academics, intimate class settings and, of course, the location.
"Being able to attend a college overlooking the ocean was an immediate pro to coming to Pepperdine," Caputo said.
Despite the numerous successes Caputo has acquired over two full seasons as a Wave, she said her favorite moment so far was making it to the NCAA Division I Beach Volleyball Championship Finals last year.
"There is nothing like the feeling of putting yourself in a position to win it all," Caputo said. "Knowing that the result of the match could go either way, I was stoked to be able to compete for a title."
The Waves fell to USC in the Championship last year, but Caputo said the loss has made the team more driven to prepare themselves to win this year. Caputo said the team's goals obviously include the national title, but they extend beyond as well.
"Our goals are to work hard no matter who we are playing, and have fun," Caputo said. "Ultimately, this season is another chance for us as a team to come together and play for something greater than ourselves and instead compete for each other."
Matthies said competing for others is something Caputo embodies well as a teammate.
"She is the epitome of an athlete – she works tirelessly at all aspects of training – she competes mindfully and is a wonderful teammate," Matthies said.
To reach their goals this season, the team has been concentrated on communication and focus.
"Our focus has been on improving everyday – staying focused on the tasks at hand and not looking ahead, but taking care of what we can in the moment," Matthies said.
Caputo said the team is in constant communication with each other checking in during recovery sessions, having disciplined practices and film sessions to make sure the team is all on the same page.
"With all of us believing in the process and fulfilling our duties on and off the court, we will be able to set ourselves up for success," Caputo said.
Sitting in the No. 1 position, the Waves are ready to finish out the season strong and hopefully secure the title in May, Caputo said.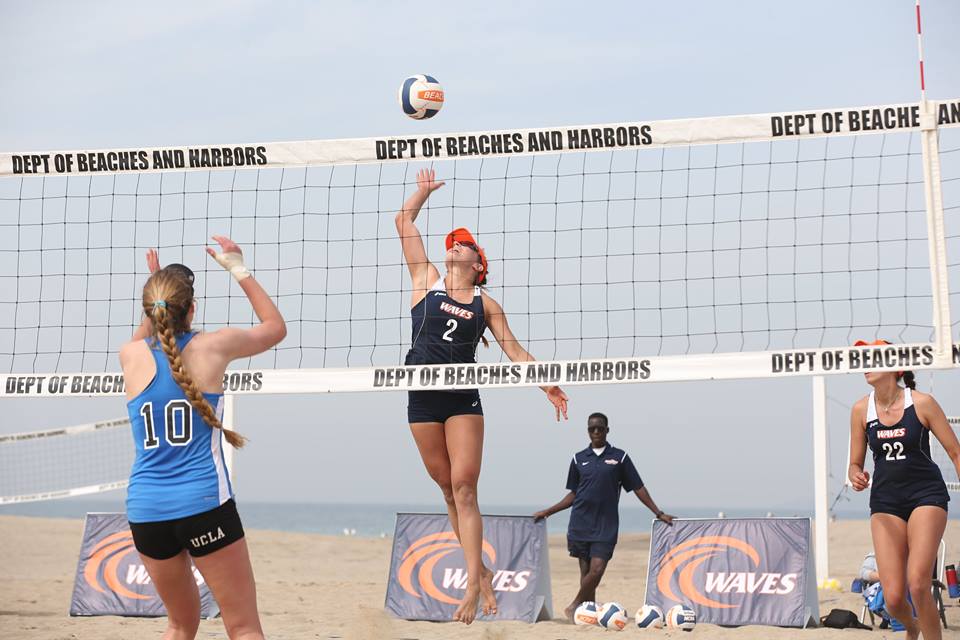 Skylar Caputo
After Caputo finishes her time at Pepperdine in the Spring of 2019, she plans to pursue a graduate degree related to her Sports Administration major. She is fully intending to stay in Southern California and hopes to train and compete on the AVP Beach Volleyball tour while continuing her education.
Whether it be coaching or assisting with a local sports company, Caputo said she wants to use her education on and off the volleyball court to create a balanced career doing what she loves.
"I never want to leave the place that has made who I am today. Surfing, paddling, outriggering, beach volleyball, and simply exploring the coast around me are a part of my life and will always be a part of my life," Caputo said.
Up Next:
Caputo and the Waves take on three opponents on Saturday, March 31 in Malibu at Zuma Beach. They will face No. 16 LMU at 9 a.m., No. 18 Saint Mary's at 11:20 a.m. and No. 4 USC at 1:30 p.m.
______________________________
Follow Sam on Twitter @sam_marlott