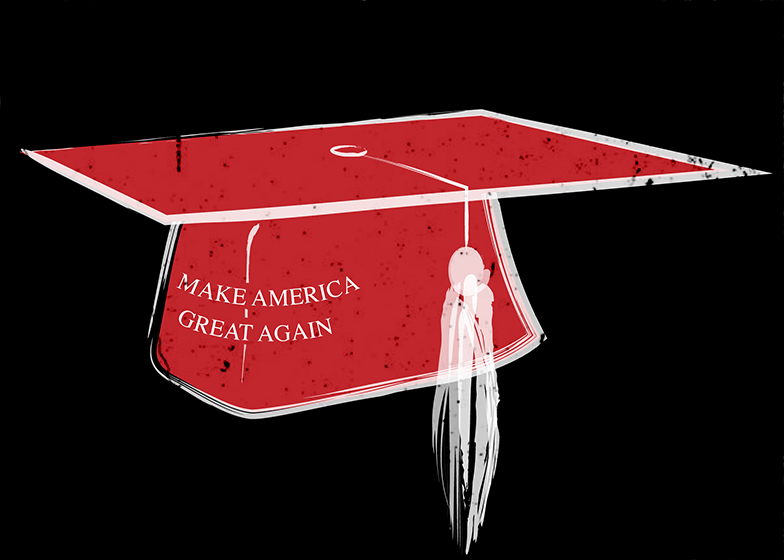 Art by Samantha Miller
The Feb. 6 edition of the Graphic reported that former Pepperdine Law School Dean Kenneth Starr and recent Senior Fellow appointee to the Pepperdine School of Public Policy, Andrew Puzder, carry ties to President Donald J. Trump.
When a figure of such controversy occupies the most powerful office in the country and two national news stories from the last several weeks have involved Pepperdine faculty, students need to question the university's ethics. The revealed association between these people and Pepperdine threatens the value of this education and presents an image of flailing principality to the American public.
These schools individually state that they are preparing "public leaders who can work across differences" and have "a special concern" for teaching students "the highest principles of professional, ethical, and moral responsibility."
While these statements present themes of morality and value-centered education to the public, the relation of Trump-friendly faculty reveals a distinct disconnect. Working across differences, both political and apolitical, requires professors to know the ethics and humanity behind policy and leadership.
Puzder is not only someone who carries deeply dividing views aligned with that of the president but also someone who cannot profess the humanity necessary for creating, implementing and mentoring public policy to students.
In a review of his numerous Fox News publications, Puzder, who was once nominated to be Trump's Secretary of Labor, focuses his comments to be largely about Trump's economy. However, in one specific Fox piece, Puzder called the impeachment proceedings of the president "farce," "nonsense" and "dangerous." Starr, who was appointed to and served as co-counsel in the president's trial, falls in the same boat. The only difference is that Starr acted on his beliefs and literally defended the president to the whole world.
As an institution that emphasizes the importance of integrity and holds itself to the "highest standards of academic excellence and Christian values," Pepperdine University finds a way to defy its explicit mission.
While Starr is credited with boosting Pepperdine Law's national rankings, putting "Pepperdine on the national stage" and connecting the school with members of the court, his historical ties to dangerous and problematic people defy any further credit of relationship to Pepperdine.
In 2008, Starr joined Jeffrey Epstein's defense team as co-counsel when the financier was charged with sexually abusing young girls. Starr helped to negotiate a "lenient" plea deal for Epstein resulting in charges of prostitution and sex with minors, and a jail sentence of just 13 months.
To continue sporting a Pepperdine connection in the political world degrades the credibility of Pepperdine Law as having the "highest principles" of ethics, morals and professionalism.
What message does it send to the students and faculty of Pepperdine University, whose families and lives have been made a political playground by President Trump, when connections such as these are revealed?
There is no argument here that would not apply had the political affiliation of these men been swapped. There are standards that the institution, the entirety of it, needs to be held to.
In a community composed of students and faculty of various socio-economic, racial and ethnic backgrounds, it is disturbing that the university elects fellows who have a history of fighting against policies intended to help them.
To be tied with historical, political and powerful figures is an honor but only so long as those figures are not connected with sex-trafficking, corruption and unethical beliefs and practices. This begs the question: If Pepperdine does not draw a line for sex-traffickers or impeached presidents, who will they draw a line for?
__________________
Email Camryn Gordon: camryn.gordon@pepperdine.edu