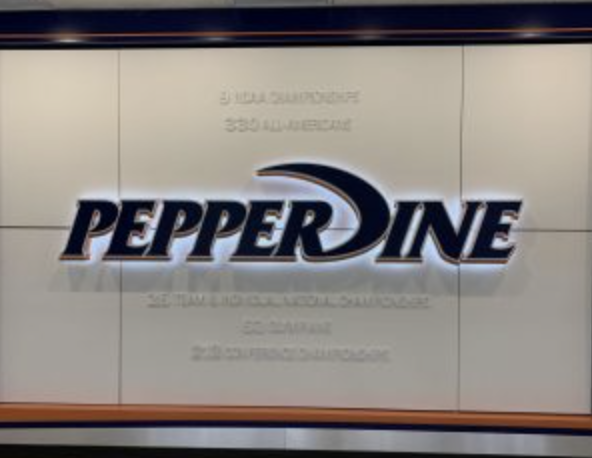 The Pepperdine Athletics logo illuminates in Firestone Fieldhouse. Members of Pepperdine Athletics spoke out on transgender participation in the NCAA. Photo by Jerry Jiang
Junior Tony Lin came out as transgender his senior year of high school to what he described as "mixed results." Lin did not tell his parents about his gender identity when he came out to people at his school, so when the COVID-induced online graduation ceremony used his preferred name, it came as a surprise to his family.
"Basically, my high school outed me," Lin said. "There was a lot of backlash over that and some very lengthy emails in which I had to tell them that if they did this with anyone else, you might get someone kicked out of the house."
Lin said his mother encouraged him to wait to transition until after college. He thought he had already waited long enough, but still started his first year online at Pepperdine planning on transitioning in four years.
"College years are the years that people look back on and say, 'Man, I had a lot of fun,'" Lin said. "I wouldn't want to ruin that because of a decision that I wasn't sure on."
Near the end of his first semester of taking classes at home, Lin said quarantine had worn him down. He woke up one morning and said he knew he had to transition sooner. He scheduled an appointment that day, and a week and a half later, he started hormone replacement therapy.
Lin said he hid his transition from his parents until recently, when his mother found out by accident again. He said he is glad he started his transition when he did, though. He said coming into college "stealth" — meaning most people assume him to be a cisgender man when they meet him — and finding supportive friends has made his Pepperdine experience better than the fears he had when he first came to campus.
In 2014, the Pepperdine experience was quite the opposite. For one, a lesbian couple who played on the Women's Basketball team sued the school and their head coach for discrimination. The Student Code of Conduct says sexual relationships should only happen between a married man and wife, although the Student Government Association voted to support removing that language in the 2021-22 academic year.
The recent and historical ties between Pepperdine and the conservative movement in America harm the university's reputation as well. Conservative outlets like Fox News have made issues out of which bathrooms and sports trans people can use and play, and Republican lawmakers have proposed and passed legislation regarding those and other anti-LGBT issues.
Spotlight on Trans Athletes
Trans athlete participation in sports became a hot topic in conservative media around the 2020 Summer Olympic games — the first to feature openly trans participants — and Lia Thomas — the first openly trans athlete to win an NCAA Division I championship.
Most college athletic programs, including Pepperdine, have never had an openly trans student-athlete compete for them. Outsports, an SBNation blog about LGBT athletes, knows of only 32 openly trans athletes who have ever competed in college.
Some trans student-athletes wait to come out and transition until after their playing careers, like former Fordham basketball player Bryson Cavanaugh. Others do not compete after they have started their transition, like Emet Marwell, the Policy and Programs Manager at LGBTQ+ athlete advocacy group Athlete Ally.
Marwell first questioned his gender his junior year of high school, while colleges were recruiting him to play field hockey. He said he knew early on that transitioning would mean giving up his sport, because the NCAA does not sponsor men's field hockey.
At first, Marwell chose his sport over transitioning to his gender identity. He said he took a gap semester to work on his mental health before starting school at Mount Holyoke College, a historically women's-only institution that started allowing trans and non-binary people to apply in 2014.
After his first semester, Marwell decided to give up field hockey to start his social and medical transition.
"It was what I needed to do to save my life," Marwell said. "It was for my own mental health."
Marwell said he wonders about what his life would be like if he played a different sport at a coed school, but tries not to think about it too much.
"I think it's easy to sort of get caught up in the what-ifs about things," Marwell said. "So really, now, I try to channel my energy into making sport accessible for trans, non-binary and gender expansive folks at all levels, so that they don't have to make that sort of decision that I was forced to make."
Pepperdine Athletics and Trans Athletes
The NCAA released a new transgender participation policy Jan. 19 that mirrors the policy the International Olympic Committee released Nov. 16, 2021. Since 2011, the NCAA had required trans women to take one year of hormone therapy before competing on a women's team for any sport. The new policy defers the specific requirements to the national or international governing bodies of each sport, which the IOC policy does as well.
Amanda Kurtz, an Associate Director of Athletics and Senior Woman Administrator, oversees NCAA compliance at Pepperdine. Kurtz said that when the NCAA updated their policy, she and her colleagues started talking about creating a transgender participation policy for Pepperdine. When the NCAA updated their policy in January. She said Pepperdine Athletics had paid little attention to the previous NCAA policy.
"It was one of those that was out there that I think we all didn't think about needing to have here, to be honest," Kurtz said.
Athlete Ally also influenced Kurtz and Pepperdine to establish a transgender participation policy through its outreach to religious schools, Kurtz said. She wrote Pepperdine's policy, which Director of Athletics Steve Potts and Title IX Coordinator La Shonda Coleman approved.
Pepperdine's policy, published on page 87 of the student-athlete handbook, states that Pepperdine follows the NCAA's policies and rules and quotes the NCAA trans participation policy. While other schools, like USC, default to the NCAA policy as well, some policies go further. UC Berkeley's policy mandates education about trans student-athletes for staff and coaches and establishes other measures to meet trans student-athletes needs.
Kurtz said she was unsure of the logistics of how Pepperdine would comply with the NCAA policy. Kevin Wright, an Associate Director of Athletics who oversees sports medicine, wrote in an email to the Graphic that the athletic department would use blood tests to prove compliance with testosterone level requirements, but he did not know how regularly the tests would happen.
The NCAA policy requires testosterone tests at the beginning of an athlete's season, six months after the first test and four weeks before championship season.
Joe Heinemann, a gender queer junior and Graphic sports writer, said he would not be surprised if a trans athlete hesitated when deciding whether or not to come to Pepperdine.
"We don't have the greatest track record when it comes to just kind of sexuality and gender issues at Pepperdine," Heinemann said. "If I was a trans athlete, I would be very hesitant to go to a small private school."
Despite the unclear implementation strategy for having a trans student-athlete at Pepperdine and the University's reputation regarding LGBT issues, Kurtz said the athletic department would welcome a trans student-athlete.
"We would be very supportive of a student that either came in as transgender or transitioned while they're in school and help them to meet those requirements to be able to compete in their sport," Kurtz said.
Professional Sports and the IOC
The new IOC policy — the Framework on Fairness, Inclusion and Non-discrimination on the Basis of Gender Identity and Sex Variations — gives a 10-principle approach for sports governing bodies to create their own trans participation requirements. Marwell called the Framework a "huge step forward" from previous IOC policies.
"The focus has shifted away from just testosterone and more to seeing these athletes as whole people," Marwell said. "We're talking about physical health, mental health, taking away the burden of proof. It's no longer on these athletes to prove that they don't have an unfair advantage, rather, the focus or sort of the idea is to assume no advantage."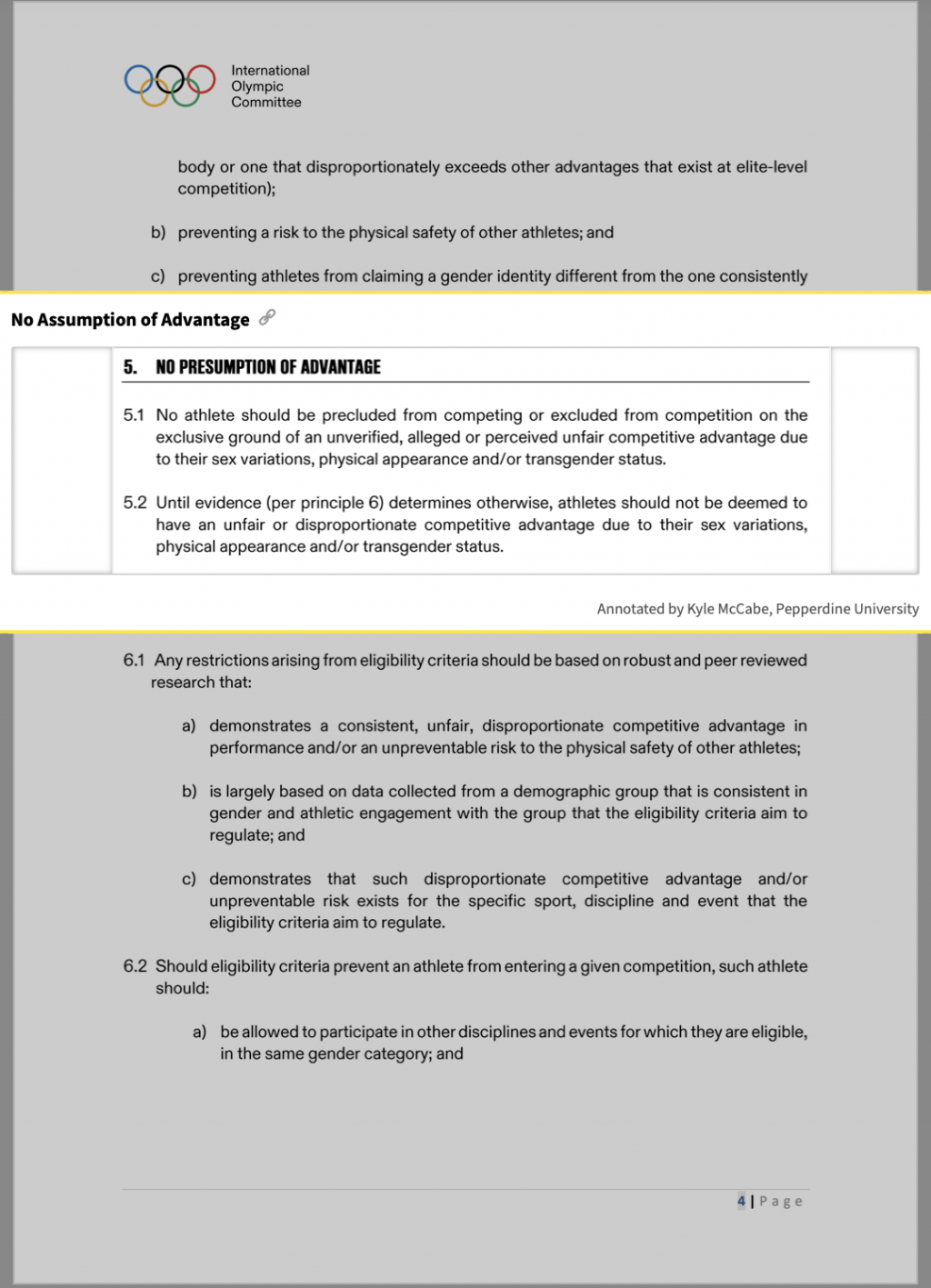 Embed code: <div id="DC-note-2099706″ class="DC-embed DC-embed-note DC-note-container" style="max-width:750px"></div>
The IOC included "No Presumption of Advantage" as one of their principles, and they set a high bar for restrictions. This includes requiring peer reviewed data collected from a demographic group similar to elite trans athletes that shows a consistent advantage or risk in a specific sport, discipline and event.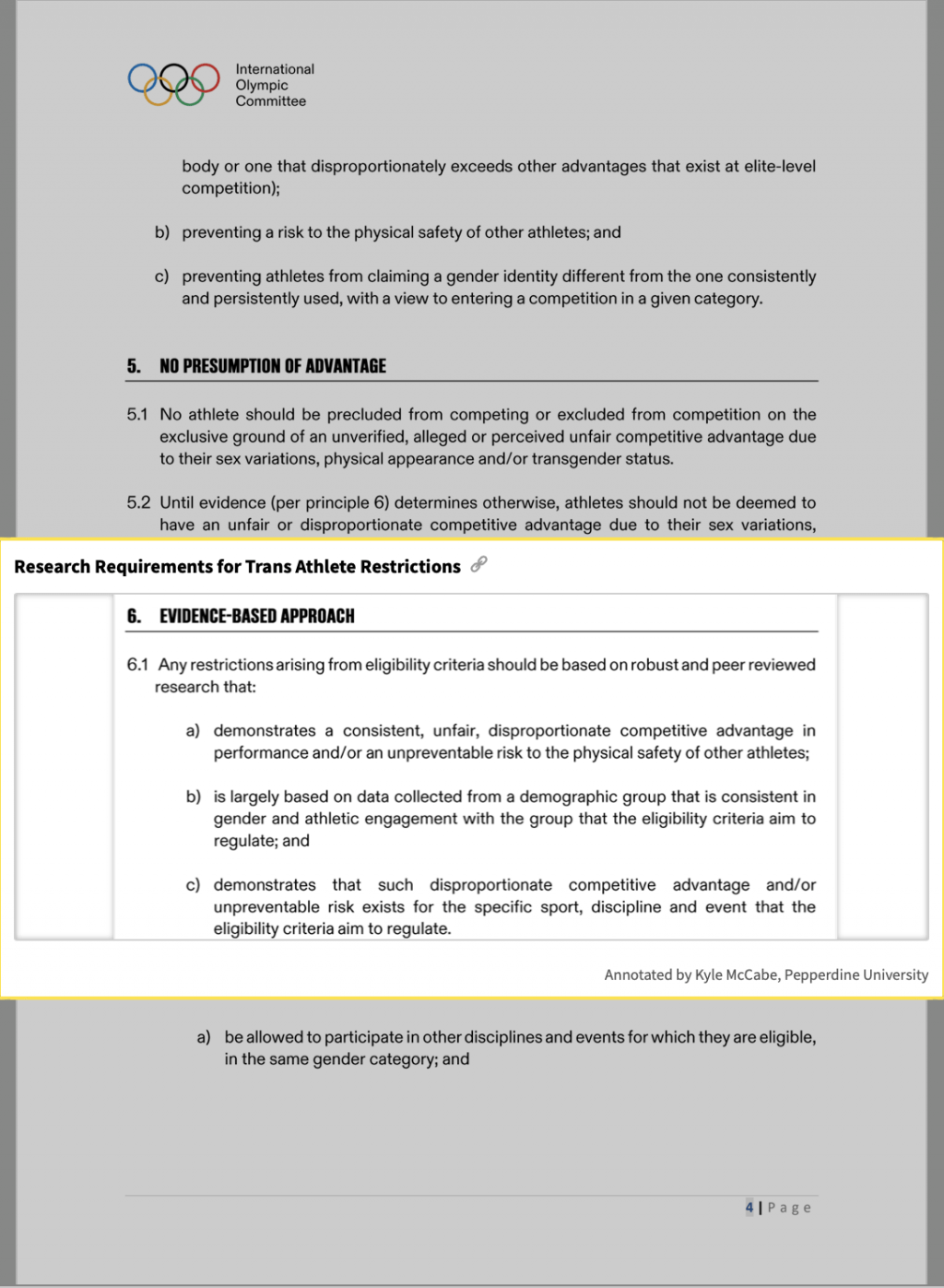 Even with the new Framework, most governing bodies continue to mainly base their participation requirements for trans women on testosterone levels. USA Swimming and World Athletics, the international governing body of track and field, both require levels below five nanomoles per liter.
Trans Sports Science
Testosterone is the "only established driver for the athletic differences between men and women" to date, according to an article from the Journal of the Endocrine Society. Researcher and trans woman Joanna Harper specializes in studying trans athlete performance, especially the effects of testosterone on different athletic factors.
Harper told WebMD in 2021 that testosterone levels of trans women line up with the levels of cis women. She cited a 2018 study in Endocrine Reviews that found 95% of cisgender women have testosterone below two nanomoles per liter and a 2019 study in Endocrine Connections that examined nearly 250 trans women and found that 94% of them had testosterone below two nanomoles per liter.
While testosterone levels of cis and trans women may mirror each other, the effects of testosterone on different markers of athletic ability vary. Males approaching going through puberty generate more testosterone than females do. The effects of male puberty on height, lean body mass and several indicators of strength are not reversed by hormone replacement therapy.
The Macdonald-Laurier Institute, a conservative Canadian think tank, emphasizes physical markers in which trans women retain advantages over cis women after hormone therapy in their report that calls for trans women to be barred from competing in women's sports.
Advocates for trans women competing in women's sports, like Harper, acknowledge that some physical differences between trans and cis women exist, but argue that the physical markers more affected by current testosterone levels matter more to athletic ability.
One of Harper's studies found that hemoglobin levels of trans women align with those of cis women. Hemoglobin carries red blood cells with oxygen through the body, making it one of the most important biological markers for endurance athletes.
The Political Debate
As researchers continue to study the potential advantages trans people have in athletics and the IOC readjusts its Framework to be more inclusive, Republican legislators in the U.S. have passed 20 state bills banning trans people from playing sports in the category that aligns with their gender identity.
Anti-trans sports bills can apply to youth, high school and even collegiate sports. Dr. Lauren McCoy Coffey, the Program Director for the Sport and Fitness Administration graduate program at Winthrop University, said Tennessee's law bans trans men and women from competing in their gender identity's category and affects sports up to the collegiate level.
The model bill for Republican lawmakers came from Idaho. House Bill 500, titled the Fairness in Women's Sports Act, became law April 1, 2020, banning trans women from playing women's sports and legalizing the practice of testing women's sex in order to compete.
A federal judge blocked the bill's implementation, though, and a legal battle over the law has reached the 9th Circuit U.S. Court of Appeals. The injunction that blocked Idaho's bill and an injunction that blocked West Virginia's similar bill both reference a 2019 Supreme Court decision that established sexual orientation and gender identity as part of Title VII protections against sex discrimination in the workplace, Coffey said.
The Idaho case, which involves transgender Boise State University student Lindsay Hecox, went on pause last year because Hecox was not enrolled in the school, but the case will continue now that she is enrolled again, Coffey said.
The Supreme Court decision from Bostock v. Clayton County could set a precedent for Hecox's case.
"We've used Title VII to help with Title IX interpretation previously," Coffey said. "So because we've used this stuff previously, and since the court has said, 'This is what it should be now,' then it should move to this standard."
The 9th Circuit Court ruling that sexual orientation and gender identity are included in Title IX sex discrimination protections would only affect states within that circuit, but Coffey said it would set a precedent for other jurisdictions.
Pepperdine Professor of Communication Sarah Stone Watt specializes in rhetoric of race and gender. She said the conservative rhetoric around trans participation in sports follows a narrative that she has seen in other issues.
"There's a narrative and this narrative is really long standing in U.S. history, both in terms of sexual relations, but also racial relations," Stone Watt said. "This protection of women. That happens in the bathroom arena, but it also if you think about the purpose of classifying men and women's sports, the reason we do that is because if you put men and women in the same sport category, in a lot of these sports, not every sport, but in a lot of these sports, men would have the advantage biologically all the time."
Stone Watt said she does not think everyone who engages in the protection narrative with women's sports feels the same way with other issues, like biological sex-based bathroom separation.
"I do think that as soon as you start talking about protecting women, you open the gate for people who have other understandings of their role in protecting women in a variety of spaces in society to leverage that in ways that are potentially harmful," Stone Watt said.
Coffey said the anti-trans participation argument claims to protect women so that it is not blatantly discrimination. She said there could be something to the argument, but does not think the science supports it well enough.
"In my opinion, I still believe that it is discriminatory," Coffey said. "When we're talking about high school athletes, in particular, we have so few people and having one more, or one to two more athletes participate seems like you are directly targeting those individuals if you are creating rules so they, specifically, are unable to participate."
___________________
Follow the Graphic on Twitter: @PeppGraphic