The creation of the Title IX of the Education Amendments of 1972 gave female collegiate athletes more opportunities to compete, matching their male counterparts.
While this prohibits discrimination on the basis of sex by increasing the number of women playing at the intercollegiate level, its application may not truly level the playing field.
"Though we still have a long way to go, Title IX has increased the involvement of women in sports," freshman basketball player Isabel Montoya wrote in an email. "Every day is a battle when being an athlete. I wish we had more support, but I believe we are moving in the right direction from changing 'female athlete' to just an 'athlete.' That would be big."
Assistant Director of Athletics Roger Horne wrote in an email that all scholarships — except Men's and Women's Cross Country and Track and Women's Swim and Dive — are fully funded.
Women's Cross Country and Track offers only 8% of a full scholarship total, Horne said, while Pepperdine uses designated scholarships from donors and therefore doesn't have a set percentage for Swim and Dive. This, coupled with the department's average spending per athlete, makes these two teams the most underfunded on campus.
Title IX Background
While Title IX is still highly debated, it has given female athletes the ability to compete in greater numbers since its creation 49 years ago.
Former President Richard Nixon signed Title IX of the Education Amendments into law on June 23, 1972.
The law states, "No person in the United States shall, on the basis of sex, be excluded from participation in, be denied the benefits of, or be subjected to discrimination under any education program or activity receiving federal finance assistance."
Since its inception, more women have received scholarship opportunities to pursue their sport, requiring schools to have the same ratio of female student-athletes as female students.
The number of women competing at the collegiate level has increased 545% from 1972 to 2016, according to the Women's Sports Foundation website. There are over 10,000 athletic scholarships awarded to female college athletes each year.
Montoya wrote that Title IX not only tackles gender discrimination in sports but also gives athletes like herself more exposure on the court.
"I think Title IX has definitely been effective in the women's game of basketball," Montoya wrote. "It has projected not only more opportunity, but more light for female athletes like myself. Though we still have a long way to go, Title IX has most definitely increased the involvement of women in sports. Without involvement, we can't have recognition, which most definitely facilitates the empowerment of us females off the court."
Discrepancy and Application at Pepperdine
Within Pepperdine Athletics, 17 teams are comprised of a total of 313 student-athletes, Horne wrote in an email.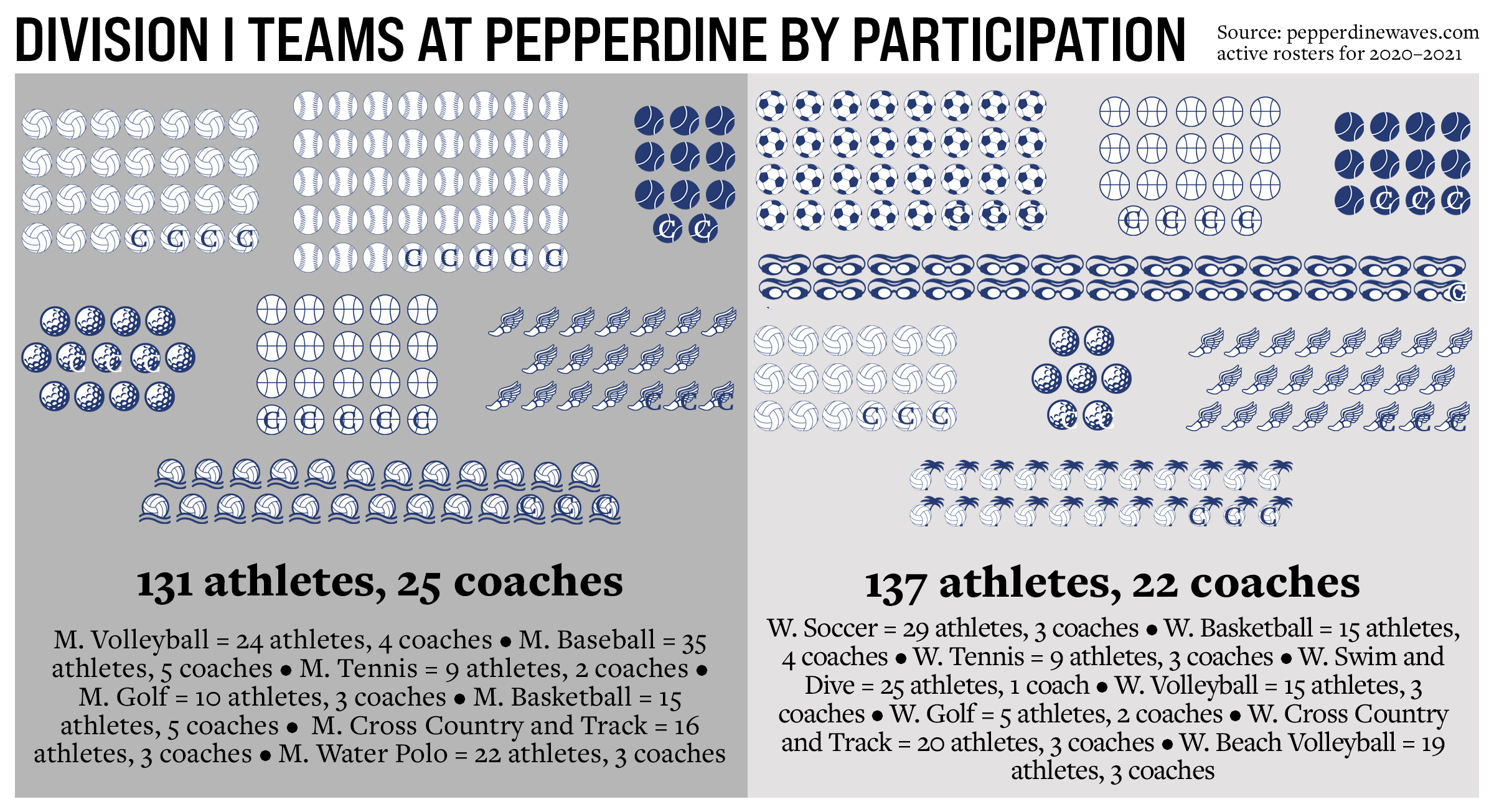 Athletics-related student aid for the 2018–2019 athletic year for men's teams was $3,671,261 and women's teams was $5,095,296, totaling $8,766,557. The Equity in Athletics Disclosure Act report also shows a total of 208 female student-athletes to the total of 152 male student-athletes for the 2018–2019 athletic year, according to Pepperdine's most-recently published EADA.
Along with a rise in women's participation rates and scholarships, Title IX requires equal treatment of both male and female student-athletes. This is in regard to equipment and supplies, game and practice time scheduling, travel and daily allowance, access to tutoring, coaching, locker rooms, practice and competitive facilities, medical and miscellaneous services, housing and dining facilities, publicity and promotions and support services and recruitment of student-athletes, according to the NCAA website.
Montoya wrote she recounts when Coach Kristen Dowling offered her a spot on the team, which allowed her to not only continue playing basketball but take her education to the next level.
"I didn't say anything and Coach Kristen [Dowling] kept asking me, 'Are you there?' but I couldn't speak because I was crying so much," Montoya wrote. "It was a whirlwind of emotions. Grateful. Blessed. And honored. The coaches took a chance on me, and I'll always be thankful for it. They changed my and my family's life forever."
Although many women have benefited from Title IX law and accompanying policy, the debate to its true effectiveness is far from over.
Gender discrimination among collegiate sports continues to run rampant on campuses nationwide, according to the Athletics Scholarships website.
Despite female students making up 53% of the total population of Division I colleges, athletic departments spend only 36% of overall athletic operation budgets and 32% of recruiting money on women. It is estimated that men receive $133 million more per year than women in athletic scholarships for Division I sports, according to the Athletic Scholarships website.
Pepperdine is not exempt from these fallbacks. The 2018–2019 EADA shows higher recruiting expenses of $248,633 for men's teams, while the women's teams recruiting expenses totaled $150,078, despite having more female athletes.
Pepperdine's men's teams also have greater total team expenses of over $9.6 million, more than the women's total of about $8.6 million in team expenses.
Student-athletes aren't the only ones experiencing discrepancy in funding.
Pepperdine's men's team head coaches make $621,240 more in total salary than women's team coaches. Women's team assistant coaches make even less than men's team coaches, with over a $1 million total difference.
There are eight head coaches for Pepperdine's men's teams who make about $193,000 on average. There are also eight head coaches for women's teams who make $115,000 on average. The 13 men's team assistant coaches make approximately $143,000 on average, while the 13 women's teams assistant coaches make $64,000 on average.
Title IX has not only impacted women's athletics but can also be destructive to male student-athletes, according to the Growth Equation website.
To accommodate Title IX's requirement that the ratio of male to female student-athletes mirrors that of male to female students at the school, several schools find justification in cutting men's programs. Schools also cut men's programs for financial reasons, under the guise of Title IX's equality guidelines, according to the Growth Equation website.
Experience of an Underfunded Team at Pepperdine
After the 2019–2020 investigation and eventual departure of former Women's Swim and Dive Coach Joe Spahn, the team received more attention than ever, but it wasn't enough to get the team fully-funded scholarships, senior swimmer Trinity Ishikawa said.
Ishikawa swam as a Wave for the past three seasons. During her junior year, she earned All-Pacific Collegiate Swim and Dive Conference First Team in the 400-yard medley relay and 100-yard butterfly and second-team honors in the 100-yard backstroke and 200-yard backstroke.
Ishikawa said while she was informed early that she would receive little scholarship money, she wanted to continue to compete at the collegiate level.
"When I joined the team as a freshman, I was told the team previously was going to be cut and that our coach saved the program in exchange for no scholarship," Ishikawa said. "I was already made aware that we weren't receiving anything. That did kind of skew me into coming to the school, but I really wanted to stay in California."
Undeterred by the minimal financial aid, Ishikawa said many potential recruits choose not to attend Pepperdine because of the tuition price and scholarship.
"It's really discouraging to oncoming recruits," Ishikawa said. "They decide not to come to Pepperdine because of the whole tuition thing and how they can't really get any financial aid through athletics, because that's what a lot of athletes rely on coming into any university."
While the team continues to persevere, Ishikawa said it's disheartening to see the men's teams get more amenities than she has received over the course of four years.
"It's really discouraging when you see a lot of the men's teams have full rides and we have the same amount of people on our team; we work just as hard," Ishikawa said. "Even in the treatment, especially after practices. We usually see a lot of teams getting food delivered or snacks after training, and I've never gotten that the entire time I've swam."
Ishikawa said she hopes Pepperdine Athletics will do their part in encouraging students to go to meets, like they do so with other teams on campus.
"We've gotten more media attention this past year but obviously not for the right reasons," Ishikawa said. "There are times even at Wednesday convo where they would say congrats to all these teams and just completely leave us out, leave golf out or the smaller teams out. Nothing is happening right now, but when we used to have meets on campus, it was just the team trying to get people to come to the pool."
____________________
Follow the Graphic on Twitter: @PeppGraphic
Contact Taylor Gather via Twitter: @taylorgather or by email: taylor.gather@pepperdine.edu