Written by Shannon Hansen
Photos by Shannon Hansen
"Our culture really relies on celebrities — we trust them," Rick Erkeneff, chairman of the South Orange County chapter of the Surfrider Foundation, said. "They sell us everything from toothpaste to makeup to you name it. They're selling us products and we trust and believe them. So, when a celebrity gets behind the environment — if they're honest and they're believable — I would say that's a good thing."
Celebrity endorsements of products, causes and beliefs have been a viable aspect of fame and culture for decades. But as chart-topping artists and Oscar-winning performers put their influence, star power and money behind causes they care about, one can't help but wonder how much of an impact it really makes.
Organizations like Surfrider Foundation, Oceana, Ian Somerhalder Foundation and Heal the Bay are made up of dedicated environmentalists as well as celebrity founders and supporters.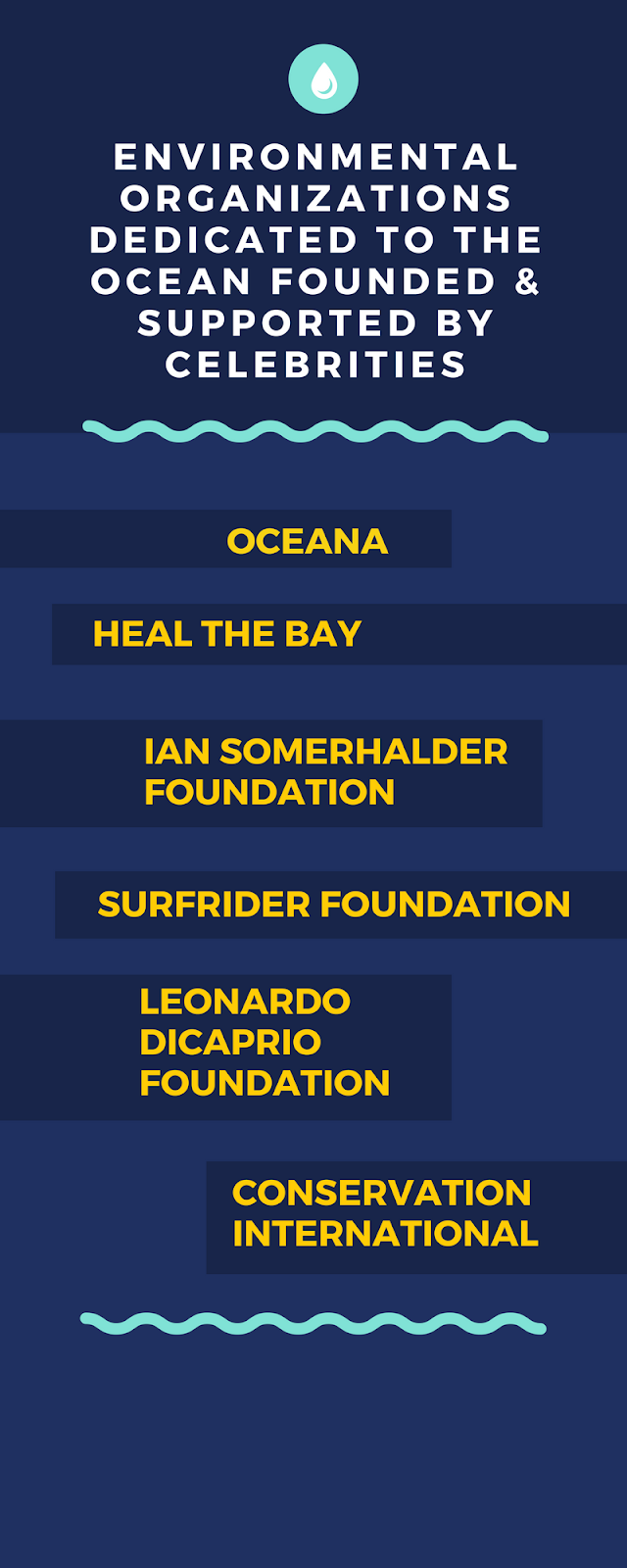 "You can pick any celebrity and they'll all have a cause," Jefferson 'Zuma Jay' Wagner, Mayor Pro Tem in the City of Malibu and founder of the Malibu chapter of the Surfrider Foundation, said. "Most of them do. Nine out of 10 will have a cause. And if they don't, it may be more philanthropic and not as much environmental but locally, we get it all the time."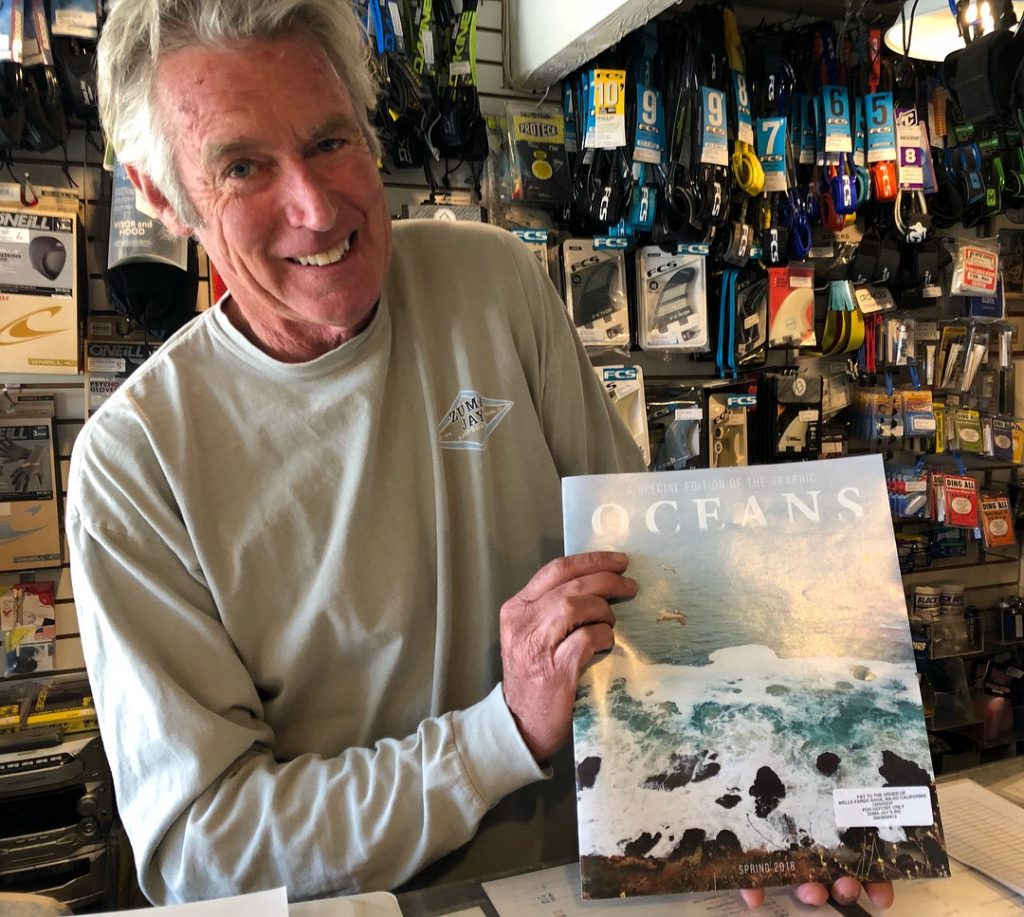 Erkeneff said celebrities can have positive influence on a cause if they truly and deeply care about that which they are putting their name and star power behind.
"It's very curious because I believe the right celebrity in the right way works and it works really well," Erkeneff said. "But that person has to truly believe and truly work for the environment other than just showing up and being a pretty face or a good-looking guy saying, 'Oh I support the environment.' You have to practice what you preach."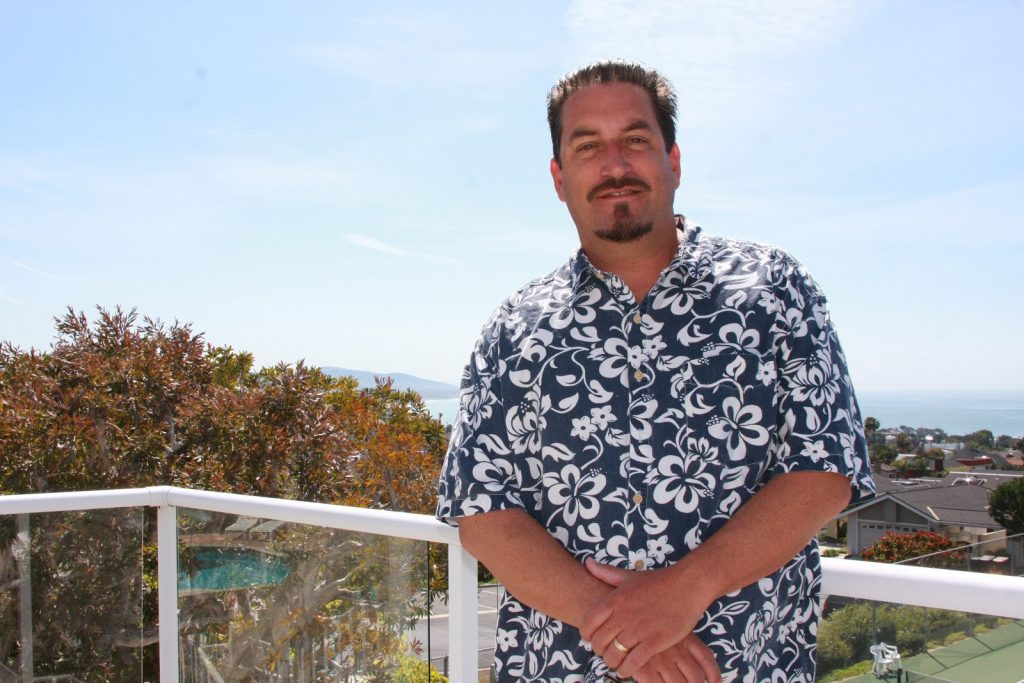 According to a Public Library of Science study, "The Effectiveness of Celebrities in Conservation Marketing" by Elizabeth Duthie, celebrity endorsements can have both positive and negative effects on the way individuals view an organization.
For celebrities passing through Malibu and especially those living on the city's shores, the responsibility to protect the coastline and ocean ecosystems falls on their shoulders, Wagner said.
"Most of the celebrities that live out here, live out here for a reason and that is to keep it as it is and keep it fresh and clean," Wagner said. "If they wanted to live in Beverly Hills or LA, they could easily be there, but they choose to come out here and protect what they have and that's doubly valuable because if they live out here, they have to take care of it."
Celebrities Supporting Local Initiatives
"Celebrities are really powerful," Associate Director of Marketing Communications for Heal the Bay, Talia Walsh, said. "They have platforms to get the word out, unlike a lot of other people. Celebrities are often very concerned with their public image and they vet the companies they do business with, which is great."
Walsh said celebrities are able to give the environmental messages they are disseminating a new life by putting their personality into them and allowing them to appeal to wider audiences.
"They're out here and they're doing it," Wagner said of the celebrities who have put their star power behind environmental causes in Malibu specifically. "They do bring awareness to it and that's the valuable part of having a familiar face that's seen all through the media. It's like 'Hey, this guy's taking care of pup seals' or 'This guy's taking care of rodenticides' or 'This person's dealing with air quality issues.'"
Walsh agrees that celebrity involvement raises awareness and has the ability to foster support for valuable causes. She said Heal the Bay is currently in talks with various musical artists who are interested in putting on charity concerts during their beach cleanups. This past January, Young the Giant came out to support.
"They invited a few hundred of their fans and it was incredible," she said of Young the Giant. "It allowed the fans to connect with their band in a whole new way. I mean how cool is that? Spending a day at the beach with your favorite artist. It spreads the message to the wider fan-base and music community that this band's giving back, this band cares and you can too and it's not that hard."
Heal the Bay has their Annual Gala took place May 17 at the Jonathan Club where a blue carpet will be rolled out for celebrities, politicians, business leaders and influencers. This year, the organization honored Zooey Deschanel, best known for her role on Fox's hit comedy "New Girl," as well as her husband Jacob Pechenik. They're being recognized for their work on The Farm Project as well as with a program called Lettuce Grow, which is a home.
"We're recognizing Zooey and Jacob because of their work in the sustainability sector but also because they've done a lot of media around plastic pollution and they've really gotten the word out with a younger base," Walsh said prior to the event.
Wagner said celebrities like Leonardo DiCaprio donate money to protecting and revitalizing the local coastal environment.
"Leonardo [DiCaprio] donates to the Wildlife Refuge Foundation right over the hill there in Monte Nido," Wagner said. "He just gave a 50-thousand-dollar grant to rebuild a cage for the sea lions. When the sick sea lions are taken from the coast, they're rehabilitated up there, then they re-release them. He paid for that entire structure with one check. Pretty generous."
Leonardo DiCaprio also created the Leonardo DiCaprio Foundation dedicated to protecting oceans and marine life. He focuses on initiatives such as protecting coral reefs, local beaches, sustaining fisheries, shark conservation and arctic marine protected areas, according to his foundation website. He even has an initiative called 'Oceans 5' with the purpose of protecting and conserving all five oceans across the globe.
Erkeneff said other celebrities that have done wonderful work for the conservation and protection of the environment are Ted Danson from the hit 80's and early 90's sitcom Cheers as well as former professional surfer and musician Jack Johnson.
Erkeneff said Danson recently came out to a 'No New Offshore Oil Drilling' rally this past February in Laguna Beach to speak. He had the opportunity to interview Danson for the Surfrider Foundation where he said Danson told him he worked hard against an oil project at Will Rogers State Beach in the 1970s and over time got it blocked. Directly following that, he began developing his own nonprofit environmental organization now widely known as Oceana.
Erkeneff, like Walsh, also discussed the great work musicians have done to make an impact on protecting the environment, specifically noting the work Jack Johnson has done with and for the Surfrider Foundation.
"Jack kind of stumbled into becoming a world-famous musician by accident — by doing soundtracks for surf movies," Erkeneff said. "But he was a Surfrider member doing beach cleanups as well as being a pro surfer way back in the day."
Erkeneff emphasized the authenticity of Johnson's support for the cause he stands behind in how he ensures all his concerts and events are eco-friendly.
"He makes sure that those events have the smallest environmental footprint as they possibly can," Erkeneff said. "He's an amazing voice for the ocean environment."
Erkeneff also said Eddie Vedder, frontman of the band Pearl Jam and an avid surfer, is another great contributor to environmental causes. Erkeneff said Vedder once wore a Surfrider t-shirt onstage during a performance at Doheny Days, an annual music festival on the beach of Dana Point that "embraces the eco-conscious beach/surf culture of SoCal" according to its website.
"There's a lot of examples of celebrities that have done it before they were celebrities and then they continue to use their platform, their voice, to spread a good word," Erkeneff said.
Why People Should Care
"Environmentally, we're in a precarious place," Erkeneff said. "I look back at my life for the last 50 years and say, 'Wow I'm really lucky I was born when I was born, where I was born, and got to live the life that I got to live.' But when I look at my kids, and their kids if they have them, and their kids, the world is completely changed and what I got to experience, they in some cases won't and it saddens me because we had a really great environment, clean water, and not much air pollution."
It was reported that "the amount of plastic in the ocean is set to triple in a decade unless litter is curbed" by a BBC article titled "Ocean Plastic Could Triple in a Decade" by Roger Harrabin.
Another article from Forbes by Trevor Nace titled: "Idyllic Caribbean Island Covered In A Tide Of Plastic Trash Along Coastline," reported that an estimated "51 trillion micro plastic particles" are currently floating in the ocean and being consumed by marine mammals.
Reports such as these are prime examples for why it is paramount that people get involved and start making changes now. One step the city of Malibu has taken to minimize plastic pollution is the plastics ban passed in February that will be put into effect June 1.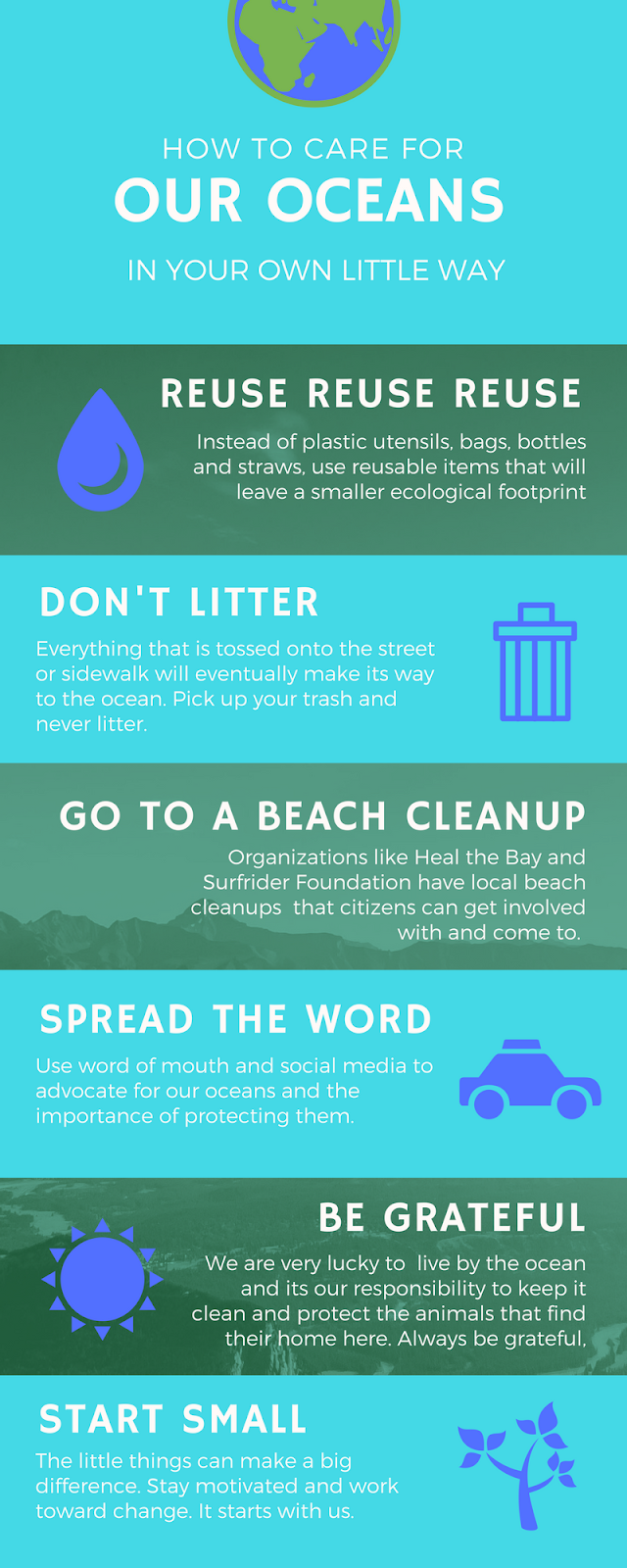 "For your generation, if you want it to look like this and feel like this, you have to become active at your age now, because it was my generation that created all this pollution and it's your generation that's going to have to absorb it and fix it," Wagner said.
Organizations like Heal the Bay and Surfrider Foundation have regular beach cleanups for the local coastal communities. Erkeneff said this is one of the most effective ways to get people thinking about changing their behavior.
"The ocean provides food, it provides oxygen, it provides so much stuff," Erkeneff said. "And if we kill off our ocean in 100 to 200 years, there's doomsayers that talk about mass extinctions and we're on the precipice of one of those if things don't change."
Wagner echoed the same sentiment with the reminder that there is only one ocean and only one chance to treat it right.
"There's only one chance at this and once you ruin it, it's harder to replace it and clean it than it is to not do it in the beginning," Wagner said.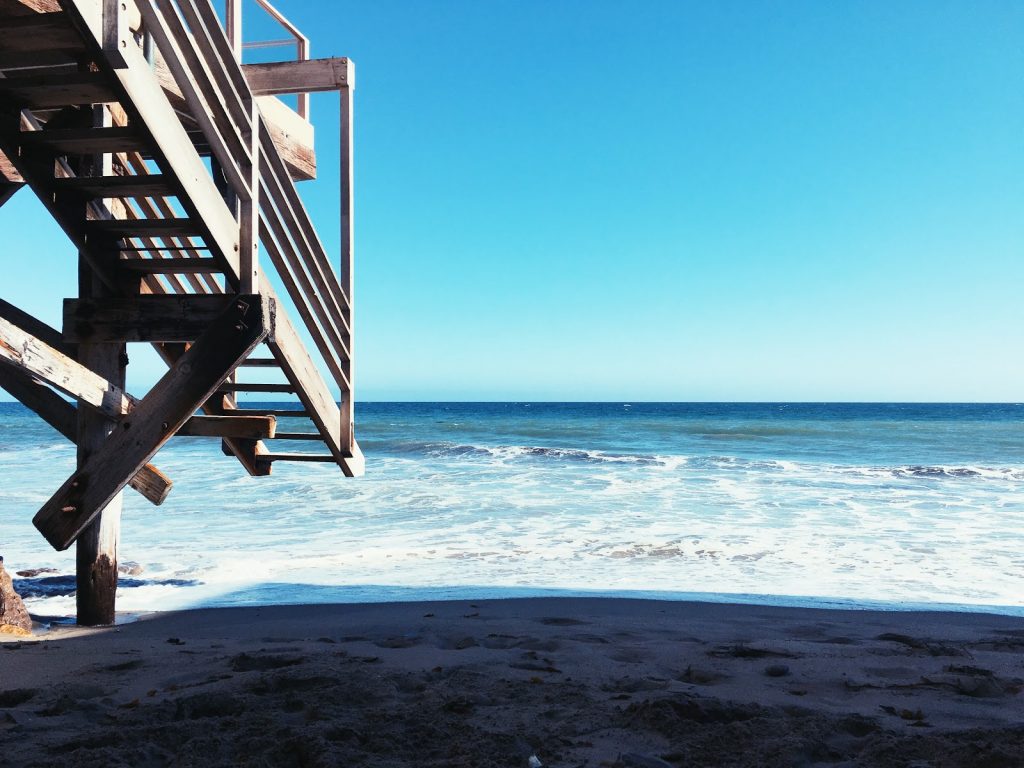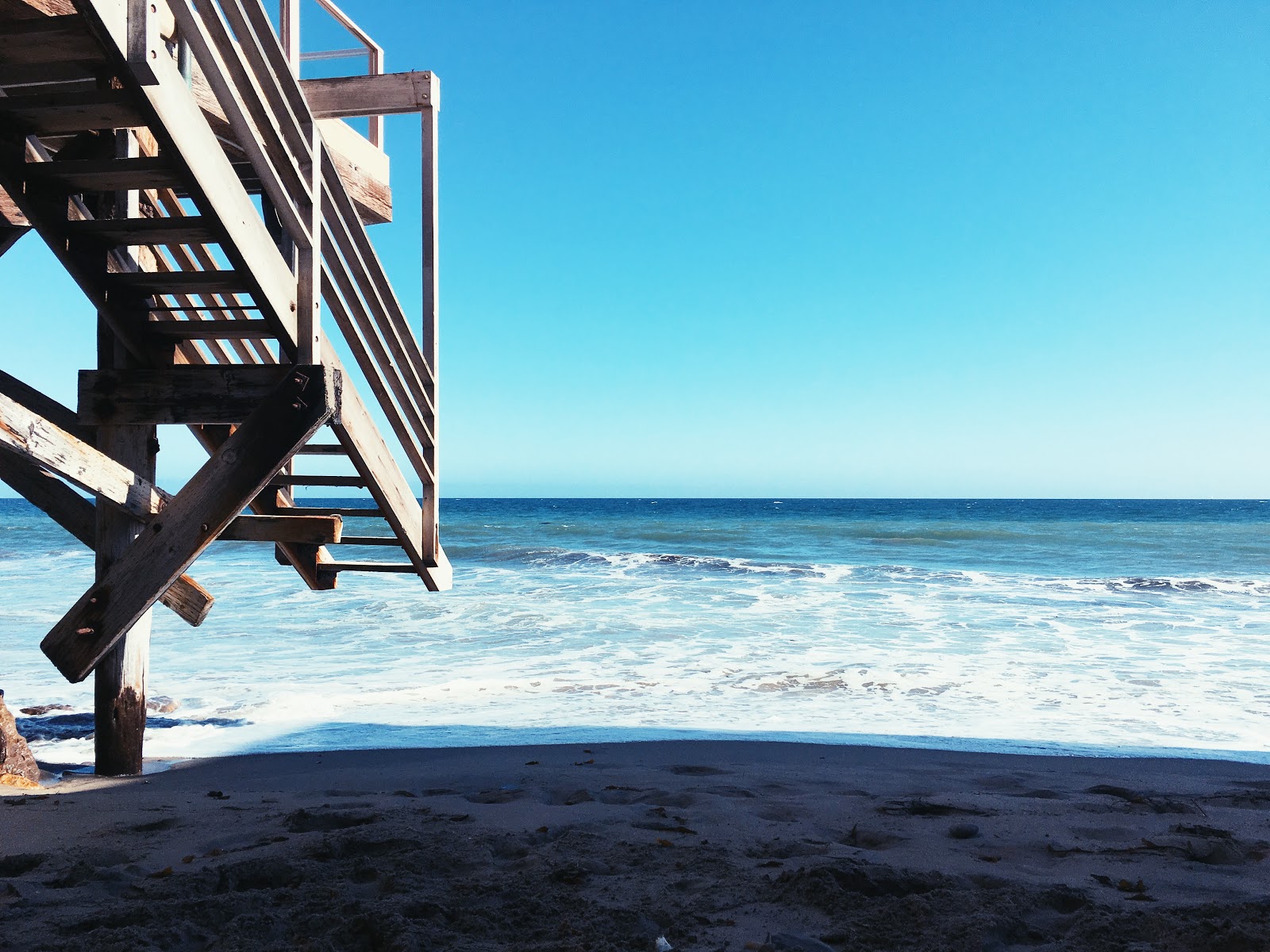 Celebrities and Social Media
With the advent of social media and the new digital landscape, the scope of celebrity endorsements on environmental and philanthropic causes has widened as the ability for celebrities to contribute or support in a public way has become as easy as the tap of a finger on a phone screen.
According to the Duthie study "The Effectiveness of Celebrities in Conservation Marketing," organizations that utilize celebrity-based marketing use "web analytics, column inches or social media engagement" to measure the impact the celebrity endorsement is having on their organization, suggesting that much of the data used to quantify the worth of celebrity endorsements is falling on modern-day communication practices.
Erkeneff said it's interesting in this new digital age that analytics are able to give people and companies a quantification of their reach. He specifically noted the use of social media marketing tactics such as boosting posts or paying for ads on Facebook.
Walsh furthered that social media has really changed the ease celebrities have of being able to get involved and make an impact from wherever they are in the world.
"We're doing more takeovers of our account, or a day in the life of a professional surfer or a day in the life of an urban farmer," Walsh said. "And we're showing first-hand information which is really cool and a different way to spread and advocate."
Walsh said lots of celebrities want to do more digitally to support the organizations of their choice because it is a lesser time commitment and can be done virtually. She said Heal the Bay specifically has felt the effects of social media on raising awareness and getting people to come out and support their cause.
"At our January cleanup this year, we had a girl come from Colorado, like took a Greyhound bus just for the day just to go to our clean up and then left and went home," Walsh said. "We were like 'How did you hear about it?' and she was like 'Social media. I don't have a beach near me, but I wanted to start the new year with something new and that I love, and I love the ocean so I decided to travel from Colorado to the cleanup today.' And we were just like, 'We're so happy to have you, wow!' But it just shows you the power of the message spreading and getting it out there and having it be positive. It's really crucial and you can kind of form a community from anywhere which is really cool."
Walsh emphasized this virtual community in speaking of how social media has the potential to reach new audiences and give organizations platforms and voices they may have never had before.
"It helps causes get access to that platform that's usually reserved for for-profit brands," Walsh said. "Cause-based marketing is huge with celebrities and I think that the vetting celebrities are doing is really valuable when they're working with brands because they do have a trusted platform and they don't want to bring up brands that sort of stray them away from their core focus."
Do Celebrity Endorsements Actually Make an Impact?
"What's really hard to quantify is a direct result from celebrity endorsement," Erkeneff said. "You've got a guy like Leonardo DiCaprio, he's doing so much with his voice globally. But it's like, how do you measure his thumbprint on what he's trying to do."
It's difficult to gage just how much of an influence celebrity endorsements have on the way people care about and perceive charitable causes. A resounding theme in what Erkeneff and Walsh discussed centered around the importance of authenticity in celebrity endorsements. In this way, it seems that the biggest defining factor in people's perception of celebrity endorsements revolves around how genuine the celebrities are in their support.
"Celebrities as well as brands really need to foster partnerships that are legitimate; that are authentic," Walsh said. "They're actually doing something in the real world. It's not just a stunt."
Duthie reported in her study "The Effectiveness of Celebrities in Conservation Marketing" that: "Respondents were … more likely to choose a celebrity if they believed he cared about, was knowledgeable about, or was known to support a specified issue. Celebrities thought to be using an issue to improve or raise his own profile or might be being paid for their involvement were less likely to be preferred."
Erkeneff said it is important that celebrities set a good example.
"You can't just come to the conversation and say something," Erkeneff said. "Otherwise there's just too many ways to discredit both the people that are doing the hard work and the other people that are against them. It's just information flow and what you've done in your life is pretty easy for people to decipher and figure out. So, if you're not walking the walk, you better not talk the talk."
Erkeneff said one of the most valuable things Surfrider does in an attempt to quantify the difference they are making on the environment is with their beach cleanups. They sort through and count the debris they pick up in order to form a baseline across their organization for how many man and woman hours they put in for the beaches they are working to protect.
"We really have to change our behavior and how we live our lives," Erkeneff said. "The whole single-use disposable plastic convenience thing has got to change because we are not on a sustainable track environmentally with that. But I think the word is getting out. I mean I see filling stations at schools and different businesses, and everybody is carrying their water bottles now. So, I think the change is happening, it's just incremental and hard to quantify."
Duthie wrote that "a key strategy in marketing conservation has been the use of celebrities to promote environmental and conservation NGOs" suggesting that companies have relied upon celebrity endorsements in the past to create motivation for the public to get involved.
Duthie lists celebrities like Harrison Ford and Leonardo DiCaprio in the study as some famous folk who have put their names behind big environmental causes like climate change. Ford collaborated with Conservation International which dedicates part of their efforts to the protection of the world's oceans.
Like Duthie, another study by Johannes Knoll and Jörg Matthes titled "The Effectiveness of Celebrity Endorsements: a Meta-Analysis" recorded that effects of celebrity endorsements can be both positive and negative. They wrote: "The most positive attitudinal effect appeared for male actors who match well with an implicitly endorsed object … The most negative effect was found for female models not matching well with an explicitly endorsed object."
According to Knolls and Matthes, celebrity endorsements have been used as a marketing strategy since the late 1900s and were first applied as a practice with products.
In light of the importance of authenticity in celebrity support, Erkeneff raised the point that the millennial generation has a filter and "way of discerning whether something is authentic and real." He juxtaposed this to his own generation and the generation that came before him, saying they were "spoon-fed" information that wasn't true and many times believed it.
With this in mind, he emphasized just how important it is that celebrities who are standing behind causes actually know what they are supporting and have a passion to help.
"If we collectively come together and try to educate our culture, our society, our world, then we can change," Erkeneff said. "And it literally takes one person at a time, as corny as that sounds."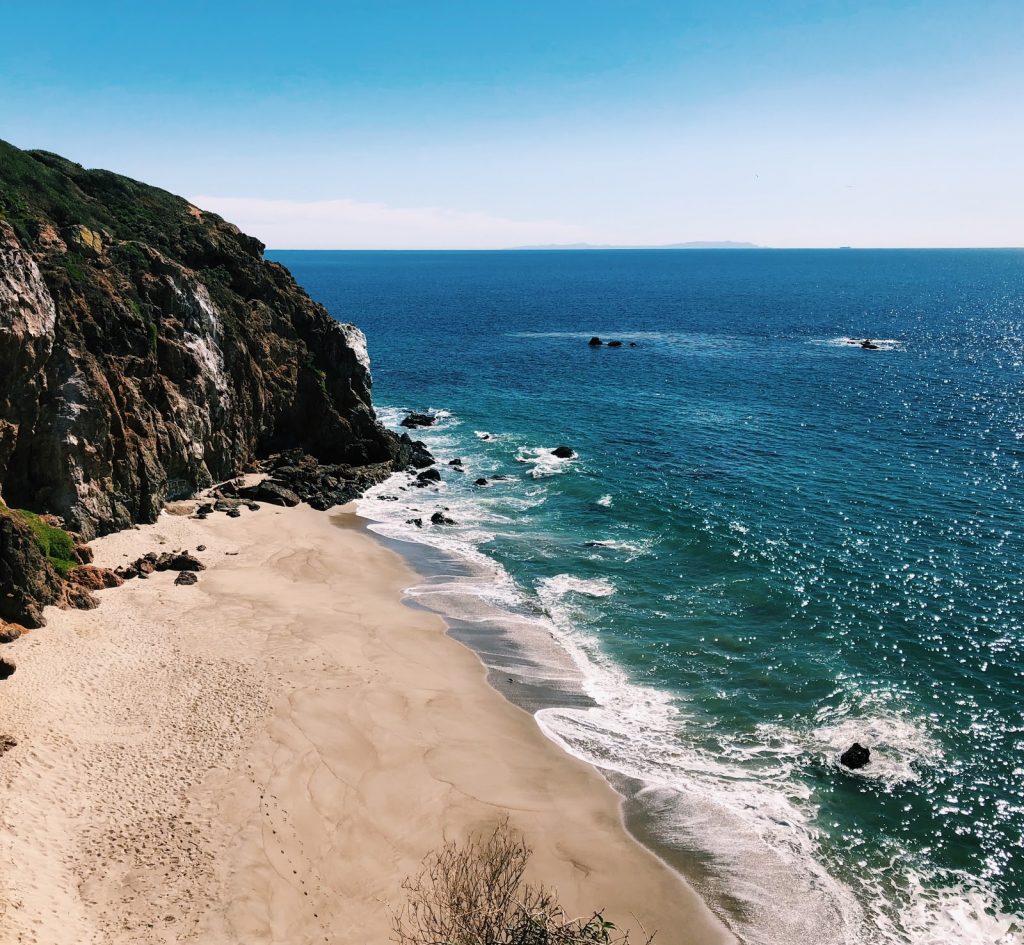 _____
Follow Shannon Hansen on Twitter: @shannnonhansen