Photos by Milan Loiacono
Outstretched arms. Cheering adoration. Everyone dressed in their Sunday best.
What worshippers do during Sunday morning services looks surprisingly similar to what sports fans do during Sunday afternoon football games.
Both sports and religion build community and shared identity, and both require dedication and sacrifice, said Craig Forney, religion professor at Palomar University and the author of "The Holy Trinity of American Sports: Civil Religion in Football, Baseball, and Basketball." Sports and religion attract many passionate followers who dedicate their time and their money.
"Sports fans express faith but it is not as clearly defined as organized religion," Forney said.
However, Pepperdine students said there is a distinct difference in how people value the two. Both athletes and sports fans said they hold God highest, even if some students said they might skip church for a game.
"I can't take worship out of any context other than worshipping Jesus," senior volleyball player Heidi Dyer said. "I believe there's either worshipping Jesus and then there's worshipping anything else [and] for me, one of my biggest goals in life is to keep it that way and to not worship volleyball like I want to worship Jesus."
Sports as a Civil Religion
Love of sports is part of the civil religion that unites a city or country through shared beliefs and practices, Forney said.
Think of how the entire city of Philadelphia celebrated together after the Eagles' 2017 Super Bowl victory over the New England Patriots.
Although 71 percent of Americans identify as Christian, only about one-third of adult Americans attend religious services each week, according to Pew Research Center's 2014 Religious Landscape Study. That means as many as 90 million go to church each week.
Nearly two-thirds of adult Americans, however, watch football regularly, according to a 2011 Tvbythenumbers article. Just shy of 100 million watched the Eagles' win, whereas on average 19 million typically watch the World Series and 16 million watch the NBA Finals.
A Currents poll of 74 students found 73 percent consider themselves sports fans- — slightly less than the 80 percent who consider themselves religious.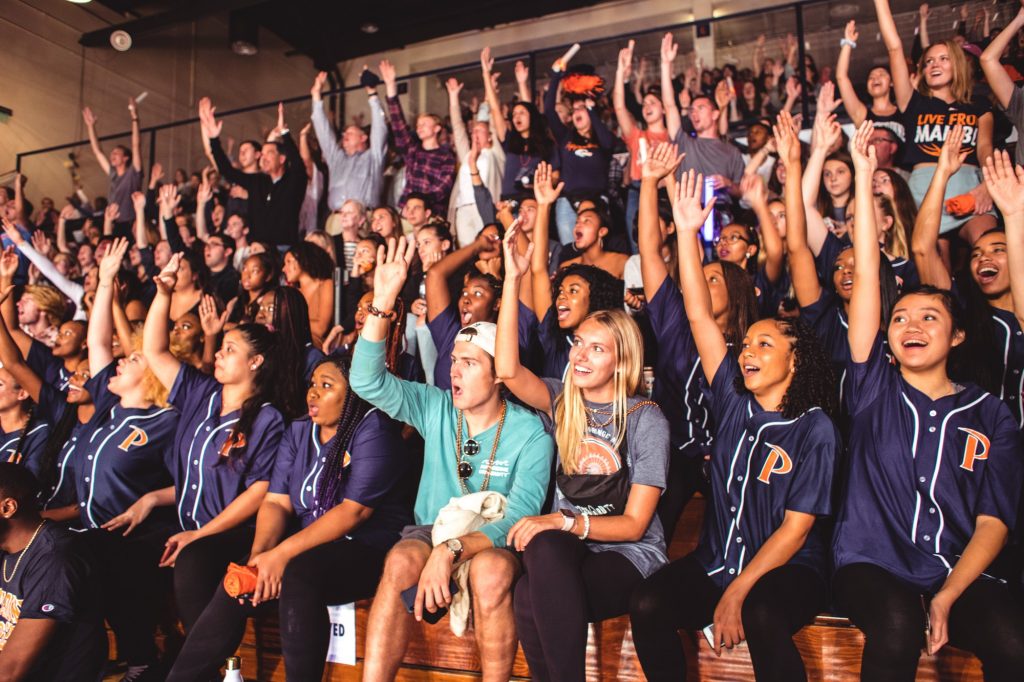 The amount of time spent on something determines its value. Roughly 85 percent of Pepperdine students commit at least one hour per week to religion, while 70 percent allot time to sports. About 40 percent of students surveyed spend five or more hours per week watching sports games.
Americans spend around seven hours per week consuming sports, according to a May 2014 Statista survey
While sports are not the same as faith, they can have a religious element.
Juniors Brock Petty and Jeff Taylor share a passionate love for sports. Both said they grew up playing sports and fell in love with the fierce competition and unpredictability of games.
"There's some thrill of seeing your team succeed that's like an adrenaline rush," Taylor said. "I'm a junkie for it."
Taylor is one of many Americans who count sports as part of their daily lives.
The passion associated with sports fandom is so intense that for people like Petty sports is a defining characteristic.
"Without sports I would not be the same person I am," Petty said.
Balancing the Two
"Without the fulfillment of playing sports or watching sports, I wouldn't have that piece of my identity."
Prioritizing between sports and religion is a common issue for many Pepperdine students; 90 percent of students surveyed said the two conflict at least once a week.
Yet many strive for a balance between the two in their own lives.
"Going to a sports game over church doesn't mean I prioritize sports over a relationship with God," Petty said.
Although Petty coaches a Little League baseball team on Sunday mornings and cannot attend a church service then, he said his relationship with God does not suffer.
"Coaching these kids is such a good way to be a role model so I think that in itself can be taken in a religious sense," Petty said.
The Difference
Most religions are clearly defined and focus on a higher power or deity, which differentiate them from sports, Forney said.
However, it is easy for sports fans to idolize, imitate or even worship athletes, Sports Administration Professor Alicia Jessop said.
Lorenzo Romar, Pepperdine's men's basketball head coach, said he grew up idolizing Elgin Baylor, Milwaukee Bucks legend and Hall of Fame basketball player.
"When I was younger, this guy named Elgin Baylor was a superstar," Romar said. "He was wearing a knee brace and I got me a knee brace. There was nothing wrong with my knee — ­­I just wanted to be like Elgin Baylor."
Jessop and Watson said that even with the most fanatical of sports fans, there should be a limit to how far their praise extends.
"I think it's OK to admire people who are successful but I would not worship them," Sports Administration Professor John Watson said.
There is a difference between admiring and imitating a human and worshipping a God or higher power, Watson said.
Worship within a religious context has a sense of reverence or submission to something or someone who is far greater than an individual, Watson said.
"Religion is the deepest driving force of us; it is all-encompassing," Forney said.

God in Sports
While balancing sports and religion can be challenging for some, others combine the two to strengthen their faith.
Dyer believes her God-given ability to play volleyball reinforces her faith. Dyer said she struggled early on in her athletic career with balancing sports and faith before realizing that she could honor her faith through her volleyball achievements.
"The way I play can be a form of worship," Dyer said. "Instead of me worshipping the sport, I can, through the sport, worship God. Volleyball is my ministry and it's a chance to represent Christ and love on people."
Similarly, Romar struggled early on in his professional basketball career to maintain a healthy relationship with God while competing at the highest level.
Romar said he eventually figured out that if he plays for the glory of God, he can use the time he spends competing as a time of worship as well.
"I have learned as a Christian, if I do all for the glory of God, then those highs last a lot longer than just competing for myself," Romar said.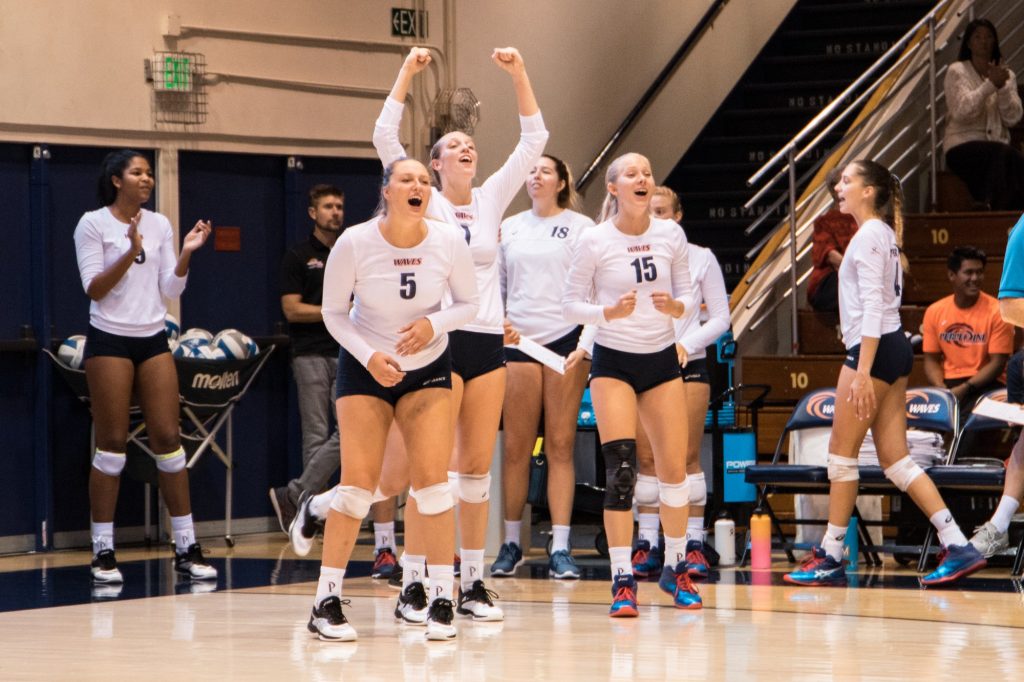 ________________________________________
Follow the Pepperdine Graphic on Twitter: @PeppGraphic