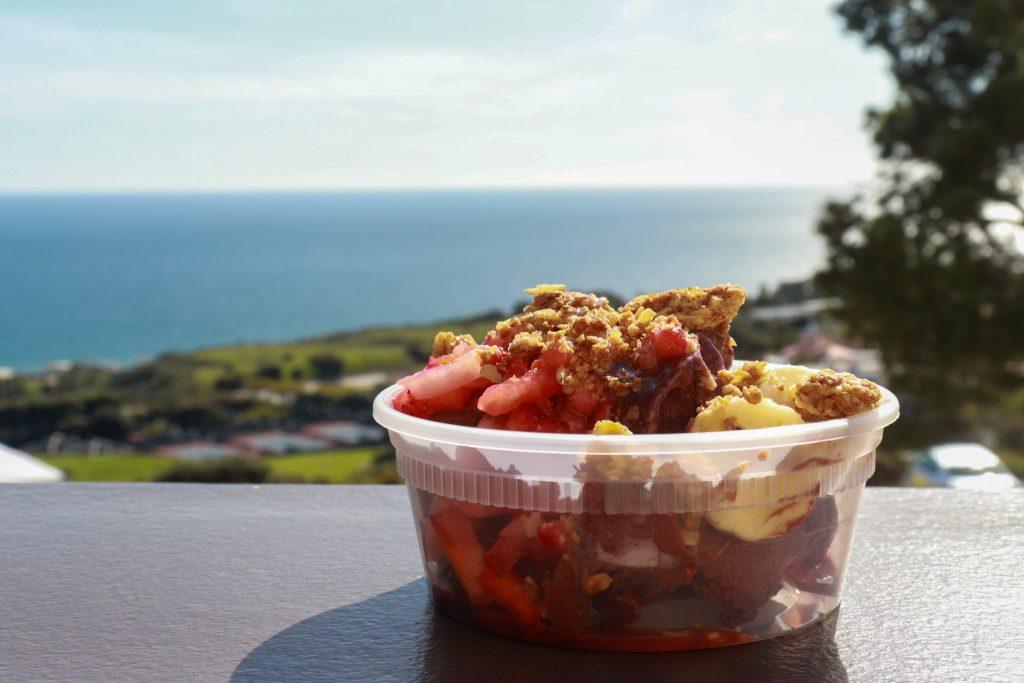 A small acai bowl from the Caf sits on main campus. The acai bowls relocated from the Light House to the Caf on March 27. Photo by Denver Patterson
The Caf welcomed acai bowls as a new food option March 27, due to Light House construction, according to Pepperdine Dining. Acai bowls first came to the Light House Cafe after Bon Appetit removed the boba.
Acai bowls are thick smoothie bowls with toppings, according to Carlsbad Cravings. Acai bowls contain acai berries pureed with other fruit and a variety of fresh fruit, granola, seeds, nuts, peanut butter and other ingredients as toppings.
"I love the acai bowls [on campus]," sophomore Bree Van Damm said. "I really appreciate that there's tons of different toppings and a really good variety."
Leone said Bon Appetit has specific, long-term plans for the Light House. They intend to open a deli at this location and are working with Pepperdine's Department of Design and Construction to determine an official schedule for the transition while they manage county permissions and supply chain issues.
"The construction in this space will begin soon, and we look forward to serving students in this new way at the Lighthouse," John Leone wrote in a Feb. 20 email to the Graphic. "When the time comes to take this space offline for this work, we will be sure to find a way to incorporate acai bowls at another location on campus."
Students, faculty and staff can build their own bowls at the the Caf. The acai-based bowl comes with a choice of three toppings with no extra cost, according to the Pepperdine Dining website.
The toppings are house-made granola, coconut, almonds, honey, agave, blueberries, raspberries, blackberries, strawberries, bananas, Nutella, chia seeds and flax seeds, according to the Pepperdine Dining website.
Van Damm said her choice of toppings is usually granola, all of the berries, honey, chia seeds and coconut.
The costs of the acai bowls vary depending on the size. The small bowl costs $8.95, and the large bowl costs $11.95. Every extra item or topping costs another $0.95, according to the Pepperdine Dining website.
In addition to the acai bowls, the cafe also sells a variety of snacks and grab-and-go items, wrote John Leone, the resident district manager on campus for Bon Appetit, in a Feb. 20 email to the Graphic.
First-year Caroline Mahoney said the acai bowls are definitely on the expensive side, but it's nice students can use their meal points to buy them. Van Damm said she agrees because the sizes aren't that big.
"If you're someone like me who likes to get all the toppings, it can rack up really fast," Van Damm said.
Because the boba wasn't as popular as the Bon Appetit team had hoped, they decided to bring in something new, Leone wrote. Student Government Association and others shared community feedback with them to make this change.
"We re-evaluated what we could offer in this space, and selected acai, hoping it would be something new, fresh, and different students could enjoy," Leone wrote.
Mahoney said the acai bowls are a better addition to what Bon Appetit serves on campus than the boba because acai is a good alternative when nothing appeals to her in the Caf.
Van Damm said she agrees and said she has only heard positive things from her friends because people are always happy to see something new and good on campus.
"I definitely like it there a lot more than the boba," Van Damm said. "I've heard that the boba was not a fan favorite, and I just never really found myself wanting to go get the boba. But now, every time I'm on Main [Campus], I'm like, 'Oh, I'm going to go get an acai bowl.'"
The Light House goes through about 15 gallons of acai per day, Leone wrote.
Van Damm said acai is a perfect balance between a meal and a snack.
Something both Van Damm and Mahoney said the Light House could improve on is their supply of toppings. Van Damm said the Cafe runs out of berries fast. Mahoney agreed and said once they gave her strawberry puree instead of cut-up strawberries because they were out of stock.
A great addition to the acai bowls in the Light House would be smoothies and ice cream, Van Damm said.
"It's really great that they put that [in the Light House] since I think a lot of people missed Jamba Juice which was there before, so I think it's a good [addition]," Van Damm said.
_________________________________
Follow the Graphic on Twitter: @PeppGraphic
Contact Anezka Liskova via Instagram @anezka.liskova or email: anezka.liskova@pepperdine.edu