Photos by Jessica Stomberg
Owner of SunLife Organics Khalil Rafati has made it his mission to be completely plastic-free by 2021, in an effort to take care of the Earth.
SunLife will be incorporating cups and lids made from cornstarch, as well as straws made out of corn fiber. These cups will disappear in a landfill within 24 months (at the longest), versus plastic, which doesn't break down. Rafati said he eventually wants even the bottles they put their juices in to be made out of hemp, corn or some other alternative.
"I have to be the change I want to see," Rafati said.
Because the plastic alternatives will be more costly, Rafati said he is anticipating a $1 price increase per menu item, beginning this July.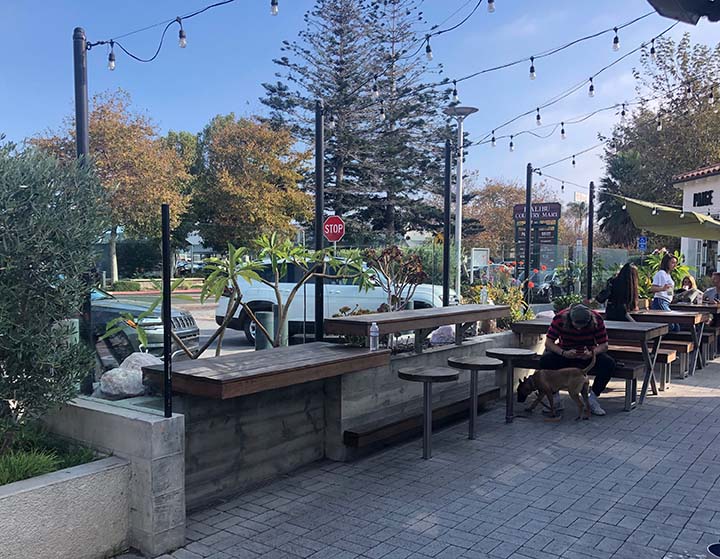 Outside seating area at the Cross Creek Malibu SunLife location
Junior Annie Little, manager of the Cross Creek Malibu SunLife, explained why it is important for SunLife to strive for greater sustainability practices.
"All of our ingredients are organically grown and come from the earth…so giving back and taking care of our source of life is very important to us," Little wrote in an email.
Little wrote that she is "very blessed to be a part of both the SunLife Organics team and the Pepperdine community in their awareness and intention of caring for the earth in this way."
Junior Layne Patry, employee at SunLife, shared her thoughts on SunLife's commitment to going plastic-free.
"I think it's an amazing thing that they are doing," Patry said. "I am so proud to be working at a place like this and hope that it makes people think twice about the plastic that they use."
Being a popular spot among the Malibu and Pepperdine community, Patry said she believes it will set a good example.
"By showing our commitment to going plastic-free, it may encourage others as well, to reduce the amount of single-use plastic in Malibu," Patry said.
Customer ordering inside the Cross Creek Malibu SunLife
Two Pepperdine Integrated Marketing Communication majors, Blair Bonifield and Andrea Romero, said they approached Rafati about working with SunLife for their senior capstone project. Their class was asked to create a sustainability marketing campaign with the Plastic Pollution Coalition, by finding creative ways to spread information and promote living a more sustainable lifestyle.
Bonifield said Rafati is passionate about running a company that has integrity, so much so that their campaign idea to promote SunLife's plan to eliminate plastic was met with great excitement from Rafati.
Their campaign will run from Nov. 11 to 15 at the Point Dume and Cross Creek Malibu locations of SunLife Organics, where they will be giving $1 discounts to all customers who bring in their own reusable jar or bottle for their smoothie, juice, tea or coffee. These customers will also be entered into a raffle to win a $100 SunLife gift card, Hydro Flask and merchandise. This will all be in celebration of SunLife's commitment to being plastic-free, which they are hoping to achieve by 2021.
SunLife merchandise including reusable Hydro Flasks and bamboo water bottles
Bonifield said she hopes this campaign can inspire other SunLife teams — outside of the Malibu locations — to partake in a similar campaign. She also said she sees it as a push for individuals to go out and buy their own jars and reusable cups.
"What I would really hope would come from this would be that people, through SunLife's large Instagram following, will become aware of the harmful effects of plastic," Bonifield said. "That's what I'm most excited about, for people who don't live here to get more information on why it's not just this California trend, but it's actually really, really important."
Rafati said he hopes that SunLife's initiative to go plastic-free will have an impact well beyond just the Malibu community.
"I'm looking to inspire way beyond Malibu," Rafati said. "I'm looking to inspire companies all over the world, that — yes it's more expensive and yes it's very difficult and challenging — but it's the right thing to do."
__________
Email Jessica Stomberg: jessica.stomberg@pepperdine.edu