Photo courtesy of Alex Wurtz
Student acted. Student written. Student produced. Pepperdine Student Players (PSP) puts students in the spotlight and behind the scenes.
The student-run theater company is planning a modern musical, professional workshop and a curated showcase this year, according to the group's president, junior Natalia Escobedo. PSP, which began in the 2018-2019 school year, provides students from all disciplines and majors with the opportunity to participate in theater.
Seniors Christopher Jerabek and James Moore, PGM news assistant, said they started Pepperdine Student Players last year to enable more students to participate in student-led theater productions. Jerabek and Moore had led multiple student-run productions for which they needed the university's approval and funding.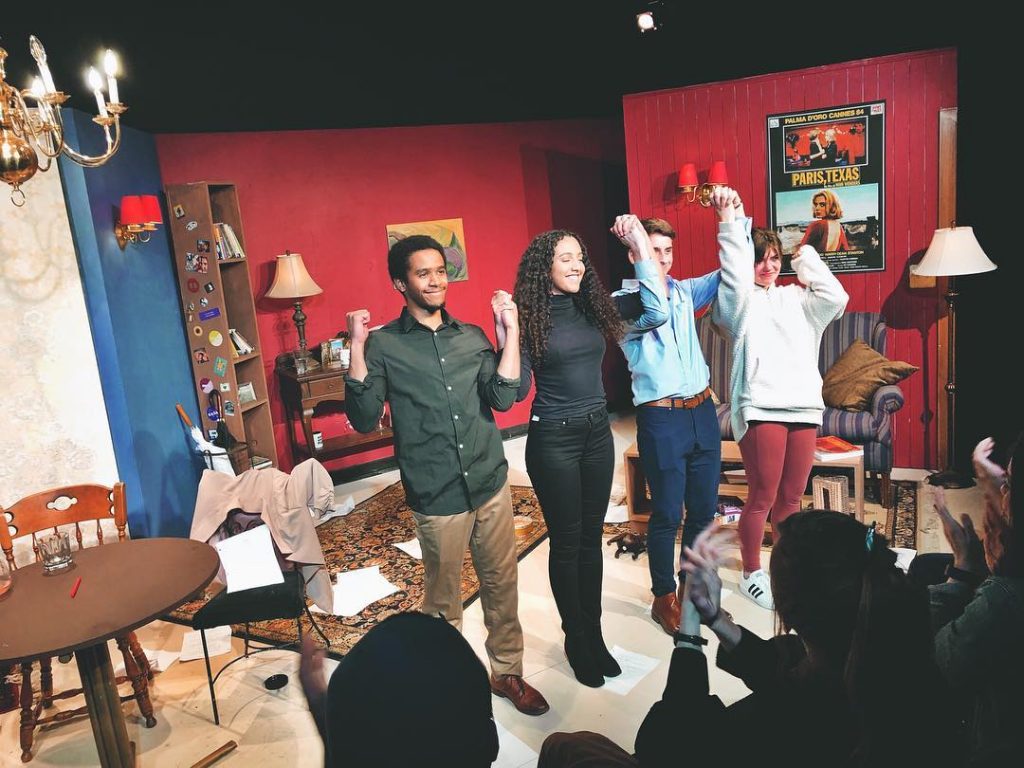 Photo courtesy of Alex Wurtz
"There were people who were still interested in performing, but because they weren't theater majors, it was harder for them to perform in the big theater shows," Jerabek said.
There was no organization behind these early projects, but it was still student-organized theater, Jerabek said. Moore said he envisioned a more organized and established student theater company. Moore and Jerabek founded Pepperdine Student Players for this reason last year, and this year is the second year the group is recognized as a Pepperdine student group.
"James' idea was to take what we've been doing, give it an official label and make a company out of it," Jerabek said. "That gave us more opportunities to do workshops and to explore different routes of performance."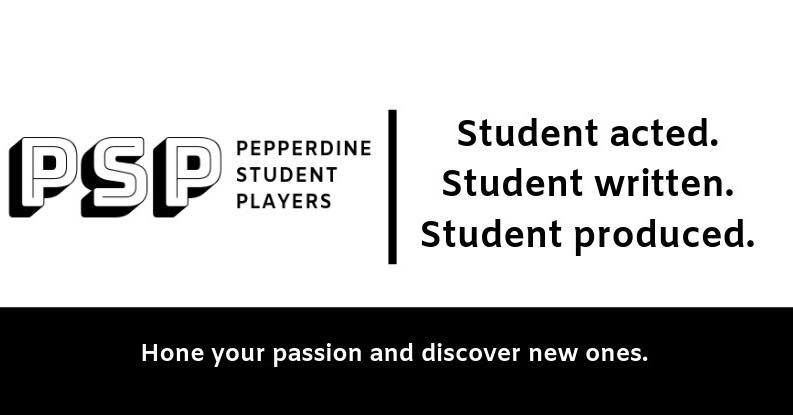 PSP also provides an outlet for non-theater majors to participate in theater. PSP continues to function as a creative space where students can do theater regardless of their major, Escobedo wrote in an email.
"Though most of our members are theater majors, there are also music majors and screen arts majors," Escobedo wrote. "We receive all levels of experience and all majors with open arms."
The mission of PSP, Escobedo wrote, is to give students a space to express their talents.
"We're centered around developing new works and cultivating multi-disciplinary collaboration," Escobedo wrote. "At the core of what we do, we provide rising artists with a vital platform for uninhibited creative expression."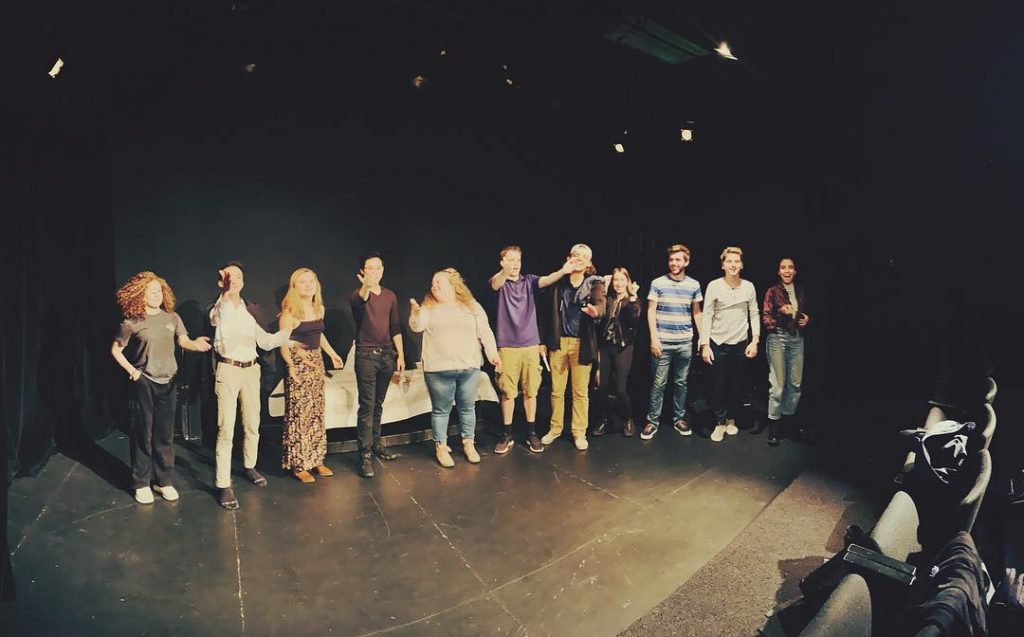 Photo courtesy of Alex Wurtz
Escobedo wrote that this semester PSP has added a musical theater program to its repertoire.
"We will be staging three performances of Lin Manuel Miranda's '21 Chump Street,' which explores the ramifications of peer pressure set in a high school," Escobedo wrote.
"21 Chump Street" tells the story of a high schooler who falls in love with an undercover police officer, according to This American Life. The true story originally aired on the "This American Life" podcast in 2012.
Auditions for the musical were Oct. 12, and the performances will be in December in the Mini Theater. In preparation for its productions, PSP members attend rehearsals and monthly meetings.
"The director of each production is also in charge of working around the actors' schedules to create a rehearsal schedule that works best for everyone involved in the performance," sophomore Clara Fermanian, a member of the group, wrote in an email.
Additionally, PSP plans to collaborate with Los Angeles artists and theater companies to host workshops throughout the year in order to expose student performers to professional mentors.
"We're excited to collaborate with industry artists and bring their knowledge directly to our company," Fermanian wrote.
Next semester, Escobedo wrote PSP plans to host curated showcases to highlight student writing, directing and acting. This spring, the spotlight will be on American playwright August Wilson.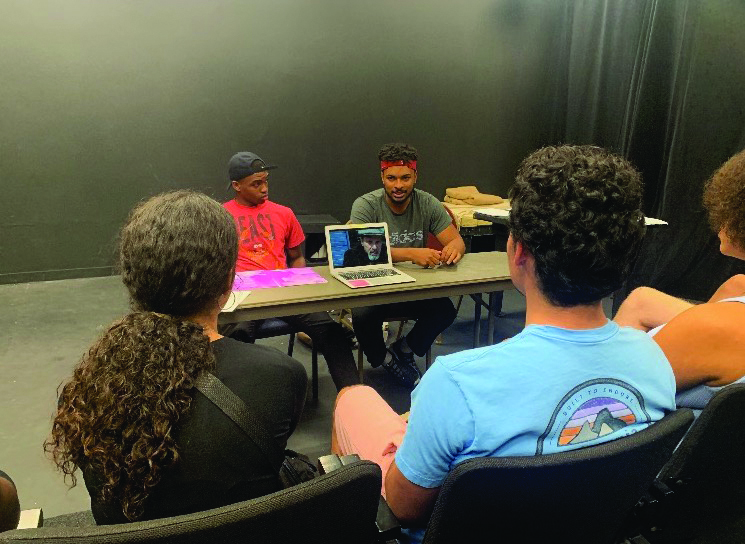 Photo by Mallory Bedford
Professor Nic Few and junior acting major George Preston are collaborating with PSP to create a showcase of Wilson. The performances will take place Feb. 23-25. Preston said the showcase marks not only Black History Month but also the fifteenth anniversary of Wilson's death.
"We're going to be playing some scenes and excerpts from Wilson's Pittsburgh cycle," Preston said. "It was a 10-play series, covering each decade of the 20th century of African American life."
Preston brought his idea for the showcase to Few, saying that he wanted Few to direct the production. The two reached out to Escobedo, who connected them with the space and funding to make the showcase possible.
"We wanted to be able to get the space and the lighting right," Preston said. "If we were going to do it, we wanted to do it the right way."
Look for "21 Chump Street" on Dec. 7 and 8 in the PLC Mini Theater, and for more information about PSP performances and events, check out their Peppervine page or find them on Facebook.
__________________
Contact Alex Neis: alex.neis@pepperdine.edu