Photos courtesy of James Moore
The Pepperdine Student Players is a brand-new, student-run theater company designed to showcase students' abilities. Students in the company wrote, directed and performed seven short pieces in the PLC mini-theater Friday, Feb. 1, Saturday, Feb. 2 and Sunday, Feb. 3 for their debut showcase.
Junior James Moore, the artistic director of the spring showcase, said the theater company is "a space where it all comes from the students."
"If you see a Pepperdine Student Players production, it is the voice of your fellow students and peers because it is all self-generated," Moore said. "It is written by us, designed by us and directed by us. Because it's smaller and we have less experience than a play being directed by professors, we are able to bring our voice to the forefront a little bit more."
Moore said that after the Theater Program casts the main stage shows, there are approximately 20 actors who end up not having any roles for the semester.
"We wanted to create the company for those people to have a space to keep practicing when they didn't have any work to do," Moore said.
The Pepperdine Student Players host weekly workshops that specialize in playwriting, acting, designing and directing for the company members. Most of the short plays, like the ones presented in the Spring Showcase, come out of the workshops. The company is based around the students. Members can put in as much time and effort as they want based on their semester workload, Moore said.
"[Pepperdine Student Players is] a cool way for students to come together," cast member freshman Clara Fermanian said. "Let's say you're not cast on one of the main shows, you still have the opportunity to come every Thursday and act for two hours among your peers. Putting this show together has given us the opportunity to have the whole performance atmosphere, even though it's not in the Lindhurst or Smothers. And it's open to students of all majors, anyone is welcome, and it's a cool way to stay involved even if you're not a Theater major."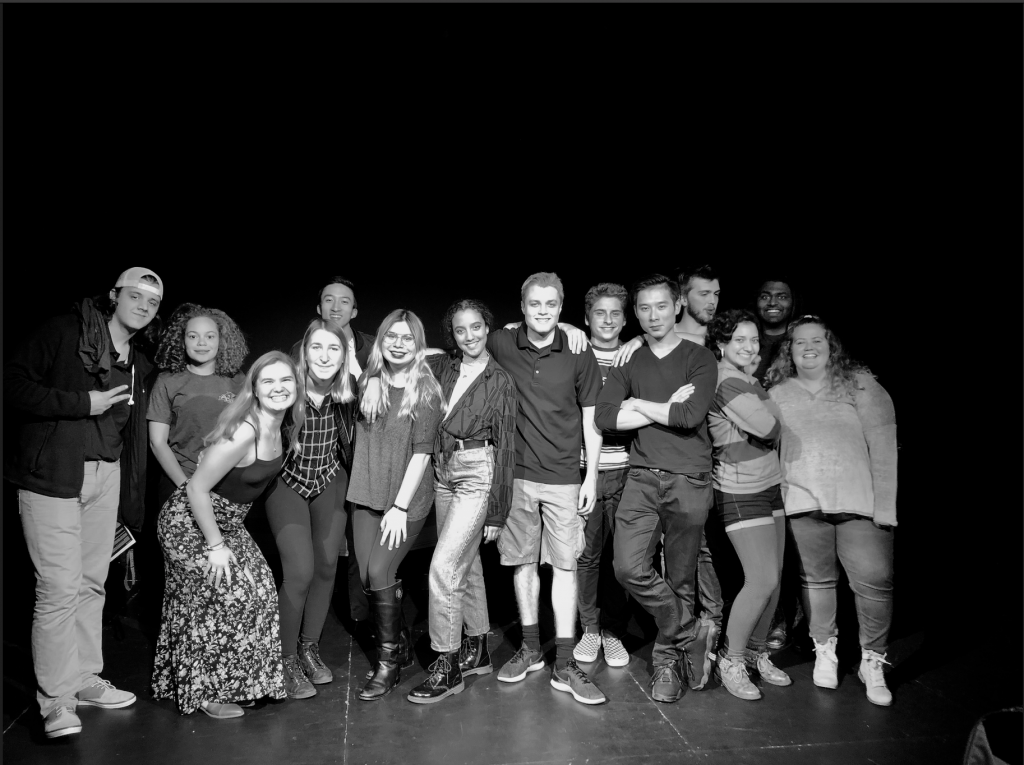 The company manager, junior Marysol Estrada, wrote a play and directed another that was performed in the showcase. Estrada, along with James Moore and junior Christopher Jerabek, served as the stage manager for this production.
"Our mission is to produce completely student-run things, to prepare us for the outside world where teachers aren't in charge of everything and to give us the sense that we can do it ourselves," Estrada said.
The Pepperdine Student Players is putting on another show next month — an original play called "Stay Because…" by junior Nate Bartoshuk. The play is about what comes after graduation and how students will make it in the "real" world.
The company held a pitch meeting last semester for anyone who had written a show that they wanted to submit for the company's first full-length production, Estrada said.
"We had a reading, so the company was able to vote on which one they wanted to perform this semester and 'Stay Because…' won," Estrada said.
Pepperdine Student Players is not just a company for majors in the arts.
"We encourage people who acted in high school or have that passion but don't want to pursue it as a degree to come and show us what they have," the executive producer of the spring showcase, Christopher Jerabek, said.
The main focus of the company is for students to be able to share their work.
"I just think it is valuable that students are being able to put out their work," Jerabek said. "I think that's the best thing that we're doing. We're giving students an opportunity to act and perform but also an opportunity to create and that's something that the main theater program doesn't have so much opportunity for. We're giving the support to the creators in our student body that otherwise, they wouldn't really have and I think that's the most valuable thing we're doing."
____________________
Follow the Pepperdine Graphic on Twitter: @PeppGraphic