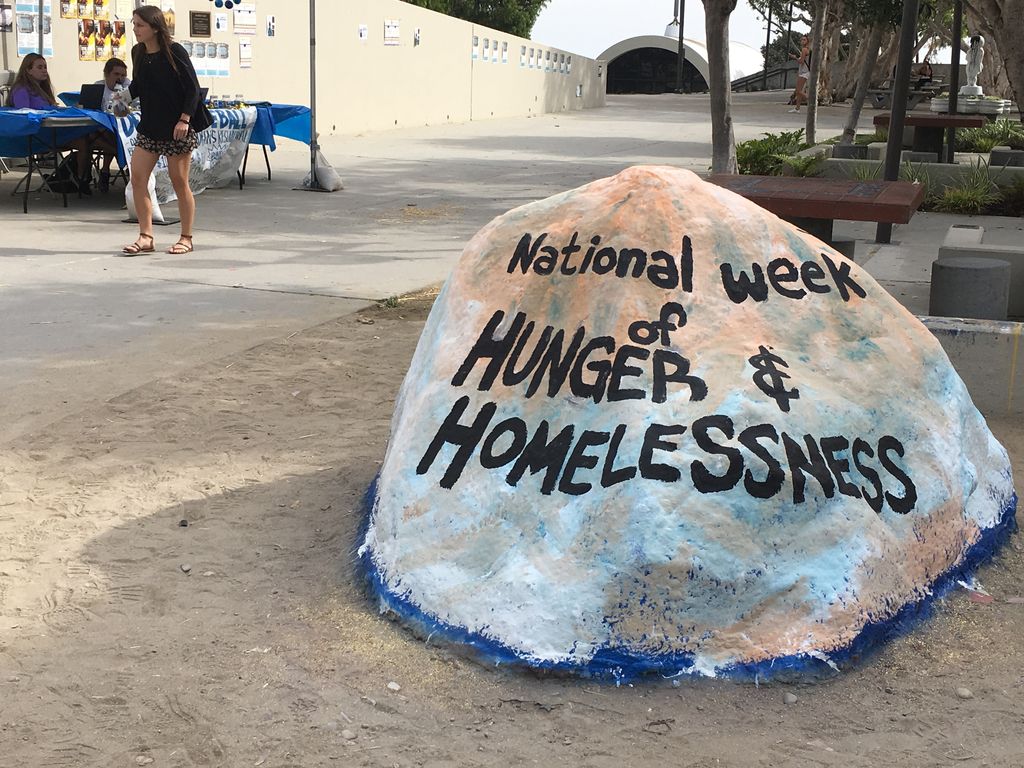 Photo by Cassandra Stephenson
This year, Pepperdine is partnering with the national Hunger and Homelessness Awareness movement to host an awareness week of their own. Hunger and Homelessness Awareness Week is a nationally recognized event that typically takes place the week before Thanksgiving every year, according to the National Homelessness website.
"We are partnering with the movement nationally to try to bring awareness to the issue. In particular for our student body, we focus on LA County and Malibu and tend to articulate certain facts we may not know because we live in a bubble in a way," said JJ Wong, senior and Marketing and Awareness coordinator for the Volunteer Center.
Wong is in charge of all of the Volunteer Center's social media platforms and the distribution of information regarding events like Hunger and Homelessness Awareness Week to the student body. This is his second year in the position and he said that he's been posting on social media and making posters to raise awareness among the student body.
Monday night had a panel of speakers to talk about "home, hunger and security" and how we can, as a "privileged population," help them. The speakers ranged from members of We Love Our City, "which helps out the homeless population and helps out with education and equality", some from The Union Gospel Mission from Skid Row, and a teacher in the sociology division, Wong said.
The Hunger Banquet is an event where the different socio-economic levels of people would experience a meal where they see the differences between food amounts. This event occurred Wednesday night in the Fireside Room. The lowest would have just a cup of rice, the middle a cup of rice and beans, and the highest a four-course meal, Wong said. Facts about worldwide hunger were revealed at different points throughout the night. The event essentially served as a simulation on world hunger, Wong said.
"It's a really cool opportunity to just understand how lucky we are in the world and how we should feel the need to articulate and help others," Wong said.
Omar Sanchez, senior Project Serve coordinator for the Volunteer Center, said that the Hunger Banquet is a good way to put things into perspective.
"We work with accurate percentages of the world that experience hunger and homelessness and divide the students accordingly. 10 percent are upper class, 30 percent are middle, and the remaining 60 percent become part of the lower class," Ellie Resendiz, a senior volunteer, wrote in an email.
Sanchez said this week is an effective way to raise awareness about food and home insecurity at the community level.
"Even within Malibu, there's so many people living without a home and out of their cars and people who don't know where they're going to find their next meal," Sanchez said.
"It's very good at putting things into perspective, especially at a global level. If you make around $7,700 a year, you're basically considered a high-income earner globally. It put things into perspective," Sanchez said.
Sanchez and Wong agree that even in Malibu there are homeless people, some living out of their cars, others on the streets unsure of their next meal.
"We really hope people can understand that it's not just on Skid Row. It's not just in a certain place. A lot of times, it's a lot of places closest to us. Malibu has a lot of transients going in and out," Sanchez said.
"If you think about it, we see homeless people every single day and we don't even acknowledge that that's an issue," Wong said.
Wong said he is especially excited that all of Pepperdine's organizations are getting involved in this week. He said he is happy to be able to connect all student leaders on campus together in community, noting Greek life, clubs and ethnic organizations to name a few. Many students changed their profile pictures on Facebook in honor of the week, giving recognition to the work the team was doing for Hunger and Homelessness Awareness.
In the residence halls, there are donation boxes in which students can drop off hygiene products, specifically for women, such as toothbrushes, tampons and maxi pads for the Downtown Women's Center at Skid Row.
Wong also noted that he wants the event to be acknowledged as a group effort with his team from the Volunteer Center who has dedicated their time to this week.
Sanchez said that he hopes this week can help get rid of the stigma surrounding homeless people.
"They should be treated with the same dignity, the same respect that you would treat any other person you run into," Sanchez said.
__________
Follow Shannon Hansen on Twitter: @shannnonhansen