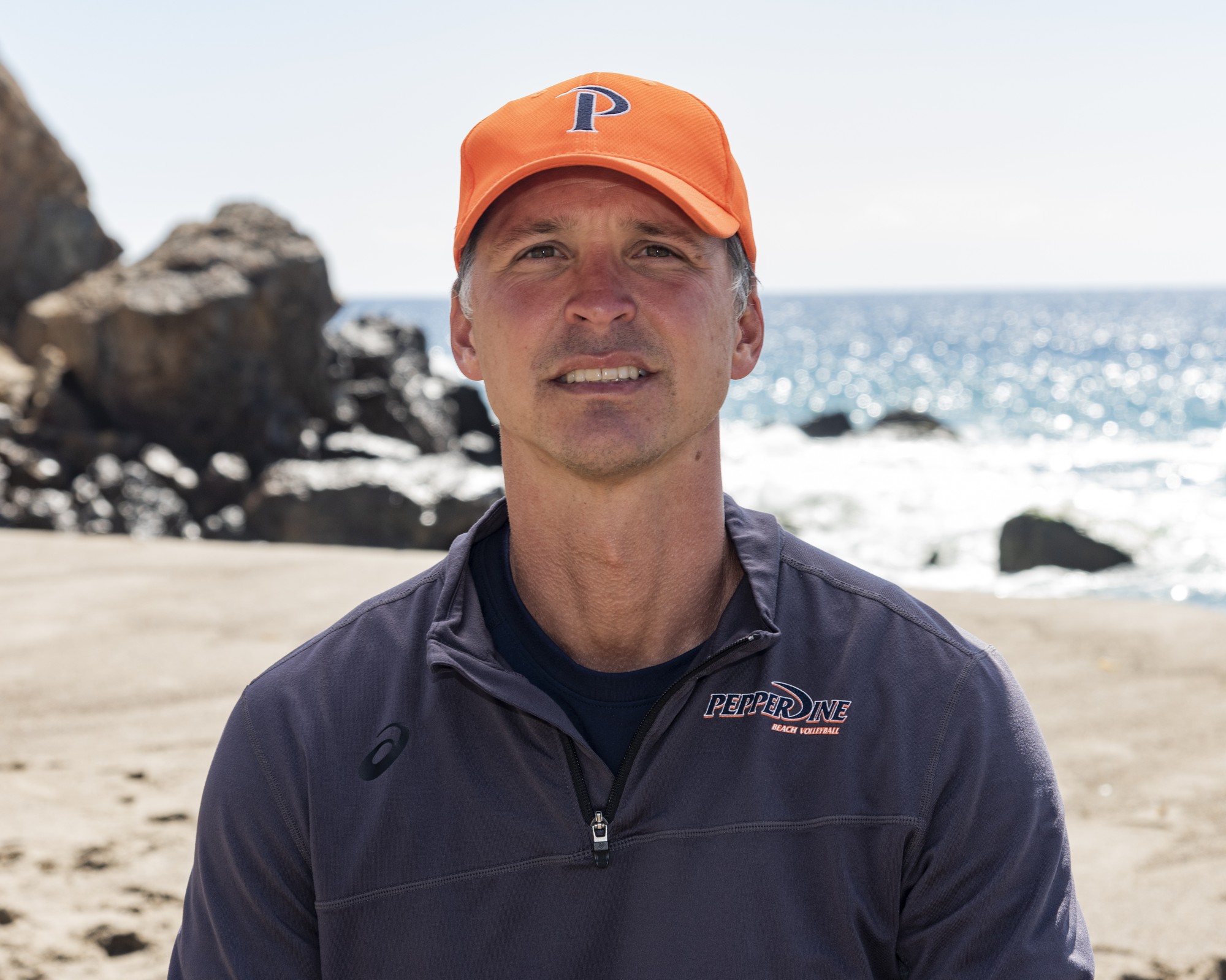 Photo Courtesy of Pepperdine Athletics
The second head coach in Pepperdine beach volleyball history has coached at the highest levels of the sport, including leading arguably the best team ever (Kerri Walsh Jennings and Misty May-Treanor) to an Olympic gold medal.
However, Marcio Sicoli knows that filling the shoes of iconic Pepperdine coach Nina Matthies will be no easy task.
"One of the words that comes to my head is I'm terrified," Sicoli said. "Of course, there is the excitement, but I'm terrified because there is a lot of lights and dreams on my hands right now."
Sicoli was an assistant coach under Matthies for Waves indoor volleyball from 2008 until 2013 and for the beach program for the past seven years, since collegiate beach volleyball was established in 2012. Matthies retired following the 2018 season after 35 years at Pepperdine.
"Nina was the master behind the whole plan and she was in charge, but Marcio was the voice in practice," sophomore Brook Bauer said. "It was a transition, but I think it was pretty smooth, because he already had been that verbal leader for us."
Sicoli certainly brings a great deal of experience into his first year at the helm of a collegiate program. The son of a Brazilian Army general, Sicoli was born and raised in Rio de Janeiro, where he says the beach game and indoor game ran parallel.
"Volleyball in general is the second sport in [Brazil] . . . It is summer all year long," Sicoli said. "I started coaching super early on the sand."
Sicoli has since coached a Brazilian pair to the silver medal at the Summer Olympics in Athens in 2004, American legends Kerri Walsh Jennings and Misty May-Treanor to Olympic gold in London in 2012 and Walsh Jennings and April Ross to bronze in his hometown in 2016. May-Treanor and Walsh Jennings are the most decorated duo in the brief history of Olympic beach volleyball.
"That is an incredible experience; [I'm] humbled to be part of such an elite group," Sicoli said. "I was in the right time in the right places with the right mentors that set my path to be out there."
Sicoli also coached indoor club volleyball teams based in Southern California before Matthies and former assistant Tim Jensen invited him to join the Pepperdine staff. Sicoli continues to be the head coach of a professional beach volleyball team with the goal of qualifying for another Olympic Games in 2020.
"We are trying to qualify for Tokyo with Kerri Walsh Jennings and Brooke Sweat," Sicoli said. "We are trying to give it a shot for the last Olympic run for Kerri Walsh."
The 2019 edition of Waves beach volleyball, a program with two national titles under Matthies, also has big dreams.
"The main thing for us is coming together and focusing on resilience and taking all these difficult things and building them towards getting a national championship," Bauer said.
Sicoli and senior Skylar Caputo agreed that the team expects to compete for the national title.
"[Sicoli is] always continuously raising the standard by never settling for anything," Caputo said.
Caputo is one of five seniors on the roster and one of seven returning players named to an All-America team by either VolleyMob, VolleyballMag or the American Volleyball Coaches Association (AVCA).
"We're an experienced group," Sicoli said. "I think we definitely have an advantage in that."
Pepperdine finished fifth in the 2018 NCAA Beach Volleyball National Championships and were runners-up in 2017. The team returns with nearly all of its key players from the 2018 squad. The Waves aim for their first national title since 2014, when beach volleyball was sponsored by the AVCA rather than the NCAA.
The Sicoli era will begin with the Outrigger Duke Kahanamoku Beach Classic in Manoa, Hawaii, Feb. 23 and 24 before the Waves' home opening tournament, the Zuma Classic, March 2 and 3.
"Come to the games and see how much the environment for beach volleyball at Zuma Beach is insane during competitions," Sicoli said.
_____________________________
Follow Karl Winter on Twitter: @karlwinter23